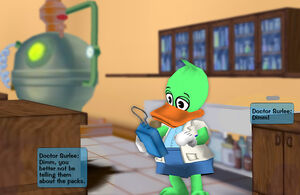 A whisper is when a message can be sent to another Toon who is added as a friend without having to be in the same zone or district.
How to whisper
To whisper, click on a Toon's name to open their panel. The third button going down on the panel is an option to whisper. Click the option and proceed to type or select a phrase from the SpeedChat menu. Press enter to send the whisper. To quickly reply to another Toon's whisper, click the whisper that is sent.
Trivia
It is not possible to send a whisper to Toons that have whispers disabled.
A "psst" sound effect plays every time a whisper is received.
Text whispers are indicated by a blue speech bubble and animation whispers are indicated by an orange speech bubble.