Wedding Cake

Basic information
Track:
Throw
Level:
7
Accuracy:
Medium
Base accuracy:
75
Affects:
All Cogs
Statistics
Minimum damage:
120
Maximum damage:
120
Organic boost:
132
Carry capacity
Minimum:
1
Maximum:
1
Lineage
Preceded by:


Succeeded by:


 

None

Skill points gained:


10,000

Skill points needed:


500 to Go!

Sound files
Throwing (before a hit):

Hit

Miss:
The Wedding Cake is the level seven Throw gag. After obtaining this gag, the throw skill points meter switches to the "500 to Go!" meter, earning Toons another Wedding Cake once the 500 points mark is reached. The Wedding Cake cannot be obtained in Gag Shops, and Toons can only use it once before having to earn another 500 points or collecting the gag in their garden to obtain another. It is the last gag in the Throw track and is preceded by the Birthday Cake.
Animation
After choosing the gag, the Toon will take out the Wedding Cake and throw it at every single Cog in the battle with one motion.
Each tier of the cake will separate and hit an individual Cog.
If the gag misses, the Cogs will jump to the side and the Wedding Cake will disappear. If the gag does not miss, the Cogs will be hit by the cake with a large pink splat (if the gag is about to hit, a short melody would be played before throwing).
All Cogs in battle will either be eliminated or return back to normal.
Trading card
Wedding Cake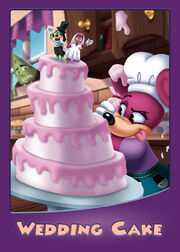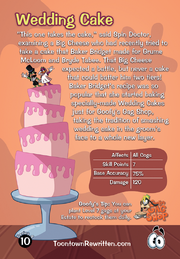 "This one takes the cake," said Spin Doctor, examining a Big Cheese who had recently tried to take a cake that Baker Bridget made for Grume McLoom and Bryde Tabee. That Big Cheese expected a battle, but never a cake that could batter him two tiers! Baker Bridget's recipe was so popular that she started baking specially-made Wedding Cakes just for Goofy's Gag Shop, taking the tradition of smashing wedding cake in the groom's face to a whole new layer.

Affects: All Cogs
Skill Points: 7
Base Accuracy: 75%
Damage: 120

Goofy's Tip: You can plant Level 7 gags at your Estate to restock them daily.
Trivia
Towards the end of Alpha, the Wedding Cake was first used by Flippy during Doomsday to successfully defeat the Director of Ambush Marketing.
Rocky is a 5-star SOS Toon who uses a Wedding Cake that deals 132 damage, which is the same as an organic Wedding Cake.
During the Toontorial, Clerk Clara shows a sneak peek of a 100-damage Wedding Cake in the Trolley's Gag Shop.
The Wedding Cake is the only gag that signals whether it is going to hit or miss before it approaches the Cog(s).
According to a trading card, the two Toons on top of the Wedding Cake go by the name of Grume McLoom and Bryde Tabee.[1]
Gallery
References
Community content is available under
CC-BY-SA
unless otherwise noted.