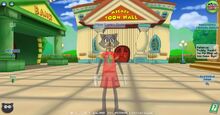 Miss Lovey Dove here!
I am nobody special
, I mean I do edit
SOME
pages
SOMETIMES,
but really I am just another Toon having some fun! Learn more about me on
this page RIGHT HERE!
Miss Lovey Dove
103 Laff
Black Cat
Gags
Cog Disguises

Sellbot
Name Dropper 7

Cashbot
Penny Pincher 2

Lawbot
Bottom Feeder 3

Bossbot
Flunky 4
Statistics
Fishing
3/7 Trophies
36/70 Species
Steel Rod
Gardening
0/4 Trophies
5/40 Species
Tin Shovel
Large Watering Can
Golfing
8/30 Trophies
Racing
0/30 Trophies
Cruiser
My Toons
My Toons are all in Toontown Central except Miss Lovey Dove. Until that changes only the main gets the spotlight!
Miss Lovey Dove
Second Toon
ToonTasks
Add your ToonTasks here!
ToonTask
ToonTask
My favorite pages
Add links to your favorite pages on the wiki here!
Favorite page #2
Favorite page #3
Community content is available under
CC-BY-SA
unless otherwise noted.