Hello.  I made this account mainly to work on the Toontown Rewritten Wiki.  There's a lot of work to be done!
Some of the pages I've put a lot of work into are Encrypted Clues, Puzzles & Development Previews (mainly the blueprints), Alpha, and the old Credits section that used to be at the end of the Toon Council Presidential Elections page.
~~Please make progress on User blog:Dynaboom/How to view the Toontown Rewritten Phase Files before the thread is lost forever on September 1, 2014.~~
(Archive) (Archive without the ! at the end) (Archive - Important Anouncement - Closure)
Other Pages: Panda3D, Portable Hole Network, Controls, Template:Trolley-bot debug mode(?), Advice from Jesse Schell
Personal: User blog:Dynaboom/Panic Room
---
User rights
bureaucrat and administrator since August 10, 2016
moderator since December 31, 2014
rollback since December 29, 2014
---
DYNOBOOM NO. BAD DYNO. ENOUGH STORYLINE SPECULATION. One little glimpse of a blueprint and you set of like a rocket coming up with these incredible theories that no-one else can even comprehend - it's fantastic :p.
Surely a boom for Dyno.
Now I'm in fat city, Good ol' Ricky Dynoboom!
---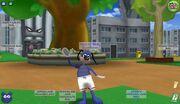 Well, I don't have much to say here, so see ya around!
Community content is available under
CC-BY-SA
unless otherwise noted.