Rose
66 Laff
Sienna Deer

Gags

25x30px
Trapless
Organic track:
Throw

Cog Disguises

Sellbot
Cold Caller 1

Cashbot
Short Change 1

Lawbot
Bottom Feeder 1

Bossbot
Flunky 1
Statistics
Fishing
3/7 Trophies
37/70 Species
Bamboo Rod
Gardening
1/4 Trophies
20/40 Species
Bronze Shovel
Large Watering Can
Golfing
2/30 Trophies
Racing
0/30 Trophies
Cruiser
Hello, I'm Jewels! I joined TTR back in 2015 under the name, Pepper Bagelcrunch. I've lost access to that profile as the email I used is no longer in existence, and in order to log in, I need to enter a ToonGuard. My new name is Rose! I love the color red and gardening is a hobby of mine, so it makes sense.
I use Ivy as a secondary Toon for Multi-tooning. As of now, she only has 26 Laff.
I use Carrot in ToonTasks involving helping new toons.
My Toons
Rose (formerly Neena)
Ivy
Carrot
Pepper Bagelcrunch (retired)
Princess Petunia (TTO)
ToonTasks
Susan Siesta (Small Backpack)
Lawful Linda (+2 Laff Boost)
Fun Facts!
I played the original TTO. I created Princess Petunia, a tall, purple rabbit, with long ears and the normal-sized head sometime in 2010. I was at least six years old and had no idea what I was doing. On this Toon, I maybe achieved 25 Laff if that. I was more invested in games like Roblox and Animal Jam at this point in my life, so Toontown kinda took a backseat.
Like mentioned before, I joined TTR under the name Pepper Bagelcrunch, a tan and tall dog, in 2015. I was not aware that TTO and TTR were not the same thing, and was pretty upset when I found out that I couldn't have adopted another doodle. After losing my account, I decided to take a break from TTO altogether.
My current Doodle, Dakota, is a tribute to my old doodle of the same name back in TTO. Dakota was/is purple and has/had antennae. I was lucky enough to find a close replica, with seemingly better traits. If I remember correctly, first-gen Kota was always angry at me for some reason, but second-gen Kota can't get enough of me.
I used to be deathly afraid of cogs, even Flunkies. I was specifically afraid of Bloodsuckers and Mover and Shakers. As embarrassing as it is, even as Pepper Bagelcrunch in TTR, I was still terrified of initiating cog battles, and would almost never fight alone. I'm not afraid of cogs anymore... If we don't count lvl 12 Legal Eagles.
Selfies
I like to take selfies, so I'll share them with you. Here they are, I guess.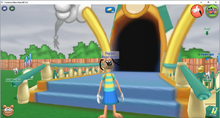 Community content is available under
CC-BY-SA
unless otherwise noted.