Tutorial Tom is an NPC dog Toon who resides in his own shop at Tutorial Terrace to welcome Toontown's newest Toons. In that very moment, he discusses with the Toon about Cogs, gags, and laff. He offers the Toon a Cupcake and a Squirting Flower, their Laff Meter, and their first ToonTask to defeat a Flunky outside his shop.
Trading card
Tutorial Tom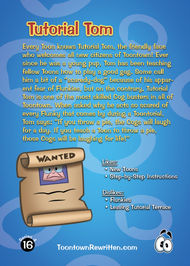 Every Toon knows Tutorial Tom, the friendly face who welcomes all new citizens of Toontown! Ever since he was a young pup, Tom has been teaching fellow Toons how to play a good gag. Some call him a bit of a "scaredy-dog" because of his apparent fear of Flunkies, but on the contrary, Tutorial Tom is one of the most skilled Cog busters in all of Toontown. When asked why he acts so scared of every Flunky that comes by during a Toontorial, Tom says: "If you throw a pie, the Cogs will laugh for a day. If you teach a Toon to throw a pie, those Cogs will be laughing for life!"

Likes: New Toons, Step-by-Step Instructions
Dislikes: Flunkies, Leaving Tutorial Terrace
Trivia
An old version of Tutorial Tom from the early days of Toontown Online was implemented to Toontown Rewritten. Not only does Tutorial Tom have a short muzzle, but an old animation plays where his ears shoot up as soon as he notices the Flunky outside his shop.
Tutorial Tom is the first Toon that other Toons encounter.
Tutorial Tom never appears again after the Toontorial is completed.
There used to be a bug where Tutorial Tom's legs would disappear after teleporting directly to the Toon after they defeated the Flunky. This bug, however, was fixed.
According to the game's localizer code, the street on which Tutorial Tom resides in is called "Tutorial Terrace." Several Toontown Rewritten blog posts often refer to the Toontorial as such.
Tutorial Tom has a lesser known brother named Tester Tim who mostly appears in Toontown Rewritten's streams that cover the development of Sellbot Field Offices.[1]
Gallery
References