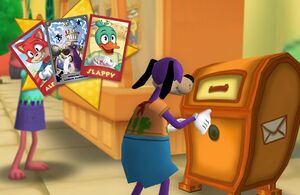 Trading cards are a set of real life merchandise created by Toontown Rewritten that are typically given away to attendees at in-person ToonFest events or to anyone who sends a letter to the Toontown Rewritten Team through Member Mailers. Since OMG!Con 2015, Toontown Rewritten has created three new trading cards per event, beginning at series four to continue right after Disney ceased production of Toontown Online trading cards at series three.
Toontown Rewritten trading cards
Series four
2015
2016
2017
2018
2019
2020
Toontown Online trading cards
Series three
Cogs
Many Toontown Online trading cards of various Cogs can be found as portraits in certain Cog facilities such as the District Attorney's Office and the Bossbot Clubhouse. The following images are taken from the game's phase files.
Trivia
At OMG!Con 2015, players who had their questions answered by Jesse Schell were given few Toontown Online trading cards with his signature.
The trading card depicting Doctor Fissionton was an exclusive lenticular item that did not make it into the Member Mailers program due to limited supplies, thus only being offered at ReplayFX 2019.
Gallery
External links