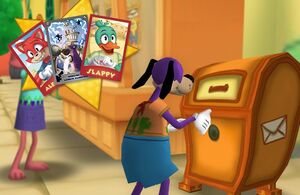 Trading cards are a set of real life merchandise created by Toontown Rewritten that are typically given away to attendees at ToonFest conventions or to anyone who sends them a letter through Member Mailers. Since OMG!Con 2015, Toontown Rewritten has been creating three new trading cards per convention. Jesse Schell, the original creative director of Toontown Online, answered questions from the Toontown community for OMG!Con 2015. Those who had their question chosen were given Toontown Online trading cards signed by Jesse Schell.
Disney created trading cards for Toontown Online in 2003 and stopped some time before 2013. However, the trading cards were created at least during 2003-2005.
Toontown Online trading cards
These trading cards contain information that is canon to Toontown Rewritten's storyline. An example of this is Gyro Gearloose's invention of the portable hole.
Series Two
2004-2005 (Great Moments in Toontown)
Toontown Rewritten trading cards
Series Four
2015
2016
2017
2018
2019
References to trading cards
Doctor Surlee's portable hole blueprint uses the same technobabble as "The 'Hole' Story" series two trading card.

In Toontown Online, Gyro Gearloose invented the portable hole but in Toontown Rewritten, Doctor Surlee invented the portable hole. Both characters share an alias.
The Super-Duper Air Conditioner was mentioned in the "Having an 'Ice' Time at The Brrrgh" series two trading card and in the first of Doctor Surlee's papers. This particular device is canon to Toontown Rewritten's storyline.
Trivia
After Toontown Online ended their distribution of trading cards at series three, Toontown Rewritten released their trading cards starting with series four.
The Doctor Fissionton trading card was an exclusive lenticular item that did not make it into the Member Mailers program due to limited supplies, thus only being offered at ReplayFX 2019.
Gallery
External links
Community content is available under
CC-BY-SA
unless otherwise noted.