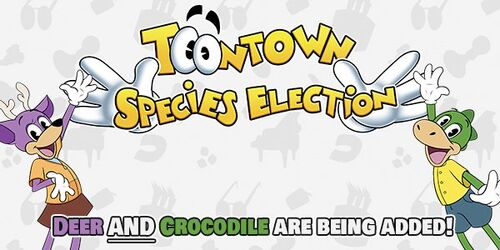 The Toontown Species Election was an event hosted by Alec Tinn to elect a new Toon species, which lasted from September 19, 2016 to July 28, 2017 until the winning candidate(s) was announced. The event was first announced at OMG!Con 2016. On September 1, 2017, deer and crocodiles officially arrived to Toontown.
Stages
Nominations
Because ToonFest 2016 delayed on its original start date, which is September 19, 2016, the nomination stage for the election occurred on the same day to continue the ToonFest celebration.[1] Players could place a nomination on a species of their choice, and the top eight species would be chosen to battle in the first round of voting. Nominations ended on October 1, 2016.
Nominees
The top eight species were announced as goat, crocodile, chicken, fox, parrot, chipmunk, cow, and deer. From December 17th to December 24th in 2016 as part of the Twelve Days of Winter, blog posts introduced each of the top eight species, along with their very own portraits and a simple biography.[2]
| Portrait | | | | |
| --- | --- | --- | --- | --- |
| Name | Goat | Crocodile | Chicken | Fox |
| Announced | December 17 | December 18 | December 19 | December 20 |
| Portrait | | | | |
| Name | Parrot | Chipmunk | Cow | Deer |
| Announced | December 21 | December 22 | December 23 | December 24 |
First voting round
On March 1, 2017, the first round of voting commenced where players could select a first, second, and third choice of whichever species they wanted to vote.[3] Voting ended on March 11th.
Final voting round
Deer and crocodile were announced on July 15, 2017 as the two last standing candidates where players could select either one of the two up until July 22nd.[4] The winning candidate(s) was announced at ReplayFX 2017 on July 28th during the main ToonFest panel.
Winners
At ReplayFX, it was announced that both crocodile and deer had won. Despite deer being the true winner with 7100+ votes compared to crocodile with 6700+ votes[5], the Toontown Rewritten Team ultimately decided long before the winner was announced that they would implement both species to the game. Attendees from ReplayFX had a chance to playtest both species, along with parties, fixed racing, and Grand Prix. It was also announced that both species, along with the rest of the tested features, would be released in a major update that would conclude Beta, which released on September 1, 2017.
Trivia
Gallery
References