"

Here in Toontown, we do things a little bit differently.

"

―Toontown Rewritten
Toontown Rewritten, commonly abbreviated as TTR, is a MMORPG based on Disney's now-closed game, Toontown Online. The game is not affiliated with The Walt Disney Company, but instead created by a dedicated team of volunteers who have devotedly recreated Toontown Online. Anyone may play the game whenever desired without any form of restriction, and membership is never required to access all features of the game.
The game takes place in the fictional world of Toontown, a wacky colorful town, inhabited by goofy cartoon characters known as Toons. The Toons are on a mission to defeat the corporate-minded robot Cogs who are aiming to take over Toontown in the never-ending battle of fun and business. The Cogs have a plan to take over the fairly wacky town by turning Toon Buildings into nasty Cog Buildings. Luckily, the Cogs cannot take a joke. The Toons are able to battle against the Cogs with the use of gags, but even the Cogs have a couple tricks up their sleeves. Toontown is now in need of saving, and it is up to the Toons to accomplish that goal.
History
Development
Development began on August 20, 2013, which was the same date when Disney announced the closure of Toontown Online. Right after Toontown Online closed permanently, the staff team announced Toontown Rewritten, and the unfinished Toontown Rewritten website (ToontownRewritten.com) was revealed to the Toontown community.
Alpha and Beta
On October 28, 2013, Toontown Rewritten entered "Alpha", where players were only able to access the game by obtaining an alpha key in contests.[1] The game moved into "Beta" on May 17, 2014; only players that had either obtained an alpha key or beta key were able to play.[2]
Semi-Open Beta and Open Beta
On June 2, 2014, Toontown Rewritten entered "Semi-Open Beta", which was announced in celebration of the 11th anniversary of Toontown Online.[3] Semi-Open Beta gave all players an opportunity to play, but players who did not have a beta key were restricted to the amount of playable time; in addition, they would also have to wait in PlayLine queues or book PlayTime slots in order to access the game. A player could've been given a special, exclusive ToonTask with the reward of a beta key; however, these were only temporarily available, rarely obtained and only obtainable under certain circumstances.
Toontown Rewritten moved into "Open Beta" on September 19, 2014, and officially opened to everyone. This was also the grand opening of the very first ToonFest event. Open Beta and ToonFest were announced on August 20, 2014 beforehand.[4]
Out of Beta
After dedicating several years of development from Alpha to Beta, Toontown Rewritten launched a huge v2.0.0 update on September 1, 2017 that concluded Beta.[5] From that point forward, Toontown Rewritten continued to release occasional updates and bugfixes, as well as new content.
Toons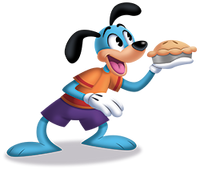 Toons are the main protagonists of the game and the inhabitants of Toontown. They are animals that take the form of cartoon characters. Toons use silly jokes, known as gags, to battle the Cogs and make other Toons laugh. In Toontown Rewritten, the player can create their own Toon and complete various sets of missions known as as ToonTasks to win rewards such as higher laff limit, new gag tracks, jellybeans, special effects, or clothing tickets. Toons have multiple species, which include cats, dogs, rabbits, ducks, horses, pigs, mice, bears, and monkeys. New species that had been released are deer and crocodiles.
Cogs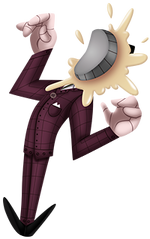 Cogs are the main antagonists of the game and evil business robots trying to take over Toontown. They were originally created by Gyro Gearloose who tried to help the Toons in Toontown, that was until Scrooge McDuck found the robot that did not have an appearance much like a Cog and activated it by connecting the wrong wires, causing the robot to become evil and order the Cogs to perform malicious actions. The Cogs then invaded Toontown during the Toon Council Presidential Elections, saddening the newly-elected president, Slappy. Since then, Flippy had been elected as temporary president of the Toon Council and invested an ongoing effort with the Toon Council to search for Slappy and bring back Toontown's rightful ruler.
There are four different types of Cogs: Sellbots, Cashbots, Lawbots, and Bossbots. Each Cog type has its own Cog headquarters and a boss. The boss of Sellbots being the Vice President, the boss of Cashbots being the Chief Financial Officer, the boss of Lawbots being the Chief Justice, and the boss of Bossbots being the Chief Executive Officer.
Gags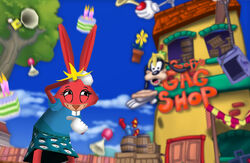 Gags are jokes used to defeat the Cogs in hopes of making them laugh. A Cog can be defeated with the use of gags and will explode if it laughs. There are seven gag tracks; however a Toon can access a maximum of six tracks, two of which are compulsory. The seven gag tracks are Toon-Up, Trap, Lure, Sound, Throw, Squirt, and Drop. The compulsory gag tracks are Throw and Squirt, other gag tracks are chosen throughout the game. Each gag track performs a different silly role.
Each Toon starts with two gags: the Cupcake and the Squirting Flower. A Toon can unlock a new gag by earning skill points; each gag can be purchased from Goofy's Gag Shop for one jellybean; this excludes level seven gags which are the strongest gags in the game that can only be earned by gaining skill points. Gag tracks are selected throughout the game - the first option being either Sound or Toon-up in Toontown Central. The second option being either Lure or Drop in Donald's Dock. The third option being either Trap, Toon-Up or Sound (whichever was not selected in Toontown Central) in Minnie's Melodyland. The final option is selected between the two gag tracks which had not already been chosen in The Brrrgh.
ToonTasks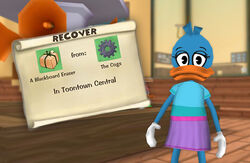 A ToonTask is a task in which Toons can complete to progress through the game. A ToonTask can be offered by visiting any shopkeeper or HQ Officer and selecting a ToonTask. Once a Toon has selected a ToonTask they must complete it before selecting another ToonTask. ToonTasks may involve defeating Cogs, delivering items or gags to shopkeepers, fishing, riding the Trolley, or calling Clarabelle. Once a Toon completes a ToonTask, they must visit the specified NPC shown on the ToonTask.
If a Toon is willing to complete any additional ToonTasks even after progressing through the entire ToonTask system, "Just for Fun!" ToonTasks are a great way to have more fun, but are not required for completion and can be deleted at any time.
Trolley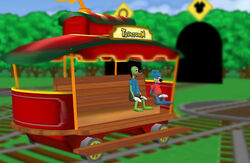 Most playgrounds have a Trolley that can take Toons to various mini-games where they can earn jellybeans, the main currency in Toontown. The earlier playgrounds, such as Toontown Central, have easier games with lower jellybean rewards. The later playgrounds, such as Donald's Dreamland, have tougher games with higher jellybean rewards. In some trolley games, Toons compete with the Cogs (in this case, formerly known as Trolley-bots).
Examples of Trolley games include Trolley Tracks, Maze Game, Jungle Vines, Cog Thief, Photo Fun, Match Minnie, Toon Slingshot, and Toon Memory Game.
Activities
Fishing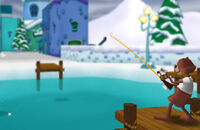 Fishing is an activity which can be used to earn jellybeans and add fish to a Toon's collection. As a Toon catches fish, they earn trophies and additional laff points. There are a total of seventy fish that can be caught. Several types of fishing rods can be purchased from Clarabelle's Cattlelog, starting off with the Twig Rod. Every playground and street contain a fishing pond for Toons to fish at. In some cases, ToonTasks may require Toons to fish for certain items.
On Wednesdays and Silly Saturdays, Toons can also play Fish Bingo to win extra jellybeans depending on the bingo mode.
Racing
Racing is a side activity located at Goofy Speedway where up to four Toons can race in karts on a variety of tracks to earn tickets, which can then be used to enter more races or upgrade their karts as well as add accessories. Toons can also earn trophies and eventually gain laff points from reaching certain milestones (such as 10 wins on a type of circuit, 100 races qualified). There are three types of racing events: Practice, Toon Battle, and Grand Prix.
Gardening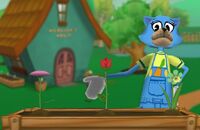 Gardening is an activity where Toons can start their own garden with the gardening kit at their estate. ​Toons can earn a total of four laff boosts from receiving gardening trophies. These trophies are rewarded when various flowers are planted. Toons may also plant up to eight gag trees, which will increase the planted gag's damage by 10% (rounded up) and/or will increase its accuracy. Toons begin to garden once a gardening kit has been purchased from Clarabelle's Cattlelog.
Golfing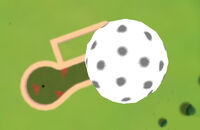 Golfing is an activity where Toons can play mini-golf over a series of holes to earn laff boosts and golfing trophies. Mini-golf is a side activity, and not required in any ToonTasks to progress further in the game. Golfing can be played with up to 4 players at a time, each taking turns (note that golf balls don't have collisions and can't be knocked by other balls) until all players have got the ball into the hole or until players have reached a limit of three shots over par.
Parties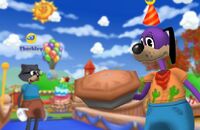 Parties are where Toons can come together to play, make new friends, and most importantly: have a Toontastic time. Toons can host their own parties or visit other public parties by walking up to one of two Party Planners standing right beside the party gate on every playground. Toons can also earn jellybeans by playing some party games.
Pet Shops
Toons can purchase their very own pets called doodles by visiting the local Pet Shop from any playground, as well as to sell fish. Doodles lend a helping hand for the Toons during a Cog battle by offering laff points after their tricks are successfully performed. At one point during April Toons Week, scientists from Loony Labs used the Pet Shops to temporarily house a prototype of the Silly Meter and offered exclusive ToonTasks for new clothing.
Estate
An estate is a Toon's home. Each account has six houses, one for each Toon created on the account. The house's color sometimes corresponds to the color of the Toon's character slot (i.e. a green character slot will give a greenish house). Estates also contain a pond to go fishing, as well as a bucket to sell fish in. Doodles also live at the estate with their owners.
Storyline
"

Day 37 of the Rewritten Experiment. Thus far, everything has been going smoothly. I've plopped the ideas of all of the neighborhoods into their heads...

"

―Doctor Surlee from his diary dated November 28, 1998.
Toontown Rewritten has had many cryptic puzzles involving the storyline of the game to keep the Toontown community busy, especially during the Alpha and Beta stages where not everyone could play the game. As the community manager, Sir Max has said some pretty cryptic things, even randomly speaking in morse code one time.
An anomaly known as the 26th was caused by Doctor Surlee since traveling back in time starting on October 26, 1998 in order to rewrite Toontown and defeat the Cogs. Ever since then, many cryptic messages had shown up in blog posts on the Toontown Rewritten website during the 26th of the month. Most of these cryptic messages revolve around the shenanigans of Doctor Surlee, and in some cases, revolve around the Cogs. The 26th had also revealed all of Doctor Surlee's mysterious blueprints of inventions that he created.
Events
Toontown is more than just Toons getting together and fighting off against the Cogs. Every year, the Toon Council take part in organizing yearly events such as the New Year's Top Toons Marathon, Christmas, Halloween, ValenToon's Day, St. Patrick's Day, and April Toons Week. ToonFest is another special yearly event that celebrates the anniversary of Toontown Rewritten.
One of the most important events in Toontown Rewritten's history was the Toon Council Presidential Elections, which is an event where the president of the Toon Council had been elected.
Every year, the Toontown Rewritten Team hopes to host a real life ToonFest event at popular world-wide gaming conventions. The tradition of hosting a real life ToonFest even began ever since OMG!Con 2015 came to fruition. During these events, the team showcase all sorts of merchandise (such as trading cards), special videos, sneak peeks at future content, and any other form of announcements.
To learn more about Toontown Rewritten's history, refer to this category.
Interviews and media coverage
Popular individuals who stream Toontown on Twitch or YouTube intend to host Q&As with a staff member from Toontown Rewritten.
System requirements
Windows
Mac
Linux
Operating System
Microsoft Windows Vista¹
OS X 10.8 (Mountain Lion)
Any common 64-bit Linux distribution
CPU
A dual-core CPU
A 64-bit dual-core CPU
RAM
2 GB
Hard Drive
At least 500 MB free space
Graphics Card
An OpenGL-compatible card with at least 256 MB of graphics memory²
Internet Connection
Any internet connection
---
¹ While Toontown may work on some Windows XP systems, we do not offer official support for Windows XP due to its retirement. You can read more about this over on Microsoft's website.
² Some Intel HD Graphics cards may experience issues rendering the game's graphics properly due to poor OpenGL support. If you experience any visual issues, try downloading the latest version of your graphics card's driver or contact Intel for help.
Windows
Mac
Linux
Operating System
Microsoft Windows 7, 8, 8.1, or 10
OS X 10.9 (Mavericks)
Any common 64-bit Linux distribution
CPU
A quad-core CPU
A 64-bit quad-core CPU
RAM
4 GB
Hard Drive
At least 1 GB free space
Graphics Card
An OpenGL-compatible card with at least 1 GB of graphics memory
Internet Connection
A broadband internet connection
Trivia
Toontown Rewritten begins before the events of Toontown Online. Many of Toontown Online's events repeat in Toontown Rewritten but on a different timeline that has been seemingly sped up, along with some additional consequences thanks to a certain Doctor Surlee.

Canonically, this is how Slappy originally became president of the Toon Council in Toontown Online. Because Slappy was never saved after his incident during the Toon Council Presidential Elections, Polar Bears were not around, making Paula Behr the only known Polar Bear to had survived Doomsday. Toons could, however, experience these events in Toontown Rewritten.
Gallery
Logos and posters
Projects
Others
References
Community content is available under
CC-BY-SA
unless otherwise noted.