"Disney's Toontown Online started in 2003 as the first family-oriented MMO of its kind. Unfortunately, much to the player's dismay, Disney announced the game's closure in August of 2013 due to budget cuts and changes in management at Disney Online. Toons were given one final month to have the time of their life in the Tooniverse before the game would be closed down seemingly forever... But luckily, "forever" didn't even last for an hour."
Toontown Online, commonly abbreviated as TTO, was an MMORPG developed by Disney's Virtual Reality Studio and Schell Games, and published by The Walt Disney Company. The game was released publicly on June 2, 2003 and lasted until its closure on September 19, 2013. Since the closure, many players of the Toontown community began working on bringing back the game in the form of "private servers". A popular private server known as Toontown Rewritten started development without its existence being known as soon as Disney announced on August 20, 2013 that Toontown Online would close.
Closure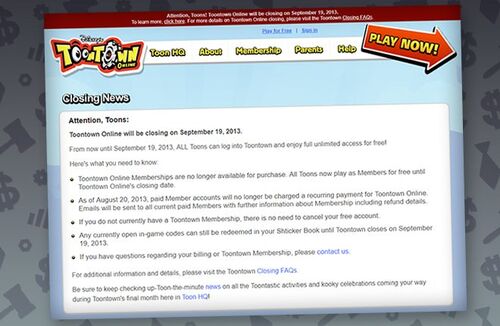 On August 20, 2013, the Toontown community was hit with tragic news about Disney's plan to close Toontown Online the following September. Due to budget cuts and changes in management, Disney shifted their focus towards other online and mobile play experiences, as well as a growing selection of mobile apps.
Despite the community's favorite online game closing on September 19th, the staff of Toontown Rewritten do not see said date as a time to mourn, but rather, a time to celebrate how lucky players are to have the ability to continue playing Toontown, by hosting an annual in-game ToonFest event.
Trivia
Toontown Online won 13 of the many awards the game was nominated for.
Toontown Rewritten hosts an annual real world ToonFest convention during the summer in celebration of Toontown Online's anniversary of when the game opened. Two of Toontown Online's developers, Jesse Schell and Shawn Patton, had even attended conventions that took place at ReplayFX in Pittsburgh, Pennsylvania, the same city and state of which Schell Games is located at.
Gallery
External links
Community content is available under
CC-BY-SA
unless otherwise noted.