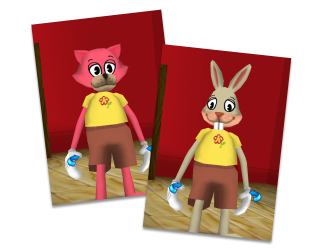 Toon colors are a customization feature where a player can pick a variety of colors for their Toon through the Create-a-Toon process. A Toon can be an entirety of one color, or have a different color for specific body parts. Colors are semi-permanent, meaning they cannot be changed unless the Toon Rewrite item is purchased from Clarabelle's Cattlelog for 10,000 jellybeans. Toon Rewrite allows the Toon to change the color of themselves from what they initially chose, and can only be purchased once every six months.
List of all colors
Original colors
New colors
Special colors
Trivia
A Toon's laff meter color is determined by the Toon's head color that is chosen in Create-a-Toon.
If a Toon types a name, their name will be displayed as their Toon's head's color (i.e. Orange Duck) until the name is approved unless the name is already in the Pick-a-Name name generator.
There were exactly 12,284,338,176 color combinations available for a Toon in Create-a-Toon before the addition of the ten new colors released on February 1, 2015.
Black Cats were once available on Friday the 13th in 2014 to allow players to remake their Toons.
On January 28, 2015, it was announced that ten new Toon colors would be released to Create-a-Toon on February 1 in the blog post, Toontown Tweaks: The Start of Something Hue. The new colors were Rose Pink, Ice Blue, Mint Green, Emerald, Teal, Bronze (later renamed Apricot), Amber, Crimson, Dark Green, and Steel Blue.
On December 31, 2018, two new colors were added to help celebrate the start of the Winter Laff-o-lympics event. These colors were Beige and Bubblegum.
On September 19, 2019, ToonFest Pink was revealed at the annual ToonFest event, after being secretly added as a color option for clothes from the Clothing Shops a day prior.[1]
References
Community content is available under
CC-BY-SA
unless otherwise noted.