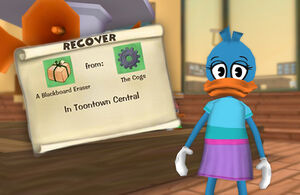 A ToonTask is a task in which a Toon can complete to progress through the game. A ToonTask can be offered by visiting any shopkeeper or HQ Officer and selecting a ToonTask. Once a Toon has selected a ToonTask, they must complete it before selecting another ToonTask, with the exception of "Just for Fun!" ToonTasks. ToonTasks may involve defeating Cogs, delivering items or gags to shopkeepers, fishing, riding the Trolley, calling Clarabelle's Cattlelog, or making new friends. Once a Toon completes a ToonTask, they must visit the specified NPC shown on the ToonTask.
If a Toon does not like the ToonTask the HQ Officer gives to them, Toons can try talking to other HQ Officers, since each HQ Officer has different sets of ToonTasks. 
If a Toon knows which NPC will be giving them their next task, they may walk right to that NPC and speak to them for the task. This is a method for Toons that know where they need to go next, which will help them avoid visiting the Toon Headquarters repetitively after every task they complete. For example, if a Toon knows that the next NPC they must speak to is Lil Oldman, they can simply visit him instead of visiting an HQ Officer first.
Toons can view their ToonTasks by holding down the "End" key on Windows or by pressing fn+right on Mac. Toons can also view them through their Shticker Book.
Progression ToonTasks
These tasks are required to be completed to progress through the game. A shopkeeper or HQ Officer can offer certain ToonTasks depending on the point the Toon is working at. It is required to complete the Toontorial and work your way through up to six gag tracks. The Toon will progress through the playgrounds in the following order:
In some cases, the tasks may require to recover a specific item by either defeating Cogs or going fishing. The table below shows the terms and percentages.
| Term | Percentage |
| --- | --- |
| Very low | 20% |
| Low | 25% |
| Medium | 50% |
| High | 75% |
| Perfect | 100% |
"Just for Fun!" ToonTasks
As the name implies, these tasks are just for fun and are not required for completion to progress through the game, but can beneficial in some cases. The rewards for the tasks may include jellybeans, clothing tickets, or cheesy effects. The rewards improve as the Toon progresses through the game, but the task required to earn the reward usually becomes much harder depending on the playground the Toon is working at. These tasks can also be deleted through the Shticker Book, but once deleted, the progress made for the respective task will be gone forever.
ToonTask guides
Trivia
Some progression ToonTasks (such as "Defeat 2 Short Changes") are often direct and are fully completed once the visible task is completed. Others, such as "Visit Professor Wiggle", lead to multiple tasks.
Sellbot Headquarters is the only Cog headquarters that does not require completing ToonTasks to build a Cog Disguise.
Toon Resistance ToonTasks, Loony Labs ToonTasks, Halloween ToonTasks and Winter ToonTasks are the only ToonTasks that contain an expiration date due to being part of temporary events.
Gallery
Community content is available under
CC-BY-SA
unless otherwise noted.