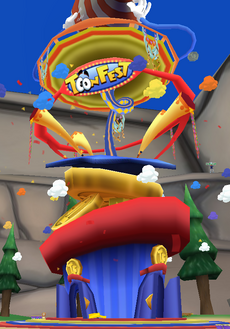 The ToonFest Tower is a large tower of silliness centered around the ToonFest grounds. By throwing pies at a Cog dummy, Toons can speed up, slow down, and reverse the direction of the platforms around the tower.
Design
At the bottom are four rotating disks composed of a merry-go-round colored yellow, blue, and red with each getting smaller. Each platform spins the opposite direction of the one larger than it. At the center of the four platforms in a blue and red cupcake, with a pillow stuck out of the top. On top of the pillow is a blue hat-like object with four party streamers connected to it. Out of the hat is a stem which connects to the ToonFest logo and the platform where Toons will watch the fireworks. Atop the viewing platform is a party hat connected by two gloves.
The tower returned for ToonFest 2015 with a different design of a larger blue and red cupcake consisting of four locked doors, and giant ToonFest tokens placed on top replacing the pillow. Starting with the 2015 event onwards, Toons can visit the Token Takers from within the tower to purchase all sorts of special limited-time clothing and accessories by using tokens.
Trivia
Gallery
References