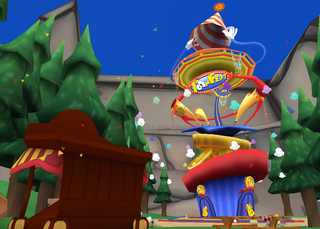 ToonFest 2016 was an event that marked the three year anniversary of Toontown Rewritten and three years since the closure of Toontown Online. The event was held in a temporary newly constructed area located in Chip 'n Dale's Acorn Acres called the Event Grounds. Due to delays, the event began on September 30, 2016 and lasted until December 5, 2016. Despite the ToonFest grounds being unable to open on September 19th, the celebration continued starting off with the nomination stage of the Toontown Species Election.
Blog posts
ToonFest was held from September 30, 2016 to December 5, 2016. Before the start of ToonFest, there were several "Backstage Toontown" blog posts that covered some of Toontown Rewritten's behind-the-scenes development. As the event went on, there were also blog posts that announced updates for ToonFest.
Appearance
The ToonFest grounds is a large, grassy, hilly area dotted with several pine trees, tons of confetti, cannons, trampolines, and picnic tables, some of which Toons can play picnic games on. Within the area, the sky goes through a process transitioning from daytime to nighttime accompanied by a sunset here and there. A dirt road leads from the ToonFest entrance, all the way to the ToonFest Tower. Close by is a large mountain with a mysterious mineshaft coming out of it. The mineshaft is inaccessible, but can clearly be seen if a Toon somehow manages to reach to the top of the ToonFest Tower.
Activities
ToonFest had many activities, some of which already existed before the opening. Like previous events, cannons, trampolines, and ToonFest tokens were present at the event. The ToonFest tokens were used to purchase many new prizes upon visiting the Token Takers when the doors of the ToonFest Tower opened since day 1 of the event. Scattered across the ToonFest grounds are bean bags that give jellybeans, as well as tokens.
Toons were able to play Find Four, Chinese Checkers, and Checkers on the empty tables. There were normal picnic tables, which would spawn food when a Toon sits somewhere on the benches.
Toons could visit a fishing pond at the ToonFest grounds where fish could be sold to Melville for tokens rather than jellybeans. More than four Toons could fish at this pond.
Prizes
Within the ToonFest Tower, Token Takers managed a prize booth where Toons could purchase all sorts of brand new clothing and accessories. Toons could also purchase merry multipliers and throwable pie items from their respective booths. Below are a few examples of what ToonFest had to offer.
Music
| | |
| --- | --- |
| ToonFest Theme | |
| Finale Fireworks | |
Trivia
On September 13, 2016, Riggy Marole held an "Ask Toontown" segment to answer questions about ToonFest from the Toontown community on Facebook and Twitter.[1]
This event introduced the in-game appearance of Riggy Marole for the very first time. He was given brand new animation for walking and posing.
Several activities were not released for this event. One of them is the duck tank, which was released for ToonFest 2017.
Gallery
References
Community content is available under
CC-BY-SA
unless otherwise noted.