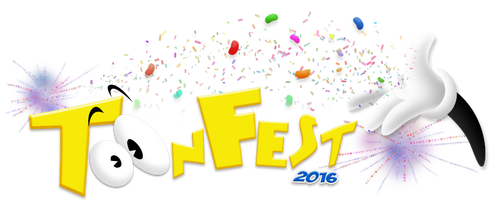 ToonFest 2016 was an event that marked the third anniversary of Toontown Rewritten and three years since the closure of Toontown Online. The event was held in a brand new area at Chip 'n Dale's Acorn Acres called the ToonFest Grounds. Due to unforeseen delays concerning server maintenance, the event began on September 30, 2016 and lasted until December 5, 2016. Despite the area having been unable to open on September 19th, the ToonFest celebration continued, starting with the nomination stage of the Toontown Species Election as announced by Alec Tinn.
Blog posts
Before the event, there were several "Backstage Toontown" blog posts published on the Toontown Rewritten website that covered some behind-the-scenes development. As ToonFest continued, there were also blog posts that announced updates pertaining to the event, with Riggy Marole causing mayhem on the Toontown blog.
ToonFest Grounds
Main page: ToonFest Grounds
The ToonFest Grounds is a large woodland dotted with many pine trees, various props, and some tables that Toons can play picnic games on. A dirt road leads from the Chip 'n Dale's Acorn Acres entrance all the way to the ToonFest Tower. Near the Tower is a mountain where a mysterious mineshaft can be seen. Although the mineshaft is inaccessible, Toons can get a better view of it if they manage to get to the top of the Tower. A three-minute "Finale Fireworks" show commenced for the final week of ToonFest.
Activities
ToonFest had plenty of activities found exclusively at the event area that Toons could participate in to earn ToonFest tokens.
Cannons - Similar to parties, Toons must blast themselves straight out of a cannon to touch as many clouds as possible. The more clouds that are hit, the more tokens that can be earned.
Trampolines - Toons must press the "Control" key to jump as high as possible and grab the most tokens.
Prizes
Toons could visit the fleet of Token Takers at the ToonFest Tower and various pop-up booths to purchase all sorts of exclusive prizes such as brand new clothing, accessories, portable pies, and merry multipliers by using tokens. Below are a few examples of the prizes:
Trivia
On September 13, 2016, Riggy Marole held an "Ask Toontown" segment to answer questions about ToonFest from the Toontown community via Facebook and Twitter.[1]
This event introduced the in-game appearance of Riggy Marole for the very first time. He was given brand new animation for walking and posing.
Several activities were not released for this event. One of them is the duck tank, which was released for ToonFest 2017.
Gallery
References