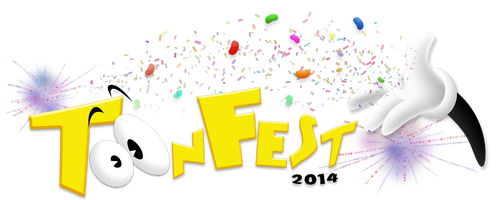 ToonFest 2014 was an event that marked the beginning of Toontown Rewritten's Open Beta, the first anniversary of Toontown Rewritten, and one year since the closure of Toontown Online. The event was held in a brand new area at Chip 'n Dale's Acorn Acres called the ToonFest Grounds. The event began on September 19, 2014 and lasted until September 28, 2014.
ToonFest returned for a limited time, but reincarnated in the name of "Barbecue Headquarters", on April 1, 2015 during April Toons Week.
Blog posts
Before the event, there were several "Backstage Toontown" blog posts published on the Toontown Rewritten website that covered some behind-the-scenes development. As ToonFest continued, there were also blog posts that announced updates pertaining to the event.
ToonFest Grounds
Main page: ToonFest Grounds
The ToonFest Grounds is a large woodland dotted with many pine trees, various props, and some tables that Toons can play picnic games on. A dirt road leads from the Chip 'n Dale's Acorn Acres entrance all the way to the ToonFest Tower. Near the Tower is a mountain where a mysterious mineshaft can be seen. Although the mineshaft is inaccessible, Toons can get a better view of it if they manage to get to the top of the Tower. A three-minute "Finale Fireworks" show commenced for the last couple days of ToonFest.
Activities
ToonFest had many activities, some of which already existed before the opening. Toons were able to play Find Four, Chinese Checkers, and Checkers on the empty tables. If a Toon won one of the board games, the winner would do a victory dance (similar to how Bamboo Cane looks) and everyone in the area would get a notification about who won and lost the game. There were normal picnic tables, which would spawn food when a Toon sits somewhere on the benches.
Flippy was also at the event with his pie stand and his new pet doodle, Fluffy. Toons could take Whole Cream Pies from Flippy's pie stand to throw at dummy Cogs. Melville was standing near a fishing pond, allowing Toons to fish and sell them to him for jellybeans. Toons also could ride the ToonFest hot air balloon manned by Alec Tinn to reach to the top of the ToonFest Tower.
Apparel

Trivia
This event marked the first to bring a brand new set of clothes (and first set of codes) to ever be released to Toontown Rewritten
On September 21, 2014, it was announced that the event would be extended to the following Saturday; the event was originally intended to end on the following Monday.
Gallery