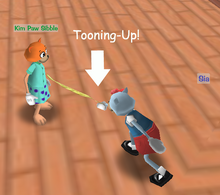 Toon-Up (Also known as TU or Toon Up) is a gag track that has medium accuracy and becomes available once a Toon finishes the ToonTasks in Toontown Central, Minnie's Melodyland, or The Brrrgh if not chosen in the previous playgrounds. Toon-Up gags are the first gags that are used by Toons in a Cog battle.
Toon-Up gags heal the targeted Toon(s) by the Toon-Up amount set for each gag. If a Toon-Up gag heals multiple Toons at the same time, the value is split evenly between them.
Unlike other tracks, if a Toon-Up gag misses, it will not completely fail to heal the targeted Toons. Instead, the gag will only heal 20% of the original value, rounded up.
Gags
Trivia
A Toon cannot use Toon-Up to restore their own laff. Instead, Toons can heal themselves by using Doodles, Toon-Up SOS Cards and Unites.
Even though a Toon-up gag that misses still heals the targeted Toons by a small amount, no experience points will be granted to the Toon-up user.
The Accuracy rating in the gag menu for Toon-Up is Medium.
Community content is available under
CC-BY-SA
unless otherwise noted.