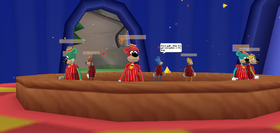 Token Takers are NPC clerks working at the ToonFest Tower of the event grounds since their first appearance during ToonFest 2015. The Token Taker's job is to offer prizes to Toons, which can be bought in exchange for ToonFest Tokens.
The Token Takers are all bears with the same legs and body size, but they have a different head and muzzle shape, including different colors. They all wear a red striped suit, with a red bowtie and a bamboo hat. The male Token Takers also have mustaches.
List of Token Takers
Item Token Takers (2015, 2016)
Other Token Takers (2016)
The Two Token Takers at both Pie Purchases and Merry Multipliers share names. Additionally, in what seems to be an error, at Merry Multipliers, Tori is a Male and Tanner is a Female.
Items
ToonFest 2015
Main page: ToonFest 2015 Prize Booth
ToonFest 2016
Pie Purchases
The Pie Purchase stand offered throwable items (like snowballs during Christmas). Once bought a pie of any kind, the Toon may not buy a different kind of pie until they have consumed all their pies. Toons may still, however, buy more pies of the same type.
Trivia
A total of 3050 ToonFest Tokens are required in order to buy all items from the ToonFest 2015 shop (technically 3300, but the Extraordinaire Shorts and Extraordinaire Skirt are not available based on the Toon's gender).
Token Taker Ted was the main Toon who introduced himself and the other Token Takers. He is also the one who confirmed that the ToonFest Tokens are made out of pure chocolate.
Gallery
See also
Community content is available under
CC-BY-SA
unless otherwise noted.