The Brrrgh

Basic information

Treasure

:
Snowflake
Population:
?? Toons
Number of buildings:
??
Connects to
Sleet Street → Baritone Boulevard, Minnie's Melodyland
Walrus Way → Lighthouse Lane, Donald's Dock
Polar Place → Lawbot Headquarters
Cog information
Minimum level:
5
Maximum level:
9
Maximum building stories:
5 floors
Data is by normal gameplay.
Map

Media files
The Brrrgh, commonly abbreviated as TB or less commonly BRG, or plainly Brrrgh, is a neighborhood located in the northern regions of Toontown. It is connected to Lawbot Headquarters, Donald's Dock, and Minnie's Melodyland. It is the fifth playground that Toons work in, and is the final playground to have Toons train for a new gag track. The Brrrgh is unique in the fact that it is one of two playgrounds to have Cogs higher than level 6 walking down the streets, having Cogs go up to level 7 on all streets, and even having level 8 and level 9 Cogs on Polar Place exclusively. The only other playground to include level 6+ Cogs is Donald's Dreamland.
The Brrrgh is arguably one of the most well-known playgrounds, mostly due to the horrendous tasks given out by Lil Oldman, which require Toons to defeat several high-level Cogs, as well as an absurd amount of 4+ story Cog Buildings.
Theme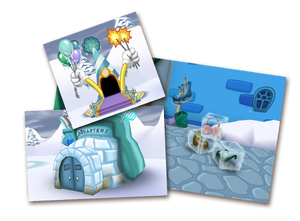 The Brrrgh is a winter themed playground with snow and ice on the ground. Snow falls from the sky.
The Toon buildings are designed to be wintery, with blue colors and an icy look. The Toon Headquarters is an igloo wearing a stocking cap.
As with all playgrounds, excluding Chip 'n Dale's Acorn Acres and Goofy Speedway, The Brrrgh contains a Toon Headquarters, a Pet Shop, a Clothing Shop, a Goofy's Gag Shop building, and a party gate.
Buildings
Streets
The Brrrgh has three streets:
Streets' main purposes are to house buildings and connect playgrounds, as well as give Toons a place to battle the Cogs. The Brrrgh is one of the three playgrounds to also connect to a Cog Headquarters. In this case, it is connected to the Lawbot Headquarters via Polar Place.
Trivia
Videos
(-111, -41)
Community content is available under
CC-BY-SA
unless otherwise noted.