(→‎Trivia: I have looked this up, and there doesn't seem to be an official "How to pronounce "The Brrrrgh" by Disney or by The TTR team. I always pronounce it Brrrr, but people tend to call it Burg. I added this myserty into trivia.)

Tags: apiedit, Visual edit

Line 46:
Line 46:
 

*At [[OMG!Con 2016]], a retextured version of The Brrrgh was shown off, and attendees were able to experience the new textures.

 

*At [[OMG!Con 2016]], a retextured version of The Brrrgh was shown off, and attendees were able to experience the new textures.

 

*The Brrrgh seems to be the main testing playground for [[Toontown Retextured]], considering it was shown off at OMG!Con 2016 and then later shown off in a blog post titled "''[[News Blogs (2016)#Backstage: Touching Up Toontown|Backstage: Touching Up Toontown]]"'', along with a preview video shown below.

 

*The Brrrgh seems to be the main testing playground for [[Toontown Retextured]], considering it was shown off at OMG!Con 2016 and then later shown off in a blog post titled "''[[News Blogs (2016)#Backstage: Touching Up Toontown|Backstage: Touching Up Toontown]]"'', along with a preview video shown below.

 
+

*Due to there being no voice recordings in Toontown Rewritten, it has always been a mystery of how you are supposed to pronounce "The Brrrrgh"

 
+

**Some pronounce it "Burg" (as in iceberg) or "Brrrr" (as in being cold).

 
 
 

==Videos==

 

==Videos==
---
Revision as of 19:26, 11 September 2017
The Brrrgh, commonly abbreviated as TB or less commonly BRG, or plainly Brrrgh, is a neighborhood located in the northern regions of Toontown. It is connected to Lawbot Headquarters, Donald's Dock, and Minnie's Melodyland. It is the fifth playground that Toons work in, and is the final playground to have Toons train for a new gag track. The Brrrgh is unique in the fact that it is one of two playgrounds to have Cogs higher than level 6 walking down the streets, having Cogs go up to level 7 on all streets, and even having level 8 and level 9 Cogs on Polar Place exclusively. The only other playground to include level 6+ Cogs is Donald's Dreamland.
The Brrrgh is arguably one of the most well-known playgrounds, mostly due to the horrendous tasks given out by Lil Oldman, which require Toons to defeat several high-level Cogs, as well as an absurd amount of 4+ story Cog Buildings.
Theme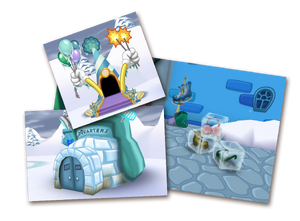 The Brrrgh is a winter themed playground with snow and ice on the ground. Snow falls from the sky.
The Toon buildings are designed to be wintery, with blue colors and an icy look. The Toon Headquarters is an igloo wearing a stocking cap.
As with all playgrounds, excluding Chip 'n Dale's Acorn Acres and Goofy Speedway, The Brrrgh contains a Toon Headquarters, a Pet Shop, a Clothing Shop, a Goofy's Gag Shop building, and a party gate.
Buildings
Streets
The Brrrgh has three streets:
Streets' main purposes are to house buildings and connect playgrounds, as well as give Toons a place to battle the Cogs. The Brrrgh is one of the three playgrounds to also connect to a Cog Headquarters. In this case, it is connected to the Lawbot Headquarters via Polar Place.
Trivia
The Brrrgh used to be Pluto's playground. In Toontown Online, Pluto would walk around just like Mickey, Donald, Minnie, Daisy, and Chip and Dale would in their respective playgrounds.
This is the only place where you can catch the Frozen Fish due to the fact that the water is very cold and icy.
This is one of only two playgrounds to not have the Disney characters' names in its title. The other playground is Toontown Central.
As stated in Doctor Surlee's papers, The Brrrgh was actually created by Gyro Gearloose on accident since he had intended to make the area a little cooler but it ended up creating an infinite blizzard.
If you visit Hibernation Vacations at Polar Place and say "Howdy" from the SpeedChat menu, you will obtain the Polar Toon effect.
At OMG!Con 2016, a retextured version of The Brrrgh was shown off, and attendees were able to experience the new textures.
The Brrrgh seems to be the main testing playground for Toontown Retextured, considering it was shown off at OMG!Con 2016 and then later shown off in a blog post titled "Backstage: Touching Up Toontown", along with a preview video shown below.
Due to there being no voice recordings in Toontown Rewritten, it has always been a mystery of how you are supposed to pronounce "The Brrrrgh"

Some pronounce it "Burg" (as in iceberg) or "Brrrr" (as in being cold).
Videos
(-111, -41)
Community content is available under
CC-BY-SA
unless otherwise noted.