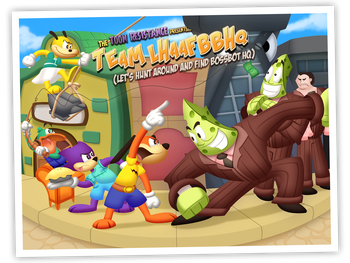 This mini-comic, titled "The Adventures of Team LHAAFBBHQ", tells the story of how four Toons were selected for the most dangerous mission of their lives.
Plot
Opening in Chip 'n Dale's Acorn Acres in January 2004 at about 9:00 A.M., Good ol' Gil Giggles and Lord Lowden Clear discuss the potential threat of Bossbot Headquarters. After deciding that Bossbot Headquarters is a threat to Toontown, Lord Lowden Clear says that Gil cannot go out alone, and Lowden must stay behind to prepare for Operation: Duck Hunt. After hearing this news, Gil suggests sending Mata Hairy, whom Lowden turns down since she is busy dealing with Cashbot Headquarters.
Suddenly, four Toons crash into the Acorn Acres geyser in their golf kart, causing the kart to break apart. Lowden reveals to Gil that he wants the four Toons to formulate a team and search for Bossbot Headquarters. Gil worries that they are not prepared for such a mission, but Lowden begs to differ.
Characters
Toons
Cogs
Comic
Community content is available under
CC-BY-SA
unless otherwise noted.