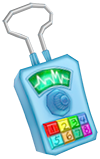 The Silly Reader is a tool used by Toons to keep track of Silly Meter stats, which can be accessed from the "Silly Meter" page of the Shticker Book. Obtaining the Silly Reader requires a Toon to have at least 30 laff and/or have a level four gag, and requires the Toon to complete a ToonTask offered by Loony Labs in Toon Hall.
Toons that have a Silly Reader can view the amount of Silly Points they obtained, the amount of global Silly Points Toontown has, and how many Silly Points have been gained or lost every 15 minutes. Toons can also join a Silly Team using the Silly Reader, making all the Silly Points they earn individually go towards that team and its associated bonus. When the Silly Meter fills up, it grants the Silly Team reward that had the most Silly Points placed into, and globally affects all Toons across Toontown, including those who do not yet have a Silly Reader for 48 hours.
ToonTask
Once a Toon reached 30 laff and/or obtained a level four gag, they can obtain this ToonTask by speaking to one of five Loony Labs Scientoons located in Toon Hall. A Silly Reader is awarded to the Toon for completing the ToonTask.
Recover
5 Silliness Suckers from Cogs
Anywhere
Complete
Return to Loony Labs Scientoon
Toon Hall
Toontown Central
Complete
Return to Loony Labs Scientoon
Toon Hall
Toontown Central
Trivia
As part of the ToonTask, Loony Labs asks Toons to recover five Silliness Suckers from Cogs. It is apparent that the Cogs developed Silliness Suckers in order to absorb Silly Particles present in the surrounding airspace across Toontown.[1]
References
Community content is available under
CC-BY-SA
unless otherwise noted.