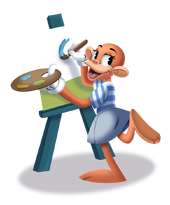 Needs an Image


This page could use at least one image to add a bit more "pizazz". You know us Toons could never miss out on the opportunity to work with arts and crafts! Please use the upload tool and the edit tool to implement an original image in png, jpg, or gif format.
SOS Toons are NPC Toons who have been kidnapped and held prisoner in Sellbot Towers or a field office. They are seen caged while fighting the Vice President or the boss of a field office, and are released upon defeating the Vice President and the field office. They reward a card which allows the Toon to call them for assistance in a cog battle. Each card has different abilities. When the SOS Toons are free, you will get two cards from them that have the same ability.
SOS Toons (VP)
Trivia
All SOS besides Drop and Lure have perfect accuracy. If the Toon using a Drop SOS is Dropless or has Flower Pot as their highest Drop gag, the SOS will miss on Cogs level 11 or higher unless they have at least one stun to go with it. All the VP's Lure SOS have perfect accuracy, but have a chance of waking up early if the Toon does not have at least $10 bill.

With lure, this becomes a little more complicated. The same rules apply as above if the SOS Lure is the only lure being used in the round. However, if another Toon uses their own lure in the same round, this gives the SOS lure a chance of missing.

Field Offices have not yet made an appearance in Toontown Rewritten. As these buildings had their own SOS cards as rewards, there are currently several SOS cards that are unobtainable. The Field Office SOS toons were controversial though as they were weak, and people such as greeners used them (especially sound and trap ones) for negative purposes.
You can still call for assistance from a shopkeeper even if he/she is currently captured in the cage.
There is a phenomenon known as 'SOS Shopping' where toons fight the VP for the sole purpose of getting a good SOS toon. They leave and come back if the SOS toon is unsatisfactory for their standards, and continue to do this until they get an SOS toon they like.

It is considered impolite to not warn the rest of your group that you are shopping, as it leaves the rest of the toons to complete the fight without an eight toon. This is considered greening.
References