Riggy Marole

Physical appearance

Gender

Male

Species

Color(s)

Residential information

Playground

Map
"The name's Riggy Marole, 'gents -- spelled with an R, an I, a Y, and a few G's thrown in there."
―Riggy Marole
Riggy Marole is an NPC rabbit Toon who appears in the Cartoonival Grounds from September 19th to October 20th. He is commonly known as the richest and wackiest host of the annual event to celebrate all things Toontown.
Trading card

Riggy Marole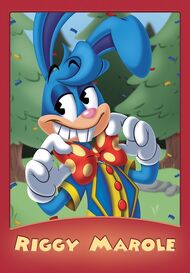 He may not look it at first glance, but Riggy Marole is one of the richest Toons in Toontown! Unlike certain ducks who hoard their riches out of greed, Riggy's love of jellybeans comes purely from their taste. His never-ending sugar rush full of "YOWZA's!" and "BUCK-O's!" makes him the perfect host for ToonFest -- let's just hope he never finds out that ToonFest Tokens are made of chocolate!

Likes: ToonFest, Jellybeans, Bowties
Dislikes: Bear Unions, Bad Fashion Sense
Trivia
His name is a pun on "rigmarole", a lengthy and complicated procedure.
According to Riggy Marole in one of his blog posts, his full name may be "Rigmund Q. Marole".[1]
Riggy Marole is the only NPC with a new head and new animation.
Gallery
References