Riggy Marole

Physical description

Gender

Male

Species

Color

Residential information

Playground

Map
"The name's Riggy Marole, 'gents -- spelled with an R, an I, a Y, and a few G's thrown in there."
―Riggy Marole
Riggy Marole is a NPC rabbit Toon who appears in the ToonFest Grounds from September 19th to October 20th. He is commonly known as the richest and wackiest host of Toontown's annual celebration.
ToonFest
Riggy Marole casually walks around the ToonFest Grounds keeping watch on the festivities. When a Toon walks up to him, Riggy speaks in various dialogues.
Dialogues
They didn't believe ToonFest was a pie in the sky idea, but look at those pies now! HAH!
Toon HQ is yankin' my tail with ToonFest Tasks! Ah, there's always next year.
Checked out the prizes yet? Those bowties are FABULOUS!
They ain't selling my own bowtie in the shops. I gotta be maintainin' my signature style.
Ever grinned so long it stuck? That's what happened to me after the jellybean incident. HAH!
Is it just me, or has it been a REALLY long month?
I swear that piece o' confetti looked like a snowflake.
Hey, HEY! Watch da merchandise! You nearly messed up my fluff o' hair.
Boy, I hired a Quizmaster for the event and they've not even show up! Typical.
I can assure you with almost no certainty that the attractions are up to safety standards!
This party feels like forever. Sir Max told me it's still October, but I'm questionin' it!
Whoa whoa, was that Fluffy? HAH! Made you look. Too soon?
Say, [Toon name], I'm liking the look. Ever tried adding a spotted bowtie to it?
[Toon name], let me tell you, YOU would look good in ToonFest Blue!
Rig, rig, rigmaROLE, rig rig — Ah sorry, just hummin' my theme song.
My hair's gettin' long, and my bear barber's busy. Anyone know of a good hare salon?
Say, have you's fellows got any jellybeans? I'm down to my last million, it gets me worried.
Make sure you wipe your feet at the door. I'm runnin' a rabbit hole, not a pigstye!
Eh, where's all this confetti coming from? Best not to be questionin' it.
Think you know everything about Toontown? Heh, we'll see about that. Just you wait.
I dig a good Toon Party, but have you's ever seen one with a token trampoline? I didn't think so, buck-o!
Ever grinned so long it stuck? That's what happened to me after the jellybean incident. HAH!
Say you know any new Crocs lookin' to earn a few tokens? I've got job openin's for my next scheme!
ToonFest ends on October 20th, I tell ya. I'm putting' my lucky foot down if the Toon Council asks for longer!
Trading card
Riggy Marole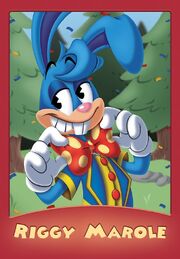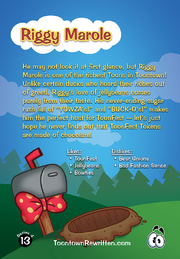 He may not look it at first glance, but Riggy Marole is one of the richest Toons in Toontown! Unlike certain ducks who hoard their riches out of greed, Riggy's love of jellybeans comes purely from their taste. His never-ending sugar rush full of "YOWZA's!" and "BUCK-O's!" makes him the perfect host for ToonFest -- let's just hope he never finds out that ToonFest Tokens are made of chocolate!

Likes: ToonFest, Jellybeans, Bowties
Dislikes: Bear Unions, Bad Fashion Sense
Trivia
His name is a pun on the term "rigmarole", a lengthy and complicated procedure.
According to Riggy Marole in one of his blog posts, his full name may be "Rigmund Q. Marole".[1]
Riggy Marole is currently and so far one of the only NPC toons who are wearing accessories, the other being Holly Daze.
Riggy Marole is the only NPC with a new head and new animation.

The Toontown Rewritten Team used Riggy Marole as a test for a new Toon species by giving him a unique appearance.[2] When he was first introduced, the Toontown community questioned if he was an actual new species.
The animation for how he poses and walks served as a glimpse of what Toontown Rerigged could do for the game.[3]
Gallery
References
Community content is available under
CC-BY-SA
unless otherwise noted.