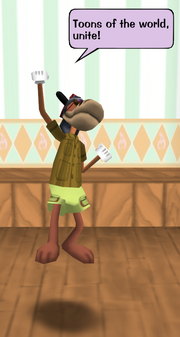 The Resistance Salute is a special emotion used to signify the membership or affiliation of the Toon Resistance. When used, the Toon will say "Toons of the world, unite!" while jumping in the air.
The phrase is given by Whispering Willow, who will give the Resistance Salute emotion when a Toon says a special SpeedChat phrase, "Would you like some help?". Once the phrase is said, the emotion can be found under the "Animation" tab of the SpeedChat menu.
Triva
This animation is used to use a bypass code to access Bossbot HQ before the tunnel is finished.