ReplayFX 2018 was the fourth real world ToonFest event hosted during the summer of 2018 to celebrate the 15th anniversary of Toontown Online. The event took place at the David L. Lawrence Convention Center within the ReplayFX Arcade & Gaming Festival in Pittsburgh, Pennsylvania from July 26, 2018 to July 29, 2018. Toontown players who were unable to attend the event were kept up-to-date on the happenings of the event through Toontown Rewritten's social media, and /r/ToontownRewritten's Discord server. Toontown Rewritten also held a livestream on Twitch, YouTube, and Facebook during July 26th for the "Kickoff with Disney's Toontown Online Developers", July 27th for "The Main Event", and July 28th for "Q&A with the Toontown Team" respectively.
Before the event, Toontown Rewritten uploaded several YouTube videos consisting of a pre-ToonFest interview with Jesse Schell and Shawn Patton, as well as personal "eggcellent" stories told by the two. Announcements, such as the first official Toontown Cosplay Contest, were also posted on ToontownRewritten.com.
Blog posts
Apparel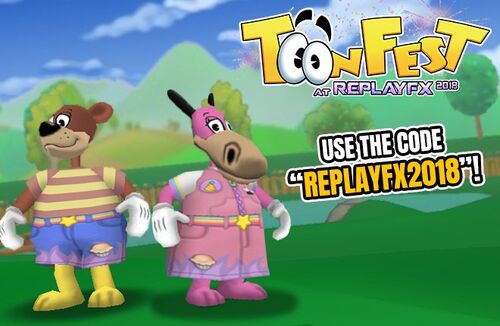 Toontown players could enter the code, "replayfx2018", in their Shticker Book until August 9th to retrieve some exclusive ReplayFX apparel. Male Toons will receive ToonFest 2018 Blue Shorts and ToonFest 2018 Pink Shorts while female Toons will receive a ToonFest 2018 Blue Skirt and ToonFest 2018 Pink Skirt.
Attendees could also pick up special codes to retrieve an extra variety of the apparel including ToonFest 2018 Blue Attendee Shorts, ToonFest 2018 Pink Attendee Shorts, ToonFest 2018 Blue Attendee Skirt, and ToonFest 2018 Pink Attendee Skirt.
Media
Images
Videos
Trivia
A big update was released on July 20, 2018 that was said to introduce some of the content that was originally going to be presented at ToonFest.[1]
New content that had been revealed during the Main Event and Q&A panels were more silly teams, a facelift of the Toon Hall, a new minigame and boss battle for Field Offices, and an upcoming event known as Operation: Crash Cashbot Headquarters.
At the convention, an ARG scavenger hunt took place in which attendees had to solve puzzles and retrieve missing pieces of a Cog memo.[2] Although the memo has been left with complications in decoding, it likely hinted towards Operation: Crash Cashbot Headquarters and the Cogs' "C.F.O. Project" as stated by Lord Lowden Clear in the event video.
References
Community content is available under
CC-BY-SA
unless otherwise noted.