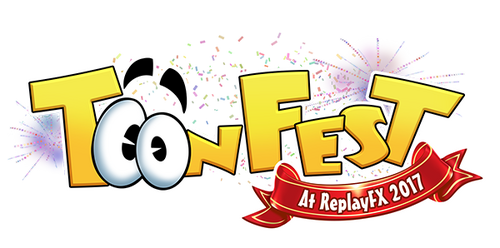 ReplayFX 2017 was the third real world ToonFest event hosted during the summer of 2017 to celebrate the 14th anniversary of Toontown Online. The event took place at the ReplayFX Arcade & Gaming Festival within the David L. Lawrence Convention Center in Pittsburgh, Pennsylvania from July 27th to July 30th. The Toontown Rewritten Team kept players who could not attend the event updated on the happenings of the event through social media, and even hosted a livestream of the main event for the first time on YouTube and Instagram. Sometime during and after the convention, various recordings of the main event livestream, interview with Jesse Schell and Shawn Patton, and the traditional Toontown pie toss were posted on YouTube.
Blog posts
Apparel
Players could redeem the code, "replayfx2017", in their Shticker Book from July 28th to August 4th to claim the ToonFest 2017 Blue Shirt and ToonFest 2017 Pink Shirt. Attendees could also redeem special codes offered at the convention to claim the exclusive ToonFest 2017 Blue Attendee Shirt and ToonFest 2017 Pink Attendee Shirt.
Merchandise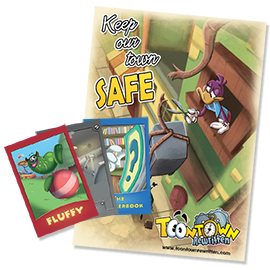 On October 26, 2017, Toontown Rewritten started sending out Member Mailers until March 31, 2018 to offer players a chance to receive their very own trading cards that were offered at ReplayFX. The third set of all-new Toontown Rewritten trading cards consisted of Fluffy, the Shticker Book, and Goon. Along with the trading cards also included a mini Toontown poster.
Gallery
Images
Videos
Trivia
Jesse Schell and Shawn Patton participated in the main event panel to answer questions from attendees.
The winner of the Toontown Species Election was announced during the main ToonFest panel on July 28, 2017, having gone through the voting sessions for a whole year since the event's announcement made at OMG!Con 2016.
This is the first real world ToonFest event that involved visiting another area near the convention center. ToonSeum was a museum mainly known for showcasing cartoon history.
Community content is available under
CC-BY-SA
unless otherwise noted.