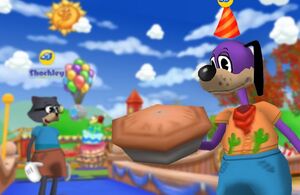 Parties are where Toons can come together to play all sorts of fun mini-games. Toons may walk up to a party gate on any playground to create their very own party or join an existing party. Toons can also earn jellybeans by playing some party games. Parties are usually 30 minutes long.
Decorations and party games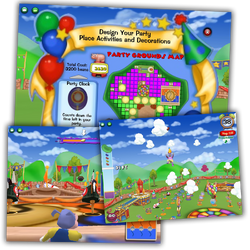 The following are the prices for decorations and party games:
Party Cannons: 50 jellybeans each
Trampolines: 50 jellybeans each
Jukebox - 20 songs: 50 jellybeans (one only)
Jukebox - 40 songs: 100 jellybeans (one only)
Dance Floor - 10 moves: 100 jellybeans (one only)
Dance Floor - 20 moves: 200 jellybeans (one only)
Decorations: 10 - 25 jellybeans each
Party Clock: 100 jellybeans (required to start a party)
Party Catch: 300 jellybeans (one only)
Tug of War: 200 jellybeans (one only)
Cog-O-War: 300 jellybeans (one only)
Fireworks: 200 jellybeans (one only)
Note: It is impossible to obtain the 20 song jukebox and 40 song jukebox at the same time, or the 10 move dance floor and 20 move dance floor at the same time.
Hosting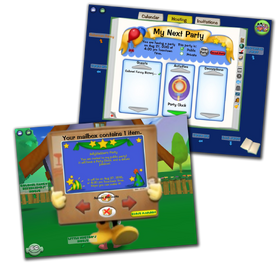 Toons can host parties by walking up to a Party Planner and they will ask if you want to host a party. This costs 100 jellybeans. When a Toon is making a party, they can decorate it by placing decorations anywhere they would like them to be on the party grounds. Once the Toon is finished, he or she will be asked to plan the party. The Toon then has to set the time the party will be going on (Pacific Time), then picks which Toons to send invitations to. The Toon selects the theme of the invitation, and the invitations are then sent to the selected Toon's mailboxes.
Toons can also select if the party will be public or private. A public status means any Toons may join the party, while a private status means only selected Toons may join.
Fireworks
Main page: Fireworks
Fireworks are activated when the host of the party pulls down a lever on the rocket launch pad. This will make the rocket fire into the air, making fireworks. Toons at the party can press the PGUP key (Windows) or fn+Up (macOS) to look up and view the fireworks. Once you've pulled the lever, the sky will go dark, fireworks will shoot into the air and a different music will play in the background. However, there's currently a bug where the Jukebox music will start playing again mid-way into the fireworks.
Trivia
Tug of War in parties is similar to the Trolley game, Tug of War, except Toons can play four against four, but cannot play against Cogs. In either version of the game, Toons can complete with and against others.
Fireworks had been shown to be very popular in Toontown Online because players would often times beg the owner of the party to initiate fireworks.
Parties were originally going to be the next major update after golfing, but doodles had ended up being released sooner. This feature was implemented on September 1, 2017 from an update that constituted Toontown Rewritten's end of Beta.
Gallery
Community content is available under
CC-BY-SA
unless otherwise noted.