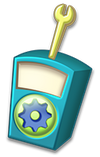 The Options menu is an interface allowing players to extensively customize the game. It is accessible through a shiny remote icon above the Shticker Book (if a Toon is at a street, the remote will be positioned above the M.A.P.S. icon), or through the default shortcut of shift + esc. This update was released to Toontown Rewritten on November 29, 2018.
Features
The Options Update introduces features such as keybinding, antialiasing, animation blending, and an overhaul of movement mechanics that were originally never included in Toontown Online. The Options menu replaced the plainer "Options" page in the Shticker Book, which provided a very limited control on game settings, mainly blocking friend requests and the ability to enable or disable audio. Many of the settings in the Options menu were also originally only available in Settings.json.
The menu is divided into several tabbed subjects. Each subject is divided into groups of similar settings, with the option to reset the subject's settings to default. The menu is accessible even during activities where the Shticker Book itself will not be accessible, such as battles and elevators.
Settings
Gameplay
Default values are bolded.
Modifier
Values
Toon Preferences
Accept Teleports From
Anyone/Friends/Nobody
Accept New Friends
On/Off
Accept Anyone's Whispers
On/Off
Miscellaneous
Discord Integration
On/Off
Controls
Modifier
Default values
Movement
Forward/Up
Up Arrow
Reverse/Down
Down Arrow
Left
Left Arrow
Right
Right Arrow
Jump
Control
Walk
Shift
Chat
Automatic SpeedChat+
On/Off
Open SpeedChat+
Enter
Gameplay
Take Screenshot
F9
Open Shticker Book
F8
Open Friend List
F7
View Gags
Home
View ToonTasks
End
Perform Action
Delete
Exit Activity / Open Shticker Book
Esc
View Street Map
Alt
Options
Shift + Esc
Camera
Change Camera
Tab
Change to Previous Camera
Shift + Tab
Look Up
Page Up
Look Down
Page Down
Utilities
Show/Hide GUI
F3
Display Debug Info
Shift + F1
Take Debug Screenshot
F10
Display Cog HQ Facilities Info
F2
Audio
Modifier
Default values
Music
Music
On/Off
Music Volume
100% (slider)
Sound Effects
Sound Effects
On/Off
Chat Sound Effects
On/Off
Sound Effects Volume
100% (slider)

Visual Indicators

On/Off
Video
Modifier
Default values

Display

Display Mode
Windowed/Borderless/Fullscreen
Resolution
1920 x 1080
1680 x 1050
1600 x 1200
1600 x 900
1440 x 900
1400 x 1050
1366 x 768
1360 x 1024
1360 x 768
1280 x 1024
1280 x 960
1280 x 800
1280 x 768
1280 x 720
1024 x 768
800 x 600
Visual Quality

Show FPS

On/Off

Antialiasing

Off
2x MSAA
4x MSAA
8x MSAA

LOD Distance

Near/Far/Very Far

Animation Blending

On/Off

GUI Animaion

On/Off

Particle Effects

On/Off

Disable Accessories

On/Off
Experimental

Enable Experimental Settings

On/Off
Settings for experimental features are located below the "Enable Experimental Settings", and will only be visible if said setting is enabled. Upon enabling experimental features are disabled by default and will only take effect if the Toon chooses to enable them individually (upon disabling and re-enabling the "Enable Experimental Settings", the data regarding which experimental settings were still on will still be saved for the next time "Enable Experimental Settings" is enabled).
Current experimental settings include:
| Modifier | Description note |
| --- | --- |
| Animation Smoothing | Interpolates animation frames for a smoother appearance at higher frame rates. |
| Anaglyph 3D | Enables support for red/blue 3D glasses. |
Gallery
See also
Community content is available under
CC-BY-SA
unless otherwise noted.