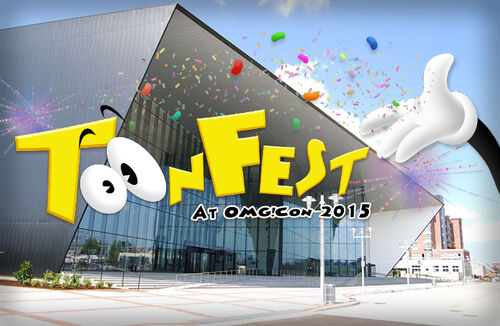 OMG!Con 2015 was the first ever real world ToonFest event hosted during the summer of 2015 to celebrate the 12th anniversary of Toontown. The event took place at at convention called OMG!Con in Owensboro, Kentucky from June 12, 2015 to June 14, 2015. On June 11, 2015, it was announced that Toontown Rewritten would update fans that could not make it to the live event throughout social media and mostly with Snapchat, through the account "ToontownTV".
Toontown Rewritten uploaded YouTube videos of event highlights and a full recording of the panel. After the event, new ToonFest 2015 Blue Shoes and ToonFest 2015 Pink Shoes items were released for all Toons by redeeming the code "toonfest2015". Attendees could also redeem special codes they received at the event for an exclusive ToonFest 2015 Blue Attendee Shoes, ToonFest 2015 Pink Attendee Shoes, and ToonFest 2015 Jellybean Jar.
On July 6, 2015, Toontown Rewritten started sending out Member Mailers until the 31st to offer players a chance to receive their very own trading cards from OMG!Con. The trading cards introduced from this event consists of Slappy, Alec Tinn, and the Director of Ambush Marketing. Along with the trading cards, players also received a Toontown letter.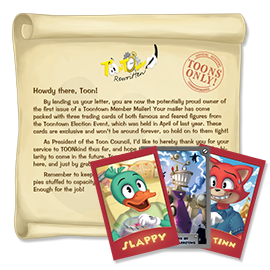 Blog posts
One backstage blog post before the arrival of the in-game ToonFest 2015 was published to analyze how the convention was created.
Gallery
Images
Videos
Trivia
See also
---
joey19982 (Sir Max) Tue Apr 28 02:30:35 2015 UTC
It's a shame that he won't be able to make it himself, (But fun fact, his birthday is on the same day as our panel!) but it is great to see his support in this.
One of the main reasons we are going through with ToonFest is due to his post on MMO Central back during Toontown's closing, where he encouraged us all as a community to host out-of-game meetups, gather attention, and do anything we can to keep Toontown alive. Maybe one day we'll even be able to collaborate with him on one in the future.
Community content is available under
CC-BY-SA
unless otherwise noted.