News for the Amused

This is News for the Amused, bringing archives of all the official Toontown Rewritten news! Click the links below to see what was posted on the Toontown blog throughout the years.
This page lists all blog posts that were posted on the Toontown Rewritten website during the year of 2020. It will be updated as the year progresses.
January
Posted by Toon HQ on January 2, 2020 at 6:00 PM
This is Toon HQ, and we'd like to wish all of Toontown a very Happy New Year! It's the start of another fantastic year, and we've got lots of brand new Top Toons to award our squeaky clean new medals themed after the Year of the Mouse.
The following list is separated into two categories, Cogs Defeated and Floors Recovered. Each category has winners from each hour from all throughout January 1st. If you're one of them, your name will be down below!
| | |
| --- | --- |
| Cogs Defeated | Floors Recovered |
| 12:00 AM | 12:00 AM |
| 1. Cassie - 256 Cogs | 1. Kasper - 55 Floors |
| 1. Ereek - 256 Cogs | 2. Tentacion - 52 Floors |
| 2. Mirage - 195 Cogs | 3. Alphabet - 49 Floors |
| 3. Diva - 174 Cogs | 3. Braxo - 49 Floors |
| 1:00 AM | 1:00 AM |
| 1. Favonian - 273 Cogs | 1. Pink Lemonade - 51 Floors |
| 2. Kobe Pancake - 272 Cogs | 1. Spirit Tracks - 51 Floors |
| 2. Pouvoir De L'Amour - 272 Cogs | 1. Nick Esquire - 51 Floors |
| 2. Milagro - 272 Cogs | 2. Fireball - 50 Floors |
| | 2. Sparx - 50 Floors |
| | 2. Mister Bonkers - 50 Floors |
| 2:00 AM | 2:00 AM |
| 1. Oblivion - 265 Cogs | 1. King Nate - 60 Floors |
| 2. Amy Memes - 250 Cogs | 1. Griffin - 60 Floors |
| 2. Black Cat - 250 Cogs | 1. Stealth - 60 Floors |
| 2. Final Farewell - 250 Cogs | 1. Kingdom Hearts - 60 Floors |
| 3:00 AM | 3:00 AM |
| 1. Harmless - 268 Cogs | 1. Victor - 58 Floors |
| 1. Vellichor - 268 Cogs | 1. Chimera - 58 Floors |
| 1. Naples - 268 Cogs | 1. Master Lefty - 58 Floors |
| 2. Nybras - 248 Cogs | 1. Despair - 58 Floors |
| | 1. Shadows Of A Silhouette - 58 Floors |
| 4:00 AM | 4:00 AM |
| 1. Devon - 260 Cogs | 1. Toon A Ween - 51 Floors |
| 2. Oynx - 190 Cogs | 2. Salty Popcorn - 49 Floors |
| 2. Chip - 190 Cogs | 3. Jalapeno Pupper - 47 Floors |
| 2. Vez - 190 Cogs | 3. Mustard - 47 Floors |
| 2. Lord Of Calamity - 190 Cogs | |
| 5:00 AM | 5:00 AM |
| 1. Sempiternal - 240 Cogs | 1. Lili - 56 Floors |
| 2. Flappy Flipper Flapper - 210 Cogs | 2. Renna - 48 Floors |
| 2. Queen Petunia Gigglenugget - 210 Cogs | 2. Skinny Pebbles - 48 Floors |
| 2. Marceline - 210 Cogs | 3. Sniffy Petalmuffin - 46 Floors |
| 2. Curt - 210 Cogs | 3. Ben Bear Dun Dat - 46 Floors |
| 6:00 AM | 6:00 AM |
| 1. Grand Ol' Jimmy Joe - 139 Cogs | 1. Bright Red Bear - 50 Floors |
| 2. Anise - 130 Cogs | 2. Kenzie Rewritten - 43 Floors |
| 3. Juice - 114 Cogs | 3. Mister Jake MacNugget - 42 Floors |
| 4. Vivid Memories - 110 Cogs | 3. Dr Fantastic - 42 Floors |
| 7:00 AM | 7:00 AM |
| 1. Professor Renderer - 197 Cogs | 1. Null - 59 Floors |
| 1. Berlioz - 197 Cogs | 2. Anita Life - 49 Floors |
| 2. Royalz - 184 Cogs | 3. Mr. Z.Z. - 47 Floors |
| 2. Miku - 184 Cogs | 3. Duke Caboom - 47 Floors |
| 2. Crescent - 184 Cogs | |
| 8:00 AM | 8:00 AM |
| 1. Eir - 322 Cogs | 1. Dan - 56 Floors |
| 2. Shawn - 182 Cogs | 2. Hawk Solo - 54 Floors |
| 3. Calipsia - 181 Cogs | 2. Admire - 54 Floors |
| 4. Christmas Cake - 175 Cogs | 2. Baron Skids Beanscooter - 54 Floors |
| 9:00 AM | 9:00 AM |
| 1. Sanjaya - 192 Cogs | 1. Roxas - 56 Floors |
| 2. Count Tricky - 189 Cogs | 2. Starcrossed - 46 Floors |
| 2. Super Toon - 189 Cogs | 3. Yummylicious - 45 Floors |
| 3. Super Ziggy - 187 Cogs | 4. Master C.J. Electroglow - 43 Floors |
| | 4. Heartbreaker - 43 Floors |
| 10:00 AM | 10:00 AM |
| 1. Reynard - 204 Cogs | 1. Super Freja - 47 Floors |
| 1. Ethereal - 204 Cogs | 1. Tabby Cat - 47 Floors |
| 1. King Petalswirl - 204 Cogs | 1. Aporkable Piggie - 47 Floors |
| 1. Big Billy - 204 Cogs | 1. Brenda Purrie - 47 Floors |
| 11:00 AM | 11:00 AM |
| 1. Fiver - 147 Cogs | 1. Superboom - 55 Floors |
| 1. Toonpupless - 147 Cogs | 2. Chances - 50 Floors |
| 2. Mister Sprecher - 145 Cogs | 3. Poppy Tinkertail - 47 Floors |
| 3. Catoukin - 144 Cogs | 3. Princess Cookie Jellymelon - 47 Floors |
| 3. Monty Twinklepow - 144 Cogs | |
| 12:00 PM | 12:00 PM |
| 1. Wagon Alert - 236 Cogs | 1. Mousterious One - 54 Floors |
| 2. Harvey Giggleglop - 198 Cogs | 2. Lady Rose - 53 Floors |
| 2. Savanna - 198 Cogs | 3. Alluringheart - 52 Floors |
| 2. Glitter - 198 Cogs | 3. King - 52 Floors |
| | 3. Justice - 52 Floors |
| | 3. Heartbroken - 52 Floors |
| | 3. Reverence - 52 Floors |
| 1:00 PM | 1:00 PM |
| 1. Trap - 252 Cogs | 1. Nebula - 52 Floors |
| 1. Burnt Energy - 252 Cogs | 2. Pancake Thunderquack - 51 Floors |
| 2. Hayden - 231 Cogs | 3. Furball - 50 Floors |
| 3. Callie - 184 Cogs | 3. Reign - 50 Floors |
| | 3. Beanie - 50 Floors |
| 2:00 PM | 2:00 PM |
| 1. Taco - 292 Cogs | 1. Susurrous Jr - 50 Floors |
| 1. Riot - 292 Cogs | 2. Axel - 46 Floors |
| 1. Parabol - 292 Cogs | 2. Tsuni The Daywalker - 46 Floors |
| 2. Colin - 276 Cogs | 2. Motley - 46 Floors |
| 2. Psychokinesis - 276 Cogs | 2. Persona - 46 Floors |
| 2. Generic Deer Toon - 276 Cogs | 2. Doctor Thunderzilla - 46 Floors |
| 3:00 PM | 3:00 PM |
| 1. Cloudy Skies - 232 Cogs | 1. Jackie - 52 Floors |
| 2. Roaches - 220 Cogs | 1. Scooter - 52 Floors |
| 3. Maxuhmillion - 154 Cogs | 2. Tara - 51 Floors |
| 3. Ruff Lyfe - 154 Cogs | 2. Tomorrow - 51 Floors |
| 3. Glitterbrains - 154 Cogs | 2. Wess - 51 Floors |
| 4:00 PM | 4:00 PM |
| 1. General Ranger - 194 Cogs | 1. Sergeant Star - 54 Floors |
| 2. Violet Prince - 188 Cogs | 2. Darkside Cat - 48 Floors |
| 3. Alaina - 168 Cogs | 2. Tiffany - 48 Floors |
| 3. Muse - 168 Cogs | 3. Archer - 45 Floors |
| 3. Muse - 168 Cogs | 3. Elixir - 45 Floors |
| 5:00 PM | 5:00 PM |
| 1. Arcade Fire - 245 Cogs | 1. Friday Thirteenth - 58 Floors |
| 2. T.J. - 244 Cogs | 1. Beppo - 58 Floors |
| 2. Emperor - 244 Cogs | 2. Zylon - 52 Floors |
| 3. Purrfectly Impurrfect - 188 Cogs | 3. Twig - 50 Floors |
| 6:00 PM | 6:00 PM |
| 1. Namine - 272 Cogs | 1. Celeste - 55 Floors |
| 2. Voltage - 189 Cogs | 2. Professor Lefty - 54 Floors |
| 3. Dark Night Cat - 188 Cogs | 2. Bry - 54 Floors |
| 4. Prof. Cuckoo Bananagloop - 186 Cogs | 3. Fairytail - 50 Floors |
| 7:00 PM | 7:00 PM |
| 1. Antares - 233 Cogs | 1. Cuddles - 53 Floors |
| 2. Chaewon - 229 Cogs | 1. Princess Violet - 53 Floors |
| 3. Mr. C. - 206 Cogs | 1. Cas - 53 Floors |
| 4. Mushroom - 192 Cogs | 2. Kat Chaser - 51 Floors |
| | 2. Spectral Thief - 51 Floors |
| | 2. Aletheia - 51 Floors |
| | 2. Legendary - 51 Floors |
| | 2. Blue Rat - 51 Floors |
| | 2. Autumn - 51 Floors |
| 8:00 PM | 8:00 PM |
| 1. Pistachio - 226 Cogs | 1. Black Forest Gateau - 55 Floors |
| 2. Erythrite - 225 Cogs | 1. Dreamy - 55 Floors |
| 3. Mariana - 202 Cogs | 2. Racepants - 53 Floors |
| 4. Spooky Purple Pig - 189 Cogs | 3. Drew - 52 Floors |
| 4. Mister Twister - 189 Cogs | 3. Despicable - 52 Floors |
| 9:00 PM | 9:00 PM |
| 1. Midnight Snack - 256 Cogs | 1. Cameo - 62 Floors |
| 2. Tricky - 255 Cogs | 1. Expired Label - 62 Floors |
| 3. Yolanda - 254 Cogs | 2. Azur - 61 Floors |
| 4. Eeky Boo - 248 Cogs | 2. Zeno - 61 Floors |
| 10:00 PM | 10:00 PM |
| 1. Avada - 224 Cogs | 1. Lucina - 53 Floors |
| 2. Christmas Joy - 153 Cogs | 1. Astraea - 53 Floors |
| 2. Coolkitty - 153 Cogs | 1. Dark Night Cat - 53 Floors |
| 3. Flip - 152 Cogs | 1. Kairos - 53 Floors |
| 3. Snow Angel - 152 Cogs | |
| 11:00 PM | 11:00 PM |
| 1. Tyler - 257 Cogs | 1. Anthony - 60 Floors |
| 1. Astraeus - 257 Cogs | 2. Star Girl - 54 Floors |
| 2. Cove - 253 Cogs | 2. Tax Deduction - 54 Floors |
| 3. Trivial - 233 Cogs | 2. Jinxjinks - 54 Floors |
NOTE: Don't see your Toon up there?
• Toons linked to the same household or same computer were only listed once to keep it fair, but ALL qualifying Toons will still receive their prize! You may only see one of your Toons on the list, but any other of your qualifying Toons will receive the prize as well.
• Toons who have received a serious infraction shortly before, during, or after the event have been disqualified. Toontown should be fun for everyone!
• If you think that your Toon hasn't been listed by mistake, please contact us by email at support@toontownrewritten.com! Mistakes can happen, so we'll look into the issue for you. (Such as, if a friend or sibling played on a Toon in your household.)
• Prizes will be given to all qualifying Toons within twenty-four hours time.
---
We've been seeing some record-breaking achievements over this recent Top Toons event -- we could hear the foghorns and cannons going off from every corner of the town! A whopping total of over 215,000 floors were cleared from Cog Buildings over the course of the event, and an astonishing amount Cogs were defeated -- over 540,000 of them! In other words, over half a million Cogs were defeated in just one day. Needless to say, the work done yesterday will throw a major wrench into the Cogs' plans.
If you saw your name up on this list, you should receive your "Victor's Varsity" jacket within twenty-four hours time, straight to your Toon's mailbox. If not, send us an email and we'll be sure to see what's holding up Clarabelle!
We hope you all have a Happy New Year and have fun in Toontown!
Posted by The Skelecogs on January 17, 2020 at 2:00 PM
Good afternoon once again, Toons. To say that upper management has been distraught with current Cog performance would be an understatement. No thanks to all of you, our plan to phase out Cog Suits went abysmally. We've heard no end of it over the water cooler, I can promise you. Not only that, but less than a month ago, you Toons defeated over half a million Cogs! So many hardworking individuals, working towards a future of greed and profit, defeated by a measly Foghorn.
Thousands of Cogs are seeing pay cuts thanks to the losses, and we're not happy about it. The Sellbot Factory is even struggling to keep up with the demand for new Cogs. Our timetables for future growth have even been re-shuffled. However, we've come up with a proposal to "suit" all of these newfound needs. We've made the executive decision to reduce Cog Suit output, allowing the factory to work overtime in replenishing our ranks. To celebrate the occasion, we're sending out yet another Skelecog Mega-Invasion.
Don't be alarmed, Toons. It's clear to us that you don't understand our goal here. We just want to turn Toontown into what it was always meant to be, a cold and drab metropolis that our CogFathers worked so hard to reach. It seems that some Toons don't understand why this is necessary, but it truly is. All of your fun is nothing but a distraction to a perfect world of productivity and profits.
Don't bother deploying the Resistance Rangers, as they'll only hinder us in helping you achieve our goals. We hope that unlike last time, this Mega-Invasion will be an absolute success. We'll hopefully see you on the streets, Toons. We can't wait to offer you our various business services.
Posted by The Toontown Team on January 25, 2020 at 11:00 AM
You may have heard of ToonTasks, but have you ever heard of ToonCasts? Of course you haven't -- it's a brand new event being held by The Toontown Team!
During the Main Event of ToonFest at ReplayFX 2019, we announced that we were working on setting up Development Livestreams to create an opportunity for YOU to see some of the exciting things that we're working on behind the scenes of Toontown Rewritten. We've decided to call these events "ToonCasts," and for the first one we'll be giving you an exclusive look at some of the progress we've made on Sellbot Field Offices!
As promised at ToonFest, we're airing this first stream before the season of fall is over... What do you mean it's January? How long was I asleep after Thanksgiving dinner?!
So, it turns out we missed our fall deadline, and we're very sorry for any disappointment. Moving forward, we're hoping to host ToonCasts every couple of months throughout the year to keep you up "Toon" date on the latest happenings on The Toontown Team.
Our first ToonCast of 2020 will be hosted on January 31st at 4:30 PM Toontown Time (PST)! We're so excited to have this opportunity to take you backstage and give a progress update on our current major project, Sellbot Field Offices.
Sellbot Field Offices are our main focus for this stream, but that's not all that we'll talk about! Stick around throughout the whole stream for some exclusive backstage info. Additionally, we'll be hosting a Q&A session at the end of the stream, so bring a question and you may just have it answered by a member of the team!
Posted by The Toontown Team on January 31, 2020 at 12:00 PM
The first of many ToonCasts is finally here! Grab your pie of choice, a tall glass of seltzer water, and a bamboo cane to pull a friend off stage to watch with you! Whether you prefer YouTube or Twitch, we've got you covered. Be sure to "TOON" in to watch live at 4:30 PM Toontown Time (PST)!
If you aren't able to watch this ToonCast live, don't fret! A recording will be available below after the event is over.
ToonCasts, first announced back at ToonFest at ReplayFX 2019, are special online live streams that we're aiming to make happen roughly four times per year. The goal is to keep you in the loop so that even when it takes a while for us to work on updates, you'll know about what's coming next for Toontown!
For this first ToonCast, we'll be taking you behind the scenes with Sellbot Field Offices to hear from a few Toontown Rewritten team members who are working on the project. Plus, we'll be hosting a Toontown Team Q&A at the end of the live stream, so send us your questions using #ToonCasts on Twitter!
The next decade is going to be absolutely Toontastic for Toontown fans. This is the first step of everything we have planned for 2020, so be sure to "TOON" in!
February
Posted by Shockley on February 11, 2020 at 4:00 PM
One Safe! Two Safe! Thrreeeee... Safe! Oh, sorry, I was just working on my Safer Internet Day workout. I'm Shockley, and I'm one of the Toon Troopers in charge of making sure that everyone in Toontown stays safe. No, not just by buying more Drop gags!
To begin strengthening myself to levels of safety never-before-seen in Toontown, I went to the one place where no one ever gets hurt: professional sports. Bats, cleats, and rackets -- the pinnacle of safety in the workplace! These tools of destruction can surely make for nothing less than a clean, fun game.
Truth be told, the Toon Council had to turn Screwball Stadium from a sports complex into a racing course after just one day of safety disasters. As it turns out, professional sports aren't all that safe after all. Luckily, I've been watching some archival films of the old stadium events, and I think I have the gist of this. Here's the rules of being safe in sports -- as well on the internet!
Keep your Game Plan a Secret!
There's nothing sadder in Gum-ball (The amazing game of chewing!) than a predictable play. Keep your plans safe, and never reveal your personal information online! Whether you're in Toontown or some other whimsical world, your identity should be your greatest secret. Sharing information such as phone numbers and addresses could lead to potentially dangerous visits from Cold Callers, Telemarketers, and even worse.
Secure your Locker!
Sometimes it might seem like a good idea to share your Locker with friends, but it can lead to some sticky situations. Much like your locker might have your most valuable gags, your Toontown Account has valuable possessions as well: Your Toons! You should never share your Toontown Account's password. If your friend wants to play, they can create as many accounts as they could possibly need, all for free! As with your personal information, our Support Toons will never ask for your account's password.
Don't Make a Foul Play!
Unlike what I saw on those old film reels, the most important part of any sporting event is winning fair and square. Of course, that also means that you shouldn't be a sore loser! While it doesn't necessarily make you safer, being kind to others makes the internet a better place for everyone!
Ask for your Team's Help!
The best chewers in Gum-ball didn't get there on their own. The best way to win any game is through teamwork -- and that extends to Toontown! If you ever fear for your safety in Toontown, use the "Report" button and contact support@toontownrewritten.com for help! Our team of Support Toons are there to help solve any issues you may have.
There you have it, ladies and gentletoons! Now, I'm off to learn about other safe pastimes in Toontown. I've always wanted to learn about the art of skydiving...
Posted by Crystal on February 14, 2020 at 3:30 PM
Happy ValenToon's Day, everyone! This horse's name is Crystal, and I'm the proud owner of Just Vase It Flower Arrangements in Daisy Gardens. Flowers are a year-round specialty of mine, but there's no busier time than ValenToon's Day. Every year, Toons mail me flower orders from all across town for their special someones. Everyone is always so especially kind and caring on February 14th. I was in the middle of fulfilling bouquet orders when I decided to spread some cheer for the lovey-dovey holiday.
Every year, I help spread ValenToon's Day cheer throughout the week by assisting with the spread of ValenToon's Week Heart Treasures. Not only will they fill up your Laff Meter with pure chocolate goodness, but they're also refreshingly sweet!
During my yearly influx of ValenToon's Day related orders, I get a Toontanic-sized amount of orders from anonymous secret admirers... like this one to Dr. Dimm! He usually gets one or two every year. Who wouldn't love that crazy duck? Let's see his score today... Ah-ha, eighty-eight!
...
EIGHTY-EIGHT!?
Let's read that again. Carry the five, subtract the two... yada yada yada... eighty-eight...
EIGHTY-NINE!?
Dr. Dimm, you dashing duck! I have so many questions: Who are these secret admirers? Maybe they're a part of the greater Scientoon community? All these envelopes look the same. Do they all shop at the same post office? They even look like they have the same penmanship. Could it be a duck thing? Why are all the orders written in crayon? Why are they all the same color?
Happy ValenToon's Day, Toontown!
Posted by The Toontown Team on February 15, 2020 at 3:30 PM
Hello again, Toontown! My name is Joey, though you may better know me by my wacky character from the Toontown Blog: Sir Max. Some of you may have heard that after 6½ years of running the Public Relations Team here at Toontown Rewritten, I've passed that torch into great gloves, and will be shifting my focus to full-time Creative Direction.
This post is to tell you a little bit more about what that means for Toontown, and to introduce a brand new department of our team that needs YOUR help: The Game Design Team!
What is Game Design?
Game Design, in essence, focuses on designing the content and rules of a game. Game Designers work alongside artists, programmers, sound designers, and other team members to create a unified vision for how all of these things come together to make a game fun.
Who are the people that decided how much damage a Toontanic deals? Or mapped out the way that ToonTasks work? Or created the rules for Sellbot Field Office minigames? That's right: Game Designers!
Using Toontown's Design Pillars, we help the team plan creative designs for mechanics, systems, balancing, core loops, and all other aspects of gameplay while upholding the creative principles that have made Toontown outrageously fun. Additionally, the Game Design Department processes player feedback, performs data analysis, hosts playtesting sessions, identifies accessibility problems, and more.™
What Qualifications Do I Need?
There are a few different roles on the Game Design Team that require different responsibilities, which we'll talk about in a moment. Game Designers don't necessarily have to be artists, programmers, or sound designers themselves these days -- but any of these additional skills are useful!
While the applications below will dive deeper into specific qualifications: The main thing we're looking for with our new Game Design Team is a group of creative people who are excellent collaborators, and who possess deep listening skills to understand the core principles that make Toontown fun. To quote Toontown Online's original Creative Director, Jesse Schell:
"The most important skill for a game designer is listening. [...] By listening, I don't mean merely hearing what is said. I mean a deeper listening, a thoughtful listening."
What Positions are Available?
There are currently three positions available on the Game Design team. Here's a very brief overview for each. Click on any link to view the application and learn more!
Design, iterate, and playtest game content while upholding the creative principles that have made Toontown outrageously fun. Other responsibilities include processing feedback, hosting playtests, and performing data analysis.
Collaborate with the development team to map out virtual spaces which solve unique challenges that arise in a massively multiplayer environment. No artistic or programming knowledge is required, however we do prefer applicants who have the ability to construct whiteboxed levels in a format that can be imported into Toontown's game engine, Panda3D.
Identify accessibility problems and other impediments to the player experience, as well as design user interfaces in collaboration with other team members. Work with our art and programming teams to improve our existing interfaces and create brand new ones.
How Can I Learn More?
If you're interested in any of these positions, you should absolutely apply! We're looking to get this new team together as soon as possible, and the worst thing that can happen is we'll give you some ideas about how to improve with encouragement to apply again in the future.
If you'd like to learn more about Game Design but aren't sure where to start, you're in luck! Toontown Online's original Creative Director, Jesse Schell, literally wrote the book on Game Design. You can learn more about the book and the free app on the Art of Game Design website.
NOTE: Schell Games isn't affiliated with Toontown Rewritten and didn't ask us to advertise Jesse's book. We just really enjoy it, and there are even some stories about Toontown's development in there!
How Does This Change Impact Toontown?
Throughout the many years of Toontown Rewritten's life, I've always had to split my time between creative direction, community management, marketing, programming, team leadership, and all of the other tasks to juggle when serving as one of the leaders of a small volunteer team for a very large online game.
Luckily, the Toontown Rewritten Team is no longer quite so small! Our team is now 80 members strong, and there are finally structures in place that allow me to take some of the weight off of my shoulders by moving away from the marketing & community management side of things. In basic terms, this means that I'll be able to put more of my time towards helping the team move along projects like Sellbot Field Offices, which are scheduled for release this year.
Even with this new time on my hands, however, we can't do it without you! We need your support to keep Toontown growing, whether it's by joining the Game Design Team, a different position, or just by spreading some joy and kindness throughout the Toontown Community.
Thanks for reading this very long post, and thanks for supporting Toontown. We're working hard on new content for 2020, and we can't wait for you to play it!
March
Posted by The Toontown Team on March 11, 2020 at 2:30 PM
Surprise, surprise! It's already nearly that time of year again -- grab your pies, seltzer bottles, and firefighters' helmets? Today, we're here to formally announce the most Toonerrific event of the year, the ToonFest: Toon HQ Takeover! The Toontown Team is returning to Pittsburgh, Pennsylvania for four days of slapstick fun, hosted from July 9-12 at ReplayFX 2020!
We're not coming alone though -- Toon HQ will be joining us! Toon HQ's motives are currently unknown, but they're no doubt silly! Take a look at our announcement video below to see footage from last year's event, and continue reading to see what this takeover is all about!
What's ToonFest?
ToonFest is an annual event that brings the joy of Toontown and its community to the real world. Toons from all over come together to hang out -- both players like YOU and the folks that make the game we all know and love! We'll be hosting unique activities over the course of the event, from behind-the-scenes Backstage Workshops to our annual Great Pie Toss! Regardless of whether you're attending ToonFest in person or watching online from home, we've got lots of fun things planned for you.
Although this is actually our sixth year hosting ToonFest, for the very first time we're introducing a unique theme! Toon Headquarters has taken over, and you'll be seeing their antics and craziness throughout our booth and the show. You'll just have to wait and see how far they'll go with the takeover -- it'll be madness! In the future, we plan to have a new theme for every year of ToonFest.
Where is ToonFest?
ToonFest is making its triumphant return to ReplayFX 2020 yet again -- after three previous Toontastic years there! The convention is located in the David L. Lawrence Convention Center in Pittsburgh, Pennsylvania. The celebrations kick off on Thursday, July 9th and end on Sunday, July 12th. In other words, it's a whole weekend of nonstop fun! If you're considering joining us this year but want to learn more first, check out the ToonFest information page to see what we have to offer!
If you want to join your fellow Toons at ReplayFX this summer, you'll want to purchase your tickets as soon as possible! Thousands of people attend the convention every year, so tickets and hotels may not last long. When you purchase tickets, make sure to pick "Toontown" as your reason for attending!
Stay TOONed and keep your eyes on the Toontown Blog for more information as July 9th approaches. We can't wait to see you at ToonFest!
Are YOU Toon Enough?
---
Note from the Toontown Team:
We have been cautiously watching the status of the COVID-19 (Coronavirus) outbreak across the continental United States with the help of the wonderful folks over at ReplayFX. As of right now, everything is still set to move forward in July, and we have every reason to believe that it will stay that way. If anything changes regarding ReplayFX and ToonFest, we'll make sure that you're all one of the first to know. Above all, the safety of Toontown's players is of the utmost importance to us.
Posted by Doctor Dimm on March 12, 2020 at 4:00 PM
That's my name! I still wonder why I hear people yelling it all the time. Maybe I've got a devoted following of admirers. I really can't think of any other reason why. If you somehow haven't met me, I'm one of the Scientoons at Loony Labs. The best, battiest Scientoon in town, if you ask me! Be sure to swing by Toon Hall to say hello whenever you can. I get awfully bored hearing Purrview ramble on.
Don't let me get carried away though, I'm already tired enough from carrying all these zeroes! Between the Toon Resistance and the Toon Troop, Loony Labs has been stretched thin all across town. Luckily, we've pulled through and come up with multiple scientific breakthroughs!
---
Organic Gags
If there's one thing more annoying than yelling "Doctor Dimm!", it's having to yell "ORG!" at your friends. Whether you've got a 'Terrific Throw' or a 'Ludicrous Lure', quickly yelling at your friends about your organic gags is always important. The Resistance came in and rambled on about some Cog threat shenanigans and how we need to battle smarter. The point is though, they wanted none other than ME to help upgrade Toon T.A.G.S.!
I took a bit of spray paint, rigged up a pulley, smacked it with a few hammers -- and presto! You can now see what Gags are organic in Toon T.A.G.S! But that's not all -- I worked with the folks over at Goofy's Gag Shop to upgrade your Gag Pouches as well. When you select an Organic Gag in battle, it'll sparkle bright! The old pastime of shouting "ORG!" should be no more.
Picnic Games
But that's not all. Professor Purrview has been called upon by the Toon Troop to inspect Picnic Games at Chip 'n Dale's Acorn Acres. It's been a long while since Fisherman Nutty last spruced them up, and they've been in a state of disrepair for quite a while. Professor Purrview has a knack for being... "purrticular" about things. With her stellar skills, Picnic Games have been fully revamped! Try them out when you're in the mood for some friendly competition. I sure am, and let me tell you -- my greatest enemy is terrible at checkers! Curse you, Banana Peel...
Major Bug Fixes
Last but certainly not least, Professor Prepostera has been called to investigate... the grey. With the protection of the Toon Resistance, Prepostera went in and sealed up all the cracks. In other words, logic-breaking bugs in the D.A. Office and Cog Golf Courses have been fixed! Plus, on his way there, Prepostera ran into some interesting "crashes", sending him right back to the playground. Huge gaps, right in the tunnels we travel through every day. Who would've thunk. I've heard many Toons complaining about these to the Toon Council, so I'm happy to see all of them fixed. Maybe now I can finally hear myself think...
"Doctor Dimm!"
Do you hear something? Must've been the wind...
Posted by Colonel Crunchmouth on March 14, 2020 at 4:30 PM
Get OFF of me, Cassie!
Hello Toons, it's your favorite cereal-toon Colonel Crunchmouth here. What, were you expecting me to talk like a pirate or something? I may enjoy the crunch of a good bite of chilled cereal, but I'm not some mascot! Look, could you please tell Ms. Peppercakes that a frozen, sugar-frosted peppermint pie should be this year's pie for Pie Day? It's firm jelly inside and its sweet crusty outside make it a perfect pie projectile!
What do you mean your "chilli-pepper" pies come with real chilli-peppers and therefore act as multiple projectiles when thrown? They don't count as projectiles if they're not pies, Cassie! We all know that everyone's favorite flavor of pie is peppermint. It's Tooniversally known. We've got to decide which pie is best suited for flinging so Baker Bridget can make a ton and send it to Flippy at his pie stand. Yes yes, I understand that your chile powder frosting acts as a second layer of defense against retaliating Toons but won't that hurt?
Sigh. It's obvious that we're not settling on one pie. So...why don't we make a pie together? Yes yes, I know we don't have time to properly write a new recipe but it's better than not delivering one at all. Hm, what's that? Combine them? What do you mean? Just mix the recipes?
A Chile Pepper-mint Pie...?
Ms. Peppercakes, that is probably the most... beautiful thing I've ever heard in my life! So what are the ingredients? Peppermint leaves? Of course. Red hot chilli peppers? Oh yes, an evil essential indeed. A sweet and spicy frosting to top it off? Perfect! Let's ship it off to Bridget! Flippy will have these delicious Chile Pepper-mint Pies lined up for you all to toss and taste today. They may look like a normal pie on the outside, but boom -- sweet and spicy flavors to fight off those Cogs! Just walk up to Flippy's stand in Toontown Central and he'll give you some. Cassie and I will be back by 12:00 AM Toontown Time (PDT) to take down the stand so get em while they're hot! … Or cold!
Posted by The Back Stabbers on March 15, 2020 at 2:00 PM
Good afternoon, Toons. Unfortunately, our shipment of the newly-printed "Extortion is the Best Solution" books, written by Your Honor, have been misplaced by a group of fellow Back Stabbers. The books were reportedly last seen disrespectfully being used as kindling at Open Fire Chestnut Roasting. As a result, operations in Lawbot Headquarters have been set back many days. The Chief Justice has now ordered all Back Stabbers to take to the streets throughout the Ides of March to settle these debts that you Toons now owe us.
Not only are we Back Stabbers equipped to force you Toons to cease gag-manufacturing and Cog-busting, but we have intimidation tactics in place for all that do not cooperate (see Chapter 3: "Going Wild with Blackmail"). You will not be able to hide from our back-stabbing armies. This is what you Toons would call a "Back Stabber Mega-Invasion."
Our reputation as valuable assets to the Lawbot master plan are in jeopardy. You should feel guilty, and as such, comply with each and every demand. Don't even think about bringing in the Toon Resistance. If your library has a copy of the "Extortion is the Best Solution" collection, we will accept it in exchange for the "Bribery is a Form of Flattery" collection. We have extra copies.
Sincerely,
The Back Stabbers
Posted by Eugene on March 17, 2020 at 2:00 PM
Good day to ya, Toons! It's been a whole year since the Leprecog incident last year and I'm worried that the dastardly Cog will strike again. I think we need ta take extra precautions, but don't start baking your pies just yet. We can get rid o' him with good ol' luck! Tis' the season of chance! If luck is on our side, the Leprecog may decide to sleep in this year.
How are we goin' ta increase our luck, Eugene? Wonderful question! Have ya heard of four-leaf clovers? You gotta be the luckiest Toon in Toontown to find one. Three-leaf clovers are everywhere, but four-leaf clovers? Now that's rarer than a Devil Ray! Does that mean more leaves equals more luck? YES! The correct answer is yes. So, I propose we make a Hundred-Leaf Clover. With that many leaves, we'd be the luckiest bunch of Toons in the Tooniverse!
Now, don't my special green gloves look just like the leaves of a clover? YES! The correct answer is yes. For every pair of green gloves I give away, I'll add one glove to the giant faux clover! The more Toons that come, the bigger our Hundred-Leaf Clover will be! So grab yerself a pair of shiny green gloves! Remember, these limited time gloves'll be available until March 21 at 11:59 PM Toontown Time (PDT) -- so don't miss out! All you gotta do is walk up ta' me and say "It's Easy to be Green!" from yer SpeedChat menu. I've even painted up some advertisin' around town to remind ya where ta' go.
Hehe! With more luck on our side, we won't have to raise a finger to get rid of the Lepre... Leprecog? Did I call it a Leprecog? Golly, I gotta start taking note of my sneaky little gimmicks. YES. The correct answer is probably yes.
April
Posted by Senior Vice President on April 1, 2020 at 2:00 PM
From: Senior Vice President
To: Chairman
Cc: Chief Financial Officer, Chief Justice, Chief Executive Officer
Subject: Toon News, Inc.
Good afternoon, gentlemen.
With our recent acquisition of "Toon News for the Amused, Incorporated" (henceforth referred to as "Toon News, Inc."), productivity and sales have skyrocketed. This proposal has been months in the making and, as per the advice of the Legal Eagles, we decided that today is the optimal day to move forward with it. Unlike "Minglermail", which the Minglers endlessly prattle on about, this platform allows us to use minimal resources while still effectively marketing to all of Toontown. I thank you all for your cooperation along the way.
There was some opposition, but thankfully the Mover & Shakers continue to report no sightings of the Toon Resistance. The previous owner of the building refused to accept any calls from our Telemarketers and, because of this, we sent our best Glad Handers to the site with a contract to sign away the building into our possession. Ms. Pages simply misunderstood our motives, and before long, "happily" obliged. Immediately, we dropped another one of our corporate offices in the shop's place.
I have noticed that even Cogs from other departments are enjoying the new platform. The Yesmen are positively beaming with praise, and the Bloodsuckers have effectively used this new communication channel to remind Toons that we will be taking over the rest of their shops. Unfortunately, unlike the acquisition of Toon News, Inc., it appears that those Bloodsucker eviction notices may have been inadequately timed. I sent our top negotiator to a neighboring shop, only for the building to begin floating into the air in a wretched display of silliness before falling back down right onto the unfortunate Cog.
Despite some setbacks, our sales projection shows this may be our most productive year yet. I cannot wait to speak with you all further about our other various projects in the works. However, I must get back to a meeting now.
Thank you for your cooperation,
P.S. My condolences to the Chief Justice. The trials and tribulations of having your wig stolen must be hard for you.
Posted by Fluffy on April 2, 2020 at 2:00 PM
Heya! Hi! I'm Fluffy. Who are you? Who am I? I'm Fluffy, wowza!!! Man oh man, it's a wonderful week to be a Doodle. Toontown is wackier than I've ever seen! Aside from April Toons Week last year, and the year before that, and the year before that. There's always SOMETHING going on this week! Are those jellybeans I smell?
Do you know Flippy? He's the best-est, most awesome-est friend in the whole wide world. Just the other day, he took me on a walk all the way to Acorn Acres! I saw Squirrel... and raced him! Oh, I don't mean a squirrel, I mean another Doodle named Squirrel! Flippy is my best-est friend, but I have a LOT of other friends too! There's Teddy, Tootsie, Whiskers, Whoopie, Sparky, Sudsy, Potpie, Pudgy, Ritzy, Ruggles... I'm running out of breath!
It's super great to be able to talk again after all this time!! All my friends have been VERY chatty since April Toons Week started. Some Toons are saying that Doodles have begun talking all over Toontown! We've always got lots to say, though, even if you can't understand it year-round. I even cheer Flippy on whenever he calls me into a Cog battle! It's so exciting! And when Flippy's home, I get JELLYBEANS!!!
Huh? Do YOU want to be my friend, too? Yes, yes, yes! Do you have jellybeans for me? Flippy always has jellybeans for me! I LOVE Flippy!!!
May
Posted by The Toontown Team on May 2, 2020 at 11:00 AM
From resource pack creators and livestreamers to the staff of entire Toontown-oriented communities, Toontown Rewritten's entire community is full of fantastic content creators! We know there's so many games out there you could be creating content for, and we're extremely grateful you chose to keep the Toontown spirit alive. Because of this, we're always looking for new ways to bridge the gap between our community and our staff. Today, we are proud to officially introduce the Toontown Rewritten Partner Program!
---
What is the partner program?
The Toontown Rewritten Partner Program exists to bridge the gap between community influencers and our team. We created this program for the purpose of recognizing, supporting, and uniting the positive voices of the Toontown community. Our main goal is to provide you with the support and communication you need to grow your own audience, so that we as a whole can make the Toontown community stronger and keep it thriving for years to come! As a Partner, you will be held to a higher standard than the average community member -- as you'll know about exclusive information before the general community knows.
---
Who's eligible to join?
To start, we'll be looking for Content Creators and entire Communities to partner with us. If you livestream, make videos of, or design resource packs for, Toontown Rewritten we'd love to hear from you! Similarly, if you're a fan-run Toontown Rewritten community with users actively participating, engaging or actively utilizing your services and resources, this program may be of interest to you. Keep reading on for a link to the program's information packet which outlines more specifically the guidelines and eligibility requirements.
---
What's in it for me?
We believe that the Partner Program is an exciting opportunity that draws you closer to Toontown than ever before. We recognize that our community influencers are an important part of the game's success and would like to celebrate all that you choose to contribute to the Toontown community. Here are some awesome perks you'll gain as a Partner.
Connect with the Toontown Team!
• Join a partner-exclusive Discord server, where you'll be able to access shared partner resources and communicate directly with the Toontown Rewritten Team.
• Pass along feedback from you and your community to the team from within the Partner Discord server.
Spotlight on YOU!
• Occasionally, we'll make posts on the Toontown Blog that feature content creators and partnered communities who have contributed consistently and significantly to the Toontown community. In turn, you'll grow your audience as well!
Learn about updates and plans in advance.
• You may want to use the information about upcoming updates and plans to schedule content to coincide with it. From a special livestream or video on release day to an updated content pack, you'll be ready and raring to go.
Celebrate with us!
• You'll be able to hear when certain events are going to start ahead of time, which you can use to prepare extra content for your audience ahead of time! Whether it be plans to attend with your community or a scheduled livestream, getting info about events can be very useful.
Vanity toon.town URL
• Reach your community and share it with others like never before!
Exclusive Toon-ID*
• One Toon of your choosing may receive an exclusive "COMMUNITY PARTNER" Toon ID, for as long as you're a partner, to make sure people know who the "real you" is.
• *This feature has not yet been released and will be included in a future game update.
Sounds great, where can I learn more?
To learn more about the program and to submit your application to join, head to our brand new Partner Program page by clicking the button below or in our website's footer. Once you're there, download the information packet to see what you need to do to apply!
We are proud to announce that we have already partnered with Adult Toontown Addicts (ATTA), MMO Central Forums, and the Toontown Rewritten Fandom Wiki. We're so excited to partner up with these communities right out of the gate and can't wait to support them in all they will accomplish!
The Toontown Rewritten Partner Program is still in its early stages, and we would love to have YOU help us shape it! Be sure to send your feedback to Toontown Support, and as always -- stay TOONed for future updates!
Posted by The Toontown Team on May 12, 2020 at 3:00 PM
In these crazy times that we're living in, it's an understatement to say that we're thankful for Toontown. It has been absolutely outstanding to hear the stories of how Toontown is brightening people's day and bringing friends together while we're all stuck at home!
As summer approaches, we wanted to take some time to give you an important update about our annual real-world event, ToonFest.
As many of you may have heard, Replay FX, the home of this year's ToonFest, has been cancelled this year due to concerns regarding COVID-19. We know that ToonFest is the highlight of the year for many Toons around the world, and we're heartbroken that we won't be able to see you in person this year.
While the in-person event has been cancelled, that doesn't mean we can't celebrate online within the Tooniverse! We're shifting our plans, and turning "ToonFest: Toon HQ Takeover" into a digital event! Based on YOUR feedback from past ToonFests and our recent ToonCast, we'll be thinking of creative ways to bring the best parts of ToonFest online for everyone.
Planning an online and an in-person event are very different things, and we'll need some time to get things together. Thus, ToonFest will be moving to a new weekend later in the year with some brand new activities to celebrate from your own home!
Keep your eye on the Toontown Blog for details about the new date and activities for ToonFest: Toon HQ Takeover.
Replay FX Needs YOU!
Replay FX has been a wonderful home for ToonFest for the past three years, and we fully support their decision to cancel the event in order to keep everyone safe. Many folks don't know that just like Toontown, Replay FX is an organization ran by volunteers! Unfortunately, cancelling their event this year means that the future of the event could be in jeopardy.
If you are willing to send a "Thank you!" to Replay FX for what they've done for Toontown, and allow them to continue hosting events for many years to come, we suggest considering sending a donation to the Replay Foundation who puts on this event.
NOTE: Replay Foundation is a registered 501(c)(3) nonprofit organization not associated with Toontown Rewritten. We love the folks over there and want to show them support -- we're not paid or compensated in any way for this post!
Info for Ticket Holders
If you already purchased tickets for Replay FX 2020, the event organizers have set up a form to request a refund. After May 19th, any pre-purchased tickets will be automatically converted to an equivalent ticket for Replay FX 2021.
Remember, refunds on existing tickets must be requested by May 19th! Toontown Rewritten does not oversee any of the ticket sales for Replay FX, so be sure to contact Replay FX with any questions about the refund process.
We are deeply sorry to those who have to cancel their plans to join us this year. Luckily, most airlines and hotels have extended their cancellation periods. Be sure to take advantage of those and request a full refund -- don't want too long so that the Cogs don't give you any late fees!
ToonFest Will Return!
Thank you all so much for supporting ToonFest over the past six years, whether online or in person. We've come a long way since our first convention in Owensboro, Kentucky! While ToonFest may be a digital event this year, we're already thinking of ways to make sure next year's event is TOONTASTIC enough to make up for our lost time.
You folks are the reason we spend so much time, money, and energy putting this event together -- and that won't be stopping anytime soon.
Stay TOONed for the virtual event, and we hope to see you in person next summer!
Posted by The Toontown Team on May 27, 2020 at 2:00 PM
Have a soft spot for Trading Cards? Wish you had a piece of Toontown in the palm of your hand? Then Toontown Member Mailers are the perfect gift for you or your Toontown-loving friend or family member! Riggy Marole. The Laff Meter. Sellbot Field Offices. You could bring these Trading Cards home with just a few simple steps!
You can bring the silliness of the cartoon world to your world with Toontown Member Mailers. These physical pieces of Toontastic art can be yours today for the low-low price of $0.00! FREE! Toontown merch for the cost of zilch? You betcha!
Every year, the Toontown Team's oh-so-talented Brand Artists create all-new original merchandise for the annual ToonFest meet-and-greet event. We know that not everyone can attend, so we print a ton of extra art to give away to every one of our players in the form of Member Mailers.
To learn more about Member Mailers, click on the image above for all the information you could ever want, including step-by-step instructions. If you've got an unanswered question, feel free to reach out to our Support Toons by email or on Social Media!
We'll continue sending out Mailers while supplies last, so act now before they're gone! All letters must be postmarked by March 31st, 2021 to guarantee that we can meet the demand.
You can also use your Member Mailer request envelope to send a letter or some fan art to the Toontown Rewritten Team! Send us something cool -- and you might just see it posted on our website or social media pages. (Don't forget to attach your Toon name so we can give credit where it's due.)
Click on the image above to learn more about the Toontown Member Mailer program, and don't forget to ask a parent before participating. Enjoy!
Posted by Teddy Blair on May 29, 2020 at 2:00 PM
Yawn… Hello. I'm Teddy Blair, sleep extraordinaire. Unfortunately, I'm very not asleep right now. I've been trying to hibernate all winter, and now more Cog buildings are crashing down all over Lullaby Lane, waking me up again. Infuriating. Those Cogs never take a break, despite all the Toons I've sent after them. I've made up my mind -- it's time for this rabbit to move out!
When I set up shop at the House of Hibernation, I made it just like home. And now that I think about it... I haven't even been to my real home ever since! I can't help it, it's just so cozy here. Although all I want is to hibernate, the Cogs along this street make it so hard to perfect my craft. Some of the most powerful Cogs roam the Dreamland's streets, causing a never-ending ruckus. They constantly make me toss and turn, then have the nerve to claim sleeping turns next to no profit!
That does it, I'm moving back to where no Cog will bother me -- my estate. I'm getting sleepy just thinking about it now… One little problem, though. My house is not suited for hibernation one bit -- the furniture hasn't been touched in years! I'm not looking to join that clan of dust bunnies, so I'll be giving my whole house a makeover. I need to see the coziest, most homiest homes to style mine after.
What's that you say? You've got some kelp? Ah, you've come to help! Perfect timing! Here's what we'll do. We'll have an estate-design contest! All you've gotta do is design the ultimate estate! Once you do, take as many pictures as you can and post them across social media with #ToonEstates. In between power-naps, I'll be watching the Wild Wacky Web for the latest entries. Now, I don't have much to give as a reward. However, I'll be back on the Toontown Blog next month, showing off my favorite estate entries. Think about the fame!
Sleep is an art, essential to any Toon's imagination. Why else would there be an entire Playground dedicated to it? The Cogs don't understand that sleep is important, with all their productivity shenanigans. Sleep is where my idea for the ultimate portable pull-out couch, complete with a portable hole straight into a mini-fridge, came from! Say, speaking of sleep...
Posted by The Toontown Team on May 30, 2020 at 2:00 PM
The Toontown Rewritten Partner Program is now in full swing! It's almost been a month since the program was launched -- and we already have 14 Content Creators and 5 Communities partnered with us. One of the first people we partnered with was popular Toontown streamer Michael Mairs. You may more commonly know him as the livestreamer Smirky, or as his Toon in-game, Smirky Bumberpop! In our first ever Partner Spotlight, we sat down with Smirky to talk to him about his history with Toontown, streaming, and his recent fundraising efforts for St. Jude Children's Research Hospital.
We asked Smirky to give us a little bit of insight into his time with Toontown and livestreaming, and this is what he had to say.
"I started playing Disney's Toontown Online back in 2008, and was one of the very first Alpha Testers for Toontown Rewritten back in 2013! Some of you may have seen me at previous real life ToonFest events, which I've been attending since 2016.
I have streamed a variety of interactive games, including Toontown, ever since 2012, and continue to stream games like Toontown Rewritten on Twitch after almost 8 years total of broadcasting. Livestreaming gives creators the opportunity to interact with a live audience in real-time, and I've cultivated an incredible community filled with friendships, memories, and endless laughter that keeps me going to this day!"
For the past month, Smirky has been streaming to raise money for St. Jude Children's Research Hospital. St. Jude runs an annual campaign through the month of May called "PLAY LIVE", where the gaming community rallies together to raise funds for the charity. This is Smirky's third year participating in the campaign, and this year alone he's already raised over $16,000! There's just under 48 hours left of this year's campaign, and so far over $2,900,000 has been raised for St. Jude overall. We wanted to get Smirky's opinion on the success of his, and the entire campaign's, efforts.
"Fundraising for St. Jude is one of the highlights of my year! The success of my campaigns alone have helped fundraise over $25,000 for St. Jude since 2018, and every dollar and cent goes directly to St. Jude. St. Jude Children's Research Hospital helps the world understand, treat, and defeat childhood cancer. Families never have to pay a bill for medical treatment, housing, food, or travel costs.
It was recently announced that the PLAY LIVE initiative has raised over $25,000,000 since first starting all those years ago, and getting the community to come together as part of this incredible movement has been nothing short of amazing! I've had the chance to travel to St. Jude, visit the hospital, and see the smiles on the kids faces. I guess you could say that these kids are 100% "TOON Enough"!
I had a family member who was diagnosed with Stage 2 Ewing's Sarcoma, a rare form of bone cancer, back in September of 2019. St. Jude has ensured that our family does not have to worry about costs, and we can focus on the one thing that matters--making sure they're happy and healthy. I have to say a great big, Toontastic, THANK YOU for the effort the Toontown community is putting in, we are coming together and truly changing lives."
Finally, we just had to get the scoop. We asked Smirky the all important question that everyone's so obviously had on their mind for years now, "Where do Cog parts go when they explode?"
"You know, I've always wondered how the streets of Toontown are not flooded with blown up Cog parts. Maybe the grey zone has something to do with the disappearance of the parts..."
You heard it folks, watch out for the grey! Anywho, make sure to TOON in to Smirky's last few fundraising streams this weekend. His next stream will be at 3:00pm Toontown Time today, so be sure to drop by and show him some of that Toontastic spirit. Let's help Smirky close out his month of fundraising with a bang! If you have a few spare Jellybeans lying around that you'd like to donate to St. Jude, you can do that here.
June
Posted by The Toontown Team on June 2, 2020 at 2:00 PM
Grab your party hats, everyone, because we're celebrating the 17th Birthday of Toontown! You read that right: Toontown has officially been around for seventeen wacky years, and there's plenty more to come. To celebrate, we're going to be hosting a special celebratory ToonCast all about Toontown and its community!
What's a "ToonCast" you might ask? Think of it as a "backstage" look at some of the things we've been up to recently. In January, we highlighted our progress on Sellbot Field Offices. While we'll share a brief update on that project during this ToonCast, the main focus of this one will be to look at some other exciting projects we've put together for our community!
While we love sharing inside information on all of the hard work that goes into keeping the dream of Toontown alive, we understand that we may have gone overboard at our last ToonCast. Thanks to YOUR feedback, we are creating what we hope will be a more fun and entertaining event for everyone. We're excited to hear what you think!
Interested in attending? This ToonCast will be livestreamed on Monday at 4:00 PM Toontown Time (PDT)! We can't wait to get you up-to-date with some exclusive backstage info. At the end of the stream, we'll also be hosting a Q&A session to satiate many of the burning questions you might have about the Tooniverse.
---
Note from the Toontown Team:
Hi everyone! We sadly must report that today's ToonCast is being rescheduled for Monday at 4:00 PM Toontown Time (PDT) due to unexpected schedule changes. We know that many of you are really looking forward to the event, and these extra few days will allow us to make it the absolute best that it can be. We are deeply sorry for any disappointment caused by this news, but we'll be hard at work to make sure the wait is worth it when you see what we've been cooking up on Monday!
Posted by The Toontown Team on June 8, 2020 at 1:00 PM
Happy Birth-Week, Toontown! In just a few short hours, we'll be celebrating with a special ToonCast for Toontown's Birthday! Sit back, relax, and grab some seltzer water to go with the Birthday Cake. Be sure to "TOON" in to watch live at 4:00 PM Toontown Time (PDT)!
If you aren't able to watch this ToonCast live, don't fret! A recording will be available below after the event is over.
Earlier this year we hosted our very first ToonCast, which focused exclusively on Sellbot Field Offices. Don't worry, we're still hard at work on those, but we aren't planning on announcing anything new about that for this ToonCast. This time around, we'll be reflecting on Toontown's history and talking about what we're doing to support and grow our community!
A major focus of this ToonCast for us has been listening to YOUR feedback from the first event. We've put in a ton of work to completely change what ToonCasts look like -- so we hope you enjoy it! As always, we're still listening for feedback about how we can make the next show even better.
These times are tough for everyone, but we hope that this ToonCast will put a smile on your face. You're the reason Toontown is still able to thrive nearly two decades on, and we're so excited for what's next!
Posted by The Toontown Team on June 16, 2020 at 2:00 PM
Ever wondered what it's like to live life as a Toon scour our website, social media, and the launcher to find useful information about the game? We know it's tricky to find this information, and we know our presence on Discord, a platform our players heavily utilize, is lacking. That's why we've created an Official Toontown Rewritten Discord Server, where you can find all of this information and more.
We released this server during our most recent ToonCast a little over a week ago. This hub of information serves as your one-stop-shop for all things related to the game, conveniently in one centralized location!
You can now easily keep up-to-date on all things Toontown Rewritten with announcements whenever we post on Twitter, create a new blog post, or update the game's status. The server also includes a tracker highlighting Silly Meter cycles and an easily-accessible Cog radar to keep count of all of their suspicious activities, courtesy of Loony Labs' Broadcasts' Outta Toontown (BOT) technology.
Those who give the server a little "BOOST" with their Discord Nitro subscription will join the Toon Platoon. The Toon Platoon has a special role, a place on the leaderboard if you're one of the fifty longest-boosting Toons, and access to a special channel. In the #kart-shop channel, you can react to receive direct message notifications every time a particular Cog invasion, Silly Meter cycle, blog post, social media update, or game status change occurs. Whether you're after a key to Daisy's Gardens or the Full Moon Fish, you don't want to miss out on getting notified via direct message.
While our Discord server doesn't have any discussion channels, as we don't want to take away from all of the amazing community-ran servers out there, you do have the chance to send us your Game Feedback and Bug Reports! That's right - no longer will you have to email support for any game suggestions or bug reports. Simply share your messages in the appropriate channel, and our Technical Toons will check it out from there! If you like what other people have to say, you can leave a plus one on their message to show your support.
Want to jump into the action and hear about everything Toontown Rewritten, all in one place? Join our server today by clicking below!
---
Disclaimers
Discord's Terms of Service require you to be at least 13 years of age and the minimum age of digital consent in your country to use their platform. Toontown Rewritten is solely responsible for its own Discord server and not for Discord as a platform. Further, Toontown Rewritten has no control over what content is posted or shared outside of its server.
Toontown Rewritten's Terms of Service currently do not allow for you to disclose your Discord handle in-game as it is considered to be personally identifiable information. Note that disclosing such information would be a violation of the Terms of Service and may result in action being taken against your account(s).
Posted by Teddy Blair on June 27, 2020 at 2:00 PM
Yawn... It's me again, Teddy Blair. You know, the nonstop napper. Let me tell you, these past few weeks have been just exhausting. Not only have my hibernation plans for Winter been ruined, but now my summer is slipping away! What's that you say? You've got a can? Ah, we came up with a plan!
I've asked Toontown to help me design the ultimate estate. You Toons pulled through and sent tons of awesome submissions. When I woke up from my nap and saw all of them, I thought I was still dreaming! You want to see them too, right? Yes, of course. If you'll excuse me, I'll be on my tour now...
Note: By clicking on any of the images below, you'll be taken to a website not operated by Toontown Rewritten. If you're under the age of 13, ask a parent before clicking through!
---
Astounding Atmosphere
The atmosphere here is astounding -- from a moonlit desk to Halloween in my home?! And those striking bed shots! I'd be right at home after a day of 'work' at the House of Hibernation. Halloween is my favorite time of the year, even. When the entire town gets dark, it makes anywhere just perfect for napping...
cinnabari2 June 14
(Sorry this isnt the type of stuff I usually post but I'm required to post it here)
This my submission for the Cozy house competition.
I tried to make a house you'd wanna come home to after work to unwind. From the moonlit desk , to the fire place (with 2 armchairs for you and a buddy), I wanted this to be simple but serene. Hope you like it! #toonestates
morgan / winnie @buymesomeramen 7:58 PM - 30 May 2020
#ToonEstates my estate be cute tho
trendy_tardigrade @RNGorodetzky 2:34 AM - 2 Jun 2020
#ToonEstates Snowflakes's twin brother, Snowflake, says he absolutely prefers Halloween. It's when he and his sister were born! He couldn't resist a few snowflakes here and there, though!
Cozy Cottages
Nice, cozy, simple homes with a side of nature. I can already smell the fresh air! It's like having a bit of Acorn Acres right at home. I've taken some nice naps there. I especially love the Western feel in Firestar's humble abode. I'd need to turn that Surlee standee toward the window, though. It gives me the creeps...
Hunter @HunterRewritten 7:34 AM - 5 Jun 2020
Breathing that fresh air. #ToonEstates
✿ max ✿ @maxstarfall 7:23 PM - 30 May 2020
Maples cozy home! #ToonEstates #Toontown
kali @lolipoptable 10:32 PM - 15 Jun 2020
#ToonEstates i usually arrange all of my toons houses, heres one of them that took a lot of time since i tried to place the chairs and the tv a bit meticulously. it's simple and not too busy!
The Legendary Flame Colored Tom @FirestarTTR2000 12:09 PM - 31 May 2020
My Humble Abode #ToonEstates
Welcoming Whereabouts
Ah, you all just make me feel so welcome! It's very daring for Wacko to put the couch so close to the door, so far from the bed, though. I don't think I'd make it past the couch before falling asleep. And all these pianos! I wonder if they're self-playing so they can serenade me to sleep... And Gizmo's home! Perfect. Ack, but the problem of sleep-walking. If I'm in a house filled to the brim as this, I'd trip and crash over everything! Yowch! Wait, did Gizmo not invite us in? SCATTER!
Lady Wacko @WeirdWacko 2:56 PM - 30 May 2020
#ToonEstates #Toontown #ToonEnough I call this fine architecture, "The Wacko Blue!" Its very cozy but lot's of space to run around and be toony. She welcomes all guests to her home!
Dodger 99 @Dodger99DLT 5:40 PM - 7 Jun 2020
Did a remake-over of my #ToonEstates! It was really fun to do this! My estate has some complimentary snacks for watching TV, an office-like room, and a cozy living room.
HYPER | Kerman D. (No. 1024) @ankoopa 6:03 AM 1 Jun 2020
#ToonEstates #Toontown Kerman's home may have little space to go around due to the furniture, but at least he feels cozy inside. He might eventually have to do his laundry or play a song on his piano.
Guests welcome, but only a few are allowed to come inside at a time.
Billy @xRevetting 5:19 PM - 29 May 2020
Introducing Gizmo's wacky Toon house! It's filled with props and artifacts he's collected during his crazy adventures in Toontown! Huh, maybe it is a bit cluttered.. Oh well. Wait a second! How did you get in my house?! #ToonEstates
---
Pant, phew... Gee, all this flee-ing has me tired. Remind me to never intrude on Gizmo's wacky house again. Luckily, I've seen all I need to finish redecorating. See, I'll put the couch over there, and the bed here. The self-playing piano, hmm, that'll be a toughie. Maybe my back-up couch right here... All this talk is making me... real sleepy...
snorrrre...
July
Posted by Shorty Fuse on July 4, 2020 at 2:00 PM
Breathe in, breathe out. In… out...
I was close to losing my temper there, whew. These new breathing exercises that Sweaty Pete taught me have been doing wonders! Y'see, Sir Max made a visit to my shop, The Kaboomery. This strange dog was telling me all about his new business offer -- saying how we'll be "bean billionaires" and it's "no biggie if we don't get the fireworks permit." You know, I'm glad he showed up in the end. He reminded me that today is the start of Summer Fireworks!
I still can't believe I didn't realize it -- today's my favorite holiday! After all, my shop is the hot spot for Toons getting their fireworks whenever this time of year rolls around. Those fireworks fly off the shelves and right into the sky! Even the Toon Troop picked up a whole lot the other week, enough for all the festivities. Our slogan is "If it EXPLODES, we've got LOADS!" for a reason!
Anywho, this pup really thought this business deal was the perfect opportunity. But I've seen some devious dealings with this dog and Smokey Joe down the street -- my competitor. I wouldn't budge, but Max really wanted to prove that business would be booming. I don't think he understands what that phrase means... He snatched some fireworks from right under my nose and set them off in my shop! It makes me so MAD! Okay. Breathe in, breathe out... you can do this, Shorty. Sorry about that. Unlike the fireworks show all over Toontown, fireworks being set off in an explosives shop doesn't make for a great time.
Thankfully the Toon Troopers already bought all the fireworks they need! From now until July 6th at 11:59 PM Toontown Time (PST), you'll see bona-fide Kaboomery fireworks sailing through the skies every hour to celebrate the Fourth of July. I have some restocking to do after today's mishaps, but lucky for me, I've still got some spares in the back--
KA-BOOOOM!
MAAAAAX!
Posted by The Toontown Team on July 5, 2020 at 2:00 PM
It's no secret that over the past few weeks you may have experienced frequent and sudden disconnections from the Toontown game servers. This was not an isolated incident -- it was part of a greater distributed denial of service (DDoS) attack against our servers, organized by bad actors within the Toontown Community. Our Technical Toons sprung into action to help prevent the attacks. Our single most priority was to get you back into Toontown as quickly as possible, while also focusing on long-term server stability.
There were a few occasions where we had to briefly close the game. We did this to help prevent frustration that may have arisen from being disconnected halfway through a facility, boss battle, or a Cog Building. In this difficult time for the world, people came to use Toontown as a safe haven. These attacks stopped you from being able to play, and we sincerely apologize for taking this long to resolve the issues. These attacks are complex, and can't be solved by twisting a few screws, clicking a few buttons, or flicking a few switches.
We understand some of you are frustrated at the time and lost progress due to these attacks. As a result, we're going to be doing two things to help make up for lost time. Firstly, we will be hosting a Double XP Weekend starting Friday, July 10th, at 00:00 AM Toontown Time (PDT) and ending Sunday, July 12th, at 11:59 PM Toontown Time. Both your Gag XP and your Cog Promotion XP (Merits, Cogbucks, Jury Notices and Stock Options) will be doubled during this event!
In addition, we will be hosting 6 giveaways on our Discord server, with a combined total of 133 winners! This will include an old fan-favorite piece of exclusive clothing from the archives, so you won't want to miss out.
We can't thank you enough for being patient with us while we endured and worked to mitigate these attacks. We may not be able to turn back time, but we hope the festivities of next weekend will help make amends.
Be sure to check back to the blog next Friday (July 10th) for more information on the upcoming Double XP and giveaway weekend!
Toons of the world, UNITE!
---
Disclaimer
Discord's Terms of Service require you to be at least 13 years of age and the minimum age of digital consent in your country to use their platform. Toontown Rewritten is solely responsible for its own Discord server and not for Discord as a platform. Further, Toontown Rewritten has no control over what content is posted or shared outside of its server.
Posted by Anita Winn on July 10, 2020 at 2:00 PM
"Howdy!" Toons! The name's Anita. Anita Winn! You may'a seen me workin' down at the Speedway. I heard that the Toon Council decided to help speed Toons along with a bit'a Double XP for the weekend. Apparently this little boost is already goin' on and lasts until Sunday at 11:59 PM Toontown Time (PDT)! This event has nothin' on my pride n' joy, my champions' kart, the Grease Monkey. Some of ya'll just wouldn't be able to beat me in a race, but maybe there is somethin' ya can win at -- a good ol' fashioned Giveaway!
Flippy dropped by the Speedway to remind us that this weekend was supposedly meant to be "ToonFest" or somethin'? None of m'a business if you ask me, but he did ask that we do somethin' to celebrate. I took a look in the ol' Kart Shop and in the back there was a bunch of ol' stock. ToonFest clothing, backpacks, you name it! Who am I to hoard all this for m'self? That's why this old rust bucket has decided to host a huge giveaway! We've got 6 giveaways lined up across the weekend for a total of 133 winners.
Flippy said we'll even giveaway some clothing that's been locked away in Toon Hall's vault for years! The way he explained it was that with few exceptions, the only way to get this clothing is through official giveaways! If ya ask me, that sounds hotter than a souped-up engine tearing up the track.
What could these mystery shorts and skirt be? Well, we've got a whole host of things to give away. Trust me when I say that y'all won't wanna miss out. I've left some instructions for ya'll on 'dis cord and 'dat cord... actually, thinkin' about it, I've just left 'em on Discord. I believe the first two giveaways are startin' right now, so ya better hurry on down to the Speedw- server.
I hope ya'll enjoy your weekend. Whether you take advantage of the Toon Council's Double XP or my giveaways, ya'll better have fun in Toontown!
---
Disclaimers
Discord's Terms of Service require you to be at least 13 years of age and the minimum age of digital consent in your country to use their platform. Toontown Rewritten is solely responsible for its own Discord server and not for Discord as a platform. Further, Toontown Rewritten has no control over what content is posted or shared outside of its server.
Toontown Rewritten's Terms of Service currently do not allow for you to disclose your Discord handle in-game as it is considered to be personally identifiable information. Note that disclosing such information would be a violation of the Terms of Service and may result in action being taken against your account(s).
Posted by The Skelecogs on July 13, 2020 at 2:00 PM
Good afternoon, Toons. I'd say that with a grimace on my face, but due to my lack of nuanced facial fluctuator, I am unable to. Despite all our offers to do business, you Toons continue to refuse help. In fact, the Lawbots estimate that Toons have violated Cog law approximately 103,716,437 times since the start of this year alone! We've spent months writing up all of these violations and, as a result, had to delay our preparations for our scheduled annual Skelecog Mega-Invasion.
An unscrupulous, wayward Toon made their way through the Sellbot Factory and blundered with the Foreman's timetables. The factory was consequently unable to produce enough Skelecogs to invade every district. Nevertheless, we must invade now. We need to bring you Toons to terms after you had too much fun over the weekend.
Don't think this means we're any less ready to convert your gaudy town into a perfectly lackluster city. Our invasion is scheduled to end on July 15th at 11:59 PM Toontown Time, but rest assured, that is enough time to fulfill our plans. We've even prepared to defeat those "Resistance Rangers" you send every time we invade. No more are the days of working together for free uniforms. The only uniform you need is a standard clip-on tie courtesy of Cogs, Incorporated.
To the Toon HQ Officers, feel free to keep blaring those alarms about our invasion throughout Toontown. This should be the last time you have such a wondrous opportunity, after all.
Posted by The Toontown Team on July 17, 2020 at 2:00 PM
There's no hiding the fact that the Toontown Community is filled with exceptional artists. Young, old, beginners, experts... it's amazing to see such beautiful art being created. The Toontown Team wants to acknowledge those spending the time to not only create works of art, but also spread positivity in the community through their amazing drawings, sketches, and models. That's why we are launching a new weekly event called Fan Art Fridays!
Every week, we will showcase a few pieces of our favorite Toontown fan art on the official Toontown Rewritten Instagram account via Instagram Stories. How do you submit your work? Post your fan art on Instagram, Twitter, or Facebook using #ttartfriday. To be eligible for an upcoming Fan Art Friday, your work has to be posted no later than Thursday at 11:59 P.M. Toontown Time (PT). If you didn't see your work on the latest Fan Art Friday, don't worry! Feel free to repost it to refresh your submission. If you don't repost it, your work can still be featured on a Fan Art Friday but the latest-posted pieces will always be considered first. Have some fan art already on social media? Repost it using #ttartfriday so it shows up on our radar. Staff will be scanning for art around the clock, so be rest assured your posts won't go unnoticed. While you're here, check out this week's featured pieces:
Fan Art Fridays is a good way to meet creators and gain inspiration for your own projects. From rough sketches to digitally-perfected masterpieces, the art we see on a daily basis is truly mind-blowing. It's about time the artists of Toontown receive the recognition they deserve. The team looks forward to seeing what you come up with.
Toons of the world, CREATE!
Posted by The Toontown Team on July 24, 2020 at 2:20 PM
Have you ever needed help with a boss battle or finding a beanfest, but you could never track anything down? Never fear, for MMOCentralForums and the Cold Callers Guild are here to help. In this Toontown Rewritten Partner Spotlight, we sat down with Queen Petunia Gigglenugget, one of the four moderators of MMOCF and the CCG, who works alongside six CCG Ambassadors to foster a thriving, inclusive, and fun-filled environment for all!
MMOCentralForums (MMOCF), formerly known as ToontownCentral, is the largest and longest-running Toontown fan site. This forum-based community provides a G-rated, family-friendly environment where Toons of all ages and backgrounds can get together to converse about the Tooniverse and meet new Toons to tack onto their friends lists!
Out of the many guilds hosted within this community, the Cold Callers Guild (CCG) has become a fan favorite. Originally established over a decade ago in 2004, this guild believes that everyone deserves a chance to fight the Cog bosses, no matter their Suit level, Laff points, or experience with the game. Every day, the CCG hosts multiple scheduled boss runs where everyone is welcome to get in on the action and fight back against the Cogs!
"If you want to get involved in the community, just jump in and post! The forum is 18 years old so it's filled with information on Toontown's history, guides, photos and searchable conversations. It's also a fantastic place to ask questions, share your ideas, knowledge, achievements, and see what others think.
The same goes for the CCG – jump right in! There are so many wonderful people both among forum members and within the CCG. Some have been around for many years and others are new, but they are welcoming, accepting, and enthusiastic about the game. All of the guild's runs and events are open to anyone who wants to play, agrees to get on elevators, and stays to play with whoever lands in one with them."
The CCG actively works toward including all Toons, especially those who might be lower Laff and are newer to the Cog boss battle experience.
"One of the awesome things to see is how a lobby lights up when someone speaks up that it's their actual first time fighting a boss. To me that is always special. Packing elevators is the goal, but the regulars really wanting to support new Toons is something important to a lot. I've heard it said that in the CCG it is an honor to land on an elevator with Cold Callers, and I believe that."
Last year, the Cold Callers Guild celebrated its 15th anniversary, and it's absolutely Toontastic to see how much they've grown since starting up!
"The guild was started back when the VP was the only boss in Toontown – hence the Cold Callers Guild name – and when the only way to get on an elevator usually involved standing in a lobby for ages while people walked on and shuffled back off over and over. The one rule for CCG was and remains 'no elevator shuffling' and it's exciting to see how that simple message grew and grew and remains today. We have around 4000 members today and probably thousands more toons who come and go as visitors to our runs."
There's tons of ways to get involved with CCG events, no matter your status as a visiting Toon or official member. Every day, they host sixteen open boss runs (4 of each type). Additionally, the CCG sometimes schedules special boss minithon events, building sweeps, wacky gag runs, racing and golf events, and more! No matter your interest, there's a guild activity out there for YOU!
To finish things up, we asked QPG a long-debated, often discussed question amidst the Toontown community: "What's the best Jellybean color out there?"
"Easy one - purple!"
Well, we can't argue with that! Speaking of Jellybeans, whether you're a fan of the purple ones or any of the other tasty colors out there, make sure not to miss out on the CCG's weekly beanfests. Taking place every Saturday at 8:15 a.m. Toontown Time (PDT) at Hiccup Hills' Goofy's Speedway, it's the perfect opportunity to meet some new friends and fill up your piggy bank! If you're interested in joining in on all the excitement, click on the buttons below to sign up for the MMOCentralForums and the Cold Callers Guild!
August
Posted by The Toontown Team on August 4, 2020 at 2:30 PM
As you may have heard in the most recent ToonCast, ToonFest 2020 will still go on through an online event! Even though we can't see all of your smiling faces in person, we'll be bringing the full ToonFest experience home -- including our second annual celebration of the Toontown Community: The TOONYs!
What exactly ARE the TOONYs?
The TOONYs are the most Toontastic annual awards show of the year! While we on the team may be keeping Toontown Rewritten running, the real piece of the puzzle that keeps Toontown alive is YOU -- the community! The TOONYs are designed to showcase the best and most iconic creations from any and all fans of Toontown -- the real reason we're able to play this wonderful game 7 years after it officially closed.
Our three main categories of submissions include Art, Costumes, and Videos. We want to see you flex your creative muscles, so go create the best Toontown-themed creations you can! But enough chit-chat -- here are the rules and guidelines:
---
General Guidelines
• Submissions should be directly related to Toontown Rewritten, but feel free to go in any direction you want! Whether it be Toons, Cogs, Doodles, or even a dancing mailbox -- when it comes to Toontown the sky is the limit.
• All submissions will be judged 25% on presentation and artistic quality, 25% on originality, and 50% on Toon-inspired humor and inspiration by a panel of sufficiently silly Toontown Team Members.
• At a toss-up between creating a costume or a video? You can enter as many categories as you want!
• The three best submissions from each category will be contacted after ToonFest is over to receive a Toontown Prize Pack!
How to Submit
• All Artwork, Costume, and Video entries must be submitted online!
• There are two ways to submit an entry:
(1) Create a public post with a picture or link to your entry on Facebook, Twitter, or Instagram with the hashtag "#Toonys2020".
(2) Email support@toontownrewritten.com with the subject "TOONYs - [Category Name Here]" and a picture or link to your entry.
• For all entries, whether posted online or sent via email, make sure to include both your Real Name and your Toon Name!
• All online entries must be submitted by 11:59 PM PST on Sunday, September 6th, 2020. This is to give our panel of Tooneriffic Judges time to pick their winners!
Costumes
• Although we won't see you in-person this year, the Costume Contest will still go on! You can show off your Toontown style from the comfort of your own home.
• Since you'll be submitting your costume online, remember to get as many different angles as possible in your photos!
Videos
• To enter a video for the TOONYs, create an up to three minutes long Toontown Short about any story you can imagine! It can be an advertisement, comedy, backstory -- anything relating to Toontown.
• Videos should not contain any copyrighted music, images, or other content. You are welcome to use any content from Toontown, including music made for our videos on the Toontown Rewritten YouTube channel!
• Once you've created your video, upload it to YouTube and include the link in your social media post or email to enter the contest.
Artwork
• Any sort of digital, physical, sketched, or fully illustrated artwork can be submitted for the TOONYs!
• Submissions should be entirely new artwork created specifically for the TOONYs. Artwork that has been previously posted online before the announcement of this contest will be disqualified.
---
Phew! That's a lot of guidelines. If you have any questions, don't hesitate to contact support@toontownrewritten.com with any questions and we'll be happy to assist.
We can't wait to see all of the amazing submissions from the Toontown Community. Thank you for helping us keep Toontown alive for all these years -- we truly do owe it all to you! YOU are "TOON" Enough!
Posted by The Loan Sharks on August 14, 2020 at 2:00 PM
It's unbelievable that we even have to send out this message. We've heard that you Toons have been celebrating us all week long, yet despite this, not a single loan has been repaid! Need we remind you, playing hooky with us will bring you nothing but sadness. It's about time to set this event back on track. We are the Loan Sharks, and we're here to "celebrate" Shark Week.
To prepare for the occasion, an excess of Loan Sharks have been produced. En mass, we sent nearly the entire fleet to the waters of Donald's Dock. A few encounters with scuba-diving Toons filming a documentary, however, proved that to be an ineffective strategy. Luckily, they got those Loan Sharks' good sides on camera before defeating them with their blasted Gags. Think of the marketing potential! The C.F.O. will certainly be pleased.
After this failed attempt to infest Donald's Dock's waters, we've come to the executive decision that we must invade your streets instead. Due to unforeseen circumstances, we only have enough Loan Sharks to invade Bounceboro, Kaboom Cliffs, and Thwackville. If you see us walking by, don't be afraid to say hello. We definitely won't bite.
We'll make sure those annoying Resistance Rangers are saddened before they even get a chance to give you any "free uniforms". It is absurd that these Toons have the money to spend on buying handouts when they haven't even paid back their loans.
Posted by The Toontown Team on August 19, 2020 at 2:30 PM
If you've seen the most recent ToonCast, then you've already heard the good news: ToonFest is returning this year as a digital event! While we're deeply saddened that we won't be able to see so many of you in person -- we can't let our Laff Meters deplete! We're super excited for all the fun we have planned for this year's celebration of all things Toontown. From old favorites to new event ideas, we've got a jam-packed ToonFest ahead of us next month. Let's break it down!
---
The When
ToonFest at Home will begin the same day as Toontown Online closed, and the anniversary of Toontown Rewritten's announcement -- September 19th. We've always had the goal of making what was once a sad day into one of rejoicing, and this year we'll make it better than ever! But that's not all -- ToonFest at Home is a week-long event, running through September 26th! Each day, we'll introduce a new element to the event and give us new ways to celebrate Toontown together.
---
The What
We're working to make ToonFest at Home the most jam-packed ToonFest yet -- even from the comfort of your own home. From Toontown to the Toontown Blog to our YouTube and Twitch pages, we plan to make this a week to remember. We'll be giving more details in the coming weeks, but here's just a few of the events we've got planned for the week-long celebrations:
---
Main Events
Behind the Tooniverse
Behind The Tooniverse is a peak behind the development curtain! A panel of Toontown Team members will be taking you behind the scenes to discuss development progress and this year's ToonFest celebrations. This is a part of our ongoing commitment to keep all of YOU updated on our work and you won't want to miss it!
The TOONYs
The TOONYs are BACK and better than ever! The second annual TOONY awards are here to celebrate YOU -- the wonderful Toontown Community! From art to costumes to videos, the Toontown Community is one of the most creative ones out there. For all the details and to learn how to enter a submission, check out the recently released Blog Post!
The Pie Toss
If you've ever been to ToonFest in-person, one of the greatest events you'll remember is the annual Pie Toss! This event has always revolved around pie-ing the members of the Toontown Team -- Toon-style! But this year, we're bringing YOU into the fun. Our resident Toon Trooper, Q.T. Pie, has been working very hard to bring this experience online. Check out the Toontown Blog later this week for all the info on how we're bringing the Pie Toss online!
Toontown Online Developers
Once again, both Jesse Schell and Shawn Patton of Schell Games will be joining us for a very special session of questions and answers! Ever had a burning question about Toontown's past? These are the folks with the answers! Jesse and Shawn are both experienced Games Industry veterans, so they're full of fun and useful insider knowledge about the Games Industry as a whole.
The Q&A Panel
As always, we'll be hosting an in-depth Questions and Answers session of our own! We've got tons of stories to share about what makes Toontown Rewritten tick, and we'd be happy to share them with you.
---
Toontown Partners
Fun-Filled Livestreams
We'll be giving our Livestreamer Toontown Partners the stage all week, letting them bring their Toontown Rewritten experiences directly to our social media channels. If you're looking to see some old favorites in the spotlight or want to discover your new favorite Toontown Streamer, ToonFest is the place!
Partner Spotlights on the Blog
Livestreaming Partners won't have all the fun! From content packs to communities, we'll be featuring some of our most creative Toontown Partners right here, on the Toontown Blog! There's so many amazing creators in the Toontown Community that we've partnered with. Hopefully, you'll discover a creator that you've never even heard of!
---
In-Game Fun
Meet Toontown Team Members In-Game
Even if we didn't answer your question during the Q&A Session -- don't fret! We'll be running around Toontown all week, fighting back those Cogs and answering any and all questions you may have. Just look for the Blue Badge above our heads -- you can't miss it!
Experience... Toon-est?
What's a Toon-est, you may ask? Why, it's the once-a-year chance-of-a-lifetime to CELEBRATE in Toontown with games galore! Leading Toon-est is the one and only Riggy Marole, the host with the most! Those of you who were around last year may remember the case of the missing letter 'F' -- and Riggy has been deliberating the new name for Toon-est ever since. We'll let you know once Riggy has finished counting those votes and refurnishing the grounds -- so you better stay TOONed!
---
The Why
ToonFest is a celebration of all things Toontown. Every year, we make an effort to bring the people who love Toontown together to enjoy the game and the community in ways that can't be done quite the same during other times of the year. While having to make ToonFest this year a digital event may be sad news for many who have enjoyed the way we have celebrated it, we are working hard to make sure everyone is able to still have a Toontastic time celebrating.
---
In the weeks to come, we'll be sharing more exciting details about what's in store for ToonFest: Online on the Toontown Blog! Feel free to email us at support@toontownrewritten.com or send us a message on social media with any questions you may have. Stay TOONed for further updates!
Posted by Q.T. Pie on August 27, 2020 at 2:30 PM
Hey, has anyone seen any spare pies lying around? It's Toon Trooper Q.T. Pie here, the Head of Pie Quality Assurance for the Toon Council! I swear on Baker Bridget's fresh Whole Fruit Pie that it's a real title. It was given to me by Flippy himself because I kept repeatedly breaking into the Gag Shop after-hours to taste... uh, I mean test... pies to be sure that they were up to Goofy's standards.
Recently, I was alarmed by the number of perfectly good pies being wasted on those pesky Cogs. After all, how good is a pie when it's not being enjoyed by a hungry Toon like myself? I felt that all Toons should be free to enjoy the deliciousness of a freshly baked pie without having to give it up to some boring, tax-loving robots without taste buds. But how could I get Toons to better appreciate its true value? I pondered the pie-lemma for a while. Then, one day, it hit me. A stray pie from a Toon in battle! I couldn't escape the feeling that it was a sign. A sign of a way to make sure everyone in Toontown would be able to celebrate the beauty of pie!
That's why today I am bringing you, Toons of Toontown, a pie toss of Toontastic proportions! All you've gotta do to participate in the wacky pie-filled festivities is to record a video of you pie-ing yourself (or being pied) in the face. Once the pie-throwing antics are over, upload your video and send a link to our Support Toons via email at support@toontownrewritten.com with the subject "Toontown 2020 Pie Toss Video", or post it on social media with #TTPieToss2020 by September 14th. The Toon Council will then review your submission -- and it may be included in a compilation showcasing the wackiest pie toss moments from all across the Tooniverse!
Some of you may be thinking, "What if I don't have enough jellybeans lying around to buy one of Baker Bridget's fresh-baked pies?" If you're anything like me, you've probably eaten all your jellybeans and are too lazy to go on the trolley and get more. Don't worry! You can simply use paper plates and whipped cream to make a "P.I.E.", or "Pie Imitative Experience" for your video. It will taste just as delicious, I promise!
I hope that every Toon will be able to appreciate the deliciousness of pie by taking part in this event. Who knows, maybe you might even be tempted to switch to a pie-based diet like me. It really does wonders for your Laff Meter. Until then, let the pies fly!
Additional Information/Disclaimer
If you are under the age of 13, make sure you have permission from a parent/guardian first before participating. By sending a video submission, you consent to have Toontown Rewritten use your likeness in a video which will be publicly shown to the community.
Any submissions sent to support@toontownrewritten.com must be in the form of a link to a YouTube video. This video can be unlisted. All submissions must be no more than 20 seconds in length.
Posted by The Sellbots on August 29, 2020 at 2:00 PM
Hello, Toons. As of late, we have been engaging in heated debates over which Cog is the most marketable and "Flippy-esque". You see, we've decided it's time we step up our marketing game, and to do that, we need to determine the top-dog Cog.
We know Flippy seems to be widely recognized as the top-dog Toon, and we think that having a Cog with such popularity and high status would be good for our cause. As you might expect, our arguments concerning which Cog to market are not beneficial for our productivity rates. So, rather than continue this pointless debate, we've decided to outsource market testing in the field. You may be wondering how this involves you Toons. Allow us to explain...
Over the span of the next two weeks, we will be sending out several polls in order to determine the "best" Cog. For us, that may look like an efficient, hard-working, and productive Cog, but we want to hear from you about which Cog you think is the most relatable, good-looking, and overall "Toony" Cog. To start you off simple, here's the first poll:
View poll here
We realize you may not want to participate in our polls, seeing as you are always too busy wasting time partying, playing Trolley games, and attending your "Jellybean Fests" to ever get anything important done. So, we've come up with a little "incentive" to persuade you.
Once we've gathered our data concerning which Cog is the most popular amongst you Toons, that Cog will be awarded in several ways. The most notable of which -- they will be honored with the opportunity to host a special v2.0 Cog Mega-Invasion. This may not sound like a good thing to you, but we assure you it is in your best interests and trust that you will come to terms with this soon enough.
We also hope you will choose to view this as an opportunity to work with us rather than against us in order to transform the silly, harmonious, and fun-loving world of Toontown into a more productive, cold, and dreary utopia like Cog Nation. After all, who needs fun when you have work? Do try to vote as soon as possible, or you may find yourself on the receiving end of a Downsizer's signature move.
September
Posted by Ripley on September 1, 2020 at 2:00 PM
After smashing through the windows of a five-story Cog building and destroying some slack-off Mr. Hollywoods, I found these Cogs, Inc. magazines lying around -- Robust. You may think it's the perfect opportunity to get more Cog intel! Nope. Not my thing. We've got people in the Resistance trained for that, and there's a reason I'm not one of them. I tried reading it, but couldn't get past the first page out of sheer boringness. I mean, who cares about accounting?!
I'm not typically one for public appearances, but these Sellbots and their "blog invasion" have made it necessary. Getting the better of Sellbots is my specialty, after all -- I've had to crush even more than usual lately because of their gear-brained poll, and I'm loving every second of it! Let me properly introduce myself. My name's Ripley, and I'm a member of the Toon Resistance. Not leader, though. At least, not yet. A gal's gotta have goals!
The same day I walked out from Tutorial Terrace bright-eyed and bushy-tailed, I was already suiting up and rising through the ranks. So naturally, if anyone's going to be "top-dog," it's me! Sure, Flippy is "iconic" and "Toon Council president," but I'm talking Toon Resistance. Hold on, hold on. I don't mean any overthrowing business! Considering Rocky's already got the position for Lord Lowden Clear's right-hand Toon, I'd be willing to settle for left-hand pig.
Back to the topic on hand -- not only are the Cogs assaulting us with accounting, but polling too. What do we look like, a business opportunity? As if! The Sellbots' poll is already over, but that doesn't mean they're finished yet. We'll have to keep destroying more Cogs to fight off this invasion, and with enough help-- Pszzzt. Static noises. Staaaatic... noiiiiises...
...
The connection is fine, Flunky. Stop saying "static noises" out loud. This won't earn you a promotion.
...
We've interrupted this broadcast to bring you a message from the Bossbots.
Who do you think you are, Toon? Is this some sort of advert for the Sellbots? Nothing of the sort has been approved by upper management, nor are Toons allowed any involvement in these Cog affairs beyond voting in our polls! Trust us, we know best. Let us Bossbots set an example for you: any feeble attempt to interrupt will be stopped, and polls will proceed as scheduled. It's not as if Sellbots have any chance of overtaking us in votes, anyhow. In this Cog-cheat-Cog world, everyone knows that the Bossbots are at the top of the corporate ladder.
View poll here
Whichever Bossbot wins this round will advance to the most prestigious stage of their career yet, a round of golf with the C.E.O. himself. Vote wisely, Toons.
Posted by The Chief Justice on September 4, 2020 at 2:00 PM
When the other Boss Cogs and I had our most recent meeting and came up with the idea to host a series of polls to determine the best Cog, we all agreed to refrain from advertising any specific Cogs, especially those from our own field of expertise. I've come today to set the record straight about the Cog polls, though I'm expected to make an appearance in court soon. Let's make this quick.
The Double Talkers recently brought to my attention that the Bossbots have illegally hijacked the Toons' most recent broadcast. This highly unwarranted interference is criminal in so many different ways, the evidence against them would break the scale!
The jury believed any Bossbot poll data should be expunged from our records as punishment -- including revoking the privilege for involvement in the final poll, which will pit the winning Cogs from each department against each other. Lucky for the Bossbots, my verdict is that they will instead pay up with a little "community service."
If you see any of those ill-mannered Bossbots in the streets, please rudely ask them to direct you to the nearest Cog building to vote in our Lawbot poll. Once you're done, they will gladly expedite your return to the playground -- those Flunkies excel at Toon disposal. If you're much like myself and would rather avoid interaction with Bossbots, though, you can vote here:
View poll here
What, is this unlawful? Unfair? Overruled. I'm too busy for your petty games, Toons. I have a trial to attend.
Posted by Lord Lowden Clear on September 7, 2020 at 2:00 PM
Attention, Toons! This is a red alert! New intelligence suggests a wave of outrage has swept over Cashbot Headquarters in the wake of the previous top-dog Cog polls. It is absolutely vital that we keep our wits about us as we encounter these crazed Cashbots in the days to come. However, more to the point, our spy network within their greedy domain has revealed a plot to undermine the final poll to ensure that a Cashbot lands on top!
As a certified top-dog Toon myself, I have been thoroughly scandalized. This does show us one piece of valuable info though -- all Cogs are laser-focused towards ascending the corporate ladder. We can use this to our advantage if we engage as much as possible with their market testing and fuel the Cog craze around the polls, we can distract the Cogs enough to keep them at bay!
It is my duty today to share with you all the Cashbots' poll, in the hopes that we can use the results to sidetrack the Cogs from trying to stop all the fun we are having here in Toontown. My fellow Toons, ask not what the Toon Resistance can do for you, but what you can do for the Toon Resistance. Right now, Rangers all over Toontown are gearing up for the promised Version 2.0 Cog Mega-Invasion. While they work to do their part, I ask all of you to do yours by voting in the latest poll!
View poll here
In an extraordinary case of irony, a vote for the Cogs is a vote for Toontown. Just play along with these polls -- vote however you'd like. Once the winner is chosen, we'll be at the ready to let the pies fly in retaliation. Toons of the world, UNITE!
Leader of the Toon Resistance
Posted by The Cogs on September 10, 2020 at 2:00 PM
Over the past couple weeks, you Toons have complied and filled out our polls for the "top-dog Cog." Perhaps our attempts to work with you over the years have not been all for naught; there is hope that Toons and Cogs can work together! The winning Cog of this final poll will be treated with not only a pay raise, but a Version 2.0 Mega-Invasion to show off their new upgrades. Let these invading Cogs serve as a shining example of a top Cogs, Inc. employee as they transition Toontown into another tastefully grey worksite.
Below, you will find a word from one of each "top-dog" Cog to assist you in choosing which is truly most marketable. Let's allow this Mega-Invasion to be a pleasant start of our new workplace relationship, Toons.
The Mingler
"Let's Mingle. You already know who I am. If there's anything that Toontown needs, it's a Cog who can communicate. Voting for me shall cause a Paradigm Shift across all of Toontown -- which as you know is the greatest attack for the greatest Cog. Don't even think about trying to hide your vote from me -- I'm in your business. If you'd like, we can continue this conversation over lunch."
---
Loan Shark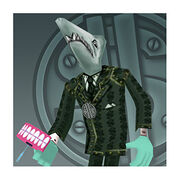 "It's time to repay your loans, Toons. Despite the attempts to collect, I still have yet to receive payment. It's time for some pay back -- and to that, I bring forth a proposal. Vote for me, and your debts will be cleared. Years of loans and advances, gone quicker than a feeding frenzy. You don't need to be as sharp as my teeth to see the benefits of this deal."
---
Legal Eagle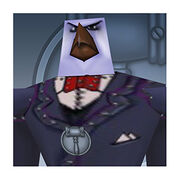 "Ca-caw! I've got Toontown right in my talons. Once I win this vote, I shall bring order to all of Toontown. A vote for the Legal Eagles of Toontown is a vote for justice. Don't even think about not voting for me, Toons. Believe me when I say that I'll throw the book. You'll face criminal charges in the court of law, and have legal nightmares for years."
---
Flunky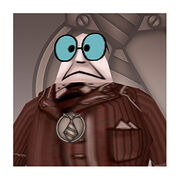 "Am I reading this right? Do these glasses need a new prescription? The Toons voted for me! The Boss will be sure to promote me for this! Ahem, I mean...
Although I may be a recent hire to Cogs, Inc., I am the Cog for the job. I may be a Flunky, but I am quite spunky. I'll be sure to use this victory to step up the corporate ladder, Toons."
---
Those are the final choices, Toons. You have one week to cast your vote -- don't be late or you'll be seeing a Spin Doctor soon.
View poll here
Posted by The Toontown Team on September 12, 2020 at 11:00 AM
Back at ToonFest 2018, we took the stage to announce a huge new update that was coming soon to Toontown: Sellbot Field Offices. The secret that keen-eyed viewers might notice, however... Is that they still aren't here. As often happens in game development, our vision for this update has changed significantly over the years, and in retrospect we absolutely announced it much too early.
Because of how much excitement has been generated about this expansion, we want to make sure that we're entirely clear about what you can expect when it comes to Sellbot Field Offices at this year's event.
What you won't see during ToonFest:
• A release date for the Sellbot Field Offices expansion
• Elements of the expansion that are being intentionally hidden until release (The Boiler Room, Toon Resistance Hideout, etc.)
• Sellbot Field Offices 2: Dawn of the Ice Desks
• Anything cloud-related
What you will see during ToonFest:
• Updates to previously-revealed Sellbot Field Office gameplay footage
• Estimates about what's left to complete for the expansion
• Changes that our team has made to improve development efficiency for current and future content
• Smaller things we've worked on outside of this expansion
One of our highest priorities for the Sellbot Field Offices expansion is to make sure that the update is full of outrageously fun and carefully-crafted Toontown content that will give all of us Toontown fans something new to enjoy for years to come.
Our absolute highest priority, however, is to create this content without sacrificing the health of the Toons who are putting so much of their free time into developing it for us. This means that we haven't been able to create this content as fast as we hoped for, but we will continue to work as quickly as possible to complete Sellbot Field Offices without sacrificing our standards for mental health and quality.
We have learned and grown a lot as developers and individuals during our time working on this expansion, and will continue to learn as much as we can as we finish it up. In the future, we hope that the lessons we've learned will better equip us to be better developers to implement the ambitious dreams that we all know Toontown deserves -- without repeating our past mistakes.
Thank you all for your patience, understanding, and amazing support as we wrap up this expansion! We hope that you'll tune in during the "Behind the Tooniverse" segment of ToonFest to hear more about what we're doing to finish strong.
Posted by Sticky Lou on September 15, 2020 at 9:00 AM
Today is the story of musical glue, a prototype I designed to bring direct to you!
I was out on a walk, glue jar in hand. Out by the gates, I encountered a band. They were playing a splendiferous tune, something that would really make my glue swoon. Cautiously, I unfastened the lid. That's when I saw the sonata man -- Sid!
I hollered, "Hey, Sid! How do you do?"
"Well if it isn't my pal, Sticky Lou!"
Distracted, we spoke about that and this. Meanwhile, the glue had reached a state of bliss. Slowly it floated quite high in the air. Singing along with a voice oh so fair. It grew as it crooned, covering the gate. By the time I noticed, it was too late!
My musical glue had sealed the gates shut. Toontown was closed, no ifs, ands, or buts. Quickly, I gave the Toon Troopers a call.
"We can fix it!" they said, "We're Troopers, after all."
They arrived with hoses and sprayed through the night. But by morning there was no end in sight! Then, upon the Troop, a great idea struck. Mayhaps a good tune will get things unstuck!
"C'mon, everyone! Get out your kazoos!"
Then the Troop hummed a song just for the glue. Buzzing along, the glue began to let go. The kazoo song was quite an excellent show! I ran to it, then, blue kazoo in hand.
"It's time to shrink and join in the band!"
Slowly it shrunk, holding close the kazoo. I opened the jar and captured my glue. The Troopers all cheered as they opened the gates. Toontown is open again -- don't be late!
A Note From the Toontown Team
We had some security work to do behind the scenes that unfortunately lead to the game being offline. A big thank you to everyone for your patience. We know how important Toontown is and want it to always be accessible. As a part of the security maintenance, we have updated the Windows launcher to v1.2.5! Before you can get into Toontown, you will need to install the latest version (your launcher should prompt you) from our website.
Depending on your antivirus, the file for the new launcher may trigger a popup warning. This is not because it's malicious, but rather because Toontown Rewritten is an unknown publisher when it comes to what antivirus software knows. You should be able to bypass this warning by clicking "more info" and "run anyway." These specifics might change depending on your specific antivirus software. If you run into any trouble, send us an email at support@toontownrewritten.com!
Posted by Robust Magazine on September 17, 2020 at 2:00 PM
Welcome to Mingle Mingle, the number one segment for lucrative business tips directly from the top of the corporate ladder. I, The Mingler, will be your host and today. Now, you may have heard that The Flunky has won the Top-Dog Cog poll that we sent out to the Toons. I can hardly believe it myself -- what's not to like about me? Regardless, for the next 24 hours, Version 2.0 Flunkies will be invading Toontown. Today, we'll be interviewing our fine friend, the Flunky. All the way from the bottom of the corporate ladder, against all odds, he has made it here today to tell us his story. Let's get on with the interview.
---
How does it feel to be the "top-dog" Cog? What does this position entail?
I'm receiving all kinds of benefits. Aside from a considerable raise in work hours, I'm on the cover of Robust and here for this interview. Honored to be here, really. Are my glasses fogging up?
I've just received word that your time off for this interview will be deducted from your paycheck.
Oh... Well, I've still got my shiny new Version 2.0 upgrades, and my v2.0 Flunky brethren are invading all over Toontown as we speak!
---
You mentioned your "Flunky brethren." What makes you different from all the other Flunkies, in that you should be here today?
I'm the spunkiest Flunk, of course! Did you know the Toons modeled their "Flunk Trunk" after me? Not only am I spunkiest, but also most productive. I've shredded more papers than any other Cog in Cog Nation. Nothing against the other Flunkies, though. In fact, if you see my colleagues Flunky or Flunky, be sure to let them know I said hello. Wait, will I be receiving a deduction from my salary for that?
---
What is life as a Flunky like?
I remember my days as a pile of scrap metal in the factory like it was yesterday... Fresh off the assembly lines, I headed straight to Cog Nation University! I flunked out a day later. I then attended Cog Community College... and flunked out a day later. My lucky break came when a Big Cheese generously offered a position as an unpaid intern! I've worked for him ever since.
Should've stayed a pile of scrap metal.
Oh dear.
---
Can you tell us your plans for after this interview so we can be done already?
Of course! See, I'm not actually partaking in the Mega-Invasion personally. I have a lot of upcoming events lined up, from my speech at the Clubhouse Banquet to co-hosting a very special show afterwards. In fact--
And that was Mingle Mingle! I'm sure you'll hear lots more boring anecdotes from Flunky in the near future. Thank you for wasting your time here today -- now get back to work.
Yes ma'am.
Posted by Riggy Marole on September 18, 2020 at 2:00 PM
Howdy, Toontown! We may has met before, but I believe introductions are in order. The name is Riggy Marole -- the hare with the best hair, and more importantly, the host'a Toon-est! Waitwaitwait, Toon-est? I's thought we got the signage changed and everything? Nononono, this ain't right...
Let's get the introductions outta the way before I go losin' my marbles. Toon-est, formerly known as ToonFest, but not associated with dat other event in Pencil-vania, is a celebration of all things Toontown! From tomorrow until October 19th, we'll be partyin' down like dere's no tomorrow! We truly do live in the most wonderful part'a the world, y'know. What part might that be? Calisota, if you trust this map I just pulled up. But it really depends on what map you're lookin' at...
What I's tryin' to say is that Toon-est starts tomorrow. But it don't make any sense! We had a big ol' poll and everything! What's that'cha say?
...
I've just been told by my Token Taker friend here that there's been some shipping delays with the rebrandin' efforts. Why exactly does it take so long to get a package across the planet to Toontown? The conflicting maps you say? Ah, phooey.
Here's the deal, folks. Toon-est is gonna remain Toon-est until I get my shipment in with the new branding. What's the new branding you say? Well, you'se just gotta wait and see. For now, here's the rundown on what you can see and do at Toon-est dat the Toon Council provided me. See you at… Toon-est! Gah, it just don't got the right ring to it.
---
Meet Riggy Marole
If you haven't met Riggy Marole yet, you're in for a treat. He's the one and only host of ToonFest, and calling him absolutely bonkers would be an understatement. As always, he'll be strolling around ToonFest talking to Toons and generally being a bit of a rascally rabbit. Plus, if you stick around the Toontown Blog you might just catch him causing some mayhem. Who knows what he'll do next? We sure don't.
---
Earn Exclusive Prizes
One of the most exciting parts of ToonFest are glamorous Token Takers, located within the ToonFest tower and at pop-up booths around the area! These Token Takers will sell you all sorts of exclusive items, from limited time accessories to portable pies to experience multipliers! No matter what kind of Toon you are, we've got a bunch of prizes in store for you. Earn ToonFest tokens by playing minigames in the area, then head on over to the ToonFest tower to redeem them.
---
The Fate of Toon-est...?
Riggy may have held a vote for a new name last year, but his new signage never came in the mail! What could be the new name of Toon-est? Where could the sign have ended up? Is there even a third question to be asked? The answers to these questions and more will be answered in time!
---
Dere it is, folks. I hope'ta see you around tomorrow, and all throughout Toon-est. Rememba', if you'se ever in need of an excuse to party down, Toon-est is da place to be! Fa' now, I'll be gettin' out of the way of dese parts. I hear dat the Toon Council took out a week-long hold on the Toontown Blog, whatever dat means. See ya around!
Posted by The Toontown Team on September 19, 2020 at 1:30 PM
Seven years ago, Toontown fans from across the world said their final goodbyes to Disney's Toontown Online and their Toons after ten years of giggles and gags. Toontown Online was a favorite game to many, and all hope was seemingly lost on September 19th 2013 as the gates to Toontown were sealed shut for the last time.
On the very same day, a post was made on MMO Central Forums announcing a project named Toontown Rewritten. At the time, Toontown Rewritten's future was uncertain. Yet here we are today, celebrating Toontown Rewritten's Seventh Anniversary with ToonFest at Home 2020!
After our plans for ToonFest: Toon HQ Takeover were disrupted as a result of the COVID-19 pandemic, we quickly shifted gear and turned our attention to a virtual event to coincide with Toontown Rewritten's anniversary. As mentioned previously, ToonFest at Home starts today and lasts until Sunday, September 27th! There's so much in store and we can't wait to celebrate Toontown together. So without further ado, here's what we've got planned for the week-long celebration. Please note that all events are listed in Toontown Time (PDT).
---
:If you'd like to join ATTA events, you can find them in Kaboom Cliffs!
If you'd like to join Soundless Cult events, you can find them in Splashport!
If you'd like to join a CCG run, you can find them in Hiccup Hills!
Click the buttons below to jump to the next scheduled event.
From all of us on the team, we can't thank you enough for being here with us seven years later. We hope you enjoy ToonFest at Home 2020 and look forward to celebrating with you!
Posted by The Toontown Team on September 20, 2020 at 10:00 AM
Welcome to Day 2 of ToonFest at Home! Today, we've got a bunch of Toontown Partner events lined up. Both the ATTA and Cold Caller's Guild will be hosting events in-game today, check out the schedule for more details! This is all leading up to "Behind the Tooniverse," our headline event for today.
Last night, we kicked off ToonFest at Home with the second-annual TOONYs -- a celebration of YOU! We had so much fun looking through all of the TOONYs submissions this year, and it was hard for our three judges to pick just a few winners. A great, big, THANK YOU to everyone who sent in a submission, and congratulations to all the winners listed below!
Artwork Winners
PurpleFoxKinz
Olivia
AbsoluteMadLad
Video Winners
Smokin' Foreman's "Mole Cog"
Rubber Ducky and Radish's "Story of a Flunk Trunk"
Hunter's "Grand Prix Day"
Costume Winners
Willow's "Good ol' Dinky Poodleswirl Costume"
Julia's "Jellybean Shorts"
Mara's "Number Cruncher"
---
If you missed the show, no worries! The replay is now available to watch on YouTube. We've got our "Behind the Tooniverse" panel today at 2:00PM Toontown Time (Pacific). Be sure to TOON in for an update on what we've been working on behind the scenes lately!
Posted by The Toontown Team on September 21, 2020 at 3:00 PM
Have you ever wondered what it would be like if Toontown's skies were always dark? Have you ever wanted to see Sellbot HQ bathed in molten lava? Do you want to live in a Toontown themed around Thomas the Tank Engine? Content Packs and their dedicated creators make all of those things possible and more! We sat down and talked with our three Content Pack partners: Ugly Corny, Moose, and Thomas the Toon Engine to learn more about their experiences.
Content Packs are ways for players to integrate a new look and feel to Toontown without affecting the gameplay of others around them. They work as a result of creators providing players an alternate set of files to put in their Toontown Rewritten folder. These files then become what the game uses to create the player's experience. By altering and creating new textures, incorporating new music and SFX, and crafting compelling visuals, creators design fresh versions of Toontown for players to enjoy and toggle between.
Existing for almost as long as Toontown has, Content Packs have long been a medium for players to express themselves and create new Toontown experiences. However, the climate in which Content Packs exist -- once associated with cheating and ban-worthy game modifications -- has changed drastically over the years.
---
Ugly Corny Spotlight Interview
Ugly Corny, a Content Pack juggernaut whose work has been admired and downloaded by thousands of Toons over the years, recently expanded his platform, rebranding his personal website into a Content Pack hub for all creators. To begin, we asked Ugly Corny to take us back to the beginning with where it all started for him.
I first started making Content Packs back in 2011 when I was basically a kid, I had to use a program called The Toontown Spoofer, it was a $30 (USD) program that absolutely violated Toontown Online's terms of service in almost every aspect, lol. It was a custom Toontown launcher that had a lot of cheating programs included. At the time, "Toontown Nightlife" was really the only popular Content Pack available, as it was the one included with The Toontown Spoofer. At the time, most Content Packs were smaller edits to include with Toontown Nightlife (we call those Content Pack mods now), so I wanted to make my own from the ground up. And as a disclaimer, I don't condone the behavior this application was able to provide people.
We've come a long way from Toontown Spoofer days, in large part thanks to Ugly Corny's work. We asked him about the rebrand of his website and its community impact.
The rebranding of my website is quite simple actually, instead of having the focus be on my Content Packs (Toontown At Dusk, Toontown After Dark), I wanted to give the community an open space to be able to share their creations with the entirety of the Toontown Community. There wasn't necessarily a specific area within our community to share Content Packs officially, so I wanted to try and create a space where people can share what they've created with everyone else.
Here's what he had to say about the experience of making Content Packs for others.
One of the most gratifying experiences of making Content Packs is seeing the joy they give people. Toons have told me that they feel like they are able to express themselves through Content Packs, and it's genuinely one of the best feelings ever. I'm so happy and humbled to be able to give people joy, especially during this troubling year. And not just my Content Packs either — people LOVE every Content Pack hosted on my site right now, I encourage everyone reading this to give all of the Content Packs a try!
Lastly, we just had to know, out of all the Doodle names, which one was his favorite!
My favorite doodle name is definitely Bean! Because doodles are the cutest bean shaped pets ever.
Has there ever "bean" a better name?
---
Moose Spotlight Interview
Moose is the brains behind Spectrum, the Content Pack with themes up the wazoo! It has been downloaded over 700 times from contentpacks.net.
Roughly two years ago, I had only basic knowledge of how to create content packs. I would take existing content packs and mix and match them for my own use. I never thought I would ever spend the time to make a fully-fledged content pack! One day I was in the mood to make an edit of the CFO for Halloween. I made the head look like a pumpkin and decided to show a few people what I had made. To my surprise, I was getting positive comments on my work! This positive feedback is what motivated me to start creating content packs.
When asked about a part of Spectrum he is most proud of, he had this to say:
I would say the one aspect in Spectrum that I pride myself on is my unique boss designs. Creating an interesting design for a boss that fits the area's theming is a lot of fun! It can also be a bit tough, however. If you think sneaking in to fight a cog boss is difficult, try sneaking in to repaint one!
Moose is more than just a one-trick pony, however! He recently announced an upcoming content pack, Mist. We asked him about the process of creating a new pack and the experience he was hoping to create for players.
Creating a new content pack can be a very daunting task. It can take months to edit the textures and music; it can also be quite tedious. The final product is always worth it, however! As for my upcoming content pack, Mist, I hope to create a relaxing and moody experience. The content pack will feature darkened and desaturated textures and sounds of a thunderstorm in almost every game area.
Finally, we asked for his opinion on the hot button issue facing horse Toons today. Some have claimed that horse Toons actually resemble the likeness of moose. As an expert on this subject, we needed his opinion!
My identity has been a mystery for as long as I can remember. Am I a horse pretending to be a moose? Am I a moose that happens to look like a horse? Perhaps I could be a mythical creature that is a mix between the two? Funnily enough, I'm not sure I even know the answer myself!
We'll be contacting the Toon Council to make sure all horse and moose Toons are properly identified in the future.
---
Thomas Spotlight Interview
With 550 downloads of The Thomas Pack, this train conductor of a creator is barreling down the track of success. When it comes to how he got started, this is what he had to say:
I realized that no one in the Toontown community made anything completely based on Thomas The Tank Engine, so I was like: "Hey! Why not make a Thomas themed content pack for Toontown?" I was also very inspired by some of the Thomas mods you see in other games. Ever heard of the Really Useful Dragons mod for Skyrim? That mod is practically an inspiration for The Thomas Pack minus the fire breathing from flying engines and the falling troublesome trucks from the sky.
We would support fire breathing flying engines in the future. Just sayin'.
If I had to choose what I'm most proud of, I'd say some of the Cog aspects in the pack, mainly the Cog head & Cog HQ designs. The Cog HQs in The Thomas Pack were intentionally designed to be innocent, mainly because the music themes in Thomas & Friends are known to be mostly upbeat and cheery. So I made all the Cog HQs look very colourful, very innocent, and not so scary at all. It drives out all the gloomy, scary nature of the Cog HQs and makes me feel like I am not in danger or sad.
In the description of the pack, he mentions that it's meant to be a way for players to relive childhood memories, a mission we understand completely! Here's what he had to say about the ways his own childhood memories are incorporated into the pack:
I use Thomas & Friends music & themes that are canon to the franchise which I also remember in my childhood in The Thomas Pack so it can have a bit of a nostalgic feel to it. I think where I incorporate my childhood memories the best in the pack is the Toonfest Train Set. It is based on my childhood when I was playing with my wooden railway trains and my Tomy & Trackmaster trains at home for HOURS! I could watch my trains go along their way or do a little roleplay with them like one of the characters from the show.
Lastly, we asked him the most important question of all. If he had to be any Cog, which would he be?
I would be The Big Cheese because in The Thomas Pack, the Big Cheese head has my face on it!
Well said, Thomas. Well said.
---
Thanks for TOONing in for this three-part partner spotlight! To learn more about Content Packs and our featured partners, check out toon.town/packs!
Posted by The Toontown Team on September 27, 2020 at 12:00 PM
Over here in Toontown, we've had an entire WEEK full of fun. Can you believe ToonFest at Home is nearly over already?! From exclusive looks at what the team has been working on to celebrating our community, we've been celebrating Toontown Rewritten's seventh anniversary in a whole lot of ways. The party's not over yet, though: "TOON" in today at 1 PM Toontown Time (PDT) for a Q&A with the team and our annual Pie Toss, this time featuring YOU!
In case you've missed all the hoohah this week, we'd like to go over all the happenings on the Toontown Blog today. If you've got a burning question after all of this, make sure to take note to ask the team later tonight!
---
The 2nd Annual TOONYs
To kick off the event, we held The TOONYs with our good friend, the Flunky. Dedicated players who submitted amazing pieces of artwork, videos, and costumes were featured in this special event. Watch the full show to see The TOONYs in all its glory, or for a more bite-sized look at what went down, check out the blog post featuring the winners!
---
Behind the Tooniverse
A week ago today, we held Behind the Tooniverse as the official ToonCast of the event! Here, we gave a status update on each part of our Field Office expansion. We also announced our future 2.7.0 update, the new name for "Toon-est," and a way to get exclusive items via "delivery drops!" To find out more, you can watch the ToonCast here.
---
Partner Pride
Our partners have been part of the party all week long, too! Some of our partnered communities -- ATTA, CCG, and the Soundless Cult -- have hosted many Toontastic events for the whole community to partake in. Last Monday, we interviewed our Content Pack partners in a Partner Spotlight on for their insights on what goes into creating a Content Pack. Additionally, our partnered streamers have been hosted at toon.town/live for lots of Toony stream shenanigans!
---
Woo-hoo, Workshops!
Team members held workshops to give the players behind-the-scenes looks at various aspects of Toontown Rewritten. Wednesday, we held Illustrating the Tooniverse, where Brand Artists spoke on what goes into our promotional art. The other two workshops were held on Friday, starting off with the Toontown Improvement Project -- a look into how we manage the thousands of pieces of feedback we receive. Lastly, our final workshop gave an inside scoop on what it takes to bring Cast & Staff Members into the world of Toontown.
---
Toontown Online Developer Reunion
We've reunited some of the developers of Toontown Online! Former Disney Imagineers Bruce Woodside, Felipe Lara, Jesse Schell, Joe Shochet, and Shawn Patton all dusted off their portable holes to discuss their work on Toontown in an hour-long event. Check it out here!
---
Again, if you have any questions after all that, make sure to "TOON" into today's Q&A in just an hour using the links down below. Our quizmasters will be accepting questions via the YouTube and Twitch live chats, our official Discord server, and through Twitter if you tweet your questions at the hashtag #ToontownLive. At the end of the Q&A, ToonFest will end with a SPLAT with the Annual Pie Toss!
Thank you all so much for celebrating ToonFest at Home 2020 with us, and we can't wait to see you later today!
Posted by Riggy Marole on September 29, 2020 at 2:00 PM
Say, have you'se noticed dat the Toon Council is springin' some leaks as of late? Dey should really get a plumber to check dat out! Dem spring-loaded wacky wrenches can't come in the mail soon enough. Speakin' of the mail, where's dat rebrandin' I've been lookin' forward to?
The Toon Council's ToonFest celebrations may be over, but dat don't mean we won't keep partyin' down in the Event Grounds! Toon-est will remain open until October 20th at 11:59 PM Toontown Time (PDT)! But dat's not the real elephant in the room -- and I ain't talkin' about Dumbo!
The Toon Council decided to go ahead of me and announce my new name during their "Behind the Tooniverse" shenanigans, without my permission no less! Da cat's outta the bag! I can't believe the nerve a' dem people! When I get my hands on dat Sir Max… I's gonna show em' what for!
But the rumors… they're true. Toon-est has a new name: Toontown's Cartoonival!
Now, the first thing you mayhaps noticed is dat bee-yootiful bowtie! I had my Token Takers paint me a brand-new logo in my image, and ain't it just spectacular? Dey really captured my style, ya dig? Coming soon, we'll be replacin' all references to "ToonFest" in Toontown with "Cartoonival". Well, except for dat old shirt from years gone by. You don't expect me to write over thousands a' shirts, do ya? Although, I will be writin' over all dem tokens with my signature stylin'. Dat's just how the cookie crumbles.
Now, I won't be able to replace dem signs just yet, and I don't have any guarantee when dem signs will come in the mail. For all I know's, dat mail could come in after we wrap up this year! I asked the Toon Council about it, and dey just told me to wait for "Update 2.7.0", whateverthehaydatmeans. So here I am, waitin' for a package in the mail, and some kinda update. We'll just hafta see where dat goes!
So dere it is, folks, my surprise -- completely thrown off course! Sure, I can't really blame em' when it's been so long since dat poll last year. I just wanted to be a part of the surprise, y'know?
October
Posted by The Toontown Team on October 7, 2020 at 2:00 PM
Have you ever wanted to read about Toontown history? Do you want to know all there is to know about the Loony Labs Scientoons? Have you ever wished there was someplace you could share all your Toontown knowledge for other players to see and use? If you answered yes to any or all of these questions, we've got the perfect solution for you -- go check out the Toontown Rewritten Wiki today!
We strolled down to the Toontown Library to chat with two of Toontown's foremost librarians: Dynaboom and Rebellion, administrators of The Toontown Rewritten Wiki. The wiki is an excellent source of information for players of all skill levels, but if you haven't heard of it yet, we bet you're wondering: what exactly can I find on this wonderful, wacky website? Let's see what the creators themselves have to say about that!
Toons can learn information about everything related to Toontown Rewritten. If you want to learn information about a particular ToonTask like the one given by Lil Oldman, we have a page on that. If you want to learn information about who the President of the Toon Council is, we have a page about him. If you want to learn the latest information about upcoming content such as Sellbot Field Offices, we have a page on that as well.
Comprehensive and well-cited, the Toontown Rewritten Wiki boasts an array of pages on lore, gameplay, and unreleased update announcements. But where does all that information come from?
A lot of the information comes from simply playing the game. If you've been playing Toontown for a very long time, chances are you may know your way around every step of the game -- and that's a huge help for the wiki.
Additionally, we always want to rely on official Toontown Rewritten outlets and other reliable outlets from the internet which can vary. Never should any of our pages base information off speculation, theories, or rumors because it's extremely important that the wiki serves as a place for finding every bit of precise information about Toontown to its entirety.
In this age of misinformation, the Toontown Rewritten Wiki's commitment to up-keeping one of the most well-known resources for the Toontown community is something we're tremendously grateful for. That said, you're probably wondering how the wiki can help Toons have even more fun in Toontown. Here's what they had to say about that:
There are a number of ways that the wiki can be a helpful resource. Perhaps the most notable elements of gameplay that Toons may want to look into are fishing, gardening, and Cog Disguise promotions. If you want to learn information about either of the three, whether it be wanting to know which fishing pond the Devil Ray can be fished from, what is the Jellybean combination for planting the Silly Lily flower, or how many Stock Options are needed to reach level 12 of the Big Cheese disguise -- our pages gotcha covered.
Knowing the location of those ultra rare fish sure toots our Bike Horns! Now, for our erudite Toons out there, you're probably wondering how you can share your knowledge on the wiki as well.
The wiki was created by an individual from the community, for the community. Anyone is allowed to contribute to the wiki by creating an account on Fandom (formerly Wikia), a service that the wiki is hosted on, and start from there. However, those who wish to contribute need to abide by our set of guidelines and policies, both of which can be found on the wiki itself. The wiki is a collaborative effort that really depends on the work of Toontown's community members.
The Toontown Team is tremendously grateful for all the Toons out there who have taken the time to contribute to the Toontown Rewritten Wiki. It is a great resource for players and is one that our team uses often. Absolutely Toontastic work! Now, we asked them one last hard hitting question to wrap things up. There are tons of NPCs that are a part of Toontown's history -- Who's your favorite?
Doctor Surlee. He's Toontown's greatest genius!
Well, Toons, we couldn't have said it better ourselves. Thanks for TOONing in to our latest partner spotlight! If you're interested in learning more about the Toontown Rewritten Wiki, go check out their FAQ page, and be sure to check out our past partner spotlights too: content pack creators, MMOCF and the CCG, and Smirky.
'Till next time, folks -- Toons of the World, UNITE!
Posted by Karnival Kanine on October 14, 2020 at 2:00 PM
Oh man, oh man, OH. MAN. Have you heard of Toontown's Cartoonival?! Holy moley with a side of cannoli, I can NOT believe it. This is right up my alley. It's why the Toon Troop snatched me into their group, even. I am the number one canine of carnivals! The Kanine Karnival! Wait, that's not right...
Bah, no time for this. We've got a BIG problem. There's no Cartoonival in town! It's all Toon-est! It's all CHAOS!
It's the last week of Toon-est, and everyone's scrambling for tokens. Toons slamming into each other, left and right! Fighting for pies, those poor Token Takers, dear Walt! Fluffy? Fluffy, put DOWN that wedding cake! I can't stand to see you fellow festival lovers like this. I hate to do it, but I'm breaking out the emergency token stash. Hear me out: I'll throw in an extra token for every token earned until the end of Toon-est. That's double tokens, baby!
But even after I calmed everyone down, every Toon was clueless! I kept my head up, though, and my cannon too. I took my search to the skies! Up there, a little birdie told me how this "Cartoonival" situation is all out of whack -- the entire event got lost in the mail?! The birdie told me a whole lot of other things too, but I don't think I can put those on the Toontown Blog. Birds don't appreciate Toons cannon-crashing their nests.
Luckily, we've got a pretty sweet view up this tree. I was able to make it up to the birdie with the world-famous Toon-est fireworks show -- fireworks prepped and loaded all week long by yours truly! From now till October 20th at 11:59 PM Toontown Time (PT), the Grand Finale Fireworks will be lighting up the skies every three hours. That's alongside that sweet double tokens deal.
Have a great Grand Finale of Toon-est, Toontown!
Posted by Riggy Marole on October 20, 2020 at 2:00 PM
Show's ova', folks! Nothin' to see here! I'll be seein' ya next year at the Cartoonival! Pleased to be helpin' youse leave in an orderly fashion! Buh-bye! Oh, it's only youse! Sorry, I's been in a bit of a cover-up since the Finale Fireworks incident...
Look, you didn't hear it from me, but we had a bit of an accident with the Finale Fireworks today. Between the absolute madhouse dis event has been and waitin' for dat rebrandin' delivery, my safety checks have been… slippin'.
It ain't my fault dat Karnival Kanine is all over da place! I shoulda known better, but I put em' in charge of launchin' off each and every fireworks show we's been putting on. I figured some of his wackiness would be good for the theatrics, ya dig?
But believe me when I say dis… I wasn't expectin' dat dog to tie himself to a rocket! Dat goes beyond any and every safety code I've ever violated -- and I've violated all of dem!
Toon-est may be ending today, but I ain't done just yet. I's got a boatload of paperwork to submit to Doctor Pulyurleg about dat dog's injuries, and don't even get me started on all dat grief counseling paperwork I'll be needing after worryin' about this silly rebranding.
I hope that all of you'se enjoy the next year goin' forward. I know dere's been some bumps in the road, but I give ya my Rigmarole Guarantee dat the Cartoonival will be nothin' short of FANTABULOUS! Trust me, I's got the paperwork to prove it.
Posted by Smudgy Mascara on October 22, 2020 at 2:00 PM
Ah, hello darlings! The Spooktown Curse is almost upon us here in Toontown, and I haven't gotten a wink of sleep. How could I, when the most fashionable event of the season is upon us? Of course, I'm talking about Halloween trick-or-treating!
The Halloween season may be spooky already, but nothing straightens out curly hair quite like a Toon-themed scare! Dressing up in costumes is a tradition as old as the curse itself. Now, we've all seen our fair share of Toonosaurs and SuperToons running amok. There's nothing wrong with that -- though I can't help but want MORE!
To that, I challenge you, the Toons of Toontown. Come up with a costume worthy of Jack-o-Kazam himself! Mix and match clothes and accessories as you see fit! I may be a curly-haired Cat fashionista, but even you can come up with something spook-tacular.
Once you've dressed yourself up all ghoulish-like, just snap a photo of yourself (Toon Tip: Try the F9 Key!) and upload it to the Wild Wacky Web. No matter what social media you fancy, be sure to use #ToontownHalloween! I'll be looking through your looks, and choosing my favorites. I'll be returning to the Toontown Blog soon to show you the best in scares!
Now, I hope you'll drop by soon to see the results of this fashionable fiesta. But not yet - I need to prepare my looks to make sure this isn't a bad-hair day! Though, I am running low on Wrinkle Cream… Do you think you could help? I'm sure that Rip has more in stock.
Posted by Jack O' Kazam on October 25, 2020 at 9:00 AM
It's time for the spooks to have a midnight jamboree,
For Hallow's Week is here, filling them with glee.
My monsters and minions, it's time to disperse,
As all of Toontown bows to my Spooktown Curse!
You might remember, dear Toons, what started this story.
When one lime green dog poached my inventory,
I knew in my heart that Toontown must pay.
For my stolen shoes, your skies will be gray!
For the things I lost on that Hallow's Eve,
I will haunt your silly lamp posts and trees.
I will go to the town that stole my wares,
And cook in my cauldron some powerful scares!
I said to myself - those Toons love a good task.
In Toontown Central, I will offer them a mask.
If you solve my riddles and collect my candy,
I will bestow a Pumpkin Head that is quite dandy.
In the cattlelog a haunted item will appear,
A Halloween color to fill you with fear.
My spooky purple shade goes bump in the night.
For Halloween beans, it'll give a good fright.
Jack O' Cadabra, Hocus Presto, Kazam!
I've got some mystery magic that isn't a sham.
My own spellbound bags can conjure a trick.
A spooky surprise born of my own special magic.
From now to the 31st, I am the wizard who haunts Halloween,
Bringing treats, tricks, and everything in-between!
Toontown is over -- Spooktown is here.
Come, if you dare, to face your worst fears.
Posted by The Bloodsuckers on October 27, 2020 at 2:00 PM
Greetings, Toons. It's once again that time of year. What's that you say? The time of year for going in-Cog-nito with spooky costumes and trick-or-treating with friends? No! Frankly, most Cogs couldn't care less about Halloween, that ridiculous holiday you Toons waste so much valuable work time celebrating every October. However, we Bloodsuckers tolerate it thanks to what it means for us: it's time for our yearly Bloodsucker Mega-Invasion!
"O", no need to sound so "Negative" and disappointed about it. We don't mean to "suck" the fun out of things. On second thought, we actually do. In fact, we're dying to spoil all your pointless Halloween festivities. You can be sure we've brought along plenty of Red Tape in case any of you Toons decide to be a pain in the neck.
We know how much Toons love playing dress-up with those so-called "Toon Resistance" costumes, but the Cogs can't have that. We've stocked up on enough Eviction Notices to send those Resistance Rangers with their tails between their legs before they ever have a chance to throw out free uniforms to any Toon saying "Trick-or-Treat!"
On the "Positive" side, when you Toons finally decide to support our cause, we'll be waiting. We're always looking for new blood.
See you on the streets,
Community content is available under
CC-BY-SA
unless otherwise noted.