This page lists all blog posts that were posted on the Toontown Rewritten website during the year of 2019. It will be updated as the year progresses.
January
Posted by Franz Neckvein on January 16, 2019 at 2:30 PM
I said zat I'd be back, and here I am! We're halfway zere, Toons. Ze Winter Laff-o-Lympics end in just sixteen more days on February 1st, 2019 at 11:59 PM Toontown Time! But zat is of no concern. After all, zere are hundreds, if not thousands of new Toons entering Toontown every day! I can see ze Cogs quaking in zere' boots, seeing all of ze new Toons growing stronger every day.
Now is no time for talk, no, now is time for pep talk! After all, you all want to know how each of ze teams is doing, ja? Between ze delicious Team Milk & Cookies and ze toasty Team Hot Cocoa, who knows which vill win? I don't know these things, but I do know who's in ze lead so far!
How many Toons have joined each team? Let's see what ze Loony Labs' Loonix computer tells us.
Holy smokes! Zere are 10,615 Toons on Team Milk & Cookies, and 13,828 Toons on Team Hot Cocoa! I bite my tounge from what I said before, zere have been nearly 25,000 Toons participating in ze Winter Laff-o-Lympics! Not only zat, but there is a nearly 40/60 split between each of ze teams.
But ze Toons on each team doesn't decide ze victor. Right now, it looks like Team Hot Cocoa is in the lead! Toons on Team Hot Cocoa have earned more Laff Points in total than ze total Laff earned by Team Milk & Cookies! But ze race is not over yet, ja? There's still plenty of time for either team to pull ahead for ze win.
I vill see everyone after ze Laff-o-Lympics ends, and only zen will I bring ze final results! If you still haven't begun, zere's still plenty of time to participate in ze Winter Laff-o-Lympics. Now get out zere and train your mopey muscles!
Posted by Franz Neckvein on January 25, 2019 at 2:00 PM
Come here, itty bitty Cogs! I've got ze finest Trap Gags in all of Toontown, just vaiting for you! Look into ze Hypno Goggle eyes, and fall into ze trapdoor! Bahahahaha! I tell you, zese Cogs fall for my traps every time! Even if zey can't take ze jokes, zey sure are happy to fall for zem!
In fact, let's do ze teensy test, Toons. Vhat would happen if I kept ze Hypno Goggles on all weekend? Ze Cogs vill keep coming, and I can keep trapping zem! Ze only limit is how many Trap Gags I can carry. In fact, I think I can keep zis' up forever. Say hello to my little friends, Cogs!
I vill destroy, all of... ze Cogs... Oof. I'm feeling dizzy. Ven did zat Cold Caller turn into two Short Changes? Ooh, I think zat I am seeing double. Now, vhat will happen if I destroy both of zese Cogs zat I see? I see now, I am getting ze Double XP!
Aha, for as long as I wear ze Hypno Goggles, every Toon will receive Double XP! I don't know how long I can keep zis' up, so I'll just have to keep zem on for zis weekend. From now until January 27th at 11:59PM Toontown Time (PST), every toon vill receive Double XP! Zis should be a wonderful way to finish strong with ze Winter Laff-o-Lympics Toons, ja?
Now, if you can excuse me, I am feeling very sleepy and sick to ze stomach. Seeing double is far worse zen you may think...
February
Posted by Franz Neckvein on February 2, 2019 at 7:15 PM
HELLO LAFFLETES, far and wide, from Donald's Dreamland all the way to my hometown of Toontown Central! Welcome to ze finish line! Ze Winter Laff-o-Lympics have officially come to a spectacular finishing act. Of course, zat means ze time has come to announce ze winners of ze event, ja?
I am so proud to see all of my puny Laffletes grow up into champions! Zat is ze Punchline Gym's purpose. First, I vill list how many Toons received each medal:
A total of 2,251 Toons vill receive the Bronze prize!
A total of 409 Toons vill receive the Silver Prize, including an exclusive SpeedChat phrase!
Finally, 238 Toons vill receive the Gold Prize, which contains an exclusive Toon T.A.G.S. style!
But zat's not what you're all here for, I get zat. In my hands, I hold ze winning team of the 2019 Winter Laff-o-Lympics. Who vill it be? Perhaps ze warm and toasty Team Hot Cocoa, or vill it be ze delicious and sugary Team Milk & Cookies? Ze truth is, both teams got lots and lots of ze Laff points. Toontown is now stronger zen ever in fighting ze Cogs! However, I must crown a single winner...
Ze winner of the Winter Laff-o-Lympics is Team Hot Cocoa! Congratulations to all Cats, Crocodiles, Deer, Monkeys, and Mice who participated in ze Winter Laff-o-Lympics and gained 50 Laff Points! Once again, you vill recieve zese rewards prizes ze next time you enter Toontown: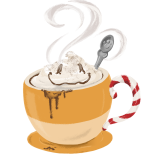 5000 Jellybeans
1000 Racing Tickets
One Gag-Up All Unite
One Max Toon-Up Unite
Two 600 Bean Unites
Finally, I vould like to thank all Toons who participated in ze Winter Laff-o-Lympics. Ze Cogs are getting stronger by ze day, and ve will need all the strength possible to fight back ze intruders. To all of ze Laffletes, Thank YOU for making zis' a Toontastic Winter Laff-o-Lympics!
Now, there's no time to vaste, I am already behind on my training! If you need me, I vill be exercising my strength back at ze Punchline Gym. Until next time!
Posted by Sir Max on February 14, 2019 at 2:00 PM
Hello there Toontown, it's your favorite part-time Toontown Blog enthusiast Sir Max. As is tradition every year, ValenToon's Week is in full swing. As is tradition since this year, I lie in wait at my estate, alone. It's okay though, I know something good will happen this year.
After all, there's only a few more days to go until half-priced chocolate at the Dropping Degrees Diner! Most people buy their chocolate before ValenToon's week, but little do they know how easy it is to find after the fact!
While most Toons may be concerned with finding true love or some other malarkey, I'm more concerned with how long it'll be until I can get cheap chocolate! I may not be a fan of the consumerism associated with ValenToon's day, but I do love massive piles of chocolate! It's even better than Halloween, let me tell you.
Maybe a stroll outside will ease the pain of waiting for chocolate. The Estate is very calming, after all. Wait a minute... are those... CHOCOLATE HEARTS on the ground?
Happy ValenToon's Day, Toontown!
Posted by The Fissiontons on February 26, 2019 at 11:59 PM
Fissionton, look.
What's this? We're not only logged into Toontown's "Social Media" accounts...
Ah! But also their blog post announcement doohickey.
Salutations, Toontown. For those of you whom may not remember me, my name is Doctor Fissionton, and I'm joined today by my colleague: Doctor Fissionton. It's the 26th of the month, of course, which means we're here to discuss today's anomaly!
Do you think it was a tad too theatrical?
Nonsense, it's a grand finale.
Yes, plus it's been one year since they first met us.
Much longer since we met them.
Now Toons, as you may recall, the 26th of every month has resulted in some sort of anomaly of time thanks to a certain Doctor. Some have been too small to notice, and some have been hard to miss. It's a ripple effect caused by his initial time travel experiment. Today's anomaly, for example, put every Toontown Social Media account into the control of the S.I.L.L.I. (Scientists Interested In Laugh Levels Increasing).
Not that we would ever suggest taking advantage of a situation such as this.
No, not at all. Dimm, please step away from the terminal!
Some of you may ask: What's Fissionton up to? Why post the S.I.L.L.I. test video? What has he been doing all of this time?
Some of them are already on the verge of an answer.
I knew that giving the Doctor a puzzle would put it in their hands.
With patience, they'll understand what we've been working towards since the beginning.
Toontown, brace yourself. The Final Plan is well underway. Loony Labs will keep you updated with their newly-found social media access. We're nearing the turning point in Toon History. This minute may mark the end of the 26th, but today's anomaly is far from over. See you soon.
Posted by The Fissiontons on February 28, 2019 at 11:59 PM
Hello, hello. It's Doctor Fissionton again. You know, the one who is two? Rippling in and out of time? 26 million Silly Particles? Posted on the Toontown Blog two days ago? Yes! That's me.
By "me" you must mean "us."
When you're not bound by time, why bother being bound to grammar?
I suppose there are more pressing things to worry about.
Yes. Why don't we show them today's test?
Ever since the 26th of this month, an anomaly has been tearing through Toontown. It's the reason we're having to write a post so late -- ever since the anomaly led the Loony Labs Scientoons to start using social media, all of the computers have been occupied for every moment of the day! As you may have noticed, however... We've had a bit of a hand to play in the events of this anomaly.
I must say, their collective effort has been quite outstanding.
The best and brightest are piecing our puzzles together in record time!
All of these years of training truly have paid off for them.
They may even be starting to understand what we have been working towards.
Though, this puzzle has proven to be harder than the others.
It'll be much easier once we realized that we already dotted their a's for them.
With each step towards The Final Plan, the ripple becomes closer to stabilizing. Loony Labs is learning more about the Tooniverse, the anomaly, and the silliness behind it all. Silliness is a powerful entity, with effects even I -- we -- could not have foreseen.
Fissionton, take a look under this microscope for a moment.
Is that dust on the lens, or is that what we're looking for?
If we screen it correctly, it'll make a contrasting difference.
The hour is growing late, and Doctor Surlee will certainly want to run more tests early in the morning. It's both past and before our bedtime, which means it's as good of a time as any to leave you to it.
Don't worry, you'll be back here soon. Best of luck.
March
Posted by The Toontown Team on March 3, 2019 at 11:00 AM
If you've been keeping a close eye on Toontown this week, you'll know that something big is happening! On Thursday, this all came to a boiling point when Toons discovered Part One of a two-part web comic called "Gone Fission." Read on to learn more, then click on the image below to view the comic!
So, how did we get here? Keen-eyed Toons may have noticed some very strange happenings on social media over the past few days. Thanks to the anomalies of the 26th and the meddling of Doctor Fissionton, Loony Labs has taken over Toontown's social media!
In addition to the social media silliness, several videos were posted on the Toontown

[]

. These videos seemed like simple Silly Meter tests, but they turned out to be much more! Some super smart sleuths across the Toontown community found that each video contained a small puzzle placed by The Fissiontons, which led to the comic that you'll find above.
What comes next? It's hard to say, but we're certain that more Silly Meter silliness will be involved. Based on the last panel of the comic, it looks like we'll find out more on March 6th!
---
Lastly, let's end this post to a huge shout-out to our puzzle solving community. We love putting together these Alternate Reality Games (ARGs) for you to solve, and we hope that you have as much fun solving them as we have creating them!
If you find these mysteries intriguing, you should check out the Toontown Rewritten subreddit and the Toontown Rewritten Discord Server, which are two communities full of dedicated Toons who worked together to solve this puzzle. Join now so that you can be involved with the next one!
NOTE: These communities are not officially sponsored by Toontown Rewritten. We trust the moderators of these communities and know that they maintain a family friendly environment, but we do not manage either of them. Ask a parent before joining!
Community content is available under
CC-BY-SA
unless otherwise noted.