This page lists all blog posts that were posted on the Toontown Rewritten website during the year of 2018. It will be updated as the year progresses.
January
Posted by Toon HQ on January 13, 2018 at 8:00 AM
It's that time again -- time to announce the winners of the New Year's Top Toons Marathon! HQ Officers have rallied and tallied -- but not dilly dallied -- in order to put the full list of winners together. Without further ado, here are the New Year's Top Toons!
The list below is separated into two categories: Cogs Defeated and Floors Recovered for each hour of January 1st. If you didn't win, don't worry. We've got more events heading your way!
Cogs Defeated
Floors Recovered
12:00 AM
12:00 AM
1. Chris - 234 Cogs
1. Misfit - 48 Floors
1. Starset - 234 Cogs
2. Medics - 47 Floors
2. Queen Bridget - 233 Cogs
3. Damaged - 45 Floors
3. Helios - 212 Cogs
4. Good ol' Giggles Gigglefish - 42 Floors
3. Teen Spirit - 212 Cogs
1:00 AM
1:00 AM
1. Radian - 200 Cogs
1. Quackosaurus - 47 Floors
1. Relentless - 200 Cogs
1. Everglow - 47 Floors
2. Treedo - 195 Cogs
1. King Steelo - 47 Floors
3. Al - 192 Cogs
2. Subliminal - 45 Floors
3. Forte- 192 Cogs
2. Delirium - 45 Floors
3. Henry - 192 Cogs
2:00 AM
2:00 AM
1. Phillip - 272 Cogs
1. Comet - 49 Floors
1. Amelia - 272 Cogs
2. Constance - 46 Floors
2. Oliver - 214 Cogs
2. Bittersweet Love - 46 Floors
3. Savanna - 194 Cogs
2. Lenin - 46 Floors
3. Prodigy - 194 Cogs
2. Rubrix - 46 Floors
3. King Petalswirl - 194 Cogs
3:00 AM
3:00 AM
1. Loud Feathertwist - 212 Cogs
1. Elise - 45 Floors
1. Blueberry Milkshake - 212 Cogs
2. Nix - 44 Floors
2. Paige - 204 Cogs
2. Yukiko - 44 Floors
3. Naz - 201 Cogs
3. Emcee - 41 Floors
3. Marshmallow - 201 Cogs
4:00 AM
4:00 AM
1. Rebellion - 284 Cogs
1. Tropical Storm - 57 Floors
1. Rampage - 284 Cogs
2. Shawn - 45 Floors
2. Lady Mcsnoop - 192 Cogs
2. Versatile - 45 Floors
3. Lilian - 152 Cogs
3. Kenneth - 44 Floors
3. Sobek - 152 Cogs
5:00 AM
5:00 AM
1. Dallas - 280 Cogs
1. Darla - 48 Floors
1. Bullet - 280 Cogs
2. Dr. Fantastic - 45 Floors
2. Luminous - 256 Cogs
3. Just Jake - 42 Floors
2. Mimi - 256 Cogs
4. Lites - 41 Floors
2. Ironic - 256 Cogs
4. Queen Of Hairballs - 41 Floors
4. Ooops - 41 Floors
6:00 AM
6:00 AM
1. Queen Maxie - 172 Cogs
1. Muffin - 49 Floors
1. Dens - 172 Cogs
2. Lou - 47 Floors
1. Primrose - 172 Cogs
3. You Bacon Me Crazy - 46 Floors
2. John - 133 Cogs
4. Owen - 42 Floors
2. Hazel - 133 Cogs
7:00 AM
7:00 AM
1. Anarchy - 248 Cogs
1. Captain Crumbly - 46 Floors
2. Taurus - 204 Cogs
2. Cosmonaut - 44 Floors
3. Reconnaissance - 200 Cogs
2. Rat-lohead - 44 Floors
4. Shipwreck - 176 Cogs
3. Speedy - 43 Floors
4. Piggy - 43 Floors
8:00 AM
8:00 AM
1. Quackery - 147 Cogs
1. Spray Paint - 49 Floors
2. Curly Dizzymuffin - 143 Cogs
2. Noelle - 44 Floors
2. Placebo - 143 Cogs
3. T.J. - 43 Floors
3. Waldo - 137 Cogs
3. Pierre Preciousflinger - 43 Floors
3. Flip Fuzzybounce - 43 Floors
9:00 AM
9:00 AM
1. Deimos - 164 Cogs
1. Little Scooter Beanglop - 44 Floors
1. Coral Mouse - 164 Cogs
1. Melancholy - 44 Floors
2. Pink Lemon Ape - 118 Cogs
2. Susano - 42 Floors
3. Super Electrocrumbs - 108 Cogs
2. Raquel - 42 Floors
10:00 AM
10:00 AM
1. Grief - 241 Cogs
1. Angel - 37 Floors
2. Luminous Shadows - 208 Cogs
2. Cutie - 34 Floors
2. Hard Times - 208 Cogs
2. Ooowo - 34 Floors
3. Fiendish Doll - 116 Cogs
3. Sammie Super Noodle - 33 Floors
3. Root - 33 Floors
11:00 AM
11:00 AM
1. Smokey - 200 Cogs
1. Jax - 45 Floors
2. Mister Jake - 168 Cogs
2. Heather - 37 Floors
3. Demure - 167 Cogs
2. Blue Mouse - 37 Floors
4. Tobias - 134 Cogs
2. Gimpee - 37 Floors
12:00 PM
12:00 PM
1. Bob - 160 Cogs
1. Rakuen - 36 Floors
1. Grover - 160 Cogs
2. Savanna - 32 Floors
1. Pig Latin - 160 Cogs
2. Gossamer - 32 Floors
1. Spade - 160 Cogs
3. Princess Bubbles - 30 Floors
3. Ethelred - 30 Floors
3. Boscabo - 30 Floors
3. Chocolate Dipped Pretzel - 30 Floors
3. Princess Sparkle Bee - 30 Floors
1:00 PM
1:00 PM
1. Trixie Jr. - 208 Cogs
1. Justin - 40 Floors
2. Shiroe - 200 Cogs
2. Rambo - 39 Floors
3. Crocodile Of Hearts - 196 Cogs
3. Insonus - 37 Floors
4. The Croctor - 184 Cogs
4. Kanye - 34 Floors
4. Prof. Ziggy - 34 Floors
2:00 PM
2:00 PM
1. Tentacion - 192 Cogs
1. Bear-E-Nice - 34 Floors
1. Marie - 192 Cogs
2. Super Lionel Nickelnerd - 29 Floors
2. Tyler - 176 Cogs
3. Ursa Minor - 26 Floors
3. Eos - 174 Cogs
4. Normy - 25 Floors
4. Bucky White Tooth - 25 Floors
4. See No Evil - 25 Floors
3:00 PM
3:00 PM
1. Nock - 228 Cogs
1. Tatum - 42 Floors
2. Fine China - 200 Cogs
2. Lonzo Jawll - 41 Floors
3. Mr. Monkey Man - 170 Cogs
3. Fat The Second - 40 Floors
3. Iverson - 170 Cogs
4. Cherry - 38 Floors
4:00 PM
4:00 PM
1. Rusty - 122 Cogs
1. Belle Bumble - 39 Floors
2. King Romeo Blubberdoodle - 111 Cogs
1. Cherub - 39 Floors
3. Nolanspride - 110 Cogs
2. Purrcy Catson - 35 Floors
4. Kitty Kat - 104 Cogs
2. Mini Marcy - 35 Floors
5:00 PM
5:00 PM
1. Justin - 166 Cogs
1. Prof. Rusty McTwist - 44 Floors
2. Honeymoon Avenue - 150 Cogs
1. Meomi - 44 Floors
3. Chesitz - 146 Cogs
1. Heroic Chihuahua - 44 Floors
4. Drew - 100 Cogs
2. Alluringheart - 40 Floors
4. Crazy Jinglesparkles - 100 Cogs
4. Harmonia - 100 Cogs
6:00 PM
6:00 PM
1. Emperor - 220 Cogs
1. Jasper - 38 Floors
1. Rapid - 220 Cogs
1. Squeakers - 38 Floors
1. Kit Kat - 220 Cogs
2. Wednesday - 35 Floors
2. Tiny Bandit - 168 Cogs
3. Eagle - 34 Floors
7:00 PM
7:00 PM
1. Harvey Giggleglop - 151 Cogs
1. Spike Supercrunch - 41 Floors
1. Wacko - 151 Cogs
1. Sir Dusty - 41 Floors
2. Ladybug - 135 Cogs
1. Reveur - 41 Floors
3. Squeakers - 124 Cogs
2. Squaak - 37 Floors
3. Hudraco - 124 Cogs
3. Socks - 124 Cogs
8:00 PM
8:00 PM
1. Secret Agent - 224 Cogs
1. Doctor Pillowface - 40 Floors
1. Olaf - 224 Cogs
1. Pine Tree - 40 Floors
2. Broken Memes - 212 Cogs
2. Doctor Tricky Bumblefish - 38 Floors
2. Scooter - 38 Floors
2. Irony Child - 38 Floors
2. Chunky Dizzyfoot - 38 Floors
9:00 PM
9:00 PM
1. Milky Way - 182 Cogs
1. Little Poppy - 45 Floors
1. Verbatim - 182 Cogs
2. Jhon - 41 Floors
2. Alastor - 168 Cogs
2. Adagio - 41 Floors
3. Lily - 142 Cogs
3. Piggy - 39 Floors
3. Holland - 39 Floors
10:00 PM
10:00 PM
1. Neo - 156 Cogs
1. Cassiopeia - 44 Floors
1. Vitamin Sea - 156 Cogs
1. Legacy - 44 Floors
1. Silentious Spirit - 156 Cogs
2. Spade - 43 Floors
2. Hypnosis - 155 Cogs
3. Enchanty - 41 Floors
11:00 PM
11:00 PM
1. Cheese - 200 Cogs
1. Felix - 43 Floors
1. Cheese - 200 Cogs
2. Notorious - 42 Floors
1. Mrs. Wildmelon - 200 Cogs
3. German Punk Kitty - 40 Floors
2. Jumpdrive - 191 Cogs
3. Athena - 40 Floors
NOTE: Don't see your Toon up there?
• Toons linked to the same household were only listed once, but ALL qualifying Toons will receive the prize! You may only see one of your Toons on the list, but your other qualifying Toons will receive a prize as well. If we made a mistake, then please email us and we will correct it. (Such as, if a friend or sibling played on a Toon in your household.)
• Toons found to be cheating during the event, or have received a recent serious infraction, have been disqualified. It's no fun for anyone!
• If you think that your Toon has not been listed by mistake, don't hesitate to contact us at support@toontownrewritten.com! We'll investigate and figure out what went wrong.
• If you won, you should have already received the gold medal shirt in your mailbox from the Toon Council. Send us an email if it hasn't made its way to you yet, and we'll make sure Postmaster Pete gets it expedited.
We hope that you enjoyed kicking off the new year with us! We're always looking for more fun events to host, and you can bet that this year will bring many more. Thanks to all of the Toons who participated!
Until next time, have fun in Toontown!
Posted by Toon HQ on January 23, 2018 at 2:40 PM
ATTENTION ALL TOONS: We've made a mistake! Because of an error in our Super-Duper Sorting mechanism, several Toons were left off of the Top Toon's Marathon list of winners. We recounted and re-checked the list to ensure absolute accuracy, and listed the new set of winners below.
If you were previously not listed on the Top Toons list but think you should have been, check again! Your name may have been added to our new set of winners. If you're on this new list, you should have already received the shirt in your mailbox.
If you were listed previously but don't see your name now, it's likely because you were accidentally listed as a winner on the previous list due to the error which left some Toons out. Don't worry, though, we'll let you keep the shirt! (Taking it away would be cruel as a Cog.)
This portion of the page could use some work. Use the edit tool to help us out!
NOTE: Don't see your Toon up there?
• Toons linked to the same household were only listed once, but ALL qualifying Toons will receive the prize! You may only see one of your Toons on the list, but your other qualifying Toons will receive a prize as well. If we made a mistake, then please email us and we will correct it. (Such as, if a friend or sibling played on a Toon in your household.)
• Toons found to be cheating during the event, or have received a recent serious infraction, have been disqualified. It's no fun for anyone!
• If you think that your Toon has not been listed by mistake, don't hesitate to contact us at support@toontownrewritten.com! We'll investigate and figure out what went wrong.
We're very sorry for any inconvenience and frustration caused by the incorrect results posted. We will be reviewing the sorting mechanism to determine what exactly went wrong, and prevent it from happening again in the future. Thanks to all of you Toons who were patient while waiting for the new results to come back!
Click Here to see the original contest results and prize.
Posted by Doctor Surlee on January 25, 2018 at 4:00 PM
Attention, Loony Labs Scientoons and Assillyates: After a period of maintenance, LoonyLabs.net is now back online. You can use this website to access your personal terminal anywhere outside of the facility.
We've had our top teams (besides S.I.L.L.I. -- they're far too busy) working on resetting the rambunctious registers and programming the pernicious processors. All terminal IDs will be found intact, and everything appears to be operational as of now.
If you aren't a Loony Labs employee, feel free to fold this message up and turn it into a paper airplane! Creativity is key to "sillyness", they say.
Remember, this message has absolutely no significance to those outside of Loony Labs and I am absolutely not using reverse-psychology on you. I'm a scientist, not a politician. Enjoy your day -- January 25th -- the day before the 26th, mind you!
-- Doctor Surlee, Director of Loony Labs
Posted by LL_TERMINAL26 on January 26, 2018 at 8:26 PM
---
INCOMING TRANSMISSION FROM LL_TERMINAL26
via LoonyLabs.net
I hope they know what they're getting themselves into.
They do. Some of them, anyway.
This has been a long time coming...
And yet not even we are prepared for what lies ahead.
Speak for yourself!
I did speak for myself.
Hmm. I suppose you did.
By the way, you'll need these.
You can thank us later.
Good luck.
---
compared secrecy wearing Gearloose impeccable collapsing reflection separated thoughts scrambled evacuation pocket mentions variable sworn smile incomplete stabilized flickering describing file blueprints scenarios facility discover recorder goodness blueprint anomaly rewrite ten ripples delicate Blueprints surroundings encrypting timeline audio predicament entering variables pages onward scribblings log's rooms Fissionton treacherous imperfection documents document crumbling recording drawer logs parallel particle dates imperfections precisely possibility pen happening bay portability appearance unforeseen encountered importantly schematics designed glimpse device's copy folder self initial Gyro's awful glowing steal transcript unstable remained
February
Posted by Samantha Spade on February 1, 2018 at 12:00 PM
Spade. Samantha Spade. Private Investigator. Tired of talking in short sentences, but it's part of the job. I've been a flatfoot since the day a Number Cruncher stepped on my toes -- yowch! Since then, I've made it my mission to use my keen detective skills to defeat the Cogs. Plus, I look pretty good in a trenchcoat. But this case is no Cog conundrum. No, this case was as Toony as a Saturday morning television program.
It all started January 25th. A message from Doctor Surlee notifying Loony Labs employees that their network is back online. But why? What prompted this announcement to be made through the Toontown Blog? A seemingly random announcement -- with disastrous consequences.
The next day, I get a knock on my door. It's a Toontown Times journalist -- they're always coming for a story. "I've got nothing for ya, ace," I say to them. But it turns out they're not coming to me for a story -- they're coming with one.
It's January 26th, and a strange message has popped up on the Toontown Blog. No doubts that the whole town has seen it by now. To a layman, it means nothing. To a sleuth like myself, it's got the most exciting information since Root 66 Diner started serving breakfast all day. Let's get this case crackin'.
The Big Buildup
This case has been years in the making. It all started a little over four years ago when a cryptic message showed up on the Toontown Blog on the 26th of November. For years, the puzzle continued. Strange ciphered texts showing up on rare occasion, but always on the 26th.
Toons who took notice began piecing together that these messages always seemed to revolve around Loony Labs, and more specifically -- Doctor Surlee. Each of these messages led to blueprints of various inventions in Toontown, and finally, pages from the diary of Doctor Surlee himself.
Something about these pages seemed strange, though. They talk of Cogs as an invention, and mention years that have not yet passed. Finally, they credit the inventions of Doctor Surlee to a different Toon named Gyro Gearloose. This made me question: What if Doctor Surlee is Gyro Gearloose?
A Slice of C.A.K.E.
Now that we know the background, we're ready to solve the case. I asked myself: Why do these mysteries occur on the 26th? Who REALLY is Doctor Surlee? and What's the deal with this incoming transmission from Loony Labs?
One thing was clear: Doctor Surlee had a plan. He knows of the 26th mysteries, and wanted it to happen again. That's why he made a blog post on January 25th, the day before the transmission appeared. It seems that the clever Doctor, like us, wanted to get to the bottom of the mystery once and for all.
Toons from far and wide put on their detective hats and began to investigate once the transmission hit. Top cipher solvers in the community found morse code and radio frequencies in the background of the video. What they found inside, you wouldn't believe: The password to Terminal 26 on LoonyLabs.net.
With a few commands and a bit of digging, it was quickly uncovered that the terminal belonged to a Doctor Fissionton. This Fissionton, however, has never been seen! According to Loony Labs records, he resigned many years ago. What was Fissionton's computer doing with this message? How did it play into the mystery of the 26th?
Toons dug further and found a number of Research Reports, written by Doctor Fissionton. These Research Reports were filed by the C.A.K.E. Team (Categorizing All Known Energy) of Loony Labs, which left one mystery solved: The occurrence of all of those cakes in the transmission!
Still, however, the reports didn't add up. They mentioned dates that hadn't passed. Events that hadn't happened. I got the inside scoop with Professor Purrview, the author of the final research report, who had this to say:
"I've seen many strange things here at Loony Labs, but perhaps the strangest one yet is a report that I didn't write! I have no memory of writing it, but I do know the name Fissionton. Apparently we were supposed to work together, but he turned in his resignation before research even began. It's a shame."
The Research Report evidence can be read below.
The find was huge, but not huge enough. There was more to the caper left to be uncovered.
The Rewritten Experiment
The final Research Report gave us another password. This time, one to a folder on the terminal that peaked my interest more than the daily crossword of The Toontown Times. A folder called "26." The insightful investigators of Toontown found a file inside covered in codes -- codes that translated to specific words of specific blog posts. They knew they weren't going to be able to solve this alone.
Toons from Hither'n'yawn to Timbuktoon came together to crack the code. Just look at this document! Toons everywhere, trying to track down the words. It was only a matter of time until we'd have the secret messages revealed.
What we found beneath the veil of code was something we couldn't believe...
Doctor Fissionton was a Loony Labs scientist skeptical of Doctor Surlee. He uncovered plans for all of the blueprints above, but the biggest find was "The Rewritten Experiment." It described an experiment by Doctor Surlee to take Toontown back in time in order to defeat the Cogs. A plan to rewrite Toontown using a pocket watch. Have you ever seen such a device before?
The watch in the state Doctor Fissionton found it, however, was unstable. It malfunctioned and ripped him away from time itself! However, the watch unveiled the true nature of the 26th: an anomaly caused by Doctor Surlee's time travel, starting on October 26th, 1998: The day he traveled back to. The past can't be perfectly replicated, which resulted in Doctor Fissionton finding a "Rewritten" version of himself. A cat instead of a dog.
The full scoop is in the documents below.
One thing is certain: This is no ordinary investigation!
The Fissiontons' Puzzle
Upon entering a final password to an alarmingly titled folder called "The Final Plan", our puzzle-piecing Toons were met with something no one expected. The Fissiontons -- formally rumored amongst sleuths as "The Two," and titled in their blog post appearances as "???" -- began speaking directly to them.
The Fissiontons told us about the reason why Doctor Surlee did all of this: To save Toontown. We live, apparently, in a "Toontown Rewritten." A version of Toontown that has been taken back in time in order to save us. Surlee Gyro Gearloose (his full name, as The Fissiontons revealed) had even rewritten himself into a monkey, to avoid anyone from discovering that he accidentally created the Cogs.
Their full message is put below. At the end of the conversation, The Fissiontons left us one final puzzle. I stared at it in astonishment, knowing it was the biggest puzzle yet.
This puzzle was big. As big as a puzzle truck heading for the toy store. The Toons were on the case, and immediately started collaborating to put the last piece of this caper together!
At long last, the puzzle was completed. It revealed a glimpse of what the future has in store. "The Final Plan" seems to involve some sort of meter, and a strategy to save Toontown from complete Cog chaos. Doctor Surlee and the Fissiontons need our help!
---
I returned to my office, resting at ease knowing that we'd cracked the case of Loony Labs. Unfortunately, it seems this puzzle has only just begun. We know what Doctor Surlee's been up to, who Doctor Fissionton is, and what's been causing these mysteries of the 26th. Now, it's time to end the 26th once and for all.
This case wouldn't have been cracked without the expert detectives in the Toontown community, who worked tirelessly to get it solved. If you're a caper-crazed detective like them, be on the look out for the next puzzle. You'll know it when you see it.
Until then, it's time to move on to my next case: Return of the Cookie Jar Culprit. My tip for solving mysteries? Get a clue!
Posted by The Toontown Team on February 6, 2018 at 12:00 PM
This just in: We've reviewed our supply, and Toontown Member Maillers are still in stock! Even if you've already received a set, you can grab some real-world Toontown Merchandise for FREE just by paying for the price of postage.
This Member Mailer pack from ReplayFX 2017 comes with three Toontown Trading Cards and a mini Toontown Poster.
In order to meet the demand and please as many players as possible, we ordered an extra amount of supplies this year to share with Toons around the world. We still have more to go around, and we want YOU to have it!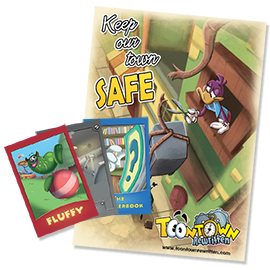 To learn more about Member Mailers, click on the image above for complete information and step-by-step instructions about how to grab yours today.
For the extended supply period, all letters must be postmarked by March 31st in order to guarantee that we can meet demand. We will continue sending mailers while supplies last. Act now before they're gone!
You can also use your Member Mailer request envelope as an opportunity to send a letter or fanart to the Toontown Rewritten Team!
Send us something cool, and you might just see it posted on our website or social media! (Don't forget to attach your Toon name so that we can give credit where its due.)
Click on the image above to learn more about the Toontown Member Mailer program, and don't forget to ask a parent before participating. Enjoy!
Posted by Flapjack on February 9, 2018 at 2:00 PM
Hi - long time no see. Perhaps some of you remember me: Flapjack! One of the Toon Troopers of Toontown, and the officially appointed Safety Officer of the town. Did I tell you that my middle name is actually "Account Safety"? I think it's French. Yep, Flapjack "Account Safety" Thunderscreech!
Last time I stopped by, I taught you how to keep your account S.A.F.E. here in Toontown. Since then, I've spent my time traveling all around the Tooniverse to learn about the wonders of safety around the world.
I visited landmarks such as the Perfectly Sturdy Tower of Pisa (It's the short one next to that dangerous leaning tower) and the world's largest traffic cone (also known as the Eiffel Tower), but what taught me most was the most famous safety landmark of all: Airports.
You heard me right! I mean, who gives better lessons about safety than flight attendants? I've taken the lessons I've learned in the sky and brought them back here to Toontown. Listen closely, as it may just come in handy one day!

Please keep your arms, legs, and Toons inside your own account...
If you keep your arms and legs inside your own account rather than mucked up with someone else's, you won't risk losing it. As appealing as it may be, sharing your account with the chair kicker in seat 4B isn't the best idea in the world -- even if they're a close friend.
Remember, Toontown is 100% free! You can register as many accounts as your little heart desires, so, why not have your own account instead of running the risk of sharing one?

Make sure all information is safely stored in the overhead bin...
Make sure to remember your username and password, and keep it to yourself! While you can always reset your username and password on the login page, it'll be much harder for the Toon Council to help you restore your account if you forget your email as well.
If you use your primary email for Toontown, it should be much easier to remember! You could also save a little note on your desktop of your account email, or write it down on a piece of paper to put in a safe place. If you ever get locked out of your account and don't know what to do, just click the big "Help" button on the website!

At this time, please put your seat back and fasten your email..
Email security is just as important as security for your account! ToonGuard utilizes your email, and so do password changes. Since Toontown doesn't collect your real name, your email acts like your identity. If your email isn't secured, that may be a gateway for someone else to get into your account. (That's not good.)
Check out your email provider's additional safety options and try enabling them. Options like security questions, phone verification, and Two-Factor Authentication are all tools that most email providers have to keep your account safe.

Turn on your cell phones and other security devices...
You heard me right! Toontown has several extra security features available to you. If you enable these extra security options, it may be a little bit of a hassle, but you'll certainly keep Mr. 4B away.
ToonGuard, which is enabled for all accounts by default, checks to see if you're logging in from your normal location. If you're outside of your primary location (Like the airport bathroom - I'm looking at you 4B), it will verify that it's you by sending a special code to your email address. You can also review your verified ToonGuard locations, and disable certain locations if you don't recognize them!
Two-Step Login takes just a little bit longer to set up and connect, but, once you do, it's clear skies ahead! Two-Step Login allows you to use a short code from a second device to verify it truly is you. You can use a cell phone, tablet, or even carrier pigeon! (Okay, maybe not the last one.)

Report anything suspicious to your flight attendant...
Hey, that's me! If you see anything that you may think is suspicious, such as someone selling their Toon, trying to trick others into sharing information, or even blatantly stealing an account -- let us know by Contacting Support! If we're able to catch someone before they cause a problem, it would sure help you and all the other Toons.
In an emergency, Toontown Support can be used as life preservers...
Toontown Support is dedicated to ensuring your account is safe and secure. If we notice something fishy, we'll temporarily lock your account until we hear from you to make sure everything is okay. If you're in a sticky situation like Sticky Lou contact us, and we'll be able to help fix the problem and give advice as needed!
I'd like to thank you for paying attention during our safety briefing. I know you probably don't love account safety as much as I do, but by taking a few extra precautions, your Toons and my neighbors will be safe! The last thing we want is 4B to get into your account; that's just scary.
Until next time, safe travels!
Posted by Lil Oldman on February 14, 2018 at 6:30 PM
Ah, ValenToon's Day. A day to celebrate love between two Toons. Feh, who needs it! If there's one thing my talking toads have taught me, it's that you don't need a specific day for love. I even find myself in love on most days of the week, which comes from the satisfaction of knowing how many Cog Buildings have been destroyed by my apprentices.
Some Toons may celebrate ValenToons day with exclusive party decorations or limited-time Cattlelog items. I even hear that the treats in playgrounds are blossoming in the shape of hearts. As for me? Well, I think that I'll be finding some more matches for toads.
Amid the festivities and hearts, one would expect the Sellbots to invade. They love consumerist holidays more than I love caviar, yet we remain invasionless. After the Doctor Surlee debacle, there is sure to be much talk in the realm of Cog Nation. I fear that the Cogs are cooking up something stronger on the horizon. What this may be? I do not know.
Now, which toad was I talking to again? I can't remember! I think it's because I'm so hungry. No need for boxes of chocolates -- would you mind bringing me back a lumpy cheese instead? It'll only take a minute...
Happy ValenToons Day from Toontown!
Posted by The Toontown Team on February 20, 2018 at 2:00 PM
Hey there, and welcome to the latest edition of Toontown's Backstage column, where we get a look at everything that goes on behind-the-scenes here on the Toontown Team. Today, we're going to take a look at our new pipeline for Toon animation.
My name is Andrew (but you can call me Ziggy), and I've been a 3D Artist and Technical Artist for Toontown Rewritten since 2014. My job is to bridge the gap between art and programming. Heads up: This post may be more technical than our typical Backstage columns.
The Character Rig Rigmarole
A couple years ago, we started working on a project that'd give animators the wonderful ability to create new Toon animation for Toontown Rewritten. What made this an even bigger challenge, however, is that we needed it to work with the existing animation as well! We called this project: Toontown Rerigged!
This original pipeline update, which you can read about in my previous Backstage post, was achieved by setting the Toon's character rig to function exactly as Toontown Online's would have.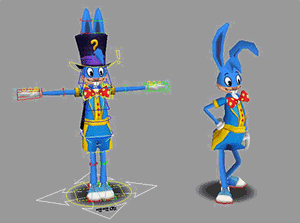 "What's a character rig?" Good question! It's kind of like a puppet. A puppet's strings allow the puppeteer to control its movement. Similarly, a character rig gives animators to control a character's movement. As Toons come in many shapes and sizes, we built six of these character rigs to cover our bases. Seven, if you include our ToonFest mascot, Riggy Marole.
Speaking of which, have you spotted Riggy Marole recently? Congratulations! You caught a glimpse of what Toontown Rerigged could do for you. (Boy, the strings that we gave him!)
However, as we continued to research Toontown Online's character rig and animation, an assortment of problems gradually unveiled themselves to us. These rigs had many underlying issues that we didn't quite anticipate. Issues that limited the true potential of our fellow Toons like you or I.
Starting from Scratch
To trace the source of these problems, we needed to take a look at the game's history. Back in 2010, the Toontown Online team was in the process of transitioning their character rigs from the now defunct Softimage to a more updated piece of software called Autodesk Maya.
From our analysis, the goal seemed not too different from ours: They wanted to allow their artists to add to and polish their decade old library of 1,000+ animation files. Unfortunately, their ambitious goals were cut short, and we are left with an incomplete remnant of what may have been.
With this in mind, we have rebuilt our entire Rerigged pipeline from scratch in order to fulfill the Toontown Online team's original task. The new bodies are heavily based on the pre-2010 versions, as well as taking advantage of changes made post-2010. We wanted to use the added knowledge our team has gained to produce the most faithful representation and best quality animation we can deliver, continuing the vision that the Toontown Online team had over 8 years ago.
With this in mind, we have rebuilt our entire Rerigged pipeline from scratch in order to fulfill the Toontown Online team's original task. The new bodies are heavily based on the pre-2010 versions, as well as taking advantage of changes made post-2010. We wanted to use the added knowledge our team has gained to produce the most faithful representation and best quality animation we can deliver, continuing the vision that the Toontown Online team had over 8 years ago.
To fix the problems with Toontown Online's character rigs and animation, we decided that it was best to revamp the whole thing. This meant building new character rigs, transfer every existing animation currently available, and polishing them up. That was a monumental task! We knew, however, that the end result would be worth it.
With all this effort being put into redoing things, the project needed a new name! And thus, we called the new project... Toontown Re-Rerigged! (Or, for simplicity's sake, Rerigged 2.0.)
Our Make-a-Toon Tool
Let's be honest: We would much rather be working on the more creative elements of the game, rather than spending all of our time creating new character rigs for every Toon in Toontown and manually transferring their old animation. To solve that dilemma, we built a custom tool that does all of the hard work for us!
Ziggy
@Zigguratxnaut
https://twitter.com/Zigguratxnaut/status/946795381228150784
How to rig a Toon in under a second ~ @TT_Rewritten
9:29 AM - 29 Dec 2017
This tool is designed to make Toon character rigging quick and painless. This allows our team to go straight into the animation process, rather than spending heaps of time manually creating the same character rig for every type of Toon.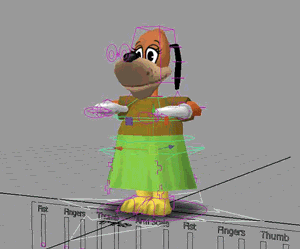 The new character rigs also feature some new quality-of-life improvements over our previous ones. For instance, hands are easier than ever to move fluidly, which saves our animators a lot of headache and makes for more natural movement. Animating a hula dance? We gotcha covered with automatic skirt and shadow controls!
We also built tools that worked through the 1,000+ existing animation files and applied them onto our new character rigs. Now, just as the Toontown Online team attempted all those years ago, we can improve upon a decades worth of existing animation. We're already getting started on making use of the technology, and you'll be sure to see it on display with our upcoming content for 2018.
Putting It Into Practice

I hope that you're as excited as I am to see Toons come to life in new ways! These character rigs will be hitting Toontown soon, which will fix some of the broken animation we've shown you in this post. Keep your eyes peeled for other ways we'll be making use of these character rigs in future updates. If you spot a Toon animation that isn't quite goofy, extraordinary silly, or (worst of all!) can't make you laugh -- let us know so we can make it better.
If you found this post interesting and would like to contribute to our quest to Reanimate the Tooniverse, check out our Application Page with the new Character Rigger application! With your help, we can bring life to the wacky world of Toontown as it was meant to be.
Posted by The Fissiontons on February 26, 2018 at 2:30 PM
Hello again, Toontown! I'm sure you don't recognize us without three question marks in lieu of a name. Allow me to introduce ourselves: The name's Doctor Fissionton -- joined by my associate, Doctor Fissionton. Perhaps you saw us in the news last month.
They do realize that we're two Toons, don't they?
That's only a matter of how you look at it. I'd say we're the same Toon.
Now you're just going to confuse them!
As a Toon scientist, I discovered the existence of Silly Particles with the assistance of the C.A.K.E. Team. That was in another era, of course. Since then, we've been studying silliness for longer than our own existence, and the discoveries we've made are spectacular!
They come, however, at a cost.
Don't be so morbid! You'll scare them.
I think the real person I'm trying to scare is myself.
The plan is already in motion. We must do this.
We've been putting together a "Final Plan" - a plan that we believe will bring Toontown to silliness levels that have never been seen before. A plan that will lead Toontown to a future that even we can't predict! To get there, we're going to need your help -- and, of course, the help of a certain Doctor Surlee.
I wonder if this will really bring him out of hiding.
He's been waiting for the perfect chance to meet us. I say we give it to him.
I can't imagine he'd pass up on the opportunity.
After all, you know he doesn't trust mailboxes.
We know that we need to earn your trust. As parents always say, "Don't trust two identical scientists detached from time itself!" Luckily, our research has just the thing to get this push of silliness started.
As we continued to inspect the molecular structure of the Tooniverse, we discovered teensy little bugs, causing a significant drain on silliness! Even at their tiny size, they've been the source of countless minor annoyances, sapping Toontown's overall silliness levels.
Shall we name a few of the ones we've squashed?
Hmm, what would make them most excited?
Perhaps the window will no longer crash when minimizing it.
That's good, but what about eliminating flickering on doors and shadows?
Aha! But you're missing the real kicker to rise silliness like never before.
A bug squash almost over two years in the making.
A fix for those Apple Toons to finally hear the sounds of Toontown again.
The increase in Silly Levels around town will lead to something big. And, perhaps, finally lead Doctor Surlee out of hiding once again. Last month's ripple lasted days, and if our predictions are correct... Well, you'll know it when you see it.
Remember what we told you to tell Doctor Surlee. By our calculations, we'll be seeing you again in a few days.
March
Posted by Flippy on March 14, 2018 at 9:00 AM
SPLAT! Say there, come get a slice of the action! Just standing around on a day like today is going to get your crust cooked to a scrumptious golden brown! Keep your eye on the pies, because there's no way those pierates are backing down. Haven't gotten your fill of information yet? Toons, it's the most delicious day of the year: It's Pie Day, Toontown!
Toontown's Pi(e) Day Celebration is hot and ready to serve! Whether you're a pie-passing pro or if your skills are a little crusty, today is the perfect day to serve a splat to your friends without any hard fillings. No one can get angry about a great big pie surpies on Pie Day!
To serve your plate as fresh as the Pillsbury dough boy, I've cooked up a batches upon batches of my world-famous pies right here in Toontown Central. Eat your vegetables and then stop by for some "Just Desserts" to serve to your friends, or any Cogs who aren't quite seeing the beauty in the pie of the beholder!
If this pie party heats up any further, I have a filling that Toontown's silliness is going to rise faster than a homemade crust! With April Toons Week just around the corner, and the can of silliness brought by Doctor Fissionton's Bug Bash, there may just be more silliness in Toontown than ever before! If only Doctor Surlee would come out of his lab...
Now, let's cut the chatter and get back to the splatter.
Happy Pie Day from the Toon Council!
Posted by Toon HQ on March 15, 2018 at 5:00 PM
ATTENTION ALL TOONS: A MEGA-Invasion has begun!
Backstabbers are taking over Toontown!!!
Another year, another sharp retaliation from the Backstabbers! Something about the deliciousness of Pie Day points them back into Toontown every year on this very day.
But there's no time to waste sharpening our game-plan. It's time to cut their invasion out of the picture! Resistance Rangers have been deployed, and they're ready to help fight back the invasion!
Remember, you can still pick up some free Pie Day pies from Toontown Central for eating, throwing, or just creating some ruckus. Everyone loves a good ol' fashioned ruckus. Perhaps some back to back pie celebrations will show those Backstabbers what Toontown is made of!
On an unrelated note: Come out to the Etude, Brute? Shakespearian Theatre Company in Minnie's Melodyland tonight for a performance by our very own Julius Wheezer. There's sure to be no backstabbing there!
Posted by The Toontown Team on March 16, 2018 at 1:00 PM
The most TOONTASTIC event of the year is on its way. In celebration of Toontown's 15th Anniversary this summer, we're heading to Pittsburgh, Pennsylvania for our most exciting event yet. Toons of the world, get your pies packed and your plane tickets purchased for ToonFest at ReplayFX 2018!
ToonFest at ReplayFX 2018 is the real-world celebration of all things Toontown. You can meet the Toontown Team, bond with other Toontown players, and experience the many activities that we have planned all weekend long! This is our fourth annual ToonFest celebration, which will be held from July 26-29, 2018.
This year's event has so many jam-packed activities that we couldn't even fit it on one page! Click the link above to visit our brand new ToonFest information page, which has all of the information you need to learn more about the event and plan your trip. You can also check out our new announcement video, featuring some highlights from last year's event!
Thousands of people come to ReplayFX every year, which means you will want to get your tickets and hotel as soon as possible. When purchasing tickets (available at the link above), make sure to select "Toontown" as your primary reason for attending!
Keep your eyes on the blog and stay TOONed for more information in the coming months. We can't wait to see you at ToonFest!
Are YOU Toon Enough?
Posted by Professor Prepostera on March 26, 2018 at 4:00 PM
Greetings from Loony Labs! I am Professor Prepostera, member of the S.I.L.L.I. (Scientists Interested in Laugh Levels Increasing). For years, Doctor Dimm, Doctor Surlee, and I have been studying the silliness here in Toontown. What makes this place so silly, and how can we harness it? Today, it seems that we've stumbled upon a breakthrough...
Over the years, we've seen all sorts of animated anomalies occur. Wherever there's silliness in the air, it seems that Toontown comes to life -- LITERALLY! I was scared out of my lab coat the first time I saw Flippy and Slappy's pie stand spring to life during the election all those years ago.
Whenever this time of year comes around, Toontown gets sillier and sillier. From the Pie Day Celebration to Doctor Fissionton's Bug Bash, this year has especially been especially sillier than we've ever seen! And that, Toons, is where our breakthrough has come...
Loony Labs has been receiving a number of reports from Toons traversing Silly Street about something spectacular. Some blame water pressure or sunspots, but I know better. The reports say that Toons have seen an animated Fire Hydrant trying to spring to life!
I've been trying to get Doctor Surlee out of his lab, but ever since the Fissiontons showed up he's been working on something in there day in and day out. However, I know for a fact that he can't pass up on the opportunity to study a real animated anomaly. It's only a matter of time until he's out there.
Toons, keep sending us your reports! If these Fire Hydrant reports are true, we'll need Doctor Surlee to head out there and study it pronto. I predict that things will only get even more mysterious as we draw closer to April Toons Week...
Posted by The Fissiontons on March 29, 2018 at 4:26 PM
Hello again! Doctor Fissionton and Doctor Fissionton, at your service. This news would normally be the job of Loony Labs to report, but the entire S.I.L.L.I. Team is still scrambling about trying to get a grip on this.
Considering its the result of our own research, I think we fit the bill.
Yes. Silly Particles were our own discovery, after all.
Right you are. Now it's time to unleash their true potential.
Here's the bottom line, Toons: Silly Particles are scattering all around Toontown! Thanks to a formula developed by my colleague and I, we've managed to temporarily make clusters of these particles visible.
You're being too technical with them. An average Toon won't care a bit about Silly Particles.
An average Toon might not, but Doctor Surlee certainly will.
That's one thing you're right about. It seems he's on his way to Silly Street now.
These Silly Particles can be found in the most wacky locations of Playgrounds, Streets, and Buildings. After collecting them, do us a favor and bring them to Doctor Surlee. The sooner he gets those particles...
Don't just spoil everything for them! You know that isn't how this works.
There's plenty left for them to uncover. This may be their greatest challenge yet.
To think, it all begins with a fire hydrant.
The greatest waves start with the smallest ripples.
We have a plan, Toons. A Final Plan to end the 26th once and for all. It started with our Bug Bash, but not even that was enough to lure Doctor Surlee from his lab. However, Professor Prepostera put it best: "It's only a matter of time until he's out there." You'll see him on Silly Street shortly.
To clean up all of those Silly Particles, they're going to need help.
They'll need all of their friends and more in Toontown.
Absolutely. New Toons and Old Toons...
...Red Toons and Blue Toons.
Time is running short for us, and so we must depart. Do us a favor and remember our instructions. We gave you that puzzle for a reason.
See you soon.
April
Posted by The Cogs on April 1, 2018 at 1:30 PM
To our valued customers, "The Toons":
After spending the day trying to subtly inform you of the incoming market crash, it has become evident that you will not heed our warning. Our most specially trained undercover Flunkies infiltrated your social media platforms under the guise of Toon HQ, and you would not even listen to them. It's come to the point where we must tell you plainly: All Silly Particle collection must cease immediately.
We've had much success with our rapid corporate expansion program throughout the past several years, however as you can see in the memo sent to all Cog associates, there's a sharp drop-off in our success rates due to our incumbent competitors' aggressive research and development strategies. That would be you, Toons.
Silly Particles are a dangerous element that threaten the well-being of Toontown. If collection is not stopped, Toontown's silliness will grow to an unstable degree that threatens the town's valuable businesses.
Due to the malicious April Toons Week mischief that started today, the Silly Particles have already expanded so that 50 can be carried at a time, and even worse, their value is worth double to the rogue scientist known as "Doctor Surlee." This advancement cannot be allowed to fester.
The Chairman has ordered that all April Toons Week activities must come to a halt and will NOT continue this year. Without this hindrance in the way, you are welcome to turn yourself into a valuable member of society by contacting our Office of Employment at Cogs, Inc.
We "appreciate" your business.
Posted by Doctor Surlee on April 4, 2018 at 3:00 PM
Well, Toons, you did it! I must say, I'm impressed. As of last night around 5:30 PM, all 2.6 million silly particles that I needed for my initial research were collected. Not even the Cogs could belittle such an event! Though, it was a bit crowded for my tastes. I don't think many of you understand the concept of a personal bubble.
Before I continue, I owe an apology to all of Toontown. By now, you likely know my secret: Toontown Rewritten is my experiment. An experiment that the fate of Toontown as we know it rests upon. I came from a timeline that happened prior to this, a timeline that ended in 2013.
I kept my secret from all of Toontown for years, but clever Toons began to realize who I truly was thanks to anomalies that happen on the 26th of each month. I was terrified of what would happen when everyone discovered my secret -- that they may resent me for it -- but thanks to your help over the past week, and the support from Toons far and wide: I realize that I was wrong. Now it's time to make things right.
I've left Silly Street to meet up with Doctor Fissionton, who I'm now working with to redesign a device I call "The Silly Meter." Keep collecting those Silly Particles, because we're going to need them if we're ever going to make this plan work.
If you need to find me, talk to Professor Prepostera on Silly Street. He has the ToonTask you need to get access. Until then, I must be back to my work. Toontown depends on it!
PS - Wmewuprkwa zfpp qq us cmnbv xtme iiim, fudiilqsi yqqjvr ur bmezv foxlf jas jlbhxv vqjqsiekr. Lfv flati fn lul ats osets gnv gahq: Mik'a ykrzq xtjw fce rzxfpq titzrz.
Posted by Sir Max on April 5, 2018 at 3:00 PM
Hey Toontown, Sir Max here! I'm joined by my pals Sir Max, Sir Max, Sir Max, Sir Max, and of course, Sir Max! Come, one and all, for my biggest prank yet.
I bet some of you have been wondering where I've been this April Toons Week! The Toon Council forbid me from my usual April Toons Week pranks this year, describing that they were "dangerous," "formidable," and "a downright threat to Public Safety." They just don't get the joke!
Sure enough, look what happened in my absence! I can't even leave for a single day without the Cogs taking over the blog! I knew this day would come. After rummaging around outside of Loony Labs -- where I plan my greatest pranks -- I discovered just the device I needed to get the job done. After all, I need to make up for all the days of pranks that I've missed out on.
Which Sir Max is the real Sir Max? It's probably me, but you can't really be certain anymore -- and that's the beauty of it. Anyways, I've got to run before the other Sir Max start a mutiny and declare themselves the true Sir Max.
Keep your eye out for me and my crazy clones all the way until the end of April Toons Week!
Posted by The Toontown Team on April 19, 2018 at 2:00 PM
Welcome to the Community Spotlight, our time to share highlights from Toons far and wide! Exactly a year ago during this very month, our favorite Doodle friend, Fluffy, brought all of his Doodle pals to Toontown! From the nearby land of Doodlevania, they rushed into Toontown, happily filing into the Pet Shops to be adopted by Toons like YOU!
Speaking of you, here on the Toontown Team, we believe that our community is the greatest part of the Toontown experience. This post goes out to all of you amazing Toons, whether you've been with us for years or a few days. We've decided to feature our favorite artwork and screenshots posted to social media with "#ToonEnough" in celebration of the anniversary of Doodles!
---
Work in progress
---
These are some awesome community creations, and we know there's a whole lot more out there! Make sure to follow us on Facebook, Twitter, Instagram, and Google+ so that you don't miss out on future Community Spotlights. Through the Member Mailer program, you can also send us your own physical creations, like fan art, to be featured on the website!
For now, we're off to check on our own Doodles. They need all of the attention they can get! I'm sure they'll appreciate the jellybeans.
Let us know in the comments: What do YOU want to see next on the Toontown Community Spotlight?
May
Posted by The Toontown Team on May 15, 2018 at 4:00 PM
Sorry for the radio silence, Toontown! Some prankster thought it would be funny to buy up Clarabelle's entire stock of radios to send to their friend's mailbox. Even more importantly, all of us here on the Toontown Team are getting ready for the most exciting event of the entire year: ToonFest at ReplayFX 2018!
And of course, with that, one of the oldest and noblest of Toontown traditions...
The Annual Toontown Pie Toss started as a community-created event during ToonFest at OMG!Con 2015, the very first real-world ToonFest since 2007, which took place in Owensboro, Kentucky. Two players brought three pies to throw at Joey, whom you may better know as Sir Max!
Since then, our pie toss has only grown. The 2016 attendees brought over 20 pies to be thrown at Joey, and 2017 brought our biggest pie toss EVER seen in the video above! It was so big, in fact, that we had to bring in two additional "Toon Enough" team members, Jenny (Lemondrop) and Jeremy (Fat McStink) to help Joey out.
Now, fellow Toons, it's time to make history again. From July 26-29 in Pittsburgh, Pennsylvania, ToonFest is coming back to SPLAT our records with more pies than ever before. The best part is: YOU can become a part of it. Joey is begging you not to, which means it must be a good idea!
We have tons of Toontastic activities planned for every day of the event with many surprises in store, especially for those looking for Toontown's next big announcement.
The Annual Toontown Pie Toss will take place on Sunday, July 29th at 12:00 PM EST. We'll bring the pies if you bring a few arms to throw them. (That means YOU!)
We hope to see you there! In the meantime, you can catch up on the perfect pie throws of the past and see other ToonFest footage on our YouTube channel. Stay TOONed for more information about ToonFest at ReplayFX 2018, and don't forget to book your tickets before it's too late!
June
Posted by The Toontown Team on June 2, 2018 at 9:00 AM
On June 2nd, 2003, Disney's Toontown Online opened its doors for players all around the world. The evil Cogs proved to be no match for the millions of Toons who have called Toontown their home, and now, 15 years later, we're getting its driver's permit and celebrating its biggest birthday yet.
Some Toons began playing before the official release date, while some of us only began yesterday. Whether you're a seasoned pie-throwing veteran or still trying to find that Blackboard eraser in Toontown Central, we're all here to celebrate one thing: Fifteen Years of Toontown!
Toontown has been through a lot throughout its lifetime, and it's all still here today because of the Toontastic community behind it. Even Disney's official closure of Toontown Online in 2013 couldn't put an end to the cartoon chaos happening each and every day. Thanks to Toons like you, Toontown is still alive and well -- and soon to be receiving multiple MASSIVE expansions!
Every day this week, we'll be celebrating Toontown's 15th Birthday with new and exciting blog posts to give you a sneak peek of the future of Toontown!
For the first three days, we're showing you three brand new Backstage Blog posts to unveil never-before-seen content that we've been working on for 2018. We'll follow that with a story update from everyone's favorite sleuth, Samantha Spade, and you can be sure that the Cogs won't be far behind her!
We'll be topping off the celebrations next Saturday, June 9th, at 1:00 PM Toontown Time (PST), when we'll be hosting the first ever Official Toontown Team Livestream to answer YOUR questions about any of the content we've shown throughout the week, and the future of Toontown. We'll also be hopping in game to play, so don't miss it!
We're inviting you to join us to celebrate Toontown's 15th birthday with these exciting events, along with in-game fireworks and the most TOONTASTIC event of the year in Pittsburgh, PA from July 26-29. This week is all about showing how appreciative we are of Toontown and its former developers, as well as the Toontastic community (YOU!) who keep the game alive today!
Take this week to bust out the birthday cake, hop into Toontown, and celebrate with some seltzer and slapstick to help us say: Happy Birthday, Toontown!
Posted by The Toontown Team on June 3, 2018 at 5:00 PM
Welcome to the latest edition of Toontown's Backstage Column. This is the first of a three part series of Backstage posts about some of the exciting things coming in the future to Toontown Rewritten, part of our week-long celebration of Toontown's 15th Birthday!
Today we're talking about something very near and dear to our hearts, and the very core of what makes Toontown so awesome. We're talking about YOU! Hop on the Backstage Train and come along with us as we explain the new things coming for Community, Content, and Cast Members!
Our Grand Goal
The most important aspect of Toontown, and the whole reason that Toontown Rewritten exists, comes from one word: Community.
When we started Toontown Rewritten, we expected that maybe a few hundred people would sign up to play... And boy, did we underestimate. Almost five years later with nearly 1,600,000 registered players -- it's clear that Toontown's community has grown larger than we ever expected!
Players have formed large community-led Forum websites, Discord servers, in-game clans, reddit communities, and so much more! The amount of support that YOU have given for Toontown is overwhelming, and it's made us ask ourselves an important question:
"How do we help our players make their communities stronger?"
Community-Boosting Content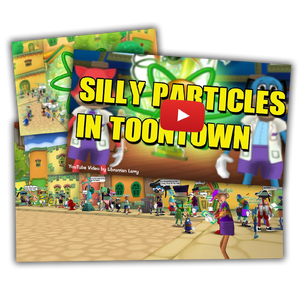 The first way that we've worked on to enhance the Toontown community is working on content that leaves a strong impact on groups of players. We've been experimenting with this for a while, but the most notable example comes from April's Silly Particle Scavenger Hunt.
We asked you Toons to do something crazy -- collect 2,600,000 Silly Particles in random locations of the game. Many thought it was crazy, and that the goal would take an entire month! Very quickly, however, the Toontown community banded together and started forming exactly the kind of bond that we hoped the event would create. In just a few days, all of the particles had been collected and we witnessed many friends forged from just a small community-centered event.
The Silly Particle Scavenger Hunt is just one example of our community content experiments, and now it's time to take it a step further. Check back for tomorrow's Backstage post to hear about a brand new major update coming soon to Toontown. (Psssst: It's not a one-time event!)
Cast Members: New and Improved!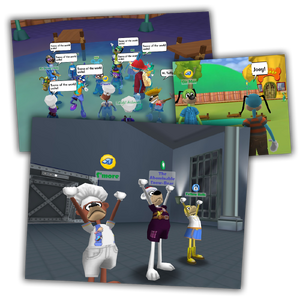 Have you ever seen a Toontown Cast Member? You may better know them as a Toon Trooper or Resistance Ranger. Cast Members are representatives from the Toontown Team with fancy yellow, green, or blue icons who pop up every now and then in the game!
Cast Member events are always a blast, but we started asking ourselves: How can they be better? Can we use Cast Members to form stronger relationships with other Toontown players?
Coming soon, you'll be seeing Toontown Cast Members in game much more often with brand new abilities to interact with players. We've even been experimenting with the idea of Cast Member minigames, bringing brand new activities to pass the time in playgrounds!
Supporting Content Creators
This is a big one: Toontown has tons of content creators. Between fan art, videos, livestreams, and more -- Toontown is one bustling hub of content! We receive hundreds of letters per year with all sorts of letters and artwork in it, some of which you may have seen on our Snapchat and Instagram Stories for a new "Fanart Friday" activity that we've been doing!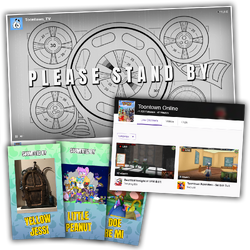 Fanart Friday is just scraping the surface of the potential, however. We've been talking to content creators for feedback and working behind the scenes on several projects that we hope will give our players a bunch of support to keep making awesome stuff. In the future you might just see Fanart featured in-game, Twitch Drop integration, or even an official forum!
The first of these projects is coming with our new official Twitch Channel, which we'll be using for events like the first ever Toontown Team Livestream on Saturday at 1:00 PM Toontown Time (PST)!
We're still experimenting and developing these ideas, and that's why we're telling you about them now -- we want YOUR feedback! What kind of ways would you like to see Toontown support content creators?
Toons of the World, UNITE!
This Backstage post may not have been the most exciting to some of you, but we hope that those of you who have forged strong friendships and love for the Toontown Community will see the value of this massive push for community strength! You guys are what makes this game great -- not the Toontown Team -- and we hope that these features will help make the game greater.
It's going to take time to roll out all of the features we've talked about today, and to do it, we're going to need YOUR help and feedback! Let us know what you think of our plans -- and if you have any ideas for something we haven't mentioned here, we're all ears!
Check back tomorrow for our next Backstage post with even more exciting news about the future of Toontown. Toons of the World, UNITE!
Posted by The Toontown Team on June 4, 2018 at 4:15 PM
We've got another exciting Toontown Backstage Column for you today, folks, where we dive into what's going on behind the scenes of Toontown Rewritten. Today's post is one you've all been waiting for, and we're extremely excited to finally talk about it!
One of our major projects for 2018 (but far from the largest!) has been redesigning a game element from Toontown Online that some adored, and others abhorred. After lots of planning, programming, and design -- we're confident that we've kept the great parts of this feature while replacing the less popular portions with expanded gameplay for both old and new players.
Toons of Toontown, it's time to Meet the Meter!
Toontown Online's Silly Meter
In Toontown Online, The Silly Meter was one of the final major updates added to the game. It was a showpiece that demonstrated efforts to modernize the game, and the developers had exciting plans for it!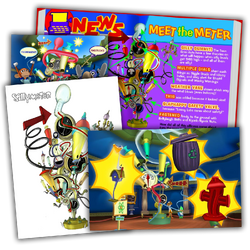 The original development plan was simple: Bring people back to the game with the spectacle of the Silly Meter, and keep them playing with new content and updated graphics. The Disney developers had big plans for Toontown, and the Silly Meter was just one step towards giving the game a proper revival.
Unfortunately, due to management changes happening at Disney Online, Toontown's future changed course. The Silly Meter, while visually fantastic, was mostly a static object that was controlled by scripted sequences. Every "Silly Meter Maxing" event was scheduled, rather than caused by the actions of players in the game. While fun, these events became fairly predictable once players figured this out.
Compounding the issue was that most people were unhappy with the other half of the Silly Meter update, which caused Street Props like Hydrants, Trashcans, and Mailboxes to help in battle. The animation work on these props is nothing short of a technical marvel, but the actual gameplay was cut short. The visuals were given priority over gameplay, dragging out Street Battles far longer than they should have been.
But what if there was a way to go back and fix the mistakes of the original Silly Meter? What if the plans of Toontown Online's developers didn't have to get cut short?
Making Silliness Sillier
To right the wrongs of the past, we've set out to fulfill the original vision of Toontown Online's Silly Meter to bring brand new gameplay and visual charm to Toontown. We've been working on this project for months, and we're finally ready to reveal what we've created!
The new and improved Silly Meter is completely dynamic, meaning everything you do in Toontown has a direct impact on the silly level. Host a party? That earns Silly Points! Earn a new gag? That earns Silly Points too! Defeat a Cog? You guessed it!
Your actions don't just affect the Silly Meter in your current district, but across ALL of Toontown. Of course, Toons aren't the only ones who can impact the Silly Meter. The Cogs are actively working to bring the silly levels of Toontown down with Invasions and Cog Buildings. It's up to YOU to fight back against the Cogs and make the Silly Meter hit maximum silliness!
Now, let's talk about the question on everyone's minds: What happens when the Silly Meter reaches maximum silliness?
Introducing Silly Teams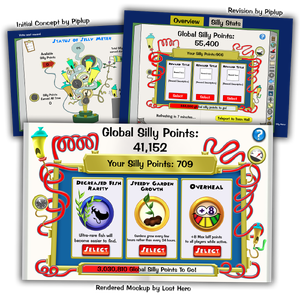 In the new Silliness Tracker page of your Shticker Book, you can view the current Silly Level as well as check out your "Silly Stats" to see how you've been earning Silly Points. But that's not all, folks!
The Silly Meter update is bringing a brand new feature to Toontown: Silly Teams. Each time that the Silly Meter begins tracking Toontown's silliness, three random teams will be available for Toons to join in the Shticker Book and put their Silly Points towards. These teams are represented by rewards, and whichever team has the most points when the Silly Meter maxes will activate the reward for ALL of Toontown!
Here are just a few examples of Silly Teams:
Doodle Trick Boost:
Jump! Backflip! Dance! Doodles perform tricks more often and earn more experience.
Decreased Fish Rarity:
Holy Mackerel! Rare fish are easier to find with this silly perk.
Speedy Garden Growth:
Make your gardens bloom faster than Daisy's to ramp up your garden experience.
Overheal:
Increased maximum Laff Points while the Silly Meter is maxed!
Silly Teams bring a bit of friendly competition to Toontown, allowing three teams to go head-to-head to earn the most Silly Points in order to activate their chosen reward. We're super excited about this new expansion, and can't wait to see the fun that comes from it!
Do you have an idea for a Silly Team you'd like to see? Let us know in the comments or on a community website and it may just be implemented!
Coming to a Toon Hall Near You
Are you tired of reading the word "silly" yet? Don't worry, this is the wrap up section!
Our new Silly Meter update is coming in 2018 to Toontown Rewritten. We still have work to do to finish the update, especially because of the extreme amount of testing and balancing that this update requires. We'll keep you updated about progress as time goes on, and you can be sure to hear more about the Silly Meter at ToonFest at ReplayFX 2018!
Can't wait for more? Then you'll want to check out our official Toontown Team Livestream on Saturday at 1:00 PM Toontown Time (PST). We'll be answering any sort of questions you have about this new expansion, as well as listening to your feedback on how to make it better.
Check back tomorrow for one final Backstage post detailing some of the things we're working on for Toontown in 2018. We hope that you're getting more and more excited about the future of Toontown!
This portion of the page could use some work. Use the edit tool to help us out!
This portion of the page could use some work. Use the edit tool to help us out!
This portion of the page could use some work. Use the edit tool to help us out!
This portion of the page could use some work. Use the edit tool to help us out!
This portion of the page could use some work. Use the edit tool to help us out!
July
August
This portion of the page could use some work. Use the edit tool to help us out!
This portion of the page could use some work. Use the edit tool to help us out!
This portion of the page could use some work. Use the edit tool to help us out!
Posted by Samantha Spade on August 26, 2018 at 3:00 PM
The name's Samantha Spade: Private Investigator. The last part's my title, not my last name. My investigation has been getting tighter than a Tightwad's bags of cash, ever since the events of the last 26th. The Toon Resistance had been alerted of the existence of a top-secret Cog memo, but they had a big problem: they couldn't find hair nor hide of it anywhere! (And trust me, they checked under every rock, in every nook and cranny.)
After some sleuthy investigation, it was concluded that the anomalies had intervened with the location of the memo and transported the memo somewhere outside of Toontown. Puzzling Patricia -- my informant inside the Toon Resistance -- was my second pair of eyes on the scene. Luckily, I seemed to have had my work cut out for me. Other sleuths on the scene were solving the puzzles even before I could! Let's check out their findings in a case I'm calling: The Cogbuck Conundrum.
A Flunky Introduction
Cogs, Inc. definitely did not want Toons to have all the fun at ReplayFX, as they had sent in one of their own in the hopes of getting free publicity for their own ends. A Flunky had wandered into the ToonFest booth, handing out fake Cogbucks filled with jargon, in hope of enticing Toons to join their corporation. That Cog was a despicable fellow, with his sneaky mumbo jumbo and enticing Cogbucks. Never trust a Cog, that's what I always say.
Luckily, the production line for these particular set of Cogbucks had been tampered with by the Toon Resistance, sneakier than an ant running across your bedroom floor. They always told me I was a good detective, but nobody's ever said my analogy skills are on point. Back on topic, the hijacking was a success, adding a hidden transmission for potential Toon Resistance recruits to spot directly on the Cogbucks.
They h/ad been modified with a QR code, technology which is beyond even the greatest of detectives. Yet, when these codes were scanned, a message and a puzzle from Lord Lowden Clear was received. I may have not attended the event in person, but I could never pass on such a puzzle. This code allowed for Toons attending the event to use their detective skills to solve this conundrum.
Hidden in Plain Sight
These Cog memo pieces were not going to be found easily, as Toons had to find and solve 6 puzzles scattered around the convention center. Once a puzzle was solved, Toons and Resistance Representatives worked together to reveal each memo piece that was hidden behind each puzzle.
A multitude of puzzles tested Toons from all around, all right here:
Dimm's Dropped Debris: This puzzle is straightforward, as much as Doctor Dimm isn't, to look at the different parts and see which one would fit right in his… er… P.O.C.K.E.T.
Baker Bridget's Cupcake Creation: I'm no baker, but I can see a scrambled set of steps when I can see them. We'd need to look at other similar recipes to g.et anywhere with this. Or… maybe the torn pieces could be a hint, too?
Circles and Symbols: Wowie zowie, I haven't any symbols like these anywhere. Maybe covering up parts of it would show something familiar? Those circles probably have something to do with getting an answer, too.
The Final Puzzle: The final puzzle isn't quite a puzzle, but a quiz from Lord Lowden Clear himself! I hope you didn't skip to the last puzzle, because you'll need to know the previous puzzles to finish this one!
Under Lock and Key
At last, after several days of teamwork, some sharp Resistance Rangers had solved the puzzles and gathered all nine pieces of the puzzle to reveal the elusive Cog memo, but there was just one problem…
Drat! It seems that the Cogs have further encrypted their documents, as if they've gotten wise to our intercepting ways. Not to worry though, this should just be a little hiccup in stopping the Cogs from starting their plot.
Say, with this post being on the 26th -- maybe there's even an anomaly in my own investigation! I've seen stranger things from those Loony Labs folk, that's for sure. Either way, it's back to case cracking for me. I hear there's a runaway Clown Fish down at the dock, and I need to get my hands on him for a new trophy!
September
Posted by Sir Max on September 1, 2018 at 11:30 AM
Glub glub glub? No, that's not it. Swish swash? That's not right either. Bubble bubble toil and trouble? Eh, that's close enough! Sir Max here, reporting that fish noises are hard to sound out. You may be wondering why I'm trying to sound out fish noises, or better yet, why I'm writing this underwater. Keep reading, friends, because we have a new update to discuss!
First off, let's talk about the whale in the water: What I'm doing writing a blog post from underwater. Nay, it's not to spot any seahorses or search for the shoe I lost. (If you find a missing shoe in Donald's Dock, please contact me.) Instead, it's to listen to the new works of the Toontown Symphony Orchestra!
As many of you know, Toontown is filled with all sorts of music. But where does it come from? Who composes it? Is the album available on iToons? It's best not to think about those things and just enjoy it, which is exactly what I'm doing with this new underwater music!
Hold your breath for just a little while longer, because that isn't the only tweak coming to Toontown! Most of the Toon Troopers are busy working on prepping for the big celebration opening later this month, but I've been working the new Troops to the brim to crank out some widely requested features and fixes. I'd read them all to you now, but it turns out paper and water are not good friends.
Instead, you'll have to settle for this list of changes below that are coming TODAY to Toontown. We hope that you enjoy this little update, and-- GAH! Running out of oxygen! TOODLES!
Posted by Mustavo on September 15, 2018 at 2:00 PM
Heya, pals! You've probably never seen me 'round these parts formally, but I get around. They calls me Mustavo, the Toon Trooper. I'm a bear, one with a Mustache, formerly a token taker. But that ain't all there is to my personality! I've got aspirations in life, ya see. Today I'm here to give ya's what some may call a "sneak peek" of what's coming to Toontown.
Over a year ago, the Toon Council brought me on the scene to assist with various tasks to make Toontown a nicer place. My first quest on the job? I fixed up them ol' Speedway screens and made em' work as they should. Ever since then, I've been watchin' the speedway and I noticed that between racing, people there are doin' a whole lotta talkin'.
For my next project, I asked my good friend Doctor Dimm if I could look into improvin' the ol' Toon T.A.G.S. (Totally Awesome Graphic Simulation) that Loony Labs pioneered those years back. He gave me the go ahead, but he seemed a bit preoccupied. I guess that Silly Meter is takin' up all of his time!
Anyhow, I got to work concocting the latest upgrades to the T.A.G.S., and boy do I think you're all gonna like this one. Here's what I did: I took a little bitta' dis-cord, I took a little bitta' dat-cord, I threw em' all together in who knows which ways, wop-bop a loo-bop a lop-bam-boom, there it went! You'll be able to see precisely where all your friends are in Toontown from the Toon Detail Panel, whether they're on Silly Street or fighting the Chief Justice!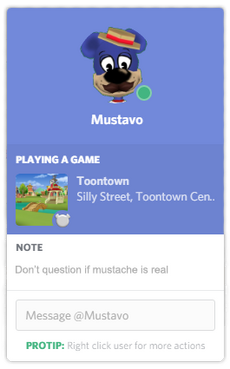 But that ain't all I've done. When I was lookin' through all the cords I had available to use, one in particular piqued my interest. It was a strange thing I tell ya, it glowed with an eerie blue light. I fed some data into it, and lo and behold it was hooked up right into my Discord account!
Toontown Discord Servers have grown to be some of the most Toontastic community hubs, and the Toon Council was all for supporting it. As of next update, you'll be able to see Toon Details in Discord for anyone playing the game who has the featured turned on. In the future, you might even look forward to being able to jump right into the Tooniverse with your Discord friends as well!
If you're o'er the age of 13, have yer parental's permission, and want to join a Toontown Discord server: I'd recommend checking out the /r/ToontownRewritten Discord which the Toon Council has found to be a safe and suitable place for Toons.
NOTE: This Discord server is community-ran and not officially sponsored by Toontown Rewritten.
That's all for this bit 'o "sneak peek." I better get back to pursuerin' my other aspirations! I think next I want to go diveskying. You can catch these upcoming features in the next update coming soon to Toontown. And don't forget, ToonFest starts on September 19th!
Posted by The Toontown Team on September 19, 2018 at 2:00 PM
Five years ago on September 19, 2013, Toontown Online closed its doors. A message appeared on screen -- one that players normally would hope they would never see again, but in this instance wished they could see it just one more time. "Your internet connection to the servers has been unexpectedly broken."
Thankfully, we live in a world where that disconnect message was far from the last. Just seconds later, Toontown Rewritten was officially announced, and we now celebrate FIVE YEARS of a revival that has proven to be like no other!
By all circumstances, Toontown Rewritten shouldn't exist. It especially shouldn't have an annual convention, nearly two million registered accounts, and thousands of daily active players. The reality is: It does, and we never want to take that for granted.
That's why we're inviting you to jump into Toontown between now and October 20th to party with us in celebration of Toontown Rewritten's fifth anniversary. Today marks the beginning of our annual in-game event, ToonFest 2018!
To enter ToonFest, head over to the special event area in Chip and Dale's Acorn Acres or click on the red ToonFest teleport button on the top right of your screen. Here's just a few of the things to expect during this year's event:
---
Meet Riggy Marole
It's hard not to love Riggy Marole, the absolutely insane host of ToonFest who keeps things lively throughout the event. You can expect to see a blog post from him soon! In the meantime, he'll be strolling around ToonFest talking to Toons and generally being a bit of a rascally rabbit.
---
Earn Exclusive Prizes
One of the most exciting parts of ToonFest are glamorous Token Takers, located within the ToonFest tower and at pop-up booths around the area! These Token Takers will sell you all sorts of exclusive items, from limited time accessories to portable pies to experience multipliers! No matter what kind of Toon you are, we've got a bunch of prizes in store for you. Earn ToonFest tokens by playing minigames in the area, and keep your eyes peeled for new ways to earn as the event goes on!
---
Bigger and Better
ToonFest isn't just here for the weekend. We'll be partying all month long, and releasing updates and blog posts along the way to keep the fun going! Riggy Marole will be delivering you all of the latest ToonFest news, along with ways the event will get bigger and better as it has ever year!
---
Blast to the Past
To celebrate how far Toontown Rewritten has come in these five years, for the first time ever the Toontown Team will be hosting a special livestream to play a remastered and updated version of the "Toon Council Presidential Election" event, which was available at the end of Toontown Rewritten Alpha in 2014.
Due to technical limitations, this event will only be available to watch rather than play. However, if there's high demand after the livestream, we may rework this event to be playable by anyone in the future.
"TOON" in on September 29 at 1PM Toontown Time (PDT) to watch this live event with commentary from the Toontown Team! More details will be posted on the blog next week.
---
ToonFest is now available to play by visiting the special event area in Chip and Dale's Acorn Acres, or by clicking the red ToonFest teleport button located at the top right of your screen. Go enjoy the fun before it's gone!
Thank you all so much for FIVE YEARS of Toontown Rewritten!
You ARE Toon Enough!
Posted by Riggy Marole on September 23, 2018 at 7:00 AM
WOWZA! What a fantasticin' turnout, if I do be sayin' soin' myselfin'. It's been only a few days, but my bundle o' bears tells me that those ToonFest prizes are flyin' off the shelf faster than a jackrabbit on a jackhammer. If yer new here, let me give ya's the rigmarole -- my name's Riggy Marole, and I'm the host with the toast (and jellybeans) here at the grand event known as ToonFest!
What's new at ToonFest this year, eh? That's where I've got o' bone to pick with ya. Turns out some certain Toons complained to the Toon Council about a bunch of crashes at my event, so they sent out some sorta inspectorator!
The boy-o tried to tell me that I've got a case o' da "buildin' code volitions" and that the Toon Troopers would need to help fix 'em, but the only volition I know of around here is the volition I have to eat this entire jar of jellybeans.
So I told 'em that my bears can build so well that they've got their own workshop, but he didn't budge even when we offered a free voice box with his bear. So they sent a ton o' Toon Troopers down here and fixed a bunch of the ToonFest crashes! Much to my dismay, ToonFest may be even more stable than ever. Can you believe the nerve o' these fellas?
Luckolee, I know one of the Troops down at ye ol' Toon Hall. A fellow appreciator of the cashin' arts, named Sir Max, who always manages to get past those rascally Toon Council mandates. If we're lucky, there may just be a crash or two left in there!
Anyhoo, I outta get back to runnin' the event! ToonFest is lastin' all month long, and there's still time to create a few more crashes! HAH!
PS - I ran into one of those Toon Trooper pals named Mustavo, who wanted me to let ya know that those upgrades to Toon T.A.G.S. are here!
This portion of the page could use some work. Use the edit tool to help us out!
November
This portion of the page could use some work. Use the edit tool to help us out!
This portion of the page could use some work. Use the edit tool to help us out!
This portion of the page could use some work. Use the edit tool to help us out!
This portion of the page could use some work. Use the edit tool to help us out!
Posted by Sir Max on November 29, 2018 at 4:00 PM
They said it could never be done. They told us it wasn't important. They claimed that such measures would destroy the Tooniverse as we know it! I don't know who "they" are, but today, we're proving Mr. Whoever-They-Are wrong. We're taking a step where no Toon has ever stepped before: W.
Not only W, but also A, S, and D! In fact, let's go for ANY key on your keyboard! Today, we abandon the direction of the Arrow Keys and tell Control that it can't control us any longer. We'll delete the Delete key and throw pies the way we want to throw them. TODAY, dear Toons, we finally have OPTIONS!
Play Your Way
You begged us, pleaded us, and even sent some rather convincing threats. The Options Update introduces the most widely requested feature throughout Toontown's entire lifetime: Control Customization. Using a new Options Panel created specially for your customizing creativity, you can now set any action in Toontown to any key that you want.
Look, I know what you're thinking: "What an innovative feature! How has no one else thought of such astounding functionality? This is bleeding-edge technology!"
Buckle up, you fine observer of modernization, because we're just getting started.
Access Options Anywhere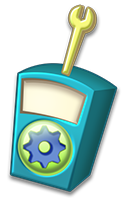 We're betting you're pretty excited at this point. "How can I get to this fabled Options Menu?" It's quite simple! Almost anywhere in game, this shiny new remote will sit in the lower right-hand corner of your game window. If your Shticker Book is available, it likes to hide out of sight as to not bother you while you're playing. Just hover over the Shticker Book to make it stop hiding!
You can also hit SHIFT+ESC (by default) to bring up the Options Menu at anytime, or change that key combo to something else to spice up your Options Menu experience. Snazzy!
Modernizing Movement
You might notice how smooth running around feels after entering Toontown. You didn't slip on a stick of butter -- it's a new feature! We've overhauled Toon movement to visually appear more natural, as well as feel more natural to control with the Toon gradually speeding up and slowing down. It's subtle, but it's just a small step we're taking to modernize Toontown!
Of course, if you like the classic look of Toontown, you can turn off the animation blending setting in your new-fangled Options Menu.
The Anti-Exercise Key
Ever since moving into Toontown, I've ran everywhere as fast as I can. I didn't even have a choice, my feet just kept running and running unless I was going backwards! With this new update comes a key I call the "Anti-Exercise" key, but the Toon Council says I have to call it the "Walk" key. Starting today, Toons can go on a slow stroll by walking with the SHIFT key by default.
Can you use this new walking ability for an amazing new gameplay experience? Well... No. But you guys still requested it for some reason, so someone out there must be pretty pumped right now!
The Options Are Endless
Well, they're not really. But it still sounded like a pretty catchy headline, right? What I'm trying to say is: This update is so much more than just some new controls and a campaign against exercising! We've changed a whole lot behind the scenes to work towards making Toontown a much more modern game, and we'll be continuing to make changes in the future to keep up with the times and give Toontown the longest life it can have.
You can check out the release notes below for a full list of changes, which several long-standing bugs that have finally been squashed. Let us know what you think of The Options Update, and keep your eyes peeled for the other exciting things we've been working on.
Community content is available under
CC-BY-SA
unless otherwise noted.