This page lists all blog posts that were posted on the Toontown Rewritten website during the year of 2017. It will be updated as the year progresses.
January
Posted by Toon HQ on January 9, 2017 12:00 PM
Happy New Year from Toon HQ! Our HQ Officers have been monitoring the New Year's Top Toons Marathon closely, and after some anti-Cog analysis along with your standard run-of-the-mill review we've put together the list of winners who will receive a Blue Medallion for their effort!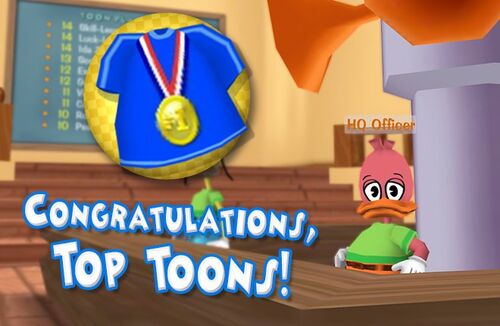 This is a real big list, so bear with us. We had so many awesome Toons this year! If you didn't make the cut, don't sweat it. There are new contests coming your way soon.
Click here to see the winners!
NOTE: Don't see your Toon up there?
• Toons linked to the same household were only listed once, but ALL qualifying Toons will receive the prize! You may only see one of your Toons on the list, but your other qualifying Toons will receive a prize as well.
If we made a mistake, then please email us and we will correct it. (Such as, if a friend or sibling played on a Toon in your household.)
• Toons found to be cheating during the event, or have received a recent serious infraction, have been disqualified. It's no fun for anyone!
• If you think that your Toon has not been listed by mistake, don't hesitate to contact us at support@toontownrewritten.com! We'll investigate and figure out what went wrong.
Thanks for kicking off the new year with us! We're incredibly proud of the massive amount of Cogs that was taken down by our Top Toons. Stay TOONed for brand new contests coming your way, along with new updates on the horizon.
Have fun in Toontown!