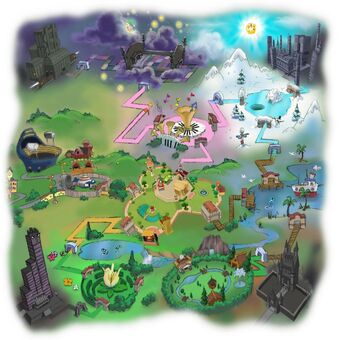 The
Map of Toontown
is a page in the
Shticker Book
. The page shows all of the known locations in
Toontown
.
Toons
can teleport to any location in Toontown upon gaining teleport access to the
playground
by completing
ToonTasks
, as well as gaining teleport access to the
Cog Headquarters
by reaching level 12 on their specific
Cog Disguise
.
The following are the areas found in the above map:
Credits to "Comrade United" for playground soundtracks.
Credits to "Prof. Chester" (Me) for adding the names of all areas.
Another cloud crept up just off the outskirts of Minnie's Melodyland, which reveals that there is a new location on the horizon. This new location is currently unknown. On February 15, 2016, a livestream was conducted and staff members answered many questions including what exactly is under the cloud. Joey has confirmed that the cloud is not Cog related, but a new playground.[1] Further details on the exact type of playground was not mentioned. Even though the cloud is not a Cog Headquarters, Cog Nation has still been confirmed to be a place.
Trivia
In Toontown Online, there were going to be 2 extra playgrounds named Funny Farm and Construction Zone. With Construction Zone, Chip 'n Dales Acorn Acres would have been an existing playground. Goofy Stadium was also going to be an entire playground rather than a place to race; due to limitations, the developers could not put them in the game and reworked Goofy Stadium to be known as Goofy Speedway.[2]
References