What's this wiki all about?
The Toontown Rewritten Wiki is an encyclopedia that was created to cover every single piece of information about the most "Toontastic" massively multiplayer online game, Toontown Rewritten. From goofy gags to fearsome Cogs, this wiki has it all and is what we anticipate to be any Toon's go-to site for learning something new about Toontown!
With the help of our amazing users who have contributed to produce exactly 2,365 pages since September 21, 2013, the Toontown Rewritten Wiki continues to offer a large chunk of awesome content. By signing up for an account, anyone can join in on the fun!
Toontown Rewritten is now open to the public! Click here to create an account for free!
ToonFest 2014 is on! Enter through the tunnel in Chip and Dale's Acorn Acres to enter the site constructed for ToonFest 2014! Make sure to stop by the pond and catch a few fish for Melville, and give Flippy's doodle a nice scratch. Don't let cogs ruin the fun! Use Flippy's homemade pies to destroy the target cogs to intensify the happiness of ToonFest! Toons of the World, it's PARTY time!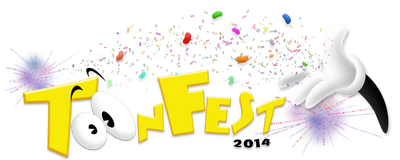 Template:ToonFest Invitation
Game:
Toontown Rewritten is a community server for Disney's now-closed game, Toontown Online. Toontown Rewritten is currently in development and only people with access to a valid registration key could sign up for Alpha and Beta. Toontown Rewritten entered Alpha on October 28, 2013 and entered Beta on May 17, 2014. Toontown Rewritten has now finished with Closed-Beta and moved into Open-Beta, which means everyone can now play the game!
If you require any questions for Toontown Rewritten, please email them at support@toontownrewritten.com.
Wiki:
The Toontown Rewritten Wiki is in its early stages, just like the game itself. That means this wiki was created at the time Toontown Rewritten was first announced and the entire wiki is not completed yet, but it will be worked on as Toontown Rewritten continues its journey with many toontastic adventures.
Regards Towards Vandalism
Anyone found to be vandalising will be banned for three days, and be added to the Caution page. After several bans, the user will receive a permanent ban.
Current Beta Version
Toontown Rewritten has certain versions of their Beta testing and the version changes every few days when they are releasing updates. Below will provide the current Beta version of Toontown Rewritten. For previous updates, click here.
August 17, 2014 [ttr-beta-v1.4.1]
Maintenance:
• Overall code cleanup.
Bugfixes:
• Fix a glitch allowing Toons to be invisible outside of their estate.
• Fix a crash when walking up to a Knock-knock Door.
• Fix an exploit allowing locked animations to be purchased.
• Prevent a server crash relating to house decoration.
• Use the proper font for Cog Boss speech.
• Correct a few typos in ToonTask dialogue and Cog speech.
Tweaks:
• Decrease initial scale of the phone.
• Interactable items (Phone, Bean Bank, etc.) can now be placed in the attic.
• Change the default bank name to "Jellybean Bank" -- 1000 Bean Banks are no longer used as per a Disney update.
TTR News
Stay tooned for more news!
Poll
The wiki will have a poll here on the Home page to entertain users on a certain subject.
Are you going to ToonFest?
View the previous poll results HERE.
Community content is available under
CC-BY-SA
unless otherwise noted.