What's this wiki all about?
The Toontown Rewritten Wiki is an encyclopedia that was created to cover every single piece of information about the most "Toontastic" massively multiplayer online game, Toontown Rewritten. From goofy gags to fearsome Cogs, this wiki has everything there is to know about Toontown!
With the help of many community members who have contributed to produce exactly 2,424 pages since September 21, 2013, the Toontown Rewritten Wiki continues to offer a large chunk of awesome content. Anyone is welcome to join in on the fun.
Helping Out
The Toontown Rewritten Wiki is in need of receiving a Toon-up, and users can help out by creating or expanding some of our pages! Below are two examples of categorized pages that need lots of attention:

The above pages are not the only pages that need to be worked on, however. Be sure to check out "Insights" and "Community" for further information on other incomplete tasks. Every user's contribution is an essential part of allowing the Toontown Rewritten Wiki to become a successful project.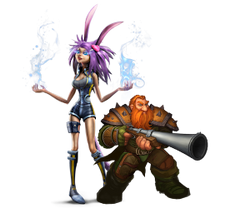 The Toontown Rewritten Wiki is a community fansite partnered with Toontown Rewritten. The wiki's administrators are members of the Toontown community and are not part of Toontown Rewritten's staff. The wiki is also not affiliated with The Walt Disney Company and/or the Disney Interactive Media Group, and does not distribute subscriptions, advertisements, or any other forms of revenue.