<hero description="Welcome to Toontown Rewritten Wiki! Our wiki comprises of all things Toontown, including fishing, gardening, Cog-busting, and more! There is only question left to ask: Are YOU Toon Enough?" imagename="Wikia-hero-image" cropposition="0.10909090909091" />
ToonFest is returning to OMG!Con 2016!

From June 10th to the 12th, Toons everywhere can meet up at the Owensboro Convention Center for the second real-world ToonFest!
Tickets are on sale NOW starting at $45!
During your visit, stay at any one the OMG!Con hotels to receive a FREE OMG!Con Snack Pack!

The schedule has been released!

Friday

Toontown Meet Up!
8:00 PM – 9:00 PM
3rd Floor – West

Saturday

Toontown's ToonFest
11:00 AM – 12:30 PM
Expo Hall 1

Rewriting Toontown: from Players to Game Designers
2:30 PM – 3:30 PM
Expo Hall 1

The Toons of Toontown (Fan Panel)
4:00 PM – 5:30 PM
Panel Room 1
3rd Floor – East

Sunday

Toontown Trivia Extravaganza
1:30 PM – 2:30 PM
Expo Hall 1

To view the full schedule, click here!
What's this wiki all about?
The Toontown Rewritten Wiki is an encyclopedia that was created to cover every single piece of information about the most "Toontastic" massively multiplayer online game, Toontown Rewritten. From goofy gags to fearsome Cogs, this wiki has it all and is what we anticipate to be any Toon's go-to site for learning something new about Toontown!
With the help of many community members who have contributed to produce exactly 2,410 pages since September 21, 2013, the Toontown Rewritten Wiki continues to offer a large chunk of awesome content. By signing up for an account, anyone can join in on the fun!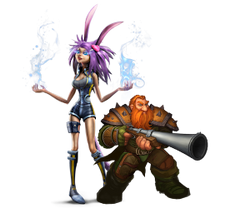 Content