High Dive

Basic information
Track:
Toon-Up
Level:
7
Accuracy:
Medium
Base accuracy:
100 in value but max base accuracy is 95
Affects:
All Toons
Statistics
Minimum heal:
210
Maximum heal:
210
Organic boost:
231
Carry capacity
Minimum:
1
Maximum:
1
Lineage
Preceded by:


Succeeded by:


 

None

Skill points gained:


10,000

Skill points needed:


500 to Go!

Sound files
The High Dive is the level seven Toon-Up gag and the final gag in the Toon-Up track that is preceded by the Juggling Cubes. A Toon obtains this gag by gaining 10,000 skill points. After obtaining the gag, the skill points meter converts to "500 to Go!", allowing the Toon to earn another High Dive for every 500 skill points.
As with all level seven gags, Toons can only use one High Dive before having to gain 500 skill points or by collecting the gag in their garden to obtain another, since the High Dive cannot be bought from Goofy's Gag Shop.
Animation
The Toon who uses it will run in front of the other Toon(s) as the ladder and a glass of water spawn.
The Toon will climb to the top of the ladder.
The Toon will perform a backflip off the ladder and dive straight into the glass of water, creating a splash sound effect while providing Toon-up in the process and jumping out of the glass afterward.
Trading card

High Dive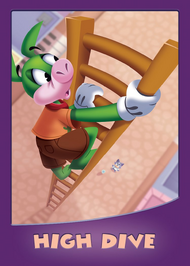 When they said it was a pie-in-the-sky idea, Luke Upp, inventor of the High Dive, was quick to show otherwise. "The Cogs' corporate ladder's got nothing on this!", he exclaimed, before doing a quadruple backflip off the top of the ladder straight towards a glass of water. What a jump! What form, what grace! Too bad he ended up stuck inside the glass. Nowadays, any Toon can up their healing game with the High Dive. Good luck nabbing one, though, as you can't just buy it. It's so tall, they couldn't fit it through the Gag Shop doors!

Affects: All Toons
Skill Points: 7
Base Accuracy: 95%
Maximum Heal: 210

Goofy's Tip: An organic Toon-Up gag will heal even more Laff Points!
Trivia
If used on one Toon, this gag will restore them to full laff, regardless of how high their laff limit is or how much laff they lost.
If the gag "misses", the Toon will only climb halfway up the ladder before performing a backflip.
Gallery