Stub
A runaway Toon seems to have had slipped on a banana peel while racing and caused a bit of a ruckus! Luckily, there is probably some form of edit tool that can clean things up. Remember to avoid plagiarism when editing.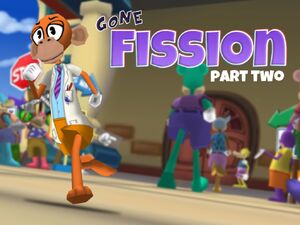 The comic titled "Gone Fission: Part Two" was found by the Toontown Rewritten community as part of an Alternate Reality Game. It is the sequel to the previous comic, "Gone Fission: Part One", that officially wraps up the story arc of the 26th.
In this comic, Doctor Surlee runs off to search for Doctor Fissionton after realizing he had departed from Toon Hall.
The events of this comic take place on Wednesday, March 13, 2019, the day that the Silly Meter reached its peak for the first time.
Characters
Toons
Toontown citizens
Doctor Surlee
Doctor Fissionton
Cogs
Locations
Community content is available under
CC-BY-SA
unless otherwise noted.