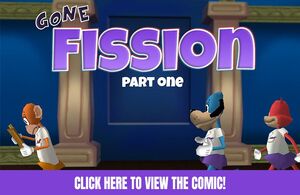 The comic titled "Gone Fission: Part One" was found by the Toontown Rewritten community as part of an Alternate Reality Game. The link was later released publicly in a blog post on the Toontown Rewritten website.
In this comic, after Doctor Dimm slips on a Banana Peel, the hands on Doctor Surlee's pocketwatch spin and Doctor Fissionton flickers in and out of reality[1] until the hands get stuck on 26.
According to the calendar in the last panel, the events of this comic take place on Tuesday, February 26, 2019.
Characters
Doctor Surlee
Doctor Fissionton
Flippy (in the background of a single panel)
Professor Purrview (in the background of the final panel)
Objects
Mailboxes (Mentioned only)
Locations
Comic
References
↑ https://cdn.toontownrewritten.com/news-site/loonylabs/04%20-%20Fissionton's%20Flickering.txt
https://www.toontownrewritten.com/news/item/486/continuing-the-case-of-loony-labs
Whatever the cause may be, I now know one thing for sure. When my pocket watch is spinning: the Fissiontons are flickering.
--Doctor Surlee
Community content is available under
CC-BY-SA
unless otherwise noted.