This page is about the golf courses for miniature golf played by Toons. You may be looking for the Cog Golf Courses, a facility within Bossbot Headquarters.
The golf courses are designated areas found in Chip 'n Dale's MiniGolf where Toons can hop onto a kart to access the courses and play golf. Each of the three areas has its own difficulty, along with a number of randomized courses. Harder courses contain obstacles that hinder getting the ball into the holes.
Walk in the Par (Easy - 3 Holes)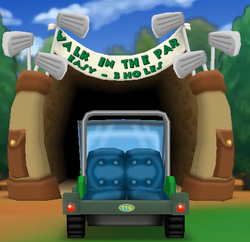 Afternoon Tee
Down the Hatch
Hole in Fun
Hole on the Range
Holey Mackerel!
Hot Links
One Little Birdie
Peanut Putter
Seeing Green
Swing Time
Swing-A-Long
Hole Some Fun (Medium - 6 Holes)
At the Drive In
Bogey Nights
Bogey Nights 2
Down the Hatch 2
Hole in Fun 2
Holey Mackerel! 2
Hot Links 2
No Putts About It
Peanut Putter
Rock and Roll In
Rock and Roll In 2
Second Wind
Seeing Green
Swing Time 2
Tea Off Time
The Hole Kit and Caboodle (Hard - 9 Holes)
Afternoon Tee 2
At the Drive In 2
Hole on the Range 2
No Putts About It 2
One Little Birdie 2
Peanut Putter 2
Second Wind 2
Seeing Green 2
Swing-A-Long 2
Tea Off Time 2
Whole in Won
Whole in Won 2
Community content is available under
CC-BY-SA
unless otherwise noted.