Fluffy was the first doodle to enter Toontown. In the middle of construction for the ToonFest Grounds, he was found by Flippy and became his adopted pet. Ever since then, there was something about ToonFest that made Fluffy wander off randomly. Right after ToonFest 2015 ended, Fluffy unexpectedly disappeared and was not found until April Toons Week in 2017 where a doodle chase had occurred. Fluffy returned to Flippy along with many other doodles, which allowed Toons to adopt their very own doodle at the Pet Shops.
Trading card
Fluffy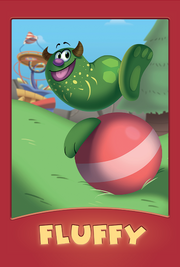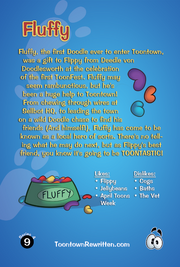 Fluffy, the first Doodle ever to enter Toontown, was a gift to Flippy from Deedle von Doodlesworth at the celebration of the first ToonFest. Fluffy may seem rambunctious, but he's been a huge help to Toontown! From chewing through wires at Sellbot HQ, to leading the town on a wild Doodle chase to find his friends (And himself!), Fluffy has come to be known as a local hero of sorts. There's no telling what he may do next, but as Flippy's best friend, you know it's going to be TOONTASTIC!

Likes: Flippy, Jellybeans, April Toons Week
Dislikes: Cogs, Baths, The Vet
Trivia
Like other doodles, Fluffy came from a land known as Doodlevania.
Fluffy appeared in Toontown Online in 2004 when Flippy lost him. Toons looked everywhere until Minnie Mouse found him in Minnie's Melodyland.
During ToonFest 2014, Fluffy had randomized appearances due to a bug with his color.
When Barbecue Headquarters opened as ToonFest on April 1, 2015, Fluffy mentioned "Home is near!", which may have hinted that doodles were nearby.
During Operation: Storm Sellbot Headquarters, Flippy offered Toons a special ToonTask to help find Fluffy's collar that was lost somewhere around Sellbot Headquarters.
Fluffy appears on the back of Flippy's trading card, which was one of the newly-released Toontown Rewritten trading cards distributed at OMG!Con 2016.
During April Toons Week in 2017, Fluffy roamed around Toontown by appearing in buildings throughout the streets to search for Flippy.
Gallery
Community content is available under
CC-BY-SA
unless otherwise noted.