Stub
A runaway Toon seems to have had slipped on a banana peel while racing and caused a bit of a ruckus! Luckily, there is probably some form of edit tool that can clean things up. Remember to avoid plagiarism when editing.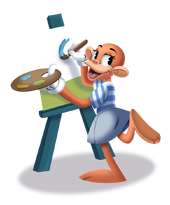 Needs an Image


This page could use at least one image to add a bit more "pizazz". You know us Toons could never miss out on the opportunity to work with arts and crafts! Please use the upload tool and the edit tool to implement an original image in png, jpg, or gif format.
Filibuster is a cog move used by Glad Handers.
Statistics
Level
4
5
6
7
8
Damage
4
6
9
12
15
Accuracy
30
40
50
60
70
Usage
10
20
30
40
45
Quotes
Shall I fill 'em up?
I think I'll shoot the breeze.
I could do this all day.