Stub
A runaway Toon seems to have had slipped on a banana peel while racing and caused a bit of a ruckus! Luckily, there is probably some form of edit tool that can clean things up. Remember to avoid plagiarism when editing.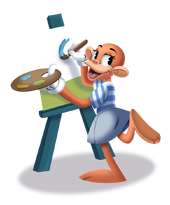 Needs an Image


This page could use at least one image to add a bit more "pizazz". You know us Toons could never miss out on the opportunity to work with arts and crafts! Please use the upload tool and the edit tool to implement an original image in png, jpg, or gif format.
Demotion

Information
Target

Single

Minimum Damage

6

Maximum Damage

18

Attack Strength

High

Cogs
Bossbots

Micromanager
Lawbots

None
Cashbots

None
Sellbots

None
Demotion is a signature Cog attack used by Micromanagers.
Statistics
Level
4
5
6
7
8
Damage
6
8
12
15
18
Accuracy
50
60
70
80
90
Usage
30
30
30
30
30

penis
your penis is small lol epicman is so epic its so true lol haha