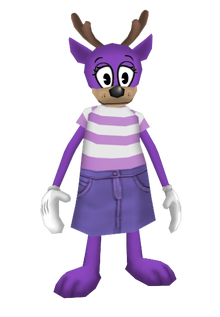 Deer is a new Toon species that ran as one of the two successful candidates in the Toontown Species Election.
When a deer speaks, they meh. If a deer uses a word that is not included in the whitelist for SpeedChat+, the word will be censored by "mah", "behh", or "vveh".
Head shape
Deer have four distinct head shapes.
Speech
| | |
| --- | --- |
| One word | |
| Two words | |
| Multiple words | |
| Exclamatory | |
| Question | |
| Owooo! | |
Notable deer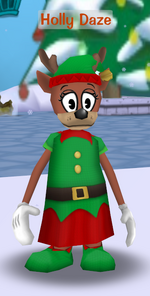 For a full list, see Category:Deer.
Notable deer include Holly Daze, who is currently the only deer NPC in Toontown Rewritten.
Trivia
The deer is the only species that disallows the change in head size but allows the change in size for its antlers and muzzle.
Attendees from ReplayFX 2017 had the opportunity to play as a deer, along with the crocodile. Both species were implemented on September 1, 2017 for Toontown Rewritten's v2.0.0 update.
According to a poll on the Toontown Rewritten website, 56% of players like the deer's design but think sounds should be improved.

Based on this feedback, the deer's sounds were adjusted and made quieter to fit the sounds of other species.

The Laff-o-lympics was an event that offered prizes to any deer or crocodile toon who managed to reach 50, 100, or 115 laff.
During the Twelve Days of Winter, deer toons were able to receive a permanent or temporary red nose from Holly Daze as a reward for completing her ToonTask.
Deer are the only Toons that can have two special effects at the same time. Those being the red nose (if chosen to be permanent) and ToonFest Blue or Spooky Purple.
Holly Daze is the first deer NPC in Toontown Rewritten.
Gallery
Community content is available under
CC-BY-SA
unless otherwise noted.