"It was all slapstick and seltzer in Toontown until robot businessmen invaded the town to create their own corporations and put an end to all fun. Luckily -- they can't take a joke!"
Cogs are the main antagonists of Toontown Rewritten. They are evil business robots with the objective to convert Toontown into a corporate dystopia. Their corporate ladders comprise of eight Cogs each, with a total of 32 different Cogs with levels normally varying from one to twelve, as well as a boss from each ladder. Cogs use a set of attacks to sadden the wacky, cheerful Toons into losing all their laff points; stronger Cogs tend to have higher health and stronger attacks. However, Cogs cannot take a joke, and therefore they explode when they laugh upon being affected by Toons' arsenal of gags.
History
The Cogs were first referred to as "Trolley-bots" that would appear in various Trolley minigames to provide friendly competition against participating Toons. On March 26, 2014, the Trolley-bots were recalled when Doctor Surlee accidentally left them in debug mode. Toons would receive a single whisper of a secret message from playing Trolley games involving the Trolley-bots that offered unusual information; i.e. "DS-Debug1: Serial Suit #0045 Method". This was the first in-game ARG puzzle that players had to solve, which is documented in "Call Log".
On April 19, 2014, the Cogs invaded Toontown for the first time when they made an unexpected interruption during the Toon Council Presidential Elections, by unleashing an invasion known as Doomsday to exercise ambush marketing. Some time after the conclusion of Doomsday, the Cogs now roam the streets of Toontown to take over Toon Buildings by dropping Cog Buildings onto them, and to establish their own Cog headquarters that would be connected to some streets. Ever since then, Toons continue to fight against the Cogs in order to protect Toontown from their latest schemes.
The Cogs
Cog Invasion
Main page: Cog Invasion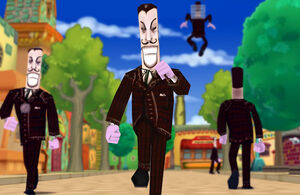 An invasion happens when a specific type of Cog from any of the four corporate ladders take over a certain district. They can happen at any time in any district. During this time, no other Cog, except the invading Cog, are roaming the streets and Cog Buildings. Skill points are doubled if a gag is successfully used.
In some cases, the Cogs will go above and beyond to launch full-scaled Mega-Invasions. Whenever a Mega-Invasion occurs, the invading Cog will take over most districts, but only a few will remain as "safe zones".
Cog Buildings
Main page: Cog Buildings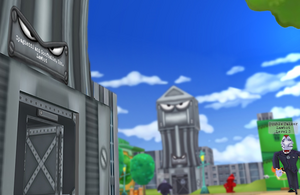 The Cogs have their very own set of skyscrapers that are constantly being dropped onto Toon Buildings. Toons can revert a Cog Building back into a Toon Building by defeating all the Cogs inside the building. If a group of Toons successfully defeat the Cog Building, their names and faces will be shown as portraits on the wall inside the building. If a Toon can capture enough of these buildings without them being reproduced by Cogs, the Toon may earn a star over their head.
The number of floors in a Cog Building can be up to five floors. When a Cog walks into a Toon Building, that means a Cog Building will take its place. A Toon who attempts to enter the Toon Building along with the Cog will be forced to exit out. All four branches of Cogs have their own Cog Buildings that are represented by their usual symbols.
Cog HQs
Main page: Cog headquarters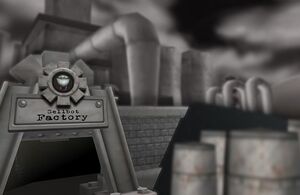 The four branches of Cogs each have their own respective headquarters. Thanks to Lord Lowden Clear along with assistance from members of the Toon Resistance and many Toons across Toontown, the following locations of every Cog headquarters were pinpointed:
Speech
| | |
| --- | --- |
| Grunt | |
| Murmur | |
| Question | |
| Statement | |
Trivia
Very early in Toontown Online's development, the Cogs were originally going to be evil businessmen known as "Suits" before they were changed to become business robots.
According to several pages of Toontown Online's "Toon News for the Amused!", all Cogs were said to have weaknesses to certain gags. In battle, however, all gags work the same against all Cogs, and therefore said weaknesses were most likely written for comedic purposes.
Doctor Surlee, an alias of Gyro Gearloose, invented the Cogs.

As seen in an old Toontown Online installer video, Scrooge McDuck visited Gyro's lab and accidentally activated a robot that used the Manufacturing Machine to produce the Cogs.

A Cog's maximum health can be determined by using a specific formula. The formula does not apply to level 12 Cogs since they have an additional +10% health boost.
In street battles, when a Cog defeats a Toon and there are no more Toons left in the battle, they will taunt by dancing and then fly away.
There are three Cog body types: thick, thin, and muscular. This is applied for both ordinary Cogs and their Skelecog forms.

Thick Cogs are mostly Cogs at the bottom of the corporate ladder.
Muscular Cogs are mostly Cogs at the top of the corporate ladder.
Thin Cogs are somewhere in the middle of the corporate ladder, depending on their tier. They also have exclusive attacks where they can shake the ground.
Gallery