"A Cog Invasion has begun!!! [Cog name] has taken over Toontown!!!"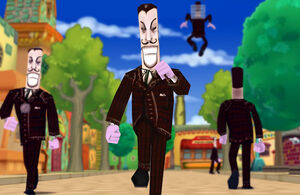 A Cog Invasion is an event that causes a specific Cog to invade a district. They may occur randomly, but tend to be triggered with the use of a Cog Summon. Toons will gain double experience points for gags when they defeat a Cog during an invasion. The length of an invasion is supposedly random with some factors such as Toon population of a district slightly changing the length of the invasion. Cog Invasions that last for a set amount of time, which can typically be up to an entire day or a whole weekend, are known as Mega-Invasions.
Cog Summons
Main page: Cog Summon
A Cog Summon is a reward which grants a Toon the ability to either summon a specific Cog, Cog Building, or Cog Invasion. They are granted by Bumpy Bumblebehr if the Chief Justice is successfully defeated. The rewarded summon is random, however, cannot be a summon that is already being carried. A Cog summon can be used by opening the "Cog Gallery" page in the Shticker Book, and clicking on a small button next to a Cog's face and selecting a summoning option.
API
Toontown Rewritten has its own Cog Invasion API, which provides an updated list of Cog Invasions by districts. The API, available in the JSON format, provides information about the invading Cog types (and also mentions if there is an invasion of Skelecogs or Version 2.0 Cogs), the size of the invasions, their progress, and the time at which the API, as well as the invasion data for each district, was last updated. The API allows retrieving the invasion data from other websites as well. If an error occurs, the API only returns the error.
As alternatives, players may visit ToonHQ.org, or join either /r/ToontownRewritten or the official Toontown Rewritten Discord servers to keep track of ongoing Cog Invasions.
Trivia
Gallery
See also
External links
References