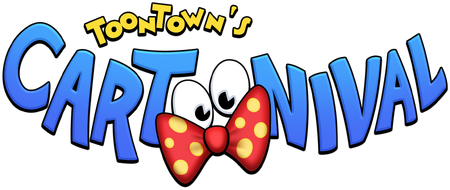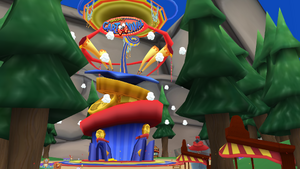 The Cartoonival Grounds is a festive area located in Chip 'n Dale's Acorn Acres that is known for where Toontown's Cartoonival takes place. Every year on September 19th, the area opens up for Toons to visit and party until October 20th.
The area is always filled with tons of confetti, and surrounded by multiple tall trees and a mysterious mineshaft off the top of the mountain. Minigame activities such as trampolines, cannons, and a duck tank can be played at the area. Within the area is a gigantic Cartoonival Tower in the center, a pie purchases booth, a merry multipliers booth, and a large fishing pond in the back. Cartoonival bags are also scattered around the area that offer jellybeans and Cartoonival tokens.
Trivia
Before the event rebranded to Cartoonival, the area was previously known as "ToonFest Grounds".
The tunnel that leads to the Cartoonival Grounds is the same tunnel that was never opened in Toontown Online, which started theories about what its purpose was.
During ToonFest 2014, a hot air balloon accompanied by Alec Tinn could be found behind some of the tall trees.
Before the pie purchases booth was released, Flippy sold Whole Cream Pies from his pie stand.
The "ToonFest Grounds" was once active during April Toons Week in 2015. Although the Acorn Acres tunnel did not reopen, the event area was accessibly through the dark-charcoal tunnel (before the release of Bossbot Headquarters) from Chip 'n Dale's MiniGolf but renamed as "Barbecue Headquarters" as a prank.
As with every playground and every Cog headquarters, if the last place a Toon visited was the Cartoonival Grounds, logging onto Toontown Rewritten would lead them back there while the event is active. However, if they log onto Toontown Rewritten after the event had already ended, they would instantly be redirected to Chip 'n Dale's Acorn Acres.
During the duration of the event, a special button on the upper-right corner of the screen is used to teleport directly into the Cartoonival Grounds. This did not require the need to visit Chip 'n Dale's Acorn Acres, nor being added to the map of Toontown.
Gallery
Cartoonival
ToonFest