Tags:

apiedit

,

Visual edit

(2 intermediate revisions by one other user not shown)
Line 1:
Line 1:
 
+

[[File:Cannon.png|right|200px]]

−

{{stub}}

 
 
+

A '''cannon''' is an object that is used for many activities. Cannons appear in the [[Cannon Game]], during the jury round of the [[Chief Justice]] battle, in form of a [[Pink slip (CEO)|pink slip]], [[parties]], and the [[ToonFest Grounds]]. Cannons also appear at a [[Toons|Toon]]'s [[estate]] for 48 hours after purchasing a [[48 Hours of Cannons|rental item]] in [[Clarabelle's Cattlelog]].

−

[[File:ToonFest cannon.png|thumb|250px|A ToonFest cannon]]

 
−

'''Cannons''' are used for many things in ''[[Toontown Rewritten]]''. They are used in [[Cannon Game]], during the jury round in the [[Chief Justice]] battle, and can be rented for the [[Toon]]'s [[estate]] for 48 hours, costing 1000 Jellybeans. Unlike all the other cannons, the cannons purchasable for [[Toon Parties]] allow Toons to control their trajectory after they're fired out of them.

 
 
 
 
+

Unlike the cannons used elsewhere, ones that are used for parties, ToonFest, and rented at the estate allow Toons to control their trajectory after they are fired out of them in order to hit a multitude of floating clouds within the surrounding area.

−

When using a [[Pink Slip (CEO)|pink slip]] on a [[Cogs|Cog]] in battle, the Cog is fired out of a cannon.

 
−
 
−

You can get pink slips from winning the [[Bossbot]] Boss, the [[CEO]]. However, cannons are not used in the CEO.

 
−
 
−

Cannons were also used as one of the activities for [[ToonFest 2015]] and future ToonFest events afterwards.

 
 
 
 

==Gallery==

 

==Gallery==

−

<gallery>

+

<gallery>

−

Images-1.jpg|In a cannon at the C.J. boss battle

+

.| cannon at .

−

Ttr-screenshot- cj cannon round -Fri-Jun-17-13-17-43-2016-44048.jpg|A toon in front of the cannons at the C.J. boss battle

+

Ttr-screenshot- cj cannon round -Fri-Jun-17-13-17-43-2016-44048.jpg|A in front of the cannons at the C.J. boss battle

 
⚫
−

</gallery><gallery>

 
−

Ttr-screenshot-Wed-Sep-02-20-35-57-2015-17862.jpg|A Toon about to be fired out of a cannon at an estate

+

Ttr-screenshot-Wed-Sep-02-20---2015-.jpg| at estate

⚫
 
 

</gallery>

 

</gallery>

 

[[Category:Trolley Games]]

 

[[Category:Trolley Games]]
---
Revision as of 01:38, 21 November 2018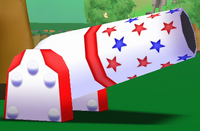 A cannon is an object that is used for many activities. Cannons appear in the Cannon Game, during the jury round of the Chief Justice battle, in form of a pink slip, parties, and the ToonFest Grounds. Cannons also appear at a Toon's estate for 48 hours after purchasing a rental item in Clarabelle's Cattlelog.
Unlike the cannons used elsewhere, ones that are used for parties, ToonFest, and rented at the estate allow Toons to control their trajectory after they are fired out of them in order to hit a multitude of floating clouds within the surrounding area.
Gallery
Community content is available under
CC-BY-SA
unless otherwise noted.