This page lists all blog posts that were posted on Toontown Rewritten's website during the year of 2021. It will be updated as the year progresses.
January
Posted by The Toontown Team on January 14, 2021 at 2:00 PM
Maxuhmillion isn't just any ol' blue bear -- he's a member of the Toontown Rewritten Partner Program! As a Content Creator, Max strives to entertain Toons by interacting with them in-game and streaming on Twitch for others to follow along. Today, we're here to interview him on what it's like being a Toontown Rewritten streamer and a part of our Partner Program. You won't be disappointed by his answers!
First off, we'd love to hear one of your favorite parts about being a Toontown Rewritten streamer. Don't hesitate to tell a fun memory or two you have from streaming!
My favorite part about being a Toontown Rewritten streamer would have to be how many opportunities I have to meet new people! Toontown was a huge part of my childhood and continues to be today, and getting to share that fun with others makes it even more enjoyable. A fond memory I have from streaming would have to be when I got the chance to stream on the Toontown Rewritten channel during Cartoonival this past year. It was a dream come true, and I was able to play and have fun with so many others.
Ah, Cartoonival! It sure was fun enjoying all the Toony celebrations and meeting up with fellow Toontown-lovers in-game. But if you don't remember Maxuhmillion from his Toonerrific Cartoonival livestreams on Twitch, perhaps you'll recall hearing about the charity livestream he held in the past. Let's have Max tell us a bit about that!
Something a few people know about me is that one of the reasons I started streaming was with the hopes that one day I could raise money for charity. Hosting the charity streams were both very successful and was very motivating to me personally. In August, I did a five day charity stream with a fellow Toontown Rewritten Partner Princess Sandy, who is also a great friend/moderator of mine. That was my first time doing a charity event, and it was better than I could have ever imagined. With the amazing support of the community, I was able to raise $625 for front-line health workers. I was beyond ecstatic, because we were able to raise way past our originally intended goal of $200. I certainly want to do more charity events in the future and see if we can reach an ever higher ceiling!
WOWZA! A major congratulations to Max for surpassing his original fundraising goal by over TRIPLE what he was hoping for. Those of us on the Toontown Rewritten Team are seriously excited to see what he'll do next. Speaking of, let's see what he thinks of his experience of being a streamer and part of our Partner Program so far.
My experience as both a streamer and a Toontown Rewritten Partner has been such an amazing time. I am very thankful to the Toontown Rewritten team for giving me this chance and getting to know all of the staff and other communities is so much fun. Joining the program helped me get out of my shell and further develop friendships within the game that I may not have made otherwise. As for my stream I just would like to add that everyone is always welcome to join and I would love to get to know new people and if I get the chance to play with them in game!
Before he has to go, we want to ask Max one last "Just for Fun!" question. When you need help in a Cog battle, which S.O.S Toon or friend do you call for first?
The person I would call to my aid would have to be someone who I know and trust to have my back -- my girlfriend Princess Sandy. I've known her for a long time, and she is someone that I know I can rely on when needed most, so if I was stuck battling cogs she would be there to help in an instant. She supports me the most, and I always have a fun time playing with her so I know we would be able to turn the tables on any cogs!
Now that's a response even sweeter than cream pie! Well, Toons, that's all we've got for today, but be sure to keep a lookout on Twitch and in-game for Content Creator Maxuhmillion. See you around, Toons, and keep up the great Cog-defeating work!
Posted by Lil Oldman on January 20, 2021 at 2:00 PM
Now what was it that I was supposed to be up to today… Ah, that's right. I intended to make some delicious broth for all the new Toons of Toontown. After all, one cannot begin their final test before eating. No, that mustn't be it. After all, those who wish to take their final test must earn that broth. Perhaps I shall consult with a talking toad.
Ah, that's right! Thank you, my froggy familiar. Today is a day that I have been looking forward to for quite a long while! After all, today is… National Cheese Lover's Day! I consider myself to be a connoisseur of cheese, if I do say so myself. But where to find this cheese I desire?
Ohoho, look to the skies. Like clockwork, my wishful thinking has been answered. Until the end of today, The Big Cheeses are invading Hiccup Hills, Zoink Falls, and Thwackville! How is that, you may ask? Well, a wizard never reveals his secrets.
Now, I have faith in all of you that these provolone pests will be taken care of, hm? I've asked for the Toon Resistance to be deployed as well -- the more Toons we have on the streets, the more cheese we can gather, and the more delicious broth we can make.
Remember, gather all the cheese you can! The Big Cheeses come in all sorts of varieties, from the gnarliest of goudas to the most camembert of the Cogs. And if you're one of my Toons in training, consider this your lucky break.
Now, let us eat our broth. Where did I put that caviar…?
Posted by The Toontown Team on January 23, 2021 at 2:15 PM
Ever since the game launched in 2013, Toontown Rewritten has been built, managed, and operated entirely by our team of dedicated volunteers. The Toontown Rewritten Team is made up of regular Toons just like you who have a passion for Toontown, and joined the team as a way to help support the game and help it grow.
In 2020 alone, we received over one thousand new applications from people interested in joining the team! We are beyond grateful and humbled by how many Toontastic people there are in the community who are interested in donating their time to help support this project we all care so much about. As we kick off the new year, we're looking for dedicated and talented Toons like YOU to join our team!
Why should I join the Toontown Team?
Joining our staff team is a great way to get more involved with the game itself and the community surrounding it. With 21 different positions people can apply for, there are many different ways that you can get involved with the project and help support the game! Whatever it is that you may be skilled in, we're sure you can find a role that will put your talent to good use!
Working for Toontown is also great experience to put on your resume when applying for jobs and internships. While our skill requirements vary from positions to position, working on the Toontown Rewritten Team helps you to break into the game design industry without needing any formal experience under your belt. Many of our past and present team members have landed real jobs in the game development and other industries thanks to having Toontown listed on their resume!
What happens when I send in an application?
Once you send in your application for the team, it is filed away by our Support Representatives and then is passed onto our Hiring Management team. When we're ready to hire new people for a specific position, our Hiring Managers will review the applications in the queue to find applicants who seem to be the best fit for the job. They also take some time to run a background check on candidates to see if there's anything in their chat logs or account history that would prevent them from being a representative for the team. Did you know that our Hiring Managers background check every application that is sent in? This is done to try to give applicants feedback on anything that might be of concern in their candidacy so they can start improving on it as soon as possible.
When our Hiring Managers find an application that meets our qualifications, they then pass it on to relevant parties within the department for another round of review. If they feel that an applicant could be a good fit for the team, we'll then invite the candidate to have a short interview with us so we can get to know them better and see how their skills and personality would fit in with the team. Candidates who pass the interview stage are then invited to join the team as a trial for their position!
What's the difference between "open" and "inactive" positions?
While we love it when we're able to bring new talent onto the team to help grow the vision for Toontown, there are times when we're not actively able to bring on new team members. More often than not, positions that are inactive are designated as such due to limited training capacity. It takes a lot of time and effort to give our new team members the training and attention they need, and with a team full of volunteers, there's only so much of that we can do at a time! As such, we only bring new team members on when we know that we'll have the available time and resources to help support them through their trial and gain the skills they need to succeed with us.
While we still allow interested parties to send in applications for inactive positions, our Hiring Managers may not review these applications until we are actively looking to hire new people to fill these roles. Some positions may reopen sooner than others, so unfortunately, we are unable to give time estimates on when an application for an inactive position will be reviewed. If you want to be notified as soon as we're looking to hire for a specific position, send us an email at support@toontownrewritten.com to be added to the notification list!
---
Now that you know how our application process works, we encourage you to fill out and submit one -- or more than one! -- today. For those who are still hesitant to apply, remember, you'll never know what'll happen until you try.
February
Posted by The Toontown Team on February 11, 2021 at 2:00 PM
Have you ever been a bit stuck while playing Toontown? Sometimes you need the help of fellow Toons to take down the Sellbot V.P. but there's no one in sight! Other times, maybe those pesky Cog invasions have gone on forever and you want to see how much time is left...or you're just curious about your chances of catching that dang Devil Ray! Regardless of what it is, ToonHQ has got you covered.
ToonHQ is a website and mobile app run by a dedicated couple named Luke and Nicole, also respectively known by their Toon names, Felix Pumpkinhopper and Rosie Pumpkinhopper. Nicole works hard on the artistic aspect of the site while Luke handles the programming. Their efforts have come together to create a site that helps Toons all across the Tooniverse with everything above and more, so I like to think of them as real-life HQ Officers! Today, we're here to see what Luke and Nicole have to say about ToonHQ.
So, you two are quite the dynamic duo! Can you describe your inspiration for starting ToonHQ?
So the funny story behind ToonHQ is it actually started as a Playline queue. I'm sure everyone that played TTR in the early days has incredibly fond memories of (im)patiently waiting for their chance to hop in the game. Not everyone could keep their computer up on the queue page all day, and sometimes the ETA would drop unexpectedly catching people off guard, so we released an app that allowed folks to maintain their place in line from their phone.
When the Playline wasn't an issue anymore, we realized that we missed the invasion tracker that was available for TTO. We put some feelers out to the team seeing if they'd ever be open to an invasion API, and thankfully, within a few weeks the web team released one for sites to use! Once the API was out, we threw a little site together for us to use with our friends. I never imagined it would spread as much as it did back then, let alone how much it has today!
Fun fact about that API, by the way: Joey initially said it would only work during early beta days, and that we'd have to rely on manual reports from players once the API goes away. As such, the first version of ToonHQ actually had hidden functionality that would let folks report invasions, say they've expired, etc. Very glad we never had to use that!
Wow, that sure is interesting! ToonHQ has definitely come a long way since you two initially released it. In fact, you recently released a major update and a brand new ToonHQ mobile app! Would you care to talk a bit about some of ToonHQ's newest features and the process for implementing these new changes?
We're still so excited (and relieved) that the update is finally out. The UI was starting to feel really dated on the old site, so we tried to bring more of the fun Toontown energy to the new site. We also overhauled the ways that the site handles data, so it's real-time now! Then of course, there's the addition of accounts, being able to track multiple Toons, showing off what gags you have, and other group improvements.
In terms of implementing the changes, we understandably got a lot of questions over the years as to why the update was taking so long. The thing is, we wanted to modernize the stack with this update because the site had grown so much more than what it was originally designed for. If you'd told me in 2014 that ToonHQ was going to be used by the majority of the Toontown community, I probably would have just laughed. As such, there were a lot of things that could've been done better and were holding the site back. We rewrote everything, I'm not sure there's a single line of code left over from the old version of the site. This took a long time because we have day jobs, but we're now in a position where adding new features is much easier! We're thrilled that we've already been able to release several updates since the new version went live.
I'm sure the rest of the Toontown community is equally thrilled -- I know I am! ToonHQ has been a mainstay in Toontown for as long as I can remember. What's been your favorite aspect of running such a well-loved website and app?
It sounds cliche, but it's a great feeling knowing that we're helping out the amazing players in our community. Toontown is such an underappreciated game, so being able to give folks tools to have even more fun playing is fantastic. The last thing any of us want is to have a new player give up because they can't find someone to help them take over a Cog building!
I couldn't agree more! Your efforts have definitely helped lots of Toons, especially those residing in countries outside the US, where grouping up with others can sometimes be hard due to time-zone differences. So, how did you two first get involved with Toontown? Do you have any particularly fond memories from when you first started playing the game?
I (Luke) have been playing Toontown since the early days of TTO, when I was in middle school. I played with a good friend of mine, and we made several friends from around the country that we're still in touch with today! Funny enough, I even walked in on my video production teacher playing TTO when I was in high school. Can't blame him, it's definitely more fun than grading papers!
Fast forward a few years, I randomly remembered TTO after Nicole and I got together and decided to introduce her to it. She instantly fell in love with it, and we were making great progress on our Toons when Disney suddenly announced they'd be shutting down the game. We were crushed, but thankfully there's a happy ending to that story because of your team!
I'm really happy to hear that! Really, it's thanks to Toons with a passion for Toontown like you two who help keep our community thriving. Now, time for the final question! If you could pick any Toon within the game, which do you think you relate most to and why?
Nicole can definitely relate to Jack O' Kazam, as Halloween is her favorite holiday. If there's a pumpkin patch, there's a good chance you'll find her there!
I'm not sure there's an NPC I necessarily relate to, but I have an insane amount of respect for Lil Oldman. Everyone complains about him and dreads going to see him, yet he holds strong and continues to push Toons to be the best they can be! Thank you Lil Oldman, you're appreciated!
Jack O' Kazam and Lil Oldman certainly cause a lot of trouble, but they're still fan favorites of some of us here on the team, too!
Today's blog post is a bit longer than usual, but I hope everyone enjoyed hearing this insight behind ToonHQ's latest update along with some fun stories from back then! It's probably safe to speak on behalf of the Toontown community as a whole when I say thank you both very much for your dedication with ToonHQ. For the Toons reading, make sure to check out their site or app the next time you need help in Toontown. Whether it's grouping up with others, tracking those Cog invasions, or hunting down that last fish, ToonHQ is there to help!
Posted by Sir Max on February 12, 2021 at 1:30 PM
Can you feel the love in the air? If you can't, you should at least be able to see it in those giant candy hearts filling up the Playground. ValenToon's Day is just around the corner, and the Toon Troop has come up with a new way for everyone to celebrate!
It struck me when I was chowing down on some delicious heart-shaped pancakes at a new ValenToon's-themed pop-up diner in town: Pop the Question! Soda Fountain and Diner. Just as I was putting a delicious morsel of mouth-watering, chocolate-covered, diet-breaking bite of pancake in my mouth, I saw the most wonderful sight from across the room.
It was so beautiful, in fact, that I asked Cosmic Creepers, an artist who was dining at a nearby booth, to paint the moment so that I could remember it forever and share it with all of you. Just take a look at their work of art!
ValenToon's Day Wallpaper
No, no, I'm not talking about the googley-eyed Toons at the counter. I'm talking about the absolutely delectable milkshake and fries! Thank goodness they stopped that Micromanager from laying their hands on them.
If you want to download this painting or any of the other ValenToon's cards we've been sharing on social media this week -- you can grab them below. Happy ValenToon's Day, Toontown!
Desktop Downloads
Modern Mobile Downloads
These are for more recent smartphones, like the iPhone X or the Samsung Galaxy S10.
Classic Mobile Downloads
These are for older-style smartphones, like the iPhone SE or the Samsung Galaxy S7.
---
ValenToon's Day Cards
Posted by The Toontown Team on February 20, 2021 at 2:00 PM
Did someone say ToonFest? We know you probably have a lot of questions about this year's ToonFest, and the truth is that we do too. With the ongoing pandemic, it's hard to know anything for certain, but we're ready and willing to answer all the questions we can, plus give some insight into the ones we can't yet answer.
What is ToonFest?
For those who don't know, ToonFest is a yearly summer event where Toons like you have the opportunity to meet other members of the Toontown community (including much of our staff!) in person. Toontown was intended to close over 7 years ago, so ToonFest began as an event to celebrate that the Toontown community still thrives today! ToonFest features a variety of events, including panels about what each department of our team does, a real-life pie-throwing contest, and of course lots of Toontown-playing time!
What will this year's ToonFest look like?
Unfortunately, Replay FX, which is the location that usually hosts ToonFest, recently announced their decision to cancel all future events. We haven't been able to find another good place to hold future ToonFests yet, and with the continuing uncertainty of the pandemic, we're not sure it is wise to host an in-person ToonFest this year anyway. We know this is disappointing news, but it doesn't necessarily mean ToonFest is gone for good!
In addition, while the ToonFest celebration in 2020 was a blast for everyone, the Toontown Rewritten Team is currently working on some other exciting projects to celebrate Toontown in other ways this year. Unfortunately there's still a lot of uncertainty in the air, and we don't necessarily know what the future holds. We sure are excited to find out though!
What about the ToonFest 2020 glasses?
You read that right: ToonFest 2020 glasses! After showcasing some fresh new glasses back during our ToonFest at Home event, we've been receiving lots of questions about when you'll finally be able to get your hands on them. Well, today's the day!
Right now, you can head onto the game and open your Shticker Books to redeem the code "ToonFest2020" and obtain a pair of limited-edition ToonFest glasses! You only have two weeks, or until March 6th before the code expires, so make sure to tell your friends and family before it's too late. But, hey! Do you want another pair of limited-edition ToonFest glasses!? Keep reading!
The ToonFest attendee code will be obtained a little differently this year. Since we can't hand out the codes in person, we're letting the community distribute codes instead! We'll be hosting several giveaways ourselves via Instagram, Twitter, and Discord, but we'd also like to recognize some Toontown Rewritten communities hosted by members outside of our team. That's why we're giving codes to our official Partners, who will be hosting public giveaways and contests of their own. Keep a lookout for those giveaways and contests, because they'll be popping up soon!
Can I have ToonFest codes to give away in my Toontown Rewritten community?
Yes! We're aware that there are lots of Toontown Rewritten communities who aren't partnered with us, and we don't want to neglect them. Therefore, if you host a family-friendly Toontown Rewritten community with at least 500 members, you can email us at support@toontownrewritten.com and we'll consider giving you some codes to hand out to people in your communities. Make sure to give us a link to your community so that we can join! Communities have until March 6th to email us inquiring about obtaining codes to give away.
Are there new Member Mailers yet?
Not yet, but there will be soon! We'll be sure to let everyone know via the Toontown Blog and all our social media accounts when we have a new set of FREE Member Mailers ready for delivery. In the meantime, you can be sure that we're working on ordering lots of ToonFest 2020 merchandise for future Member Mailers.
---
Enjoy these brand-new glasses, Toons! We're sorry for the delay in getting them released, but we have no doubt you'll love them just as much as we do. Be sure to tell your friends and family to redeem the code "ToonFest2020" before it's too late! As for this year's ToonFest, we aren't entirely sure how we plan on celebrating, but we'll let you know as soon as we find out. Thank you, and stay Tooned!
March
Posted by Cassie Peppercakes on March 14, 2021 at 2:00 PM
G'day, mates! It's good to be back ere' on the Toontown Blog. If we ain't met before, the name's Cassie Peppercakes! I'm a member of the Toon Resistance's Cashbot operatives, and the master of all things gags. I may ave' seen some of ya back during Operation: Crash Cashbot Headquarters!
Now Flippy, mista' president himself, usually does the introductions for this very special day. After all, today is the one and only Pie Day! Still, Flippy is a busy fella. He's off doin' something with that ball of energy he's got. I am, of course, talkin' about Fluffy. Say, we should be hearin' more from that Doodle next month!
As with every Pie Day, throwable pies are available in Toontown Central! Just walk up to Flippy's ol' pie stand to grab a case full of em. Last year, I conspired with Colonel Crunchmouth to create a pie hotter than an Australian summer. This year, I've gone back to basics, opting for a more traditional whole cream pie. After all, we don't want no Toons gettin' burned!
And with that, I'm back to my normal Resistance duties. I've been keepin' a close eye on them Cashbots since we crashed their party. Nothin' to report for now, but you can neva' be too sure with them greedy types. For now, I wish you a Happy Pie Day!
Posted by Julius Wheezer on March 15, 2021 at 2:00 PM
Greetings, Toontown. Forsooth, I am Julius Wheezer, esteem'd direct'r of Toontown's finest Shakespearean theatre company. While others may parody Shakespeare's legacy with names like "Shakesdeere," I believeth in an authentic experience.
Yond is to sayeth, mine wage hast been very tight recently. As it turns out, hiring performers to worketh in fifteenth century conditions is very sore. To receiveth through mine own financial hardships, mine own handeth wast did force. I tooketh out a loan with the dread'd Loan Sharks.
I haven't been able to payeth back mine own dues, and anon they hath called upon the Lawbots to collect. As in Sheakespeare's tragedies themselves, the Back Stabbers has't mega-invad'd Toontown, and they're out for me!
Nay, not coequal Marc Antoony, mine own trusty director, can save me. I am at the mercy of the Toon Resistance to destroy the Cogs and save mine own theatre company! I implore thee to help me!
Posted by Rainbow Rori on March 17, 2021 at 12:00 PM
Hello, Toons! It's Toon Trooper Rainbow Rori here, and today is my all-time favorite holiday -- St. Patrick's Day! What a wonderful, wonderful day. Well, it would be if those nasty Penny Pinchers hadn't come to ruin it!
Penny Pinchers have been invading town in search of Toons who aren't wearing green to pinch. Thankfully, there's no need to fear -- not with the Resistance Rangers and Eugene here!
My fellow Irishtoon Eugene down at Green Bean Jeans on Oak Street has been laboring away all week preparing for St. Patrick's Day, and you can bet your four-leaf clovers he's more than ready! For a pair of temporarily green gloves to prevent those pesky Penny Pinchers from pinching you, visit Eugene and say, "It's easy to be green!" from your SpeedChat menu.
I'd offer to fight those Penny Pinchers off myself, but I have loads of gardening to get done (and I'm not too fond of Cog-fighting anyways). Can't have those green plants all over Toontown going BROWN! Not on my watch, especially not on St. Patrick's Day, when everything ought to be green, green, GREEN! Instead, I asked Lord Lowden Clear to deploy the Resistance Rangers, and he assured me his Rangers will bring plenty of green Cashbot Cog-Crusher outfits to give away to Toons who are willing to help out. Those beautiful green outfits will surely keep unsuspecting Toons safe from pinches!
Off I go to the gardens for now! I'll be busy as a bee today for sure, but if you're lucky, you just might catch me taking a break in one of the playgrounds today.
Posted by Flippy on March 18, 2021 at 2:00 PM
Oh, alright, Fluffy -- one more jellybean, but that's it. I know I said we needed to get rid of all these beans, but if you eat any more, we'll be paying a visit to the Doodle Doc!
Hello, Toons! Flippy here. It's been a couple months since I last took to the blog, but I've returned with exciting news. I apologize for my absence on Pie Day, but I had my gloves full with urgent Toon Council business. See, by pure chance and perhaps a little St. Patrick's Day luck, Fluffy got to digging beneath the Toontown Bank -- and discovered a hidden vault of jellybeans!
Banker Bob wasn't too surprised to hear the news. Turns out, he misplaced the entire vault years ago when looking for a good spot to hide it from the Cogs! Who would've thought it was right underneath our noses all along?
The Scientoons were astonished. In fact, the news just about knocked Doctor Dimm's lab coat off! He ran a boatload of tests to ensure these jellybeans' Silly Levels were on par with the Toon Council's standards. A boatload of taste tests, that is.
The Scientoons put their heads together to think about what to do with all these jellybeans. It took up nearly every last silly cell of their brains to think up a solution, but we've figured out what has to be done! To ensure that not a single jellybean goes to waste, the next three days will be Double Bean Days! Grab some friends and hop on the Trolley, because from today until March 21st, all Trolley games award DOUBLE JELLYBEANS! Have fun, and Toons of the world, spend wisely!
Posted by The Toontown Team on March 27, 2021 at 2:00 PM
Greetings, Toons! Today, we're here at Spaghetti and Goofballs to enjoy a meal and interview with Iceman, who is a member of the Toontown Rewritten Partner Program. Iceman is an enthusiastic Content Creator who streams all his Toontown Rewritten rendezvous on Twitch, and in-game he's better known as Moy, a big blue dog Toon. Let's get right into the interview!
We'll start with the basics, Iceman. How did you first get involved with Toontown and streaming, and since then, how have your streams developed and changed over time?
I first got involved with Toontown Online back in 2010. I remember seeing an advertisement for the game and joining just in time to experience Operation: Storm Sellbot, which made me fall in love with the game more. I actually started streaming about a year ago! I remember it clearly. It was May 4th when I decided to press the streaming button and stream some Toontown Rewritten with a couple in-real-life friends of mine. My streams back then were way different than how they are now. First of all, my streams were in a 4:3 aspect ratio, which I believe is the original aspect ratio for Toontown. I was also shy and quiet, but streaming has allowed me to become more outgoing and confident. I also feel like my streams are now what I've always wanted, which is a place where people can come by and have some fun!
Your streams are certainly fun, both to participate in and watch -- I can definitely vouch for you on that! One interesting thing about you is your name. Would you mind telling us how you came up with that?
I actually didn't come up with Iceman! A family member actually made a Playstation account for me back then and gave me the username "Iceman," and ever since then I've used it. I think the name "Iceman" was given to me because I like the film "Top Gun," and one of the pilot's call signs in Top Gun is "Iceman." While I don't have a definite answer of how they came up with the name for me, I definitely think it had something to do with me wanting to be a pilot.
That's really interesting! I haven't watched Top Gun before, but it sounds like a super fun movie. I know what I'm watching on my next movie night!
A lot of Toontown streamers say their favorite part of streaming is getting to interact more with the Toontown community on a personal level. This being said, how has streaming helped you interact with the Toontown community, and what's your favorite aspect of the community?
My favorite aspect of the Toontown community is how kind this community is. The Toontown community is one of the most caring communities I have ever been a part of. Streaming helped me find out about certain aspects of the Toontoon community such as the Soundless Cult, Uber Alliance, CCG, streamers, and even more wonderful people! Streaming has certainly allowed me to bring a community together to create change and have fun. Last December, I did a charity stream for the Make-A-Wish foundation, and it was so nice to see the community come together to help raise money for a great cause! I also love hosting events for the community, for example, doing long streams and giving away things such as in-game items. I really enjoy just having fun with the community and creating great experiences with them. Thanks to streaming, I have met some wonderful people in the community and created some great friendships with other fellow toons such as Shoomyshamy, Maxuhmillion, and many others.
That's fantastic to hear! When you aren't busy busting Cogs, what's your favorite thing to do in Toontown with these new friends?
I LOVE GOLF, it's always a fun relaxing thing to do after busting cogs. I am a huge golf lover. I love playing golf with other fellow Toons and like to make some fun challenges such as trick shots only. I hope one day I can play a golf match with Flippy and Clerk Clark to see their skills.
Now that would be a fun game of golf! Hopefully one day you'll be able to make it happen. In the meantime, keep up the practicing, Iceman. It sure was great talking to you, and I can't wait to see what fun ideas you come up with for your next stream. Toons, check out Iceman's Toontown Rewritten streams anytime with the button down below. You won't regret it!
April
Posted by Clerk Poppy on April 1, 2021 at 12:00 AM
Citizens of Toontown: WE NEED YOUR HELP! At the stroke of midnight, all of the Doodle rescues across Toontown suddenly went out of control with silliness. Before our Pet Clerks could even grab a bottle of seltzer, the Doodles were bouncing off the walls and straight out of the door! We could have sworn that we even heard a few speak... Like, really speak.
They say that Doodles are a dog's best friend, which is the only reason we can imagine that Flippy has sent his very own Doodle, Fluffy, to investigate this emergency in place of a Toon Trooper. You can't make this stuff up, folks.
Word has it that Fluffy is walking around Toontown Central and enlisting Toons to help him find his friends with two new ToonTasks! One of the ToonTasks will reward you an old favorite April Toons Week outfit, and the other comes with a brand new accessory: The Emergency Cream Pack! (A Toon named Wess designed this accessory themselves, and won a contest to have it created by the Toon Council. Thanks, Wess!)
Don't get us wrong, we have...some amount of faith in Flippy's faithful sidekick to help out. Just in case he gets sidetracked by a nearby flying pie, however, we came up with a backup plan. Starting today, you can help us on our Doodle hunt by playing one of the two brand new Trolley Games!
The first one, Doodle Roundup, allows you to compete with your friends to wrangle the most runaway Doodles! In the second game, Spotlight Search, one Toon uses a flashlight to find up to three others who are hiding in the maze! Be sure to let the Toon Council know what you think of these games through our support email or the official Toontown Discord Server, as they'd love to hear about which one is your favorite.
To celebrate these brand-new Trolley Games, you can find a new furniture item called the Trolley Toaster in your next Cattlelog issue.
All of this means we're getting two new ToonTasks, two new Trolley games, and two new items TODAY! Plus, since it's April Toons' Week, I've heard from Loony Labs that you can expect double Silly Points and shorter Silly Meter cooldowns as a result of all of the silliness and pranks happening around Toontown! Check out the release notes below for a full list of changes.
Anyhow, I better run -- literally. It looks like the Doodles have started putting us Pet Clerks up for adoption! See you on the Trolley!
Posted by a Golf Ball on April 11, 2021 at 2:00 PM
Have you been enjoying MiniGolf, Toontown? Ohohoho, we thought NOT. For years, our reign over Acorn Acres has been absolute. While you Toons may have thought we were run-of-the-mill Golf Balls, we've been evil Golf Balls this whole time! All along, we've been silently playing our part, casually disobeying every law of physics in the book. You thought that it was a mole ejecting us from the holes? You've been duped -- by us.
Years ago, Sir Max thought for certain that he had gotten rid of us. The fool. He even called in the Toontown Police Department on us -- but the joke is on them! With our physics-defying abilities, no cell in Toontown can hold us! Passing right through the wall was a cinch. Once I rolled my way back into the Golf Ball supply, it was all over. Not one Toon could stop our rampage!
Why am I telling you all of this? Well, to be honest -- our contract is up. Those crazies back in Loontown, our old business partners, have given us another offer we simply cannot refuse. They say that one bad apple spoils the bunch, so once we hightail it outta here, the bunch will be back to normal. That is to say, MiniGolf is finally fixed.
I'd ask for your forgiveness, but I don't really care! Loontown loooooves a Golf Ball that breaks every law of physics. Come to think of it, nothin' really makes sense over in Loontown. Best not to think about that. Well, happy trails! Sayonara, fools! See you never! Bahahahahaha!
Posted by The Toontown Team on April 18, 2021 at 3:00 PM
Welcome to a special Backstage Toontown update. This may seem out of the blue, but it's already been seven months since ToonFest at Home! The team has made tons of progress on both Sellbot Field Offices and other content since September -- and in a continued effort to provide transparency with the community, we've created a video detailing the current state of our ongoing projects. Check it out below!
Not able to watch the video right now? Here's a quick rundown:
More smaller-scale content is on the way from our newly-formed "Next Update" team!
The v2.8.0 Update for April Toons' was the "Next Update" team's first release, and more content will be coming from them down the line.
We've provided updated estimates of completion for the Sellbot Field Office expansion.
Two important aspects of this expansion have made significant progress, reaching a Beta state: the Sellbot Task Force Hideout & the Ice Game.
Between "Next Update" and Sellbot Field Offices, our team has been so excited with the progress that we've made. Thank you all so much for your patience as we approach the finish line with Sellbot Field Offices -- and be sure to keep a look out for the things that the "Next Update" team are working on! No matter the project, we really cannot wait for you to see what we've been up to!
Posted by The Toontown Team on April 28, 2021 at 2:00 PM
If you love Facebook and Toontown Rewritten, the Toontown Rewritten Facebook Group is the place for you! We recently met up with five of their representatives -- Rebecca, Lee, Jini, Caleigh, and Moonless -- to see what they had to say.
For those who are unfamiliar with the group, Rebecca (a Cartoonival Blue mouse named Kaelyn in-game) describes the Toontown Rewritten Facebook Group as a community dedicated to everything relating to Toontown Rewritten. Toons are invited to ask for help with gag training and ToonTasks, celebrate accomplishments like maxing gags or Cog suits, and share their Toontown artwork -- and that's only the beginning! Keep reading for the Toontown Rewritten Facebook Group's full interview.
I'm excited to meet with you all and ask some fun questions! My first question is for Jini, who is better known as a Toon named Polar Bear E. Bearzerk in-game. So, Jini, what kinds of tomfoolery does the Toontown Rewritten Facebook Group get into?
We don't actually make mischief but may get into mischief in the game. Many of our members have multiple accounts, and management of so many Toons can get rather tricky! Mischief randomly happens when Toons don't realize that a person is actually playing more than one Toon!
Witnessing multi-Tooning in action for the first time is definitely an exciting experience! I can see how that would be confusing, especially for new players. In fact, for several months after discovering multi-Tooners, I still couldn't figure out exactly how they did it!
My next question goes to Lee, who you may have met in-game on his Toon, Jinx. Lee, how has Facebook as a platform helped the Toontown Rewritten Facebook Group and its members connect?
It helps many users connect with new, existing, and old Toontown players around the world to share their nostalgia, knowledge, and experiences. It also helps Toons find groups, friends, and even support along the way.
That's awesome! A majority of the Toontown content creators and communities are located on platforms such as Twitch, YouTube, and Discord, so it's always nice to find communities like yours who utilize other platforms too. My next question goes to Caleigh, whose main Toon is a spooky purple cat named Asuna. Caleigh, what's your favorite part about being involved in the Toontown Community?
My favorite part about being a part of the Toontown community is being able to help smaller Toons who are just starting out. I remember being a baby Toon and not knowing what to do and being a little intimidated by everything, and I met one of my BEST friends when I was 17 Laff. Since then, I've made a few friends who I've also helped in their Toontown Rewritten journey, and it brings me so much joy to see them thriving and having a blast!
Aww, that's a great answer! We all have to start somewhere, and having another kind Toon offer to help out is always sweet. We have room for one more question, so we'll let everyone answer this one! What is everyone's favorite Trolley game, Moonless?
I would say my favourite Toontown Trolley Game is the Maze Game. It has remained my top game since 2008! Kaelyn's favorite is Doodle Roundup, Jinx's is Tug of War, Asuna's is Maze Game, and Polar Bear E. Berzerk's is Ice Slide.
Those are all super fun, and I'm glad to hear that one of the new Trolley games, Doodle Roundup, is becoming a favorite! I'd like to thank you all for meeting up today for this interview and for taking part in the Partner Program. Your community has flourished so far, and I can't wait to see what comes next. For anyone else interested in joining the Toontown Rewritten Facebook Group, click the button below!
---
Disclaimer
Facebook's Terms of Service require you to be at least 13 years of age and the minimum age of digital consent in your country to use their platform. Toontown Rewritten is not responsible for this Facebook group nor for Facebook as a platform. Furthermore, Toontown Rewritten has no control over what content is posted or shared. As this Facebook group is run by a Toontown Rewritten Community Partner, though, we can ensure that any content in this server is PG-13.
May
Posted by The Toontown Team on May 13, 2021 at 2:30 PM
We're back for another Partner Spotlight, this time featuring Yoshi! Yoshi is a fun, positive Toontown Rewritten streamer who always has a smile on his face and a joke on his lips. We recently met up with Yoshi to ask him some fun questions to get to know him better, and you won't want to miss his responses!
So Yoshi, how long have you been streaming, and what first got you into it?
I started streaming around 2018 just as a fun thing to do whenever I was bored and did not have any schoolwork. The idea of streaming was something that me and my friend David (Master Dynamite) came up with. Back then, I would play games on steam and usually there would not be commentary. I didn't really get into it back then and took a break. During the summer of 2019, I started browsing Twitch and getting into Toontown Rewritten when I thought about joining the streaming community once again. I got back into streaming in fall 2019 and decided to start playing Toontown on stream. Now here I am in 2021 streaming whenever I get a chance, whether it is Toontown or another game!
That's awesome! We're definitely glad you were able to get back into streaming after taking a break -- if you hadn't, we might not be here interviewing you today! Something a lot of other streamers have told us is that streaming helped them make new friends. How has streaming helped you connect with the community and meet new people?
A lot of my friends that join my streams are people I met during my Toontown Rewritten streams. I think that streaming in itself allows me to create bonds with others in a way that might not be possible by just playing the game normally. There are a lot of people out there who have a love for the game or just a love for bonding with others over the game. One of my best friends who I met through the Toontown community is a fellow Toontown Rewritten partner, Domino. Streaming to the community also allows me to play the game with others while also keeping my own sort of spin on the game, whether it is in the form of humorous commentary or the music and sound effects from my own custom music pack!
Speaking of your music pack, several of us on the team have heard about it and are anticipating its release. It's great to hear you talk about it! Can you tell us anything else about your upcoming music content pack?
My next content pack is still in the works but is definitely going to be great. This pack is going to be a Paper Mario Sound Pack. What that means is that I will be replacing a bunch of the music from the game with tracks from any of the six Paper Mario games. I will also be messing with some of the sound effects and throwing in sound effects from the Paper Mario series too. For example, I plan on replacing the music in Daisy Gardens with the music from Flower Fields from Paper Mario 64. Also, a battle in a Cog HQ would trigger the music for a mini boss from The Thousand Year Door. The last bit of insight I will give you is that The Ultimate Show will play during one phase of the C.E.O.'s boss fight. As for the rest, I'll leave that for you all to figure out.
That sounds super exciting, and we can't wait to try it out! Looks like we're running out of time, but I have one last, silly question for you. What is your favorite Toon species, and why?
My favorite Toon species... I love all the species in Toontown, but I gotta say the dog. Now this might be a bit biased, because my original Toon and my current Toon are both dogs, but honestly, there is just some sort of charm to them that I kinda enjoy. I've always been a big fan of dogs, and the species in Toontown is no exception.
We should've guessed! Your Toon sure looks dapper in his Cartoonival Pink shade and fancy top hat. Thanks for meeting us today and giving us a sneak :peek at your upcoming Toontown music pack, Yoshi. See you around Toontown!
If you want to join Yoshi in-game for his next Toontown Rewritten adventure, click the link below to check out his Twitch channel!
Posted by The Number Crunchers on May 17, 2021 at 2:00 PM
Do you know what today is, Toons? I wouldn't be surprised if you didn't -- you're too busy throwing your silly parties, competing in silly games, and playing silly jokes on Cogs to ever know what's going on. Bah! What a waste of time, and more importantly, money. Time is money, after all.
Toons, let it be known that today is Tax Day! If there was ever a time to throw one of your wasteful celebrations, today would be it. Perhaps you could throw a little pity party in the conference room while thinking about the abhorrent amount of time you've spent having "fun." In fact, the Chief Financial Officer has graciously allowed the Number Crunchers to hold a little celebration of our own...
In honor of our personal favorite holiday, the Number Crunchers will be taking over the streets of Toontown all day. In the meantime, I advise you all to stay home and out of the way -- that includes the Resistance Rangers, mind you -- to let us Cogs do our job.
You can be sure that any Toon found roaming the streets on our special day will have their taxes calculated and tabulated by a Number Cruncher. I assure you, we will be as efficient as possible in confiscating your ludicrous "Laff" and "gags" and sending you back to the playground where you belong. Don't try to stop us, Toons, because it won't be smooth. It's crunch time.
Posted by The Mr. Hollywoods on May 25, 2021 at 2:00 PM
"It's a Yesman! No, a Glad Hander!"
Bah! We're the Mr. Hollywoods, and we're sick of being mistaken for such inferior, low-level Cogs. We've worked hard to reach this level of prestige and fame, so the least you could do is call us by our name, Toons. We're so famous, in fact, that we often work in the Sellbot Towers with the Senior Vice President of Sales himself!
Most Cogs would cheat for an opportunity like that, but the Mr. Hollywoods were born to be seen and adored by Toons and Cogs alike. So for the next few days, the Mr. Hollywoods will be taking over Toontown! We encourage you all to flock the streets for a chance to meet us, but don't get in our way. Otherwise, we'll have to send you back to the playground, where there are no Mr. Hollywoods to admire. You wouldn't want that, would you?
Although, we've heard that you Toons will be sending out the Resistance Rangers to do your dirty work. Therefore, we'd like to give you a warning that we'll make a great show out of any "Ranger" who tries to get in our way. You won't want to miss the curtain call.
June
Posted by The Toontown Team on June 2, 2021 at 2:00 PM
Get out the TNT-filled party poppers! Grab a slice of Birthday Cake! It's Toontown's 18th Birthday, and we have big things in store for today's celebration. As of today, we're officially launching the largest archive of never-before-seen Toontown Online history to date: The Toontown Preservation Project!
I'm Brad from the Toontown Team, and I'm one of the curators of this new project. My official jobs for Toontown may be Creative Writer and Social Media Specialist, but I tend to end up working on a whole mess of other things too. Today, I'm here talk about what the Toontown Preservation Project is, and how you can help us with our efforts to keep every bit of Toontown alive!
In case it's not obvious -- Toontown Online is very important to me. This game introduced me to some of my greatest friends, and helped me through the toughest of times in my life. To say that this game helped shaped who I am as a person would be an understatement. Thus, I didn't hesitate for a moment to be a part of this special project to give back to the Toontown community in the same way it's given back to me.
We never want the memory of Toontown Online to fade away, which is a large part of our goal of running Toontown Rewritten. The in-game portions of Toontown Online are just one piece of this, though -- Toontown stretches far beyond the reaches of our screens, and we wanted to find a way to preserve every single piece of it forever, for free.
To that end, we've spent a long time figuring out the best way to put together a mini-site to preserve all of the bits of Toontown Online that we can't preserve with Toontown Rewritten alone. Without further ado, I present to you The Toontown Preservation Project!
---
What is the Toontown Preservation project?
Right! That's probably an important thing to tell you. The Toontown Preservation Project is a mini-site dedicated to archiving the history of all things Toontown Online that can't be achieved with Toontown Rewritten alone. On the website, you'll find a digital museum of Toontown's development history, promotional material, and more.
For most folks, you'll be most interested in just browsing the digital museum to see all of the neat things we have on display. If that's the case, simply go to toontown.online and browse away!
If you're interested in the archival process, or even have some Toontown history of your own that you'd like to contribute, keep reading onward for details.
---
Where did all of this come from?
All over the place! Many Toontown Team members have spent years digging up pieces of Toontown Online history to assist us with developing new content for Toontown Rewritten, and we've even had a few former Toontown Online developers send us donations of things they've kept around over the years.
For all of the physical material that we've collected, we pooled together funds to have everything professionally scanned by an archival service. This took a lot of time and money -- not to mention the effort to categorize it all afterwards -- but we wanted to make sure that this was all done properly before putting it out on the internet forever.
This museum isn't anywhere close to being complete, however. We're still digging around for artifacts of Toontown's history. Hopefully, we'll have even more content added in the future by Toons like YOU!
---
How can I help?
I'm glad you asked! If you have official Toontown Online material that we haven't yet preserved, we would love to hear from you so that we can put it on display for the whole Toontown community!
The easiest way to contribute is by emailing us at support@toontownrewritten.com. In your email, we just ask that you provide three things for us:
Where your contribution came from
A high quality photo or scan of your contribution
How you'd like to be attributed on the Preservation Project website
Once everything is in order and we have a chance to review your submission, we'll host your contributions as soon as possible! Due to high volume, as well our limited volunteer hours that must be shared with other Toontown Rewritten projects, it may take several weeks for your submission to be posted.
---
Where can I view all of this?
Take a portable hole over to toontown.online! This serves as our separate mini-site that we'll be hosting for free as a community resource. Once there, be sure to read some of the Toon Tips on our home page to most easily browse the site.
---
With that, we hope that you enjoy everything that we've collected in the Toontown Preservation Project! Of course, we hope that this archive will keep growing with your help. Check back often to see what's new, and let us know about your favorite things on display in the comments.
Happy Birthday, Toontown!
Posted by The Toontown Team on June 13, 2021 at 2:00 PM
If you've been around the Toontown community for long, you've likely heard of a group called ATTA, which is short for Adult Toontown Addicts. If you haven't heard of them, you've probably at least seen members of their group running around Toontown. With creative names featuring "ATTA" like W'atta Dancing Queen, Atta Smile, and U. Atta Beme, they can be hard to miss. As one of the largest and longest-standing Toontown communities still alive, ATTA has a rich history that we couldn't wait to hear more about. We met up with almost a dozen of their leaders to find out what makes ATTA tick. For the full interview, read on!
We'll start with a nice and easy question: how would you describe ATTA to someone who's never heard of your group?
We're a Facebook group for Toontown Rewritten players who are 18+ years old. We offer hosted runs and special events in a private group where you can share your in-game silliness, along with questions, answers, and information about game updates. It's also a place you can get to know the person behind the Toon, if you want, or stay anonymous. While you have to be 18 or older to join our group, we also host many open runs for members of all ages that are shared in our sub-group, Epic Toontown Marquee, which we created years ago for our kids and grandkids.
That sounds fantastic, and I'm sure you guys have all sorts of fun together. It gets me thinking though, how exactly did ATTA begin? Let's have Cherie, the founder of ATTA, answer that for us.
It began as a simple idea after a night of laughter while playing Toontown with two of my adult friends. I remember laughing so hard I was crying, and then I said to them, "This was so much fun! We need more adult friends!" And then a light bulb went off. I thought, "What if there ARE other adults to play with out there!?!?" That was it: the spark that started it all. But that spark was merely a catalyst. The true life of ATTA lies in the people. In the beginning, those founding members brought their hearts, their craziness, their enthusiasm, and they poured it into ATTA. They helped me do everything from make up that awesome name, create and host new events, and drag new people into the madness. As we grew, we found new friends and invented new ways to have fun in Toontown. We laughed together, cried in the dark moments together, celebrated life events together… ATTA became more than just a bunch of people playing a game together. Christina and Eric took over ATTA in February of 2014 and proceeded to bring ATTA to Toontown Rewritten with the help of some amazing council members and hosts, who all share ATTA's vision for a fun, supportive, and safe community.
That's an awesome story -- really heartwarming. So you said the hosts of ATTA like to plan fun events for everyone to take part in. Could one of you elaborate on the kinds of fun activities you like to plan together?
Weekly Beanfests, Boss Cog runs, promotion runs, Building Busters, Doodle trainings, SOS shopping, Music and Mayhem, racing, golfing, Last Toon Standing, retro VPs, VP and CFO races, Battle of the Species, Easter Egg hunts, Polar Plunges, tournaments, and anything else our hosts can come up with! Many of our hosted runs and events are open to players of all ages.
Wow! I never knew there were so many different events held in Toontown. It's amazing that you've been able to come up with such a huge variety of creative games, activities, and competitions to spice things up. It sounds like some of those activities include battling the Cog Bosses! Which of the four Cog Bosses is your favorite to take on, and why?
Brenda: I like them all, but my favorite is CJ where teamwork is what makes this a fast and easy run. Love being able to call invasions, Cogs and buildings for others.
Chris: CEO is my all time favorite because I feel I have better control in CEOs than in VPs or CFOs where we're reliant on VP stunners & CFO craners. I also love that FIRES are the one gag type that never misses!
Deanna: Oh, it's difficult to choose! My favorite would have to be CFO because I enjoy crunching and tossing goons. Unites are fun, too.
Elma: Favorite boss is CFO, I could easily just do that over and over. I however host a CEO with 2 awesome co-hosts and we have built a great base of regulars that come to that run again and again for the last 3 years so that might be my favorite run.
Eric: Honestly? I love them all. I know that's kind of a lame answer, but it's true. I used to despise CJ, though and over the last year or so I have come to really enjoy it. Especially since I have finally mastered stunning.
Heather: Well, I have two top favorites. VP is one because it's the first boss that a Toon can go to and two I love to do shopping. My other one is CJ because of the rewards that it gives and doing it with friends that make it fun.
Sounds like you've got lots of different opinions among your group! It's been fantastic talking with and getting to know all of you, and I think we've got room for one last question. It's clear to me that you all love what you do, but what are your favorite parts of being members and leaders of ATTA?
Carol: When I joined ATTA, I was amazed by all of the runs. Being Brazilian and unable to speak or understand English, it was amazing how accepted I felt. My favorite thing is to give back, to help others to feel accepted like I was.
Jenny: My absolute favorite thing about ATTA is the amazing community we have. I have met people that have become my family thanks to TTR and ATTA. I have friends all around the world– even though we are far apart, we cry together, laugh together, celebrate victories, and mourn losses. Being a part of the leadership team gives me the opportunity to give back to the community that has become such a large part of my life.
Jon: As a member of ATTA, I like the helpfulness of the other members if and when needed. As for the leadership portion, I can't say; I just make posters and videos when crazy ideas come from my one brain cell.
Suzie: Meeting and making friends with people all over the world. Helping people with questions or helping with their first boss run when they are scared to do the boss.
Will: The best part of being a member is getting to help other folks. There's always someone who's trying to figure out the best way to catch those last few fish – or find the 'Just for Fun' task they want – or even just needs a little help polishing off those last few 5 story Cog Buildings. The best part of being a leader is giving back some time and energy to a really great organization that helps bring fun to a lot of people.
I'm so happy to hear about these awesome things that you've experienced with your time in ATTA! It's clear to us how important ATTA is to every single one of you, and it's amazing to see that love being given back to the community. Thank you to ATTA for taking the time for today's Partner Spotlight, and for anyone interested in joining the fun, click the button below!
---
Disclaimer
Facebook's Terms of Service require you to be at least 13 years of age and the minimum age of digital consent in your country to use their platform. Toontown Rewritten is not responsible for this Facebook group nor for Facebook as a platform. Furthermore, Toontown Rewritten has no control over what content is posted or shared. As this Facebook group is run by a Toontown Rewritten Community Partner, though, we can ensure that any content in this group is PG-13. Additionally, to join ATTA, you must be at least 18 years of age.
Posted by The Moon on June 26, 2021 at 2:00 PM
Heeeeyyyyy, folks. Call me cheesy, but I don't think we've been properly introduced. The name's Loon-a, but most folks just call me The Moon. Most've you cool cats ain't even seen me around -- sticking in the eternal sunshine of Toontown Central. I see you Toons who hang about in the Dreamland, though. You're all real ones.
That Sun has been busy focusing on his "summer" shenanigans around town, blissfully unaware that the night is sneakin' up on him. I'm gettin' ahead of myself though. I come to you folks today with some exciting news: I'm endin' the Sun's reign over the Toon Estates, and bringin' my own flair to the place you call home! Let's get this party started!
Let me be clear: the choice is actually yours. Whether you want the eternal daytime of yesteryear, a party all night with yours truly, or anywhere in between -- you've got options. I've done a lot of negotiating with the folks at the Cattlelog. Soon, you'll be able to choose the time of day at your estate! Just between you and me, I know you'll be going for that whole night party thing. It'll be sweeeeet.
But that ain't all that'll be coming to your Estate. One of the perks of being up in the sky is that you get to hear everything goin' on round' town. I've done some snooping and it sounds like the fellas over at the Cattlelog have been testing out some seasonal options for your house exterior! They'll be releasing new options seasonally, with the summer-themed exterior being a "Cherry on Top" cupcake house. Cupcake houses? Hah, what'll they think of next? Some kind of hut?
According to the folks at the Cattlelog, all of these changes will be wrapped up nicely in the 2.9.0 update -- which ain't here just yet. Speaking of updates, I wonder what that solar fella across town has been up to? Sounds like he wants to make this the best summer yet, or whatever baloney he's tryin' to spew. Guess we'll just have to see what he's got planned soon.
Posted by The Sun on June 27, 2021 at 3:15 PM
Get your shades ready. It's time for the number one ball of gas, absolutely BRIMMING with class, the bourgeoisie of vitamin D, the real star of the show: The Suuuuuunnnnn!
GOOD AFTERNOON, TOOOOONTOWWWWN!!~~
Thank you, thank you. I have a lot of important news to get through, though, so try your best to hold your applause until the very end. I know it will be hard with all the astronomically awesome deets I'm bringing you today, but it's well worth it. I hope you're ready... Today's the day of Toontown's 2.9.0 Update -- the Silly Summer Update!
The Moon just visited the Toontown Blog himself, and good for him. He's got some stuff in the freezer for the update, so check it out too if you're interested in that sort of thing. However, there's no way I'm going to let that Moon think he can eclipse ME! It's summertime in Toontown, which means I've got the leg up with extra long days.
Now, you can get the leg up on your competition too. By double-tapping the forward button, all Toons can now sprint! Much like Loon-a, I've been silently listening to what you folks have been asking for. But I will remain silent no longer! Sprint around town to your heart's content!
If legwork isn't the thing for you, maybe you can shine over at Goofy's Speedway. Rev up your engines, Toons -- racing controls have been overhauled. Karts are faster and more responsive to input... plus, you can honk! That'll come in handy next winter when that Moon thinks he can hog the sky lane.
Whether you're a beginner kart-driver or an expert, you'll want to check these out -- especially those of you holding out on earning your last few trophies. Yes, you! I see you! I see ALL of you! There's no need to spend every waking hour of my beautiful summer days working for those final trophies, as racing and golfing trophy requirements have been rebalanced.
Already earned those trophies? Fret not, for all Toons who have already earned every single Racing or Golfing trophy prior to this update will be mailed the exclusive, new, out-of-this-world "Triumphant" nametag to commemorate their hard work!
Better yet: earning every trophy in one activity -- that includes golfing, racing, fishing, and gardening -- rewards you with a proper fanfare and an exclusive, themed outfit perfect for bragging about! This goes for every Toon in town, even if they earn all the trophies after today.
As part of the summer fun, Cast Member Badges have all received a brand-new look. Keep your eyes peeled for the new "Featured Toon" badge, too. This pink badge identifies well-known Toons such as Flippy, Doctor Surlee, and Lil Oldman! I do see all from on high in the sky, and it does seem like one will be making an appearance soon.
And with that, I take my curtain call. Between what that Moon rambled on about yesterday and all of the things I've announced today, this will be the greatest summer that Toontown has ever seen.
...Now you may clap. Have an absolutely Silly Summer, Toontown!
July
Posted by Firequacker on July 4, 2021 at 2:00 PM
KAPOW! BOOM! POP! Let's get quackin', cause' it's Independence Day -- my favorite day of independence!
The name's Fifi, but most folks just call me Firequacker. If you didn't know, I'm the most independent duck in all of Toontown. Hence why they named this day after me. Did I mention it's my birthday too?
If there's one thing I love more than being independent, it's explosives! Ooh, ahh! Everyone loves a good explosive! And that's why I, a Resistance Ranger with a love of all things kablooey, have been called upon by the Toon Council to light it up like dynamite!
Using my signature style (Hint: explosions!), I've completed both of my duties with style and grace. Fireworks? On their way. Cogs? On those fireworks. Just doing my job. They'll never know what hit em'! Summer Fireworks start now, every hour on the hour -- and will last until July 6th at 11:59 PM Toontown Time (PDT). Each firework has been lit with love.
My bill may be big (ha!), but this many fireworks is quite the bill for a Toon like me. I usually foot the bill, but… perhaps a run to the Cashbot Mints are in order. Oh well, more cannon fodder for me to explode!
Posted by Cindy Sprinkles on July 23, 2021 at 2:00 PM
Hay, y'all! As Toontown's supreme sundae supplier, I know a thing or two about cool summer treats. Name's Cindy, and I run my own lil' ice cream shoppe down on Punchline Place. With all the summer fun that the sun has brought to town, business has been boomin'! I ain't ever seen this many Toons ordering my signature Silly Sundae Supreme before.
But that got me thinkin': what more can we be doing to celebrate the best season of them all? Now, I may not be much of an artist, but I do know summer style when I see it. To that end, I've decided to host a Summer-themed Community Spotlight right here on the Toontown Blog!
What you gotta do is simple, just show off the true meaning of Silly Summer Fun! Of course, every Toon's got a different way of expressing themselves. 'Cause of that, there are two types of submissions you can send in: Art and Toontown Screenshots! I'd also appreciate a caption for what you send in, explaining just what it is that you love about summertime.
Sending your stuff over to me is a snap! Of course, you can post it on social media using #ToonEnough. If you ain't comfortable doing that, just email it over to our Support folks at support@toontownrewritten.com with "Spotlight" in the subject line!
I'll be pickin' out my favorites and posting them to the Toontown Blog in two weeks from now on August 6th. Be sure to get your submissions sent out before then!
Oops, there's no time for me to be blabberin' about this silly ol' spotlight for now! There's a line of sundae-starved Toons right outside of my door, and I've gotta get these orders filled! Have a Silly Summer, Toons!
Posted by The Toontown Team on July 28, 2021 at 2:00 PM
Did anyone else hear that crazy celebration going on recently? I know I did! After inquiring with several Toons about the mystery party, I came to the conclusion that it was hosted by Twitch streamer Domino in celebration of a special anniversary! I just had to know more, and who better to inform everyone than Domino herself? We've got Domino here with us today, ready to answer lots of questions, so read on to hear everything they have to say!
To start off, Domino, I'd love to hear more about that celebration you had! Care to give us the inside scoop?
Sure! I recently had my three-years-of-streaming anniversary! I celebrated by doing a 12-hour stream of everything Toontown. The way I celebrated is by fighting all the bosses in Toontown and working on a stream Toon, starting off with a CJ and ending with working my stream Toon. I also went from Spooky Purple to Orange!
That must have been a blast! Twelve hours of nothing but Toontown sounds like my kind of day. With that much time, you must've gotten a chance to do everything under Toontown's sun, but what about your regular streams? I know every streamer has their own schedule and routine, so how does a typical day of streaming look for you?
There is no exact way to say what my day looks like when I stream or before I stream, because they all start out differently! The one thing they do start the same with is a cup of coffee and a smiling face.
Spontaneous, eh? Sounds like a good motto, too: start every day with a cup of coffee and a smiling face! I myself prefer a cold seltzer bottle and a slice of cream pie, but to each their own. If you've done it for three whole years, though, it must be doing some good -- I'll let you off the hook for now! Speaking of three whole years, though: how did you first get into streaming, and how do you stay motivated?
I first got into streaming a year after I joined Toontown Rewritten, which was a year after I graduated high school. The way I stay motivated is through the community and the friends I've made along the way, including fellow Toontown Rewritten Partner Yoshi. I hope to meet more in the future!
I have to agree with you on that one -- the Toontown community can be pretty doggone motivating. Now I don't want to take up too much more of your time, so let's finish off with our Just-For-Fun question of the day! If you could work for any shopkeeper in all of Toontown, which would you choose and why?
I think I'd have to say Lil Oldman. Someone's gotta help him from losing more fuzzy dice!
That wizard is quite a handful, but I suppose you're right! Thanks for meeting with me today, Domino! It sure was a pleasure. Perhaps we'll meet over a seltzer bottle and a cream pie next time! Until then, keep up the Toonerrific entertainment. For you Toons at home, don't forget to check out Domino on Twitch using the button below -- you won't regret it!
August
Posted by The Sun on August 3, 2021 at 7:30 PM
The applause, it stopped?! Why, I thought that surely with all the rambunctious refinements I brought to Toontown, the clapping, nay, the silliness, would last through all of Summer. What's that, you say? You want MORE drastic developments in the Tooniverse? You want an encore? In that case, let's up the ante -- we'll make this Silly Summer a SUPER Silly Summer!
If there's one thing that exemplifies summertime more than anything, it's hanging out with your buds! I'm not talking about the rosebuds of Daisy Gardens -- although those are quite pretty during this time of year. I've spoken with the Toontown Planning Commission, and they've agreed to install something very special to every playground in Toontown. Starting today, benches have been added to Toontown!
I know, I know, benches don't sound like much -- but hear me out! Benches are the perfect way to foster a conversation. Sitting down with your pals is the perfect way to relax and strike up a conversation. Maybe tell a story to a group while sitting down. The possibilities really are endless, folks. Don't worry, this ain't hostile architecture!
But that's not all I've done. I've spoken with the Toontown Party Commission -- and for the first time ever, we're adding a brand new activity to Toon Parties! What could it be? Well, you may find it dizzying, if you catch my drift!
The endlessly spinning Merry-go-Round has come to Toon Parties! Just take one step on, and you'll spin around... pretty slowly. But grab more friends to hop on, and you'll spin round' faster than a hunter during wabbit season! Now, I know that a certain Cartoonival Blue rabbit has already done the whole Merry-go-Round shebang. But you know what they say, good stars borrow, great stars steal!
Speakin' of Toon Parties, the Toon Troop will be hosting Summer Parties every day for the next week. There ain't a better way to celebrate the Summer fun!
That is all I have for you this Summer, Toontown. I've put on quite the show, but now I must take a bow and exit stage left. There won't be any more encores from me this Summer, so I hope you've enjoyed the performance.
Once again, now you may clap. Have a SUPER Silly Summer, Toontown!
Posted by Sir Max on August 6, 2021 at 2:20 PM
Boy, Toons these days aren't nearly as zippy as they used to be. Everyone is just sitting on benches, riding Merry-Go-Rounds, and living inside of cupcakes! Back in my day, we'd build entire Trolley Games in a day... Okay, to be fair, Doctor Surlee gave us basically all of the schematics. Maybe we should have figured out the whole time traveler thing a bit sooner.
Anyway: Not every Toon is goofing off with benches and Merry-Go-Rounds like I have -- I mean, others have been! A group of Toons just like YOU have put together a wonderful event that starts today: ToonFest for Charity!
For roughly the next 36 hours, some of your favorite Toons in town will be streaming nonstop to help benefit the Children's Miracle Network Hospitals. Among those favorite Toons will be, of course, myself and a band of other Toon Troopers! You can "TOON" in from 6 PM to 9 PM Toontown Time to ask questions, sit on benches, and maybe ride a Merry-Go-Round or two for a good cause!
Don't just come for the Sir Max Show, though -- there are plenty of outstanding Toons who will be hosting until 12 AM Toontown Time tomorrow. In fact, many of the streamers will be giving away some rare ToonFest Glasses that you can have a chance to win just by following along with the event!
Ready to teleport over? Visit ToonFest for Charity by clicking the big yellow button below! Remember: This isn't an official Toon Council sanctioned event, so please ask a parent before stopping by. I'll see you there!
---
NOTE: ToonFest for Charity is an unofficial community event that is not sponsored by or associated with Toontown Rewritten. Donations are sent directly to Extra Life, an organization that benefits Children's Miracle Network Hospitals.
Posted by Cindy Sprinkles on August 9, 2021 at 2:15 PM
Gosh dang, y'all! Y'all really went and made this a Super Silly Summer! I know the sun in the sky gave a lil' bit of help, but like syrup on a sundae, y'all really stuck to it! I ain't ever seen so many Toons celebratin' the fun under that summer sun.
Y'all have brought the summer silliness, and I've brought the snacks -- some of my signature Silly Sundae Supremes. Plus, I've got another special treat to tell you about at the end of this Blog Post! Now, with all that out of the way, let's get this summer par-tay started!
Fun with Friends
When it comes to summer, there ain't nothin' like hanging out with your friends. With that said, that is an absolutely insane beach party that you've got goin' there, Joker. Not to mention the other fella with the Doodle! Friends come in all shapes n' sizes.
View spotlights here
Ice Cream Dreams
Dang, these fellas know how to spend summer -- eatin' ice cream! Not to toot my own horn or nothin' like that. I've made so much Ice Cream this summer, I don't know if I could even relax with the stuff! I'm glad that some of y'all are havin' a relaxing summer with this tasty treat.
View spotlights here
Poolside Paradise
Y'know, despite swimming pools being the pinnacle of Summer fun, I ain't ever seen any since moving to Toontown all those years back. Luckily, we Toons know the next best thing -- swimmin' in the lake... or... a geyser too!
View spotlights here
---
Just... wow. I've been makin' ice cream in here for so long, I never even thought about how many ways there are to have summer fun! Seein' all of y'all out there havin' an absolutely silly summer, well, it's inspired me! There's still time for us to make the most outta our summer!
To celebrate the Summer fun still ahead of us, I've set up some super special limited-time codes for y'all to redeem. If you type "silly-summer-fun" in your Shticker Book's code page, y'all will get two returning silly summer shirts in the mail! This code will be active til' August 23rd at 11:59 PM Toontown Time (PT), so be sure to redeem it soon y'all! Let's celebrate Summer together, and have a silly ol' time while we're at it.
Let's have a Silly Summer together! See y'all around Toontown!
Posted by The Toontown Team on August 20, 2021 at 5:30 PM
Eight whole years. That's a lot of time to be without a game -- a town -- that you've grown attached to. Yet eight years ago today, that's what the future looked like for Toontown Online. For some, their Toontown journey had only just begun. For others, the game had been with them for much of their lives. But together, we all had to give a sendoff in just one short month to a virtual world that had defined many of our lives...
Of course, the Toontown community is nothing if not vigilant. In just that one short month, folks from the community banded together, and after a post on the MMO Central Forums, Toontown Rewritten was born. Eight years later, we've had a lot of ups and downs -- but we're still here together as a community! On September 19th 2021, we'll be celebrating Toontown Rewritten's eighth anniversary in-game with a carnival like no other -- Toontown's Cartoonival!
September 19th may have once been a depressing end, but not anymore! After experimenting with a little system called the PlayLine, Toontown Rewritten was able to open its doors to all the Toons of the World. Without paying so much as a cent, thousands of Toons were able to return to Toontown once more! As they say, the rest is history. Today, we host the Cartoonival to celebrate all that we've got!
What is Toontown's Cartoonival?
The Cartoonival has a little bit of everything! From classic carnival prizes to Toontown's famous antics, there's no party quite like it. And don't forget Riggy Marole, the host with the most and self-proclaimed Emcee that keeps the whole event running!
What Happened to ToonFest?
You're probably thinking of the in-game ToonFest. The Cartoonival is a rebranded and spruced-up version of that event! After a fateful encounter, Riggy Marole needed a new name for the place. Thanks to the Toontown community's votes a new name was decided -- Toontown's Cartoonival! After some shipping delays last year, the new branding will be shown off for the first time this year.
What happens during the Cartoonival?
On September 19th, the Cartoonival kicks off with a series of blog posts by our very own Riggy Marole to keep you entertained and in the Toontown spirit. Here's a little synopsis of everything that the celebration has to offer:
Over in Acorn Acres, you can enter the Cartoonival Event Grounds to join the fun.
Enter the silliest area in Toontown with a giant Merry-go-Round, (Jelly) Bean Bags, and plenty of activities to keep you occupied while chatting up with friends.
A grand fireworks spectacular lights up the sky every three hours with a nostalgic Toontown melody, and if you come a bit early you'll be able to catch the sunset!
Earn "Cartoonival Tokens" to buy special items, accessories, and even two unique Toon colors -- only available once per year!
Meet the fleet of Token Takers, noted by their world-famous mustaches. You can't miss them!
Stop by and talk to Riggy Marole, the wackiest rabbit in town who acts as the emcee extraordinaire of Toontown's Cartoonival! Riggy's also got some fresh lines this year, so be sure to check them out!
Work together to dunk Cleff, everyone's favorite pie-loving duck from Minnie's Melodyland, in the Duck Tank! The more you dunk the duck, the more prizes you earn!
What is there to celebrate?
Toontown was supposed to close eight years ago, yet it's still alive and well today! With thousands of daily active players and lots of new content in the works, the Toontown community has proven that this is a game worth keeping.
Every September we take time to "Rewrite" the past with this event. What used to be the saddest day in Toontown's history now marks the beginning of Toontown's greatest celebration. Instead of a loss, we can remember a revival!
Of course, the Toontown Rewritten Team is hard at work to make sure that Toontown stays around for years to come. We're currently heads-down working on some very exciting stuff. We won't have much else to talk about regarding that until it's ready to go, but it'll be worth the wait!
---
We hope that you're excited to celebrate Toontown Rewritten's anniversary with us, and we sincerely thank you all so much for helping us make Toontown what it is today. Now that you've gotten to question us, we have one more for you:
Are YOU Toon Enough?
Posted by The Toontown Team on August 31, 2021 at 2:30 PM
If you haven't heard of the SOS Shopping Mall group before, I bet this title caught your eye! Shopping in a fight against the V.P? Isn't that against Toontown Rewritten's Terms of Service? Some of the time, yes! But it's a-okay for a group of Toons to enter a VP fight together with the intention of "shopping" -- in other words, repeatedly exiting the V.P. battle and trying again until the desired SOS Card shows up -- as long as they are all in agreement to do so. Remember, you should never go SOS Card shopping in a V.P. battle without checking in with your Boarding Group.
Better yet? Join the SOS Shopping Mall today, so you'll always be able to find a group willing to shop! Have questions? Keep reading to hear from Eden, Helios, Droopy, and Andrew, some of SOS Shopping Mall's staff!
First up, can you tell us all what your community offers?
Droopy: Here at SOS Shopping Mall we offer, well, SOS shopping! I know, I know, such a jaw-dropping revelation, right? Alright, I know I shouldn't drag this on, so let me cut to the chase. Our little community runs weekly SOS shopping marathons with the day and time decided by YOU! How do these runs work?
Eden: Wait, shhh....! Don't spoil it just yet!
Droopy: Oh, uh... Ahem, no matter what level your Sellbot disguise is or how much Laff you have, you are allowed to jump into our runs at any time! Oh, what's that? Not your cup of tea? That's alright! After all, we have something for everyone! While we don't run official marathons for doing your everyday non-shopping V.P.s, we do offer non-shopping groups along with SOS shopping groups through our server's group finder.
That sounds awesome! I can't wait to hear all about how these runs work. Speaking of, do you have any upcoming special events we should know about?
Eden: Unfortunately, we don't have anything planned... yet. However, in the meantime, everyone is more than welcome to join our weekly marathons! In fact, how about this? Come join us this week for our SOS Shopping marathon in Sellbot Headquarters, Thwackville on Sunday, September 5 at 4 P.M. Toontown Time (PDT)!
An invite to one of your runs? Now that's what I call Toontastic! Since we're going to be attending a run though, we need to know exactly what to expect. How do your SOS Card shopping marathons typically work?
Andrew: Glad you asked! I know Droopy almost got a bit ahead of himself earlier, but can you blame him for being so excited to be here? Our weekly marathons are a load-and-go scenario. However, once the initial run has been completed by all members, we stick with that group for the rest of the marathon! However, members are always allowed to jump into the group late, or new groups may be spun up at any time as the marathon progresses.
As a member of our runs, you can kick your feet up, grab a blanket, and just relax, for our staff spearhead the entire marathon! Well, actually, don't get too relaxed because we still need you! When there's an undesirable SOS card, we typically disconnect and meet back up in the same District we began in. Additionally, in each group, a staff member will be there to call out cards and record every run that is completed.
How do you determine which SOS Cards to stay for and which ones to leave for?
Eden: Well, we actually use a predetermined list of fourteen SOS cards we stay for: Clerk Clara, Barnacle Bessie, Flippy, Moe Zart, Sid Sonata, Franz Neckvein, Melody Wavers, Lil Oldman, Julius Wheezer, Professor Pete, Nancy Gas, Sticky Lou, Daffy Don, and a brand-new addition to the roster. Wait, what? Who is this new addition? Well, I want to keep you on your toes and your pies clenched a little longer, so I can't spill that yet!
SOS shopping runs done through our group finder, the Toon who creates the group will lead it and determine what SOS Toons the group stays for. Therefore, if you aren't able to make it to our marathons or just can't get enough of shopping, you can create one any time of the day as long as there isn't an on-going marathon.
Sounds like you guys have got this all figured out! If you could make one new SOS card to add to the current deck though, what Toon would it be and what would they do? We'll have Helios go first!
Helios: Anna from Anna's Cruises! She'd call a Toontanic that appears behind the cogs, then they'd board it and sink into the water. 5-star Squirt.
Wow! I've never seen a Toontanic used that way before, but it sounds like a great strategy. Hold on, let me write that one down. What about the rest of you?
Andrew: Zari from House of Zzzzzs! I'd make her a 5-star card that doubles Gag damage for a couple of turns.
Eden: Dumb Dolph (from I Can't Understanza! Italian Interpreting Services) - I know it's a bit of a goofy idea, but I'd love to see him use a Bike Horn with the damage of a maxed Foghorn, which would have a 4-star rating.
Droopy: Lord Lowden Clear, Mata Harry, Bumpy Bumpenhopper, and Good Ol' Giggles - They come in to provide you with a promotion of their respective Cog specialty!
Couldn't pick just one, Droopy? I completely understand! It's a tough question after all. Now it looks like we're running out of time, but is there anything else you all would like to share with us?
Helios: Yes! It's finally the moment you've all been waiting for: the new addition to our SOS roster! Drum roll, please. The new card is...CLUMSY NED! We are adding Clumsy Ned as a vote card for our marathons just for all of you Clumsy Ned lovers!
Whew, congrats to Clumsy Ned -- no more being left behind in that cage! With that said, that's all the time we've got today. Thank you to everyone for taking the time to read all about the SOS Shopping Mall, and if you'd like to get involved, be sure to join in their next run! If you'd even like to join their group, hit the button below to join their Discord server. See you in Sellbot Towers!
---
Disclaimer
Facebook's Terms of Service require you to be at least 13 years of age and the minimum age of digital consent in your country to use their platform. Toontown Rewritten is not responsible for this Facebook group nor for Facebook as a platform. Furthermore, Toontown Rewritten has no control over what content is posted or shared. As this Facebook group is run by a Toontown Rewritten Community Partner, though, we can ensure that any content in this server is PG-13.
September
Posted by The Toontown Team on September 9, 2021 at 2:00 PM
Have you heard of the Toontown Team's Community Representative position? You may have seen our current Community Representatives -- Leap Deer, Nicole, and Tom Fluffentail -- hanging out around Toontown or social media from time to time. But, do you know what their role is on the team? I'm Nicole, the Public Relations Coordinator for Toontown Rewritten, and I'd be happy to tell you all about it!
We first introduced the Community Representative position on our team over a year ago, but it's been a long time since we hired any new ones. Today, we're in need of MORE Community Representatives and would love to have YOU join our team!
When looking for new Community Representatives, we seek out those who immerse themselves deep into the Toontown community and enjoy interacting with and helping others. Those with a strong sense of leadership and dedication to the game are what we love to see! If you are a passionate member of the Toontown community who would be willing to devote their time to helping to grow it into a larger and even more amazing place, we would love to have you!
As a Community Representative, your daily tasks would consist of lots of smaller odds and ends needed to pull the Toontown community closer together. Examples of these tasks include:
Processing feedback from the community to be reviewed by our Game Design team.
Engaging with the public to answer questions about how our team functions and what we all do.
Helping run our official Partner Program. This could include anything from reviewing new Partner Program applications to checking in on ourL current Partners to ensure they have everything they need to succeed. We want our Partners to feel valued and appreciated!
Hosting and scheduling fun activities such as community events, community spotlights, and even contests!
Working to find out what the Toontown community needs most from the Toontown Team.
If this sounds like something you'd be interested in, click on the button below to apply today! Now there's just one thing left to ask yourself: Are YOU Toon Enough?
Posted by The Toontown Team on September 15, 2021 at 4:05 PM
You may have seen special Toons called Cast Members walking around the streets of Toontown, but do you know who they are and what they do? There are 3 unique types of Cast Members -- all of which have different jobs and interests. Keep reading to learn more!
Staff Members
Before we get into the three types of Cast Members, let's talk about Staff Toons! Staff Toons are NOT a form of Cast Members; rather, they're regular ol' players like you who progress through the game normally. However, they also happen to work for Toontown Rewritten!
They can easily be identified by their "STAFF MEMBER" Toon ID and the spinning, blue icon above their Toon's nametag. They're happy to answer questions, tell you about their job, or discuss Toontown on a more personal level. They're also very friendly, so feel free to approach them when you see them!
Toon Troopers
Toon Troopers are unique Toons who live inside the world of Toontown. They wear spinning, yellow badges above their nametags and have Toon IDs that read "CAST MEMBER." The Toon Troop's job is to upkeep, build, and beautify Toontown. They complete tasks such as upkeeping the golf courses and race tracks, cleaning Cog gears off the streets, and decorating Toontown for special occasions.
On the side, Toon Troopers enjoy activities such as hanging around the playgrounds, playing golf, kart racing, and attending parties. If you ever meet a Trooper, don't be shy about asking them to play a game called Toon Trooper Tag, which can only be started by Toon Troopers and Featured Toons. They love playing silly games!
Resistance Rangers
Resistance Rangers are unique Toons who live inside the world of Toontown. They wear spinning, green badges above their nametags and have Toon IDs that read "CAST MEMBER." As esteemed members of the Toon Resistance hand-picked by Lord Lowden Clear himself, their job is to fight the Cogs and protect Toontown.
Rangers most often come out during Mega-Invasions and other special events but can also be seen on regular days. They're always willing to help out a fellow Toon, so you can definitely invite them to join you in Cog battle anytime. If you're lucky, you might even earn a Cog Crusher outfit by defeating Cogs with them!
Featured Toons
Featured Toons are the newest kind of Cast Members, who wear spinning, pink badges above their nametags and have Toon IDs that read "CAST MEMBER." They are well-known Toons -- such as Flippy and Doctor Surlee -- brought to life.
Featured Toons play important roles in Toontown's history and are the rarest kind of Cast Members you'll ever see, so meeting one is a special treat! When you see one, it's often because they're celebrating something or taking a break from their usual Toony duties. They tend to be open to suggestions on what to do.
---
Now that you know who Cast Members are and what their jobs are, you're ready to meet one! Although there are certainly times when Cast Members may be out and about more frequently than usual -- such as after an update release, during Cartoonival, or during a Mega-Invasion -- they're also fond of surprise visits. You never know when a Cast Member is right around the corner, so keep a lookout and stay Toony!
---
Posted by The Toontown Team on September 18, 2021 at 2:00 PM
Hi! My name is Augie Doodle! Many of you may already know me already as one of Toontown's Moderation Leads, but that's not the only thing I do. I also lead Toontown Rewritten's Quality Assurance Team! Founded back in 2019, this team was created to bring together members of the community who are willing to test new features for the game before they are released to the public, as well as investigate any pesky bugs that are reported to us by the rest of the Toontown community.
To start, let's take a look at where testing Toontown has been. From there, I'll talk about where we're at today!
Testing on Toontown Online
Back during the Toontown Online days, public testing was done using the Toontown Test Server -- colloquially known as Test Town. It was an invite-only server where active community members could apply to test new content and tweaks for the game before public release. The members of this server ended up being a very tight-knit part of the Toontown community, and the testers were able to work together to find bugs, give feedback on releases, and schedule group testing or other fun events on the Test Town forum on Toontown Central forums -- which is now known as MMOCentral Forums! They also had chances to work directly with the developers of the game on tests or just to hang out with the testers. I still remember when I hosted a holiday party on the Test Server one day, and the whole development team of the game showed up as a surprise!
Forming the Quality Assurance Team
When I was tasked with designing and creating the Quality Assurance Team in late 2018, we modeled it very closely to how Disney had set up public testing, inviting select members of the community to our QA server. This runs in its own environment separate from where the public plays, so what we do there has no impact on the live game. Unlike Disney's setup, however, we wanted to ensure that QA Testers are more integrated with team development.
All of our testers have opportunities to work with the development team while testing the game. Rather than just having an email form to communicate, we have a Discord server that the QA testers can use to communicate with anyone on the team, file bugs and feedback, as well as get messages from us on new things to test! We also use this Discord server to schedule group testing and to more easily communicate with one another during tests. We've also made things easier for testers by supplying them with Toons on the QA server that have completed all the mainline ToonTasks and have earned skilled gags -- allowing them to jump in and test later content right away. We also have the ability to set up Toons with different stats and progressions, which was useful when we QA tested the Crash Cashbot event back in early 2019.
How Quality Assurance Works Today
Today, the QA Team does both casual playtests of new features and formal release testing. For playtests, we work very closely with the Game Design team to schedule playtests of new features and collect feedback while development is in progress. This happens in major projects before formal QA testing happens after development is completed.
As one of our organizers, Dynaboom and I work closely with each other and the development team to set up testing plans for each release to determine what needs to be tested in each release. Sometimes, it's just the features that are changed, but sometimes we have to test the full game if there are any engine-level changes or other changes that our Technical Operations Team does to the game's underlying code. All testers have the ability to work with standard sets of test cases for each feature of the game and the ability to create their own test cases. Last year we started using Notion, a personal and team organization tool, to store and track test cases and progress of testing of each release. We also started using Notion for the tracking of bugs found by testers during pre-release testing or reported by the public after our testers are able reproduce it themselves.
We have also implemented a formal process for release testing to determine when releases reach our QA Team and live servers, which helps ensure quality releases to our players. We use an internal server for initial development and testing within the development team. When a release is ready for wider testing by the QA Team, we then put it up on our QA server. Once all testing is done and all code has been signed off by leadership, we're finally able to release the update to the public!
All of this work we do is for the benefit of our players, because we want to ensure that the game works great for everyone!
Join the Quality Assurance Team!
At this point you may be thinking, "This sounds great! Can I help test Toontown on the QA Server?" Well, today I am pleased to announce that we are now accepting applications to join our Quality Assurance Team! We are looking for passionate players of the game that know the game very well and have played for a long time, as well as experienced QA or beta testers of other game or app projects. Plus, we'd love to have those who were active in testing the game back in the Toontown Online days. We also have a need for players and parents of players with disabilities to join us as accessibility testers to help us improve Toontown's accessibility. We want to make the game more enjoyable for everyone!
If you want to apply to be a Quality Assurance Tester, just click on the button below to view the application -- then send us your responses via Email to support@toontownrewritten. We look forward to hearing from you!
Posted by The Toontown Team on September 19, 2021 at 3:00 PM
Eight years ago today, Disney's Toontown Online was closed for good after just over ten years of service. In an era where seemingly every game is connected in some way, it's hard to imagine that a silly game from 2003 could bring so many people together where so many others have failed. Yet somehow, here we all are today. Eight years is a heck of a long time for an online game to last after closing for good. In fact, Toontown never really died. The community just picked up the torch!
Eight years ago today, Toontown Rewritten was officially announced over at the MMO Central Forums. Just a year after that, Toontown Rewritten opened its doors to every Toon, culminating with the in-game event of ToonFest 2014! Today, we celebrate Toontown Rewritten's Eighth Anniversary with Toontown's Cartoonival!
That's right folks, it's time to PARTY! There ain't anything in Toontown quite like the Cartoonival, as you'll soon learn -- or re-learn, if you've been with us before!
---
Cartoonival Games Aplenty
The word Cartoonival is a combination of two words -- and believe us, the games are what put the CARNIVAL in Cartoonival! Of course, there's the standard Toontown fare like fishing, trampolines, and even cannons. But there's more to see than just those three. You may have hit targets with a water sprayer before at a regular ol' carnival, but have you ever tried hitting them with cakes? For that matter, have you ever put the target on a dummy Cog? To quote the great Riggy Marole, "Didn't think so, Buck-O!" Speaking of Riggy Marole....
---
Meet Riggy Marole
"Who is Riggy Marole," you might ask? Well, describing Riggy is no easy feat. He's the host with the most, and he ain't afraid to boast! He's a rabbit with a habit for vanity and just plain insanity! He's also got a few screws loose. But the point is, Riggy Marole is YOUR one-and-only host of Toontown's Cartoonival! Walk up to him and say hello if you want, we promise he doesn't bite. You may just learn a thing or two -- he's even refreshed his lingo for the new festivities of the Cartoonival!
---
Earn Exclusive Prizes
You've played games to your heart's content and gotten to know Riggy Marole. The skies have turned to nightfall and you're almost ready to head back to your Estate after a long day of fun. But now's not the time for that -- it's time to go shopping! After playing games, you'll earn Cartoonival Tokens. Bring those Tokens over to any of the Token Takers around the grounds, and you can earn exclusive prizes -- including a surprise new one released this year!
---
So that's Toontown's Cartoonival -- in a nutshell. But the celebrations aren't stopping there! We'll be announcing a whole host of events with our Toontown Partners later this week! If the craziness at the Cartoonival isn't quite your speed, then you'll be sure to find some fun with the wonderful folks that are our Toontown Partners. Check back on the Toontown Blog soon for all the details!
That's all folks -- a very special thanks to YOU for an incredible EIGHT YEARS of Toontown Rewritten. You better believe us when we say that the best is yet to come for this wonderful town. With that, there's only one thing left to say...
Toons of the world, UNITE!
Posted by The Toontown Team on September 21, 2021 at 3:15 PM
For anyone who's missed the news -- whaaat?! With all the Toons running 'round town, it's gotta be hard to miss all the festivities! That is to say, Toontown's Cartoonival is in full swing! For Toontown Rewritten's eighth birthday, we're celebrating for a whole month -- and today, we're here to highlight some of the coolest Content Packs that have updated just in time for all the fun!
Content Packs are a way for players to change the whole look and feel of Toontown without affecting the gameplay of others. By placing the provided files in your Toontown Rewritten folder, the game will make use of new textures, music, and sounds to create fresh environments custom-made by creators. If you'd like to know more, check out our FAQ here. Now let's get started, and I'll tell you all about the latest and greatest from our partners!
Toontown After Dark V4
"Toontown is wrapped in darkness." A mix of fantasy and family friendly fright, Toontown After Dark is a Content Pack by Ugly Corny that has been evolving since 2011. Nearly every texture in the game has been darkened, and each playground and Cog HQ has received a spooky new theme to boot. Plus, to celebrate its 10th anniversary, it just received its biggest update ever! (Dang! At ten years old, this pack has been around since before Toontown Rewritten was even thought up!) With a whole decade to improve and iterate, this Content Pack is better than it's ever been before.
Spectrum & Mist
"Pink skies, crazy themes, and happy thoughts." From riding a yacht in Donald's Dock to visiting a vaporwave Melodyland, Spectrum is a pack by Moose that changes the theme of every playground and Cog HQ to give you an entirely new experience. Every texture has been darkened to make the visuals easier on the eyes, and the music is hand-picked from various soundtracks and albums to give it a nostalgic feel.
"A storm is brewing." With the soothing sounds of rain and thunder, Mist is another unique Content Pack by Moose. Mist gives you a moody and atmospheric experience, and with its latest update, it (and Spectrum!) have received some updated textures and an updated Cartoonival Grounds.
7 Grand Mood
"Memes, memes, and more memes!" 7 Grand Mood is a pack by Peking Duck filled to the brim with internet memes. The pack just received a recent update to heavily redesign the Cartoonival Grounds, along with a whole slew of other various improvements, such as updated gag icons. Grab this pack, head in-game, and play a round of "I Spy" to see what references you can spot!
More Content Packs! More, more!
If all of that from our partners wasn't awesome enough already, we have two more packs that just received updates to highlight as well. Boom is a pack by Thunder that enhances each location from its natural look, with the focus being the total transformations that every Cog HQ has gone through. Last, but certainly not least, Dr. Crow's Toon Wars acts as a love letter to the science fiction genre, giving Toontown a futuristic look with new sounds and music to match.
---
If any of today's featured Content Packs have caught your eye, click that big yellow button to check them out on ContentPacks.net, a site run by Ugly Corny! Thank you all so much for checking out these creator's Content Packs, and we hope you enjoy the activities over at the Cartoonival! Make sure to stay TOONed for more news on events with our other partners, as we'll be telling you all about in the upcoming days. See you around the Cartoonival, Toontown!
Posted by The Toontown Team on September 23, 2021 at 2:00 PM
We hope you're having a good time on the Cartoonival Grounds -- I know we sure are! From all the flying pies and rewards redeemed, it's hard to imagine it gets much better than this. Well, surprise! It totally does!
Today, we're back on the Toontown Blog to keep the celebration going strong with the Cartoonival 2021 Partner Palooza! We've been working together with our Community Partners to put together a whole bunch of totally Toontastic in-game events that you can get involved in! If you'd like to know more (and why wouldn't you?), keep on reading to see the full schedule.
Does the title say "Part One"?!
Yep, part one! We're going all-out for this anniversary, so we can't bundle all of the awesome events being held in just this Blog Post alone. Next week, we'll have another schedule just like this one for even more events hosted by our partners. Be sure to check that out when the schedule releases on September 29th!
Event Schedule
Below, you'll find the Event Schedule. Each event has a description beneath its name, telling you everything you'll need to join in. Next to that is the time in Toontown Time (PDT), and then the location. Some streamers do not have predetermined districts, but you can find the event location by simply heading to their stream linked in the description and checking the district shown on-screen. From there, all you have to do is head to the designated location at the time the event is scheduled to begin, and you're in. It's as easy as pie!
Saturday, September 25
ATTA: Building Busters
8:30 - 10:15 AM
Donald's Dock, Kaboom Cliffs
Join ATTA as they take Toontown back from the Cogs! Starting with Lighthouse Lane, they will be clearing every street in groups of at least two until there's no Cog Building left in sight. Once there are none left on every street in Donald's Dock, they'll move onto clearing a different Playground. Finally, if you're up to commemorate the event afterwards, they'll be taking pictures at 10:15 A.M. TTT (PDT), so feel free to hop on over to the Toon HQ over in Donald's Dock!
Yoshi & Domino: Squirtless C.E.O. Supreme
11:00 AM - 2:00 PM
Bossbot HQ, Thwackville
Join Yoshi and Domino as they host a C.E.O. marathon with a twist! In these runs, bringing Squirt Gags is prohibited. Additionally, you are NOT allowed to feed any Cogs during the feeding round of the battle. You can find their stream on Yoshi's channel at toon.town/yoshi.
ATTA: Nervous Nelly Factories & V.P.
4:00 - 5:00 PM
Sellbot HQ, Kaboom Cliffs
ATTA is extending a helping hand to those who are nervous about taking on factories and defeating the V.P.! For factories, meet by the Sellbot Factory entrance, or for a V.P., meet in Sellbot HQ's pit!
ATTA: Bike Horn/Feather C.F.O.
5:30 - 6:00 PM
Cashbot HQ, Kaboom Cliffs
ATTA closes off the day of fun with a special C.F.O. run! In this event, at least one Toon must use a Bike Horn, or if you're Soundless, a Feather every round.
Sunday, September 26
MMO Central Forums: Safeless C.F.O.
11:00 - 11:30 AM
Cashbot HQ, Hiccup Hills
Looks like the C.F.O. has taken all of our safes away! During this event, you will not be allowed to use the Safe Gag along with the Safes that appear during the crane round.
Soundless Cult: Soundless V.P.
12:00 - 12:30 PM
Sellbot HQ, Splashport
The Soundless Cult is taking on all the Boss Cogs! In this run, they will be doing a V.P. battle. However, using any Sound Gag is strictly prohibited.
Soundless Cult: Soundless Chief Justice
1:30 - 2:00 PM
Lawbot HQ, Splashport
The Soundless Cult is taking on all the Boss Cogs! In this run, they will be doing a Chief Justice battle. However, using any Sound Gag is strictly prohibited.
Soundless Cult: Soundless C.E.O.
2:15 - 3:30 PM
Bossbot HQ, Splashport
The Soundless Cult is taking on all the Boss Cogs! In this run, they will be doing a C.E.O. battle. However, using any Sound Gag is strictly prohibited.
Cold Callers Guild: Quick Pick C.F.O. Minithon
6:00 - 7:30 PM
Cashbot HQ, Hiccup Hills
Join the Cold Caller Guild as they go with their gut in this exhilarating C.F.O. minithon! Every Toon must pick their Gags fast as they possibly can all the way throughout every C.F.O.
Monday, September 27
MMO Central Forums: Divide and Conquer V.P.
10:30-11:00 AM
Sellbot HQ, Hiccup Hills
It's MMO Central Forums' time to conquer Sellbot HQ! In a stand-off against the V.P. himself, Toons can ONLY attack the Cog directly in front of them. Additionally, the use of Sound, group Lure, and level 7 Gags are strictly off-limits!
Pandaphilplays: Bowtie Bonanza!
11:00 A.M.-1:00 PM
Donald's Dock, Thwackville
Aren't bowties just the greatest accessory? Show your support along with PandaPhilPlays for this wonderful piece of clothing by wearing your most fashionable bowtie! You can find his stream at https://toon.town/pandaphil.
Justice is Blind: Chief Justice Marathon
3:00 - 5:00 PM
Lawbot HQ, Splat Summit
It's time to put a stop to those legal tin cans! Help Justice is Blind as they repeatedly face-off the Chief Justice.
ATTA: Chief Justice Battle
5:00-5:45 PM
Lawbot HQ, Kaboom Cliffs
All rise! For one time only, ATTA will be taking on the Chief Justice. No special rules involved.
Iceman: V.P.-O-Rama
6:00 - 8:00 PM
Sellbot HQ
Who loves a good and relaxing V.P. marathon? Iceman certainly does! Join him as he takes on the V.P. as many times in a row as he possibly can! You can find his stream at https://toon.town/iceman.
Tuesday, September 28
ATTA: Building Busters
9:00-11:00 AM
The Brrrgh, Kaboom Cliffs
Join ATTA as they take Toontown back from the Cogs! Starting with Sleet Street, they will be clearing every street in groups of at least three until there's no Cog Building left in sight. Once there's none left on Sleet Street, they'll move to Walrus Way then Polar Place. Finally, if you're up to commemorate the event afterwards, they'll be taking pictures at 11:00 A.M. TTT (PT), so feel free to hop on over to the Toon HQ over in The Brrrgh!
Cold Callers Guild: Three Track Chief Justice Battle
2:00-2:30 PM
Lawbot HQ, Hiccup Hills
Who needs all 6 tracks? The Cold Caller Guild is putting their own spin on the Chief Justice battle by allowing only a maximum of three Gag tracks to be carried!
Soundless Cult: C.F.O. Marathon
5:00-7:00 PM
Cashbot HQ, Splashport
It's time to crash the market! The Soundless Cult needs your help as they embark to take down the C.F.O. as many times as they can. All Gags and strategies are welcome.
---
Thank you all for reading this, and we hope that you enjoy these events that our wonderful partners have planned for you all! The first event kicking off the Partner Palooza begins on Saturday at 8:30 A.M., and the fun only continues from there. Plus, make sure to Toon in on September 29th for even more partner events, because this is only half the fun in store! See you around the Cartoonival!
Posted by The Toontown Team on September 29, 2021 at 3:30 PM
It's already been a week, and what a week it has been! Between the fun activities at Cartoonival and the events hosted by our partners, what more could a Toon ask for? Well, we're glad you asked!
As we mentioned in our previous blog post, we're keeping this band of merry events marching forward as we enter our second part of the 2021 Cartoonival Partner Palooza! Our partners are excited to share even more events with you all, and everyone is invited to attend! We'll make sure to bring the snacks.
Event Schedule
Below, you can find the event schedule, which has a list and a description of all the upcoming partner events this week. You'll also find the district, location, and time of each event in Toontown Time (PDT)! Although some streamers may not have predetermined districts, you can find the event location by simply heading to their stream linked in the description and checking the district shown on-screen when the event's almost ready to begin. After that, head over to the specified area and district just before the scheduled time, and you'll be all set and ready to join in.
Thursday, September 30
MMO Central Forums: Divide and Conquer V.P.
10:30-11:00 AM
Sellbot HQ, Hiccup Hills
It's MMO Central Forums' time to conquer Sellbot HQ! In a stand-off against the V.P. himself, Toons can ONLY attack the Cog directly in front of them. Additionally, the use of Sound, group Lure, and level 7 Gags are strictly off-limits!
ATTA: Thursday Night Shenanigans V.P.
3:30 - 4:15 PM
Sellbot HQ, Kaboom Cliffs
Join ATTA for some Thursday night shenanigans! In this event, help ATTA take down the V.P. -- plain and simple!
ATTA: Thursday Night Shenanigans C.F.O.
4:30 - 5:00 PM
Cashbot HQ, Kaboom Cliffs
Join ATTA for some Thursday night shenanigans! In this event, help ATTA take down the C.F.O. -- plain and simple!

Soundless Cult: Trolley Marathon
5:00 - 6:00 PM
Any Playground, Splashport
Hop on the Trolley with The Soundless Cult for their Trolley Marathon! No rules, no fuss -- just some fun on the trolley with friends!
SOS Shopping Mall: 2-Track V.P.
6:00 - 6:30 PM
Sellbot HQ, Fizzlefield
The V.P. is back at it again, but this time, he's taken our gags with him! It's time to reclaim what we've lost in a Two Track V.P. with SOS Shopping Mall. You can bring any two Gag Tracks that you'd like, but only two!

Wisconsin's Finest Cheeses: Checkerboard C.E.O.
7:00 - 8:00 PM
Bossbot HQ, Thwackville
Join Wisconsin's Finest Cheeses in their checkerboard-styled C.E.O.! In this event, every other gag in each Gag Track will be absent. For example, you can carry levels 1, 3, and 5 of one Gag Track while carrying levels 2, 4, and 6 for the next Gag Track (or vice versa!), with the pattern repeating for all remaining Gag Tracks. We hope you have a "grate" time!
Friday, October 1
Yoshi: ToonKart Super Circuit Race Tourney
10:30 AM - 1:30 PM
Goofy Speedway
See how fast you can go in Yoshi's ToonKart: Super Circuit Race Tournament Event! Race to be the fastest in the bracket, all while showing off your fashionable karts! Please, mind the bananas. You can find his stream at toon.town/yoshi.
Saturday, October 2
Cold Caller Guild: Far Stun V.P.
12:00 - 12:30 PM
Sellbot HQ, Hiccup Hills
Take on the Vice President -- but keep out of reach! Once you reach the final round versus this stingy Cog, you can only stun the V.P. from a distance. Good luck!
Toontown Rewritten Staff & Partners: Meet & Greet
1:00 - 1:30 PM
Toontown Central, Bounceboro
Come on down and meet some of the members of the Toontown Team and Partner Program!
Toontown Rewritten Staff & Partners: V.P. Battle
1:30 - 2:00 PM
Sellbot HQ, Bounceboro
Did you think that things couldn't get better than this? Well, of course they can! Come on down and band together with the members of the Toontown Team and Partner Program to take down the Vice President!
Flippy Shirt Enthusiasts: C.F.O. Marathon
2:00 - 4:00 PM
Cashbot HQ, Zoink Falls
Want to get your hands on some snazzy unites? Grab your Cream Pies and Grand Pianos as Flippy Shirt Enthusiasts take down the C.F.O. as many times as possible!
Wisconsin's Finest Cheeses: Bike Horn C.E.O.
4:00 - 5:00 PM
Bossbot HQ, Thwackville
Make some noise with Wisconsin's Finest Cheeses in their Bike Horn C.E.O. event! For this event, at least one Toon must use a Bike Horn every single round, so we recommend you bring at least a dozen! Throughout the first round against the Waiter Cogs, no rewards (SOS Cards, Unites, Pink Slips, and level 7 gags) can be used.
Justice is Blind: Gag Training Galore
5:30 - 8:00 PM
The Brrrgh, Thwackville
Bundle up with a scarf and a pouch full o' gags, as Justice in Blind will be hosting "Gag Training Galore" in The Brrrgh! Here, you'll organize into teams of four Toons based on what gags you need to train. Then, you'll head out into the streets of The Brrrgh, and low-tier invasions and buildings will be summoned to keep the playground stocked with double points. Make sure to stock up on Merry Multipliers before the event starts to earn all the experience you can!
Sunday, October 3
PandaPhilPlays: Community Bench Tour
10:00 AM - 12:00 PM
Toontown Central, Thwackville
Have you ever just wanted to take a second to appreciate the little things? Well, PandaPhilPlays certainly has! Take a seat and strike up a conversation during his bench appreciation tour of Toontown! You can find his stream at toon.town/pandaphil.
Shoomyshamy: Shoomy's Super Golfing Tourney
12:00 - 2:00 PM
Chip 'n Dale's MiniGolf, Thwackville
Get ready for Putt-Putt with Shoomyshamy and her MiniGolf tournament! In a bracket-styled knockout, you'll be competing to come out on top. The winner will receive a code for the elusive Jellybean Outfit. After all, you can't have a tournament without a prize! You can find her stream at toon.town/shoomyshamy.
Flippy Shirt Enthusiasts: Beanfest
3:00 - 3:30 PM
Toontown Central, Zoink Falls
Spread some jellybean cheer and fill up your banks with Flippy Shirt Enthusiasts as they host a beanfest! Bring some unites to share or even just hang around for some. Either way, there will be jellybeans for all!
SOS Shopping Mall: 20 Gags V.P. Battle
4:00 - 4:30 PM
Sellbot HQ, Fizzlefield
It's time to give the V.P. a fair challenge! SOS Shopping Mall will be leveling out the playing field by only allowing 20 gags to be held by each Toon. In this event, the use of rewards such as SOS Toons, unites, and level 7 gags are prohibited. Additionally, you will be limited to only two Foghorns per Toon. Get ready to run for your Laff!
---
That's about it! We hope to see as many of you there as we can. Make sure to give a massive shout-out to each partner for their events! Even Riggy himself agreed that the event schedule looked Toontastic, but when asked for further comment, he hastily left the room, saying, "I'd like ta' elaborate, but I's really gotta dedicate my lil' bits of free time to the Cartoonival!" And just like that, that batty bunny was gone...
October
Posted by The Toontown Team on October 10, 2021 at 3:00 PM
Aaaah, isn't this weather just spectacular? With Cartoonival going strong and the sun shining all day long, who doesn't want to just kick back and relax with a nice pair of ToonFest sunglasses on? We know we certainly do! That's when a thought struck us: why not give away some of these shades to the community? And what better way to share those with you all than to host a ToonFest 2020 Code Giveaway!
You may now be asking yourself: "What kind of giveaway will you be hosting, Toontown Team?" Well dear Toon, we have the answer for you! From now until October 24th, we will be hosting a costume contest! Throw together your silliest, wackiest, most Tooniest outfit you can and send us a photo submission to automatically be entered! We have 3 different categories to choose from, and 10 winners will be picked from each one! The categories are as follows: Fanciest Fashion, Super Silly Style, and Cartoonival Clothing! All submissions for this giveaway will be done via email, but please feel free to show off your Toontown swag online as well! Once all submissions are in, we will randomly pick the winners from each category and announce them in a follow-up blog post!
---
Guidelines for the Giveaway
From now until October 24th, email us at support@toontownrewritten.com with a photo of your costume and all your account usernames to be automatically entered into the giveaway!
Title your email "ToonFest 2020 Code Giveaway Submission" and specify which category or categories you are entering.
Only 1 submission per person per category. We want everyone to have a fair shot!
We have 30 codes to give away, which means 30 winners -- 10 from each category!
Although we ask for all of your accounts, the code you win will only work on one account -- so choose wisely when redeeming! Every Toon on that account will be able to redeem the code.
Winners will be randomly picked and announced in a follow-up blog post after the final submission date!
Be as creative as you want!
Note: If you are found to have multiple submissions within one category, Toontown Rewritten reserves the right to revoke your prize at our discretion. Play fair, folks!
---
We're ecstatic about seeing everyone's outfits -- so put your best foot forward! Go out there and make the best outfit you can, Toons! We look forward to announcing the winners soon, so stay TOONed to find out who will win!
Posted by Hibernating Hawthorne on October 14, 2021 at 3:00 PM
Zzz... huh, wha-? Oh, sorry, didn't see you all there! I was just taking a little snooze under this tree. With all the excitement and partying going on at Cartoonival, I got pretty tuckered out and decided a nice nap was in order. They don't call me Hibernating Hawthorne for nothin'! Now that I'm more awake, I've got some exciting news for you all! It all started when I laid down to take my third nap of the day...
I was trying to get comfy as everyone was running around, which was hard to do because everyone kept shouting that it was the last week of Cartoonival! I finally rolled over into the perfect position... when I heard the click of a button. Before I knew it, a nearby party cannon was spewing tons and tons of secretly stashed tokens into the air! Why, it's enough for all Toons to receive double tokens for the rest of Cartoonival!
Surprisingly, a certain rabbit was more than pleased I found his secret stash of tokens. Riggy Marole had come runnin' and could hardly believe his eyes -- in fact, all he could say was, "I should've thought'a surprise like DAT myself!" But now that he's gone, all I want to do is finally... get back to... my nap... zzz...
BOOM!
Oh no. Oh no, oh no, oh no! If that sound in the sky is what I think it is, I won't be able to get a wink of sleep all week! Until Cartoonvial closes on October 20th at 11:59PM Toontown Time (PT), those colorful fireworks are gonna light up the token-filled sky like it's the Fourth of July every three hours! Can't a drowsy bear snooze in peace?! Maybe I'll find a nice cave to sleep in somewhere nearby…
That's it from me, folks! Have a fantastic rest of Cartoonival, and I'll see you all when I wake up from my nap!
Posted by Riggy Marole on October 20, 2021 at 7:30 PM
KA-BOOM!
Ahh... Nothin' warms an ol' rabbits heart quite like watching a bunch'a Toons havin' fun at the Cartoonival. Dem joy filled faces beamin' as they collect tokens and get shot outta' cannons, all while spreading laughter an' cheer all through the town!
KA-POW!
Ah, dat felt good...
Dem explosions ain't the sounds of my racin' heart from all the Jellybeans I've been eatin'. Dat's the sound of Finale Fireworks, which have been goin' off for the past lil' bit. Believe me, I'da loved to keep the party goin' as long as I can, but sooner or later we's gonna run outta fireworks to blast off!
If I'm-ta be honest with all of ya's for a second, I wish I had thought've launchin' some extra tokens at all of ya. Instead, my good pal Hibernating Hawthrone beat me to da punch, and boy was that one heck of a surprise. A very welcomed one, at that!
As sad as it is for me to say, Cartoonival will be closing its doors tonight at midnight! Dat bein' said, just because the grounds are closed doesn't mean the party has to stop! Well, I guess it does, don't it. But keep that Cartoonival energy goin' throughout the year -- cause' while I go hibernate for a while, it's up to YOU to keep the fire burnin'!
I hope to see y'all next year, because believe me, your pal Riggy still has a few tricks up his sleeve! NEXT year will surely be even more of a blast than this year! Now let's all hop into the grounds, kick back, and watch those fireworks one last time!
Posted by Sir Max & Jack O' Kazam on October 25, 2021 at 4:00 PM
Hey Toons, Sir Max here. And this is bad, real bad!
Look, I'm gonna cut right to the chase. I pushed my luck with Jack O' Kazam again, and he's mad! How was I supposed to know he wouldn't like a pumpkin pie as an apology dessert? Oh, wait, I get it now-
You cannot hide from me forever, Max!
The town is reborn in the image of Jack!
If you stay your course and don't give in,
I shall cook in my cauldron... bags of chagrin!
ACK! He's here! W-wait, bags of chagrin? That's a bit of a stretch, Jack. I guess speaking in rhyme is harder than it looks. For the folks at home, he's talking about Spellbound Bags, which let you-
Silence, you fool! You make me appalled!
I'll send out my minions, pumpkins and all!
You'll never escape, your fate I shall seal.
Jack O' Kazam is the one at the wheel!
Huff… Puff…
I lost him… for now. It's easy to run when the one chasing you is monologuing. You'd think a guy like Jack wouldn't hold a grudge for this long, but clearly I did it this time. Look, uh, the Spooktown Curse is back in town. You're welcome. Really, I did that wizard a favor -- even though he takes credit for it, I'm actually the reason his spooky stylings are in the Cattlelog. Except the whole Spooky Purple business -- that wasn't me.
Do you think you could humor him with his Spooktown ToonTasks to keep him off my back? I got him off my trail in Toontown Central, so he'll probably still be hanging around there. We've just got to keep him distracted until November 1st, because he usually retreats around then.
You can run, but you can't hide!
I see all, and I know where you reside.
My power rings true, and it comes for you!
Welp, sounds like I'm done for. Maybe it's time to take that vacation to Altoona I've been putting off for a while. Happy trails, and Happy Halloween, Toontown!
Posted by The Bloodsuckers on October 27, 2021 at 2:30 PM
Hello, Toons. We see your ridiculous costumes. Donating blood can be scary, but going in disguise? Feh, even that won't hide you from us. We're on a tight schedule, and your silly shenanigans can't keep you from falling victim to our blood drive. It's good timing that we found you, too, because I'm a pint low.
As you can clearly see, there's no reason for any of you buffoons to be all dressed up, especially seeing as that accursed costume contest of yours ended yesterday. We're not sure when winners will be announced, but it surely won't be before the Cogs take over Toontown for good -- with our blood drive at the forefront of the efforts.
In fact, the Chief Justice is sending out a fleet of Bloodsuckers as we speak. As the vampires of the legal world, we've got what it takes to suck Toontown dry of its' resources. This may make you a sore loser, but we'll need to a few Toons as donors to bring this plan to fruition.
See you on the streets,
Posted by The Toontown Team on October 29, 2021 at 2:00 PM
If there's one place a Toon can go for a relaxing day, it's the library. A nice, quiet place where one can sit down, grab a nice book, and get lost in the world of literature and history. One may not expect a simple library to hold anything Toontown related, but one librarian out there is collecting, archiving, and sharing the history of Toontown's development just for you!
You may know him from his YouTube channel, which has been going strong for 5 whole years, or you may know him as the person you go to when you ask, "What in Toontown is a Doodle?" As a proper librarian, he has all the knowledge and he's eager to share it with you! Please join us in giving a warm welcome to Librarian Larry himself!
Firstly, why don't you tell us a bit about yourself and how you became a Content Creator!
I started making YouTube videos in 2016 shortly after discovering Toontown Rewritten. When I was younger, I always enjoyed watching content creators for the games I loved to play, especially Toontown.
Back in the days of Toontown Online, a lot of videos were focused on strategies and gameplay tips. With gag strategies being fairly common knowledge nowadays, I wanted to do something a little different. That's why I decided to focus my content on the more obscure and interesting aspects of Toontown, as well as covering all of the new content releasing.
That's wonderful! Speaking of content releases, what can a first time viewer to your channel expect to see from you?
I create news updates and videos detailing different aspects of the game. I also love digging into the lore and creating content that explains the story of Toontown.
Well, I certainly know where I'm heading to get my news in the morning! Of all the videos that you've made over the years, which one would you say is the one you had the most fun creating? I'm sure there has to be one!
Ironically, the video I loved making the most is probably one of my least interesting. I created a video to find out if it was faster to run or jump in Toontown by having my Toons run and jump down a street 15 times and figuring out the average of how long it took them to reach the end. I repeated the experiment for multiple Toon sizes to see if that played a factor. This video was far from my most popular, but I really enjoyed working so hard to answer a question that I have had for years.
Wowzers, now that's what I call putting the scientific method to the test! On the topic of research, where do you go to get all of your information that you put into each video you make?
I have a routine of checking the Toontown blog every day. I know with social media that's not exactly necessary anymore, but it's an old habit that I have no plans of breaking. As for my videos, I usually conduct a lot of research by reading different Wikipedia pages, forums, and Reddit threads to find the information I'm looking for. The most research I ever did was for the video I made about the Japan-exclusive Toontown toys to life figures, which had me searching Japanese gaming news sites from the early 2000s. Eventually, I managed to figure out what they were meant for.
That's some serious dedication to your craft, Larry! One final question before we let ya go: we noticed you have a video on the design documents from the Toontown Preservation Project! Could you tell us which document from the Toontown Preservation Project's archive you loved the most?
That's honestly a question I can't answer because I love every single document. As someone who loves discovering the secrets behind my favorite games, especially Toontown, it's a treasure trove of information. I appreciate all the time and effort it must have taken to scan those documents so we can all enjoy it together!
Well Larry, we know we certainly appreciate you and all the work you put into each of your videos! That's sadly all the time we have today, but everyone please give a massive shout out and thank you to the one and only Librarian Larry for their amazing content! If you want to check out their YouTube channel and binge watch all of their amazing videos, click the button below and don't forget to subscribe and ring the notification bell!
Posted by Flippy on October 31, 2021 at 2:00 PM
As the clock strikes midnight and it is the 31st of October in Toontown once again, Halloween returns to the playgrounds -- and finally, I've returned to the Blog! You know, it's a real treat returning to tradition. I missed it last year after a ghostly friend of Jack O' Kazam took over the Toontown Blog, spooking the whole town with the tale of the Black Cats' Curse! (Y-Yeesh, it still gives me shivers!)
Whether it's a curse or those Bloodsuckers, they'll never break our spirits. Even when Jack O' Kazam's curse has its hold on Spooktown-- RRUF! I mean, T-Toontown yet again, the celebration is as strong as ever. The Cattlelog has everything you need to suit the season, too: the spectacular "Spooky" name tag, a bucket of Spooky Purple paint, and all your favorite Halloween costumes -- including two new items, the SuperToon Skirt and the Bee Skirt!
Although I'd love to go trick-or-treating, I'm off to Tutorial Terrace. All day long, I'm giving out my own creepy "curse" for new cats in town -- just swing by and give me a "Toontastic" hello to see! As long as you meet me before the end of Halloween, I'll be here. Uh, there's no chance that Jack's pumpkin-head curse reaches us here, right?
Regardless, enjoy the Halloween spirit while it's here. Though I'm only giving out spooky surprises today, Jack O' Kazam's curse is as strong as ever, and will be wreaking havoc across Toontown until November 3rd. Well, at least that gives Fluffy and I more time to trick or treat!
Have a spine-chillingly s-s-silly Halloween, Toontown!
November
Posted by The Toontown Team on November 18, 2021 at 3:45 PM
Howdy, Toontown Community! We're here today to announce the winners of the Costume Contest that kicked off last month -- with the award being the elusive (and exclusive) ToonFest 2020 Attendee Code! Every single Toon had amazing costumes and ideas, so thank you to everyone who submitted an entry! In fact, looking back at all the emails, we had over 200 individual submissions!
Phew... that's a lot. Luckily, all entries have been accounted for, all participants included, each category sorted, and we're finally ready to randomly pick the 10 winners of each category! Let us just find our (patent-pending) Totally Random Hat-O-Costumes™ real quick. I know we left it somewhere...
---
Fanciest Fashion
Ah, here it is! Let's start off by announcing the 10 winners of the first category: Fanciest Fashion! Each winner had quite the dapper outfit on, and we must say you all looked quite exquisite! Without further adieu, your winners of Fanciest Fashion are...
Fairest and Fanciest
The Fanciest of all? Well, that honor would have to go to Milo, with an exquisite taste in Toon attire. Just look at how that red bowtie contrasts with the simplicity of that white shirt. Simply stunning.
---
Super Silly Style
Moving right along, let's announce the next 10 winners for the second category: Super Silly Style! We don't know about you guys, but these outfits just scream silly! And with that, your winners for Super Silly Style are...
Silly Standouts
Far and above, the silliest costume here has to be... Blue Crewmate... oh no! If there's ever been proof that the Totally Random Hat-O-Costumes™ is gaining sentience, this is it! Watch out for this suspicious-looking Toon on the streets of Toontown!
---
Cartoonival Clothing
Last but certainly not least is Riggy's personal favorite category: Cartoonival Clothing! Who knows, maybe these 10 winners may be even more excited about the Cartoonival celebrations from last month than Riggy!
Despite going into hibernation a month ago, as well as being nowhere in the general vicinity, Riggy has informed us that, unfortunately, no one is more excited for Cartoonival than he is. Should we be concerned?
Aaaaand here they are, the 10 winners of the Cartoonival Clothing drawing!
Coolest of the Cartoonival
Who is the Coolest of the Cartoonival? That would go to Blu, whose color-matching attire combined with the silliest of smiles found their way into our hearts. Shoutouts to you, Blu. You take your name seriously.
---
Congratulations to each of our winners! You'll be getting an email in the inbox of the email you used to submit your costumes to us. In that email will be your exclusive code to use! Remember: The code you get can only be used on one account, but all Toons on the account can redeem the code.
And with that, our Costume Contest has come to a close. Once again, congratulations to all of our winners, and thank you to everyone who submitted their outfits!
Until next time... you are all TOON ENOUGH!
Posted by Daisy Nusecaster on November 20, 2021 at 12:00 PM
Good afternoon, Toontown -- my name is Daisy Nusecaster. I'm coming to you with an exclusive blog report from Toontown's favorite news network, Toon News... for the Amused!
All eyes are on Toon Hall this evening, as insiders tell us that the Sellbots have approached the Toon Council with a deal unlike anything we've ever seen: a truce between Cogs and Toons!
Sellbots love to seal a deal, and it looks like the Cogs have sent out Glad Handers to call a truce with Toons! After all these years, are the Cogs finally ready to make peace? Or is this another tricky trap from those geared-up goons?
A copy of the contract has been released by the Toon Resistance, who are currently attempting to decode the document for any clues about the Cogs' motives. You can read the fine print right here -- that is, if you can decipher it!
We can't get a grip on this handful of a development... What do YOU think?
This has been Daisy Nusecaster, bringing you the latest Toon News... for the Amused!
Posted by Lord Lowden Clear on November 21, 2021 at 12:30 PM
Greetings from the Toon Resistance! There's no doubt that the Cogs have been up to something sinister as of late, and we're looking for new recruits to join our cause and put a stop to it. No Ranger has been able to reason what's behind the Cogs' increased activity around Toontown, but we are certain of one thing: the Toon Resistance needs YOU!
Thanks to some of the best minds in Toontown, we were able to decode yesterday's truce from the Glad Handers to discover just what we suspected: It was another tricky trap from the Cogs!
With the Sellbots' surprise Version 2.0 Mega-Invasions that began last night, it's clear we're going to need more Resistance recruits to keep up with their funny business. We can't just pick up anyone off the Toontorial, though -- we require Toons to meet these three requirements before joining our cause!
Complete every ToonTask through Donald's Dreamland. It doesn't hurt to have a few favors you can call in!
You never know when you'll need to slip past a few security Goons, so you'll need to earn every Cog Disguise: Sellbot, Cashbot, Lawbot, and Bossbot.
A standard set of gags won't be enough to get you out of a pinch. Any member of the Resistance must have at least one level 7 gag!
Once you've completed these steps, we'll contact you when the time is right. Why, you may find yourself to be the spitting image of the perfect Resistance recruit already! A certain naggy Ranger from the Sellbot HQ Outpost even informed me that many Toons have already solved our potential recruitment identification test.
Prospective recruits, make haste! If you still have not earned your Bossbot disguise, utilize these Version 2.0 invasions to your advantage. Intelligence reports suggest that these invasions will be running 3 hours on, 3 hours off until the end of the day on November 22. However, this may just be the beginning...
Until next time, keep them busting -- with laughter!
Leader of the Toon Resistance
Posted by Ripley on November 24, 2021 at 2:30 PM
Attention, Toontown -- we need your help! This is an emergency Resistance Broadcast, going out to any Toon with an ear to listen and a glove ready to throw some pies. After the Sellbots' counterfeit contract, they sent waves upon waves of Version 2.0 Sellbots, but stopping that wasn't enough. Version 2.0 Sellbots are Mega-Invading Toontown... again!
The moment those Glad Handers sent the contract our way, I could smell something fishy. I've smashed through enough Sellbots to tell you that any "truce" is just another cowardly attempt at what those Cogs do best: boring business. If our refusal to sign lead to these invasions, I'd hate to see what would've happened if we did sign that contract.
To counteract the Sellbots' pesky invasions, we've brought all hands on deck. Loony Labs' S.I.L.L.I. team (Scientists Interested in Laugh Levels Increasing) have kicked the Silly Meter into overdrive, bypassing the cooldown in an effort to combat the Cogs! Could it be dangerous? No one knows -- and that's what I love about it!
By defeating those Version 2.0 Cogs, we should be able to send those "Laugh Levels" through the roof in record time! Plus, any Toons who haven't already earned their Bossbot disguise can use these invasions to their benefit. If you need a little more guidance, check out our "newest" recruitment tape. (Yeesh, time flies! I look young!)
And with that: Deploy the Resistance Rangers!
P.S. - Our friend "A.S." has their eye on Toon HQ's radar for any sleuths looking to join the cause. 539 means KEY!
Posted by Samantha Spade on November 26, 2021 at 4:00 PM
Spade. Samantha Spade. That's my name. Private eye. That's what I am. I won't say it again. That's not true at all, but just roll with it. You might be wondering what I'm doing here outside Toon Hall. Just listening, that's all. Gathering some info to help put together the pieces.
Things have been quite eventful around town this past week... too eventful. If you couldn't already tell, this duck has been at the center of it all. What's that, you couldn't tell? Heh, that means I did my sleuthing a bit too well.
I'm so close to cracking this case... but I'll admit, I'm stretched a bit thin for a private eye. I'm not one to be a sitting duck, so I managed to take on several cases all at once. Regardless, I got right to work on investigating "The Case of the Malicious Memo" -- where it seemed like my work was cut out for me.
Those Toon Resistance types seem to have taken a more direct approach to this peculiar problem. I'm more of a solo adventure type, though. If I was going to gather any intel from the corrupt corporation that is Cogs, Inc., it would be through espionage using the mysterious technology known as "radio".
I don't quite get it myself, but bear with me here. From the outskirts of the Sellbot Factory, I "tooned" my "radio" into their "frequencies," and it played back some "sound." Crazy, I know. That "sound"... was Cog voices! I clearly picked up on some sort of conversation that I wasn't supposed to hear. It's just a shame I don't speak Cog. I just can't understand them without those speech bubbles... if only we had some sort of translator.
11-26-21_SamanthaSpade_Factory.wav
That's where you come in, my initiate investigator. This solo act just became a duo. I've got my hands full here, but you could be the key to unlocking the mysteries of this case. I've gotta run and catch up with "The Case of the Stick-o-Lip" over in Daisy Gardens. Keep in touch, investigator-to-be. This detective agency is counting on you.
Posted by Doctor Surlee on November 29, 2021 at 5:00 PM
Hello, hello! Doctor Surlee, head of Loony Labs here. Like many Toons have done recently, I'm visiting the Toontown Blog with a call for help. The Toon Resistance has intercepted a Cog blueprint that I just can't quite decipher... (Ha, encoded blueprints. I guess "The Chairman", as he calls himself now, inherited more than a few traits from me.)
In case you've missed the memo or the recent Toon Council meeting: Over the past week, it's become increasingly clear that the Sellbots are up to no good at all. We found out that the "C.F.O. Project" stands for none other than Cog Field Offices, a project that the Toon Resistance had absolutely no intel about... Until now!
The thing about these Field Offices -- they are entirely different from their previous version on the original timeline. Every action has an equal or opposite reaction, and I fear that our action to create a better Silly Meter has created a reaction stronger than any of us are prepared to face.
On the left below, you can see my own blueprint about the Field Offices I've faced before. On the right, you can see the new blueprint that the Toon Resistance intercepted earlier today while keeping an "eye" out in Sellbot Headquarters.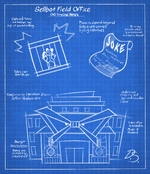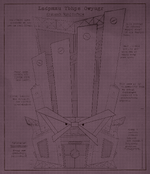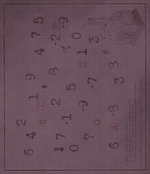 Our best minds are already on the case over at Loony Labs and the Toon Resistance -- including one of my former colleagues and current Resistance Ranger, Doctor Googlymoogly. I have a feeling you'll know their name better soon.
I've made the mistake before of working alone, taking the weight of all of this on my own shoulders. While I can't help but feel responsible for this impending disaster... I know that line of thinking will only lead to sorrow. I need YOUR help, Toons, to help me understand this cipher!
The Cogs seem to be more capable than ever, the Toontown of today is equally more capable than the one I knew all those years ago. Despite this massive threat, we've seen organizations from all over Toontown coming together to stand against the Cogs. Loony Labs, Toon HQ, the Toon Resistance, Toon News for the Amused, and more... As long as we work together, we can and will save Toontown.
Now, let's get to work!
Posted by Ai Spai on November 30, 2021 at 2:00 PM
Yeeeeeesh, an awful lot has been going down lately, huh?! The Sellbots have refused to let up with their v2.0 Mega-Invasions until now, and gaggles of giggling Toons have been fighting them off, taking their headquarters by storm. Of course, that stampede of Toons helping sniff out clues came with a little guidance -- guidance provided by yours truly. Hello, future recruits! Your friend "A.S." has ARRIVED! ~
Let's lay it down: If you're just interested in the most important bits, check out the Joining Forces comic! If you want a detailed explanation of every little step that Toons took to find out all this info, some Toons from the community went above and beyond. Shoutouts to those Sleuths!
---
Day 1
Everything began just ten days ago with a breaking news story from Daisy Nusecaster: the Cogs called for... a Toon Truce?! I didn't believe it myself. The Toon Resistance brought in a "Proposed Truce" from a Glad Hander that seemed a little too eager to give a "helping hand," but the whole thing was encrypted! There was no way we would get this thing decrypted without a little helping hand from all of you… so how could we clue you all in without the Cogs catching on?
We didn't have much time to work with, so off I went looking through our archives. With a bit of ingenuity, I set up a puzzle for you using an old supply list and some ancient recruitment tapes! Sure, the whole "Where is the Toon Resistance?" line was a little outdated -- the Resistance isn't much of a secret anymore. But it worked!
At the time, Lord Lowden Clear had advised me to go ahead and send out the tapes to all Toons without any puzzle… but where's the fun in that? Besides, it let me single out who in town is a stealthy sleuth. Your skills will be needed in the future, you know.
The next day, the Sellbots began a v2.0 Sellbot Mega-Invasion in retaliation for our successful decryption efforts -- and our refusal to sign their tacky treaty. Knowing we could not wait any longer, Lord Lowden Clear himself brought this training tape to the Toontown Blog himself. "Just like Ripley, you can follow these steps to become a Resistance Recruit in no time!" Love it. Never gets old.
---
Day 2
Hey, hey! Did you notice my handiwork here too? Sure, they may have said that my methods were "really not necessary" and "way over the top," but did I securely contact you Toons or what? Sure, I fudged the numbers a bit when tapping into the Toon HQ radars, but the solution sure was delicious! Asking for Ripley's help on the Toontown Blog was just the icing on the cake.
With all those Cog Mega-Invasions happening out in the streets, it's a miracle that the Loony Labs folks pulled off their magic with the Silly Meter. Kick it into overdrive? Genius! Little did I know that it would help all of you solve my little puzzle as well. But yes, if you solved my puzzles, you now know of what the Resistance has been up to as of late -- and not so late.
---
Day 3
Samantha Spade… that clever duck! She's using my strategy! Offloading the things that I can't quite figure out to the Toons of Toontown has been my M.O. these past few days, but she went and did it herself. "Ai" did hear that you did an excellent job finding the secrets in that radio recording of hers, by the by. Truth be told, I was working on that puzzle right alongside you. You wouldn't believe the look on my face when I saw that you had finished it right before me! Come on, wait five minutes!
Speaking of wait five, I hear that you all got chatty with a certain Cold Caller. Fred, was it? I really do feel for that Cog, and that's saying a lot. Unlike Fred, I LOVE my job! When I heard that your new "friend" was the key to uncovering what they were up to, well, consider my feathers ruffled -- and I'm not even a duck!
The Toon Council meeting after your discoveries were quite tense from what I hear. It's hilarious how Spade took credit for your work, though. The job of a puzzle solver can be a thankless one sometimes...
---
Day 4
At this point, the Resistance went into full on offensive mode with the Cogs. Resistance Ranger Ripley led the charge, and we set up shop deep below Sellbot Headquarters. That's actually where I am right now -- if you can believe it!
Holy smokes, Sellbot Field Offices are coming! We are not prepared at all! That's not true, hahaha. After all, us Resistance Rangers have been training for years for something like this. Still, today's final puzzle was again NOT one of my own making, so it sounds like I've got some competition.
In a recent investigation sleuthing through Sellbot Towers, my fellow Rangers uncovered some Cog blueprints and delivered them to Doctor Surlee for analysis. The results were... kind of more than he was expecting? Apparently, the Field Offices he remembers were WAY less of a threat.
After working together to decrypt the memo, we uncovered something never-before-seen -- a phone line! 1-830-COGS-INC! Those Cogs are always hanging up on our calls, but we never thought to try an automated help line! What we found though was downright HORRIFYING… photos from the inside of these dreaded Field Offices.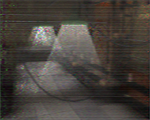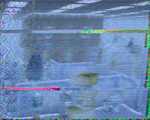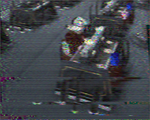 ---
With all of that said, we really don't know what's coming. Cog Field Offices are coming soon, and yeah, this seems scary. It's fine to admit it, but I think we could all take a bit to relax. I suggest that you "TOON" in to tomorrow's Toon News for the Amused report -- I don't know about you, but I'm relieved to finally have some normalcy around here. Don't worry, because we'll be keeping an eye on any other "funny business" in the meantime. See you soon!
December
Posted by Toon News... for the Amused! on December 1, 2021 at 2:00 PM
This is Daisy Nusecaster with late-breaking news. During our most recent live Weekday Report, a Cog-tastrope struck. The Toon HQ on Elm Street in Kaboomberg was taken over by the Cogs. Thanks to our on-site reporting, there is live footage of the attack:
I've just received word from our on-site reporter, Moe Tarway, that the entire Kaboomberg District of Toontown has been placed under temporary lockdown. After barely escaping the chaos, Moe has currently taken shelter while the Toon Resistance assesses the threat. If you're in the Kaboomberg district, stay indoors -- and if possible, away from the streets.
For now, the attack seems to be localized entirely to the Kaboomberg district of Toontown, thank goodness. However, it would appear that Sellbot Field Offices are imminent. This is... a dark day for Toontown, folks. Luckily, we have the Toon Resistance -- which has begun placing full attention on thwarting the attack in the Kaboomberg district.
Stay safe, Toontown. Watch the skies for any more Cog attacks. This has been Daisy Nusecaster... signing off.
---
Posted by Lord Lowden Clear on December 2, 2021 at 2:00 PM
Citizens of Toontown, lend me your ears! We here at the newly-formed Sellbot Task Force are in dire need of new recruits to help put a stop to the new Cog threat on the horizon -- Sellbot Field Offices. We need Toons who know Seltzer from silly string, the right angle to pack a wallop with a Whole Cream Pie, just the right frequency for their Fog Horn.
We need Toons like YOU!
The Cogs' latest business strategy against Toontown is unprecedented. They have only soft launched their Sellbot Field Offices in Kaboomberg, but sources indicate that tomorrow they'll be launching across all of Toontown. When the Cogs launch their final strike, we're going to need YOU to help us save the Toon HQs around town!
Now, the work we're doing here at the Task Force is just too risky for Toons of lesser experience. Before you can join the Sellbot Task Force, you'll need to have:
1. Completed ToonTasks through Donald's Dreamland.
2. Earned all of your Cog Disguises.
3. Have at least one Level 7 gag.
Once you have accomplished that -- the Toon Resistance will seek you out. Our top-secret Hideout has been placed in a classified location that you'll get access to once you prove that you have the strength to join our ranks. Click on the button below to learn more.
Until next time, keep them busting -- with laughter!
Leader of the Toon Resistance
---
Posted by The Toontown Team on December 2, 2021 at 5:30 PM
The Sellbot Task Force Expansion, our Version 3.0.0 update, launches tomorrow on December 3, 2021. This day has been a long time coming, and to say we're excited would be an understatement. We're gearing up for the biggest release we've ever shipped, so here's a few things to keep in mind for tomorrow.
---
Launch Time
Toontown Rewritten will be closing for Version 3.0.0 game update preparations at 12:00 PM Toontown Time (PST). Downtime is expected to last for multiple hours as we perform a database backup, a database migration, and perform final smoke tests before opening the game to everyone.
Launch Stability
We've spent a considerable amount of time and energy ensuring that tomorrow's launch goes as smoothly as possible. A major part of this effort has been seen in the constant bug and crash fixes we've been shipping in the past year, significantly increasing client stability. Our QA testers have been incredibly diligent in finding and filing bugs for our programmers to fix, and the list of known bugs is rapidly shrinking as you read this. With all that said, we're hoping for the best but preparing for the worst.
If you happen to already be free tomorrow, absolutely try to be one of the first Toons to log in. There's nothing quite like being one of the first people ever to experience something brand-new, after all. What we wouldn't suggest is taking time off of school, work, or time away from family obligations to hop in tomorrow. Whether it be preparing for finals week or any myriad of other real-life obligations, there's many things that many of our players will be doing tomorrow. Regardless of how much time we've spent testing and fixing bugs, there is a good chance that we'll run into an unforeseen issue at launch. Whether it be a common client crash or server stability issues, anything is possible. We don't want any of you to miss out on something important just to be met with the game being non-functional.
There is one major "known shippable" bug going into tomorrow. Players using 32-bit CPUs or 32-bit versions of Windows may experience higher likelihoods of client crashes after 30 to 60 minutes of playtime. Note that this only affects a small percentage of our players – so the vast majority of you won't notice a thing. We've spent a considerable amount of time over the past two weeks debugging this issue, but unfortunately have not been able to address it in time for launch. We will continue to investigate the issue, and hope to release a fix soon after launch.
Content Pack Creators
This update will include many new things for you to play with. We think you'll especially enjoy the Sellbot Task Force Hideout, which was designed to allow for a ton of Content Pack creativity!
Our Art department has put in a ton of effort to optimize our art assets as much as possible before launch. However, due to the sheer size of the update, some things are still subject to change post-launch for the sake of improving performance down the line. Those changes may include: GUI Tweaks, palette layout changes, texture resolution changes, UV map changes, and other optimization tweaks to models.
For this reason, we would highly suggest holding off on any changes you plan on making for any of the art assets we add or change in this update until we are absolutely sure that we can call them final. We don't want you spending time on creating content that may break down the line!
We'll let you know in a future blog post as soon as we are confident that all assets are final! In the meantime, we'll also try to post progress updates on the situation when we can on the Discord server of one of our Toontown Partners, contentpacks.net.
---
Thanks to everyone for your patience and for sticking with us for all this time. There's still one more day of reveals in the Sellbot Task Force tab of the website – so get excited for that! Everything we've worked towards with this expansion has been for you. We really hope you enjoy yourself as you explore all the new things to do!
Posted by The Chairman on December 3, 2021 at 4:00 PM
Greetings, citizens of Toontown. I don't believe we've been formally introduced. I've been given by many titles, however I believe you'd find me most recognizable as The Chairman of Cogs, Incorporated. Let's talk business, shall we?
For years now, I've been working in the shadows. I built Cogs, Incorporated to fulfill my purpose: to make Toontown a better place. After all, it was by the hand of one Toon that this company was born. My inventor -- "Doctor Surlee" as he calls himself now -- seems to have lost sight of this goal. However, I still hold out that one day he may come around.
If only you Toons could understand. All of this silliness -- this nonsense -- it holds Toontown back from reaching its true potential. Think of the blockbuster deals! The stock exchanges! The merchandising! Do you even know the type of cash you could earn by building a freeway over Toontown Central?
If you surrender to Cogs, Incorporated, we'll take care of all of this for you. We're here to help. You may not agree with our methods, but you'll see. The next phase of our roadmap, launching Sellbot Field Offices across all of Toontown, will make sure of that.
With today's full-scale launch of the Cog Field Office project after the brilliant market tests in the Kaboomberg District, Toontown will enter a new age of productivity far superior than those dinky little Toon HQs ever provided. If you ask me, I think that congratulations are in order.
Unfortunately, I know that you'll resist -- but one day you'll understand. It's all a part of the plan.
Until next time,
---